10 hotels of refined elegance
You would like to spend your holidays on the Adriatic coast, but all the various lodging offers confuse you?
We singled out for you ten exclusive hotels, which with their modern interior design, specific ambient, and outstanding service, will complement your holidays and make them unforgettable. We bring you suggestions for complete summer holidays whether you want to try out the Istrian wines, explore the islands of the Central Adriatic, or enjoy the culture of the Dubrovnik area.
Hotel Brown Beach House
The Brown Beach House Hotel in Trogir is situated in a renovated 20th century stone building, in the former 'Duhanka' Factory. It entered the first season with 25 rooms and suites which emit a fusion of a Mediterranean style and an impeccable service and, from June 2017, the guests can enjoy additional 19 rooms and a full-service spa treatment. Brown Beach House modernises retro-aesthetics by drawing upon the aesthetics of classical Italian beaches of the fifties. The home library, diverse Mediterranean flora and a modern design stand out in the hotel that offers tourist services of a timeless appearance and a feel of being at home. 124 – 800 €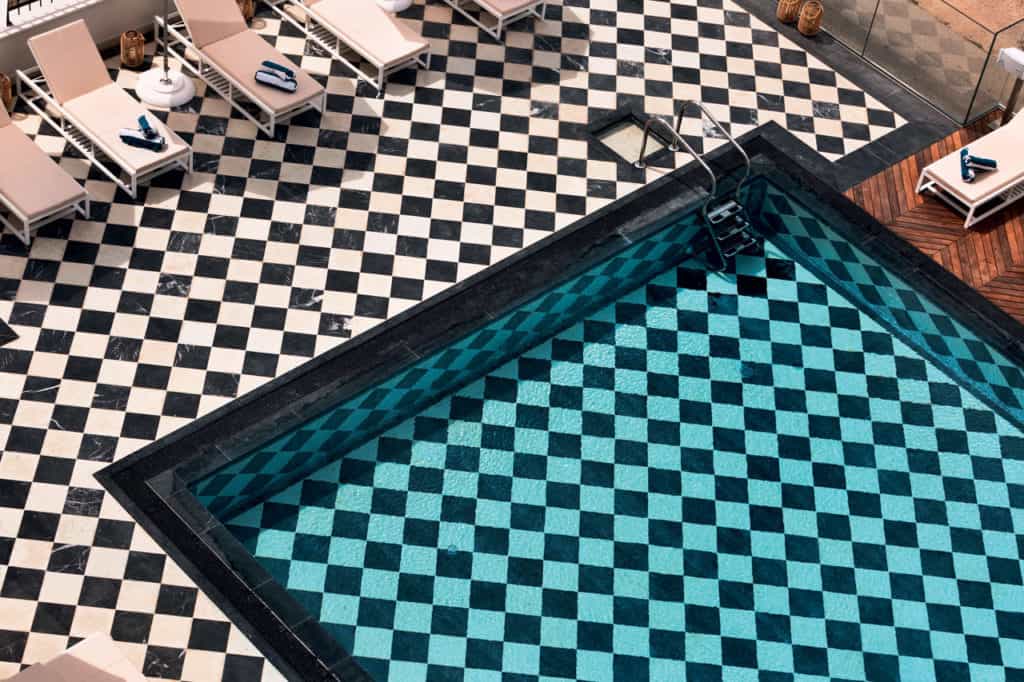 Adriana Hvar Spa Hotel
Adriana Hvar Spa Hotel has 50 superior rooms and nine luxurious spa suites, as well as a salt water pool, Butchery & Wine restaurant, a lounge bar, and garden terraces with a beautiful view of the Adriatic Sea and the marina. On top of the Adriana Hotel is the Top Bar, the most luxurious bar in the city of Hvar which offers a spectacular view of the city. The interior of the hotel is comprised of modern rooms and the unique oasis of primordial delight and relaxation continues all the way to the Sensorí spa treatments directed at providing holistic wellness and experiences which will make you live healthier, look better, and feel rejuvenated. 127 – 724 €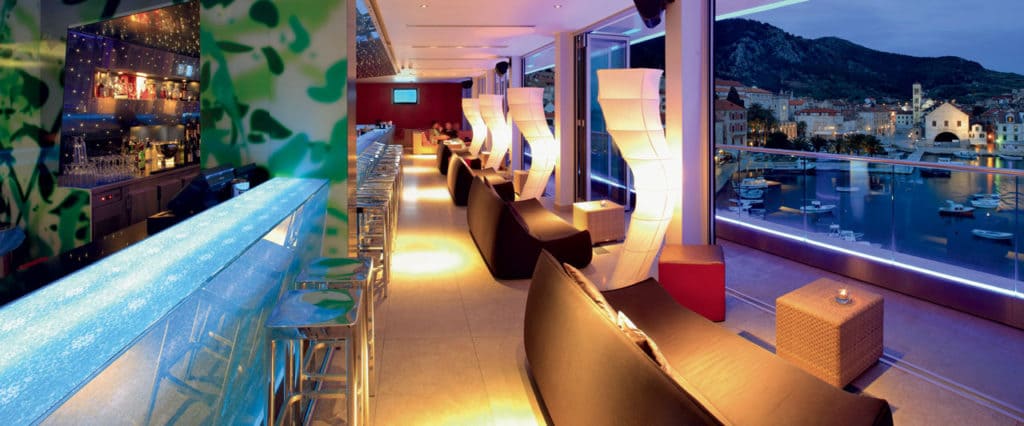 Wine Hotel and Restaurant Meneghetti
Since 2016 the Istrian hotel is made up from 25 luxury lodgings containing ten rooms and suites, and fifteen sumptuous residences with their own terraces and gardens, as well as a gourmet restaurant, and an indoor and outdoor swimming pool overlooking the vineyards. The biggest and the most luxurious split-level residence is 150 square metres big and has two bedrooms. The hotel is since 2013 a part of the international family of exclusive hotels and restaurants Relais & Chateaux and has also been awarded numerous prizes and awards. 190 – 890 €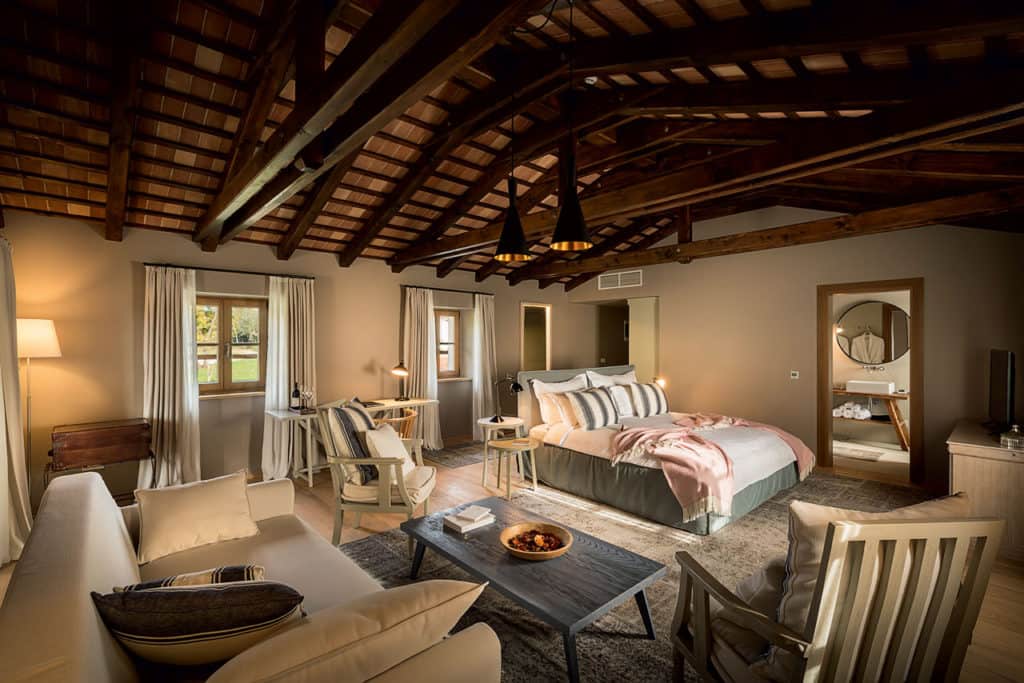 Hotel Bevanda
Hotel Bevanda was opened in 2013 in a new guise after extensive renovation of the Restaurant Bevanda in 1971, on whose foundations the hotel was constructed. The legendary name from Opatija is enriched with ten fully equipped rooms, each named after a famous personality who, during its history, spent time in the city. Save for luxury accommodation, Bevanda also offers delightful gastronomical specialities in the restaurant, an outdoor bar on the Lungomare promenade and not to mention the ship Albatro 45 is placed at the guests' disposal with which they can experience all the beauty of the Kvarner Bay. 140 – 450 €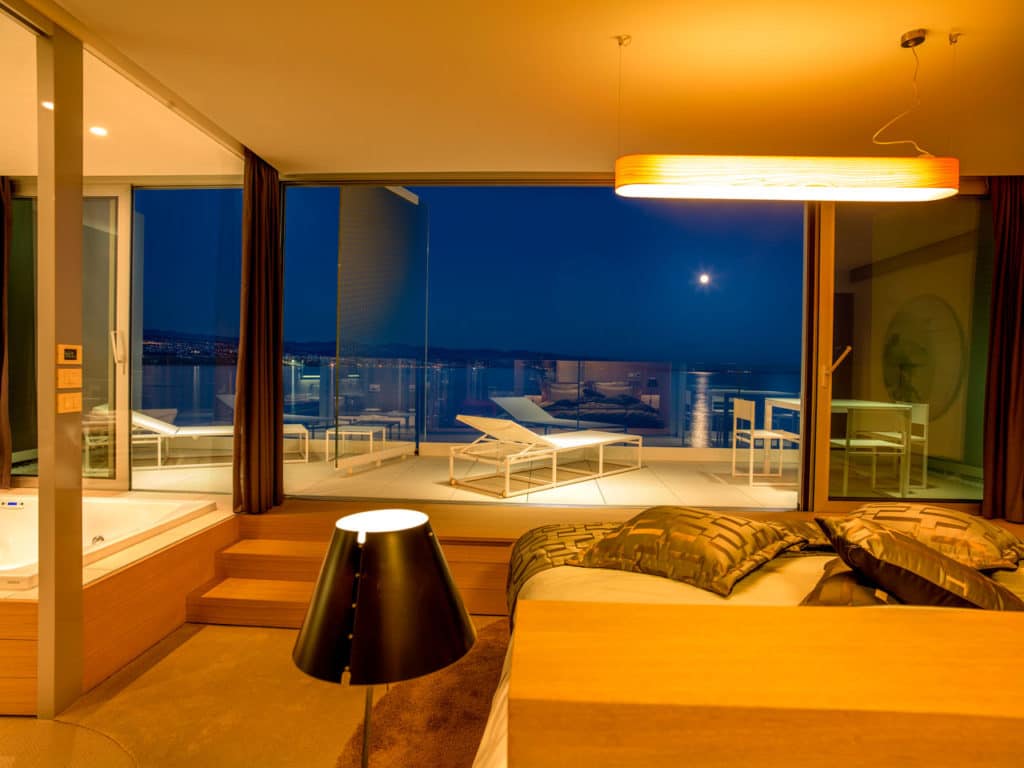 Boutique Hotel Alhambra
In the most beautiful Lošinj cove Čikat and encircled by a fragrant forest lies the most luxurious hotel on Lošinj – the Boutique Hotel Alhambra with 36 deluxe rooms and 15 suits. The finest gastronomic cuisine contains exclusively hand-picked delicacies and a carefully selected list of the best drinks and a wide range of excellent domestic and foreign wines. The head chef prepares an everyday menu of the best available food-stuffs coupled with selected wines from the wine boutique. Guests will enjoy Alhambra spa treatments which use ecologically certified products of indigenous herbs from the Cres-Lošinj archipelago, such as lavender, laurel, immortelle, and sage. 304 – 1.260 €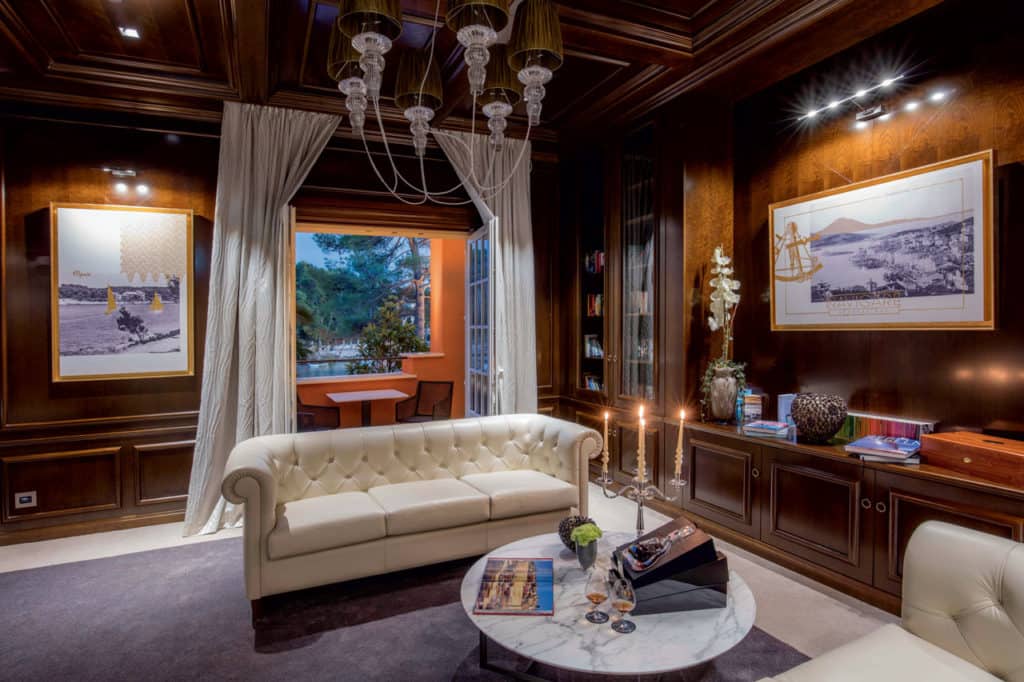 D-Resort Šibenik
D-Resort Šibenik has 63 rooms, five deluxe suites and one 120 square metres executive suit and three exclusive villas. Its extraordinary architectural design complements the beautiful natural landscape. The use of natural materials and a fascinating white façade with unobtrusive lines reflect at the same time the spirit of the Mediterranean and create a new vista for the city of Šibenik. The curvy shape of the hotel and the one-of-a-kind path to the roof leads to the restaurant and bar from where you are offered a breath-taking view of the historic Šibenik and the D-Marin Mandalina Marina. The interior design of the hotel is spectacular and pleasant, and the admirers of modern design and new technologies will enjoy it. 100 – 1.300 €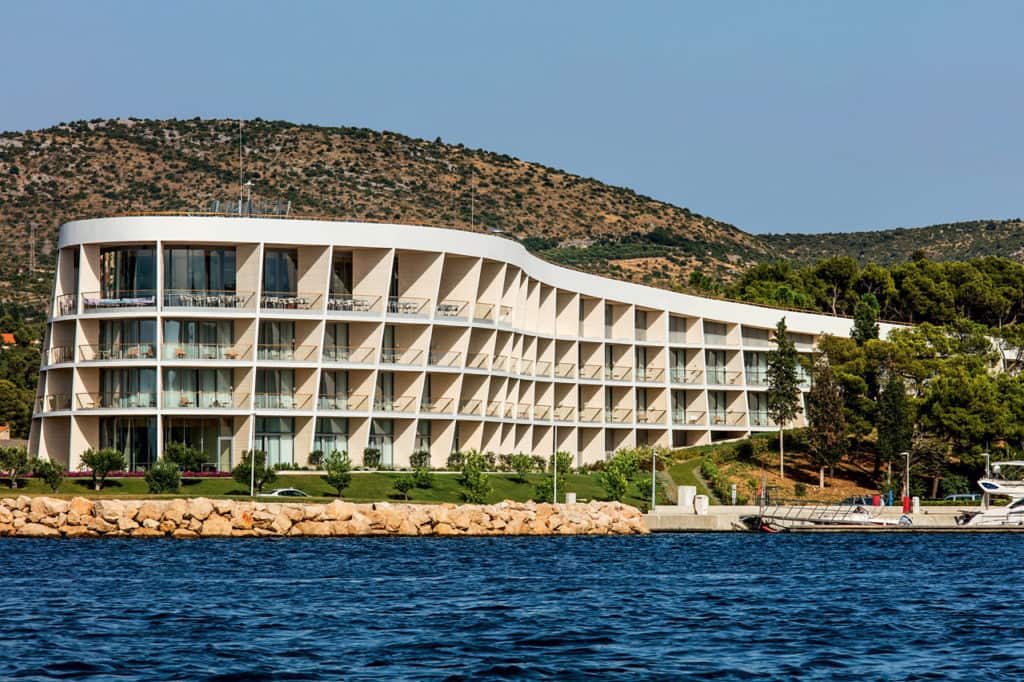 Palace Judita Heritage Hotel
The Palace Judita Heritage Hotel, a hotel for the culture admirers, is located on the main square in Split, in a renaissance-baroque palace stemming from the 16th century. It has 11 state-of-the-art rooms, named after individuals who had an impact on the city's course of history. The Judita Palace strives to evoke the period in Split when the Roman emperor Diocletian had the imperial palace built, from which the city flourished. Walking through the narrow streets, the kalete, you will get to know the city in which the most notable masters, artists, scientists and entrepreneurs have lived and ultimately shaped the city. They have all left a lasting mark on history. 120 – 400 €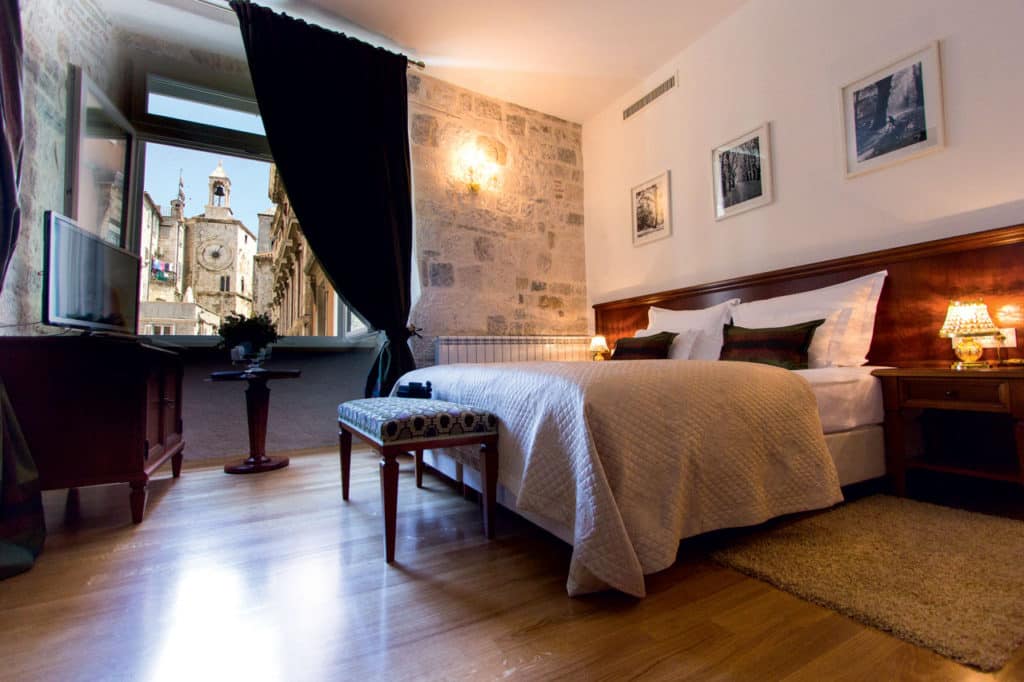 Heritage Hotel Martinis Marchi
Heritage Hotel Martinis Marchi is in the over 300-year-old historical castle on the west part of the Island of Šolta in the port of Maslinica. There are only seven suites on almost five thousand square metres of estate, as well as marina with 50 berths and a restaurant. The outdoor pool dominates the central part of the hotel and it is completely sheltered from all sides by castle walls, so that the guests can freely enjoy their privacy. In the Martinis Marchi Restaurant you have the chance to go back to the time of the Marchi counts and enjoy the special art of preparing early 18th century food. 243 – 799 €
Villa Dubrovnik
Villa Dubrovnik is situated in the prestigious part of Dubrovnik and is the best luxury hotel in Croatia. The Hotel has 56 residences, six of which are suites, and a villa with two residences. Alongside the excellent accommodation, Villa Dubrovnik offers an incredible gastronomic experience. À la carte restaurant Pjerin is an incredible place where the rich culinary heritage unites with the principles of modern gastronomy with an unforgettable ambience and view of the old city. You can enjoy the spectacular vista of the Adriatic Sea in the Prosciutto & Wine bar located on the top of the Hotel with a wide range of many sorts of international prosciutto and wines. 1.250 – 3.900 €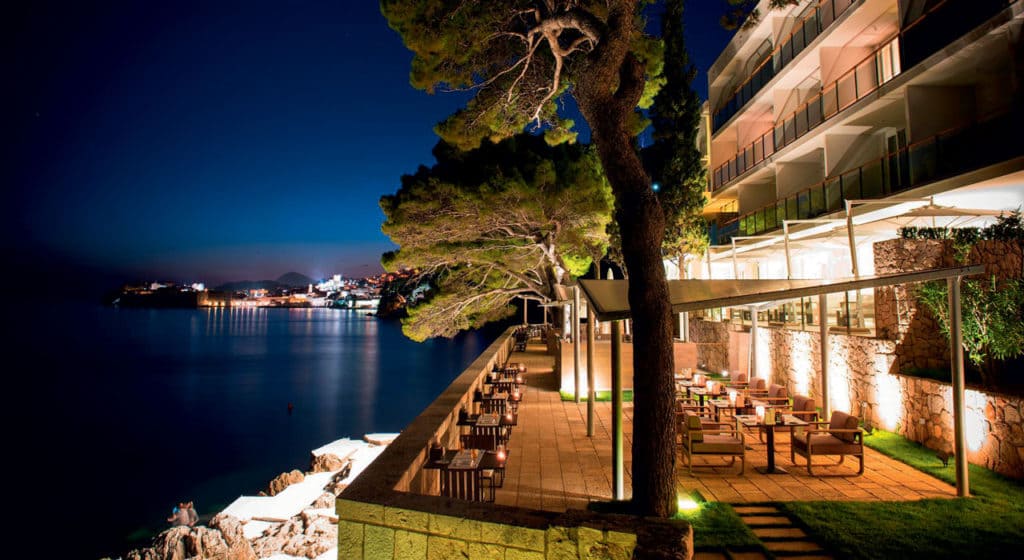 Lešić Dimitri Palace
The main inspiration for the renovation of the former 18th century Bishop's Palace was the most famous Korčula inhabitant Marco Polo and his travels along the Silk Road. This boutique sanctuary has all together five unique and spacious suites named after the regions explored by Marco Polo: Ceylon, India, Arabia, China, and Venice. Fine dining LD Restaurant offers unique 'must experience'. LD Spa is a real sanctuary for the senses offering wide range of treatments, including private Yoga classes. Wine lovers can take part in wine tours guided by a sommelier on the island and Pelješac and for the complete experience of the Korčula archipelago, the Vipera sailing-boat has been placed at the guests' disposal. 315 – 1.495 €