To feel and remember the sea wherever you are, even at Christmas time, the iconic nautical brand Riva renews its collection of accessories and design items with unique pieces of rare beauty, characterised by excellence, craftsmanship and exquisite detailing
Navy style by Riva and typical designing features of the maritime tradition, such as steel and mahogany and the colour aquamarine, are employed in the design of home decor and collectors' items and in the mood of timelessly elegant accessories. Collectors, nautical enthusiasts, or simply sea lovers, are going to be thrilled by the exclusivity of a Christmas present by Riva.
AQUARAMA & RIVAMARE KNIFE
Among the many items traditionally associated with sailing, a sailor's knife is certainly at the top of the list, still to be replaced by a digital tool. To celebrate the materials used to create this item and its genuine, tactile value, Riva together with Saladini cutlery of Scarperia, has designed two different models: one was inspired by the classic Aquarama, in wood and polished steel; the other recalls the modern Rivamare and is made in alloy and brushed steel.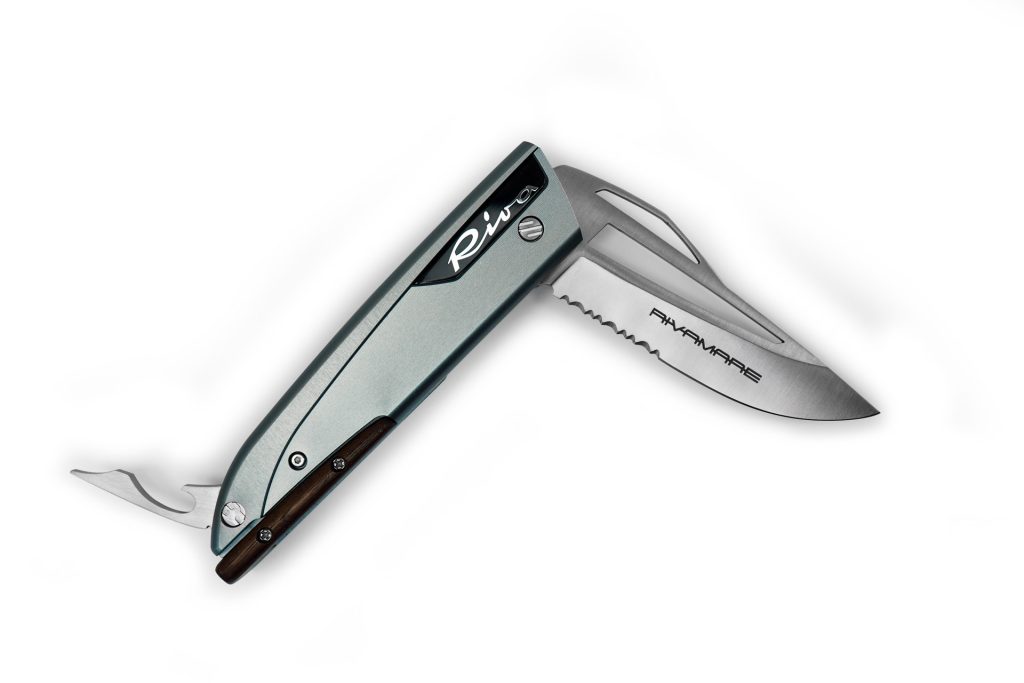 Mounted on their elegant plexiglass support, they become splendid design sculptures, ideal to furnish your home or office. Housed in their elegant leather sheath, the knives will be a precious ally on the water.
AQUARAMA SPECIAL SUNGLASSES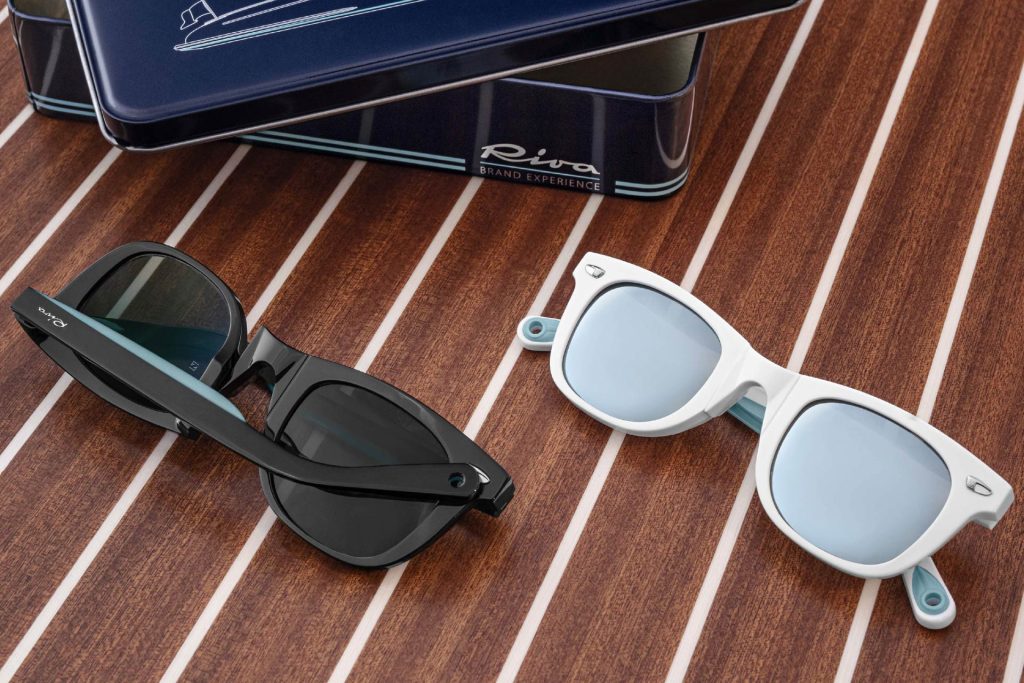 Aquarama Riva sunglasses from Movitra take their cues from the Riva's most famous runabouts, 100% handmade in Italy. Even the cellulose acetate derived from the processing of cotton fibers, the main material of the frames, is provided by the top companies in the Italian network. The model is equipped with a new system which protects lenses from potential hits and scratches. The lenses are provided by Zeiss, both polarized and anti-reflective to provide a state-of-the-art visual experience.
BACKGAMMON
The Riva Backgammon set isn't just a game but a genuine work of art available in two versions: one with an exterior covering in aquamarine mambo fabric and the other in blue leather. In both cases, the mahogany and maple construction is a jewel of craftsmanship, with a steel Riva logo either inlaid or, in the more luxurious leather model, with a 'transparency' effect.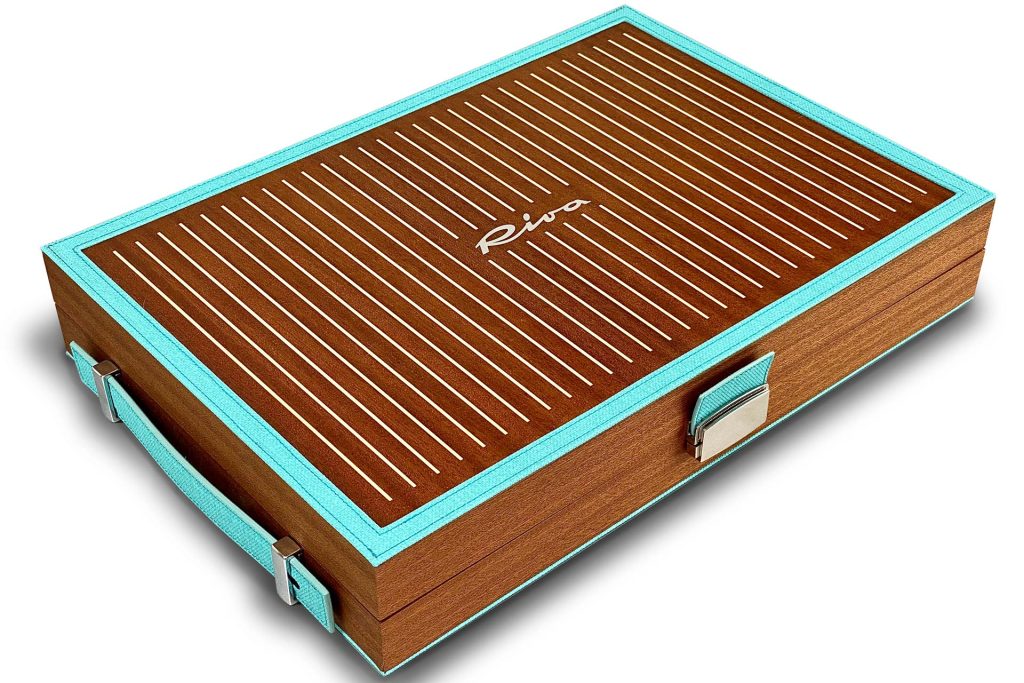 The white and aquamarine dice and pieces have mahogany inlays and show the same passion for detail that makes the world's most coveted yachts so inimitable. Whatever the result of the game, the players will remember the splendour of a matchless object that entertains, furnishes and enchants.
WOODEN TOY – Aquariva
This scale model captures a pivotal moment in the brand's recent history that saw an evolution in style from the classic to the modern. Indeed, thirteen years since her debut, Aquariva is a contemporary refinement of Riva's legendary mahogany models.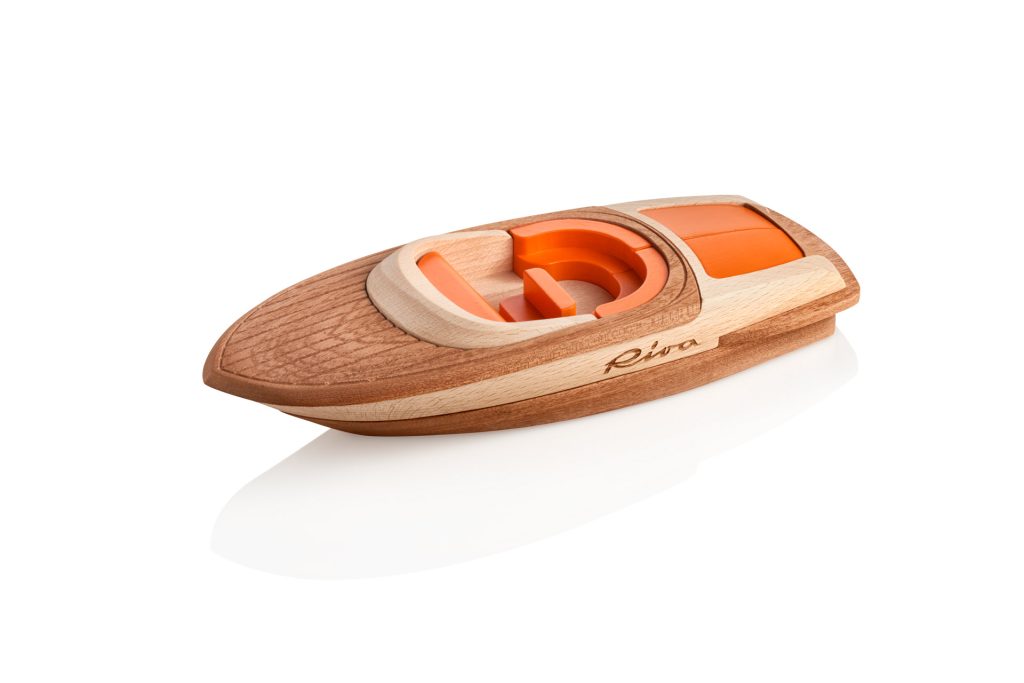 Ideal for the young and young at heart, this exquisite miniature masterpiece has been recreated in the original woods. It comes with an instruction booklet with fascinating details about nautical terminology and the boat's main components and accessories, making it a great way to inspire children to take an interest in the wonderful world of boating.
TRUNK
Riva's large multi-purpose chest, made of grooved mahogany and impeccable down to the smallest details, is ideal for items that need rapid sanitisation (e.g. shoes, magazines, towels) and to be stored somewhere clean, whether on a boat, next to a swimming pool or in the hall at home.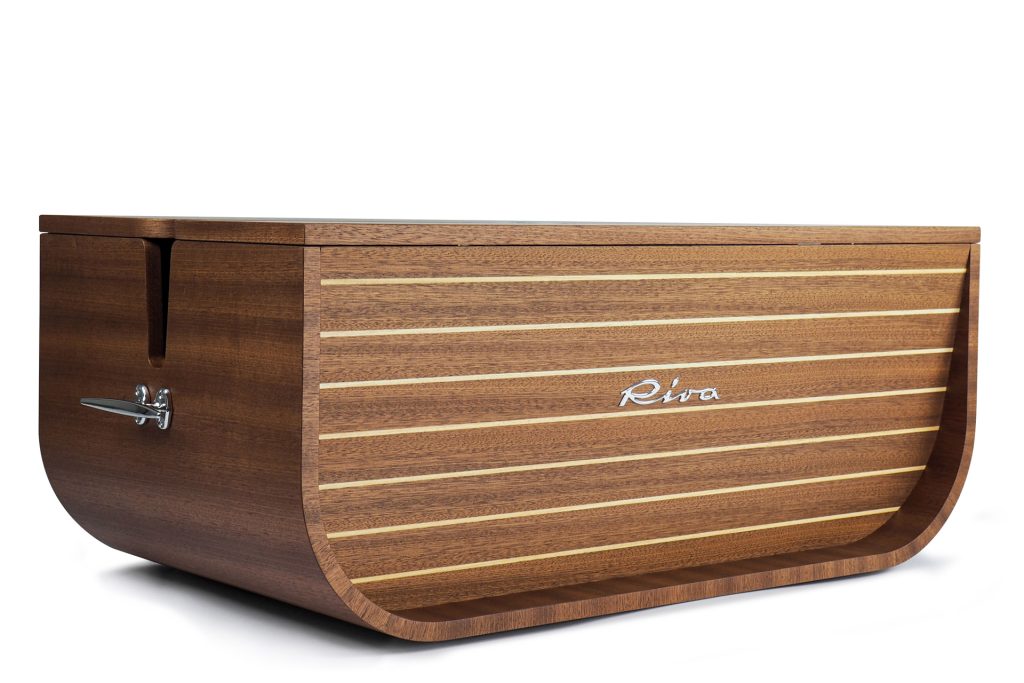 Refined and useful, it also has an important anti-microbial function: its insides are treated using the latest generation 'ESI antimicrobial system', a technology that rapidly eliminates viruses, bacteria and fungi.
RIVA ATMOSPHERE SET
The set is made up of a candle designed by Culti Milano for Riva and a balancing holder from the most authentic seafaring traditions.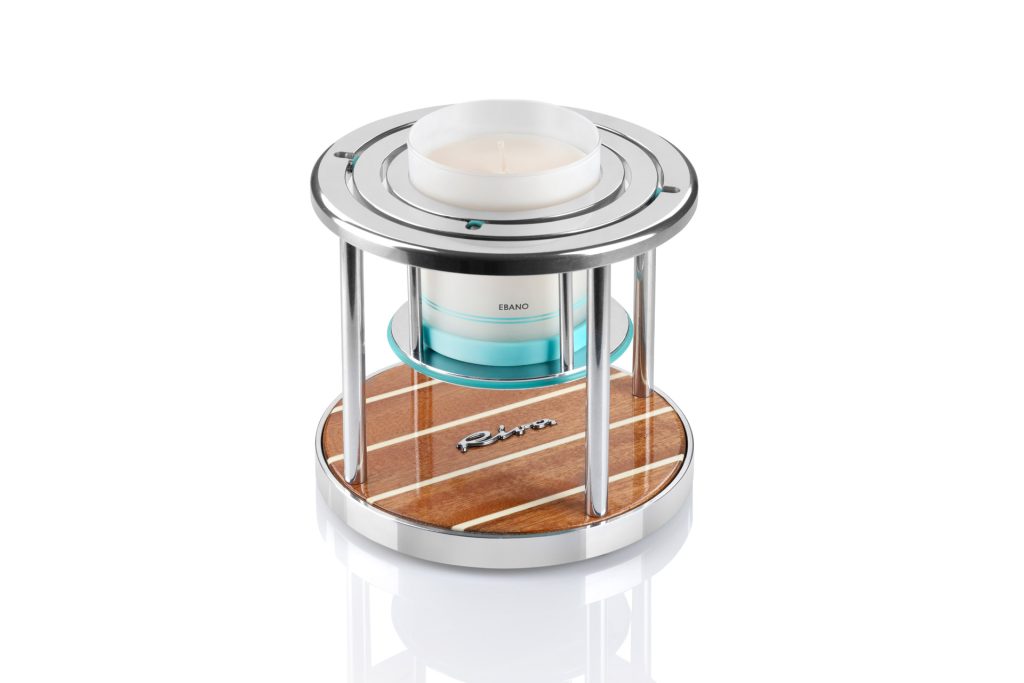 Devices such as this were used to house items that needed to remain as stable as possible, first and foremost among which were compasses, chronometers and clocks. Shaping its trademark materials and types of wood, Riva Brand Experience has created a multi-purpose balancing holder for candles and fragrance diffusers that prevents liquids from leaking during the motion of the waves. Classy in all the environments and useful during navigation.
Photos Riva