The Retreat at Blue Lagoon Iceland is a place to unwind the clock of modern life and unlock the door to a wonder of the world
Chosen in 2012 as one of National Geographic's 25 Wonders of the World, the Blue Lagoon is a place where the interplay of architecture, design, and geothermal seawater brings forth a world of unparalleled wellbeing. The water's unique beneficial powers were first discovered in the early 1980s when local residents began to bathe in the warm blue reservoir that had formed in the lava field beside the Svartsengi Resource Park. Engineers at the facility had expected the water to seep through the lava and return to the earth's volcanic aquifers. However, owing to the fluid's high concentration of silica, proper drainage did not occur and a beautiful body of water took shape. Some people came to the water for healing.
Timeless sophistication strives to establish a human connection to an extraordinary environment
Others for pleasure. But all who came, left with a profound sense of wonder. The Blue Lagoon's geothermal seawater is born in volcanic aquifers 2000 meters within the earth where freshwater and ocean water converge in a tectonic realm of searing heat and immense pressure. This water is unlike any other water on the planet and it is also the foundation of the Retreat. It flows through the spa, fills the lava corridors of the Retreat lagoon, encircles the suites, and ultimately creates the umbilical connection with the original and enduring source of wonder: the Blue Lagoon. The complex that has risen from the lava plain on the south bank of the Blue Lagoon was designed and sited according to the natural formations of the once-molten, 800-year-old flow, but there was no way of knowing how the lava would behave when construction began. The architects were guided by the principle that building and geology should become one – unified by the convergence of form, function, and the volcanic earth. With a 900 sqm lagoon and multiple experience areas spread across more than 4000 sqm of organic architecture, the spa at the Retreat is a sanctuary of serenity.
The story of the Blue Lagoon continues to be written with every guest who enters the water
Carved into the volcanic earth, the spa brings you into harmony with nature. Transporting the mind and body to new dimensions of peace and rejuvenation, the spa journey takes you through an underground realm of inspiring design, enchanting geology, and radiant wellness. The spa journey culminates with the Blue Lagoon Ritual, an exhilarating cycle of wellbeing where you experience the treasures of the Blue Lagoon's geothermal seawater: silica, algae, and minerals. Each element unlocks a dynamic array of benefits: silica strengthens the skin's barrier function, providing a healthy, radiant appearance; Blue Lagoon algae increases collagen production, leaving the skin nourished and youthful; minerals stimulate circulation and have revitalizing effects on both the mind and body.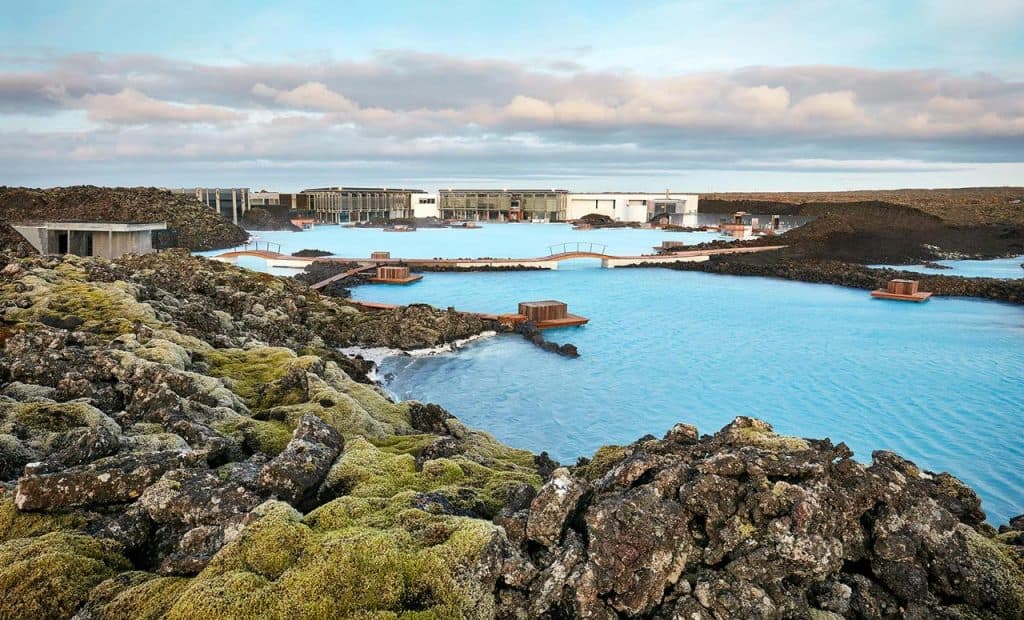 Born of a desire to unify the dynamic pleasures of massage therapy, the revitalizing powers of geothermal seawater, and the otherworldly beauty of the Blue Lagoon's volcanic landscape, in-water massage unlocks new vistas of wellbeing for your mind, body, and spirit. Suspended in the soothing warmth of a secluded expanse of the Blue Lagoon, you float on the tranquil waters of a wonder of the world. Your massage – deep, relaxing, and conducted with Blue Lagoon mineral massage oil – is a wonder unto itself. For the duration of your visit, the Retreat is your sanctuary in Iceland. With access to all of Blue Lagoon's facilities and a dedicated host to guide you through the experience, you are free to follow your heart wherever it leads, creating a personalized journey for your mind and body.
Photos by Blue Lagoon