Unquestionable Absolute DNA has been transformed, thanks to sporty lines, modern aft, with several technical innovations and a high finishing level, into an absolutely fantastic 'pocket' yacht, Absolute 48 Coupé
When the successful family-owned company Absolute Yachts, today known for the Navetta and Fly models, starts producing a completely new line, we can safely assume they have left nothing to chance. It is thus not surprising that they created an innovative product to win over new clientele: the fresh and delightful Absolute Coupé 48, already European Powerboat of the Year 2022.
Innovative motor yacht from Absolute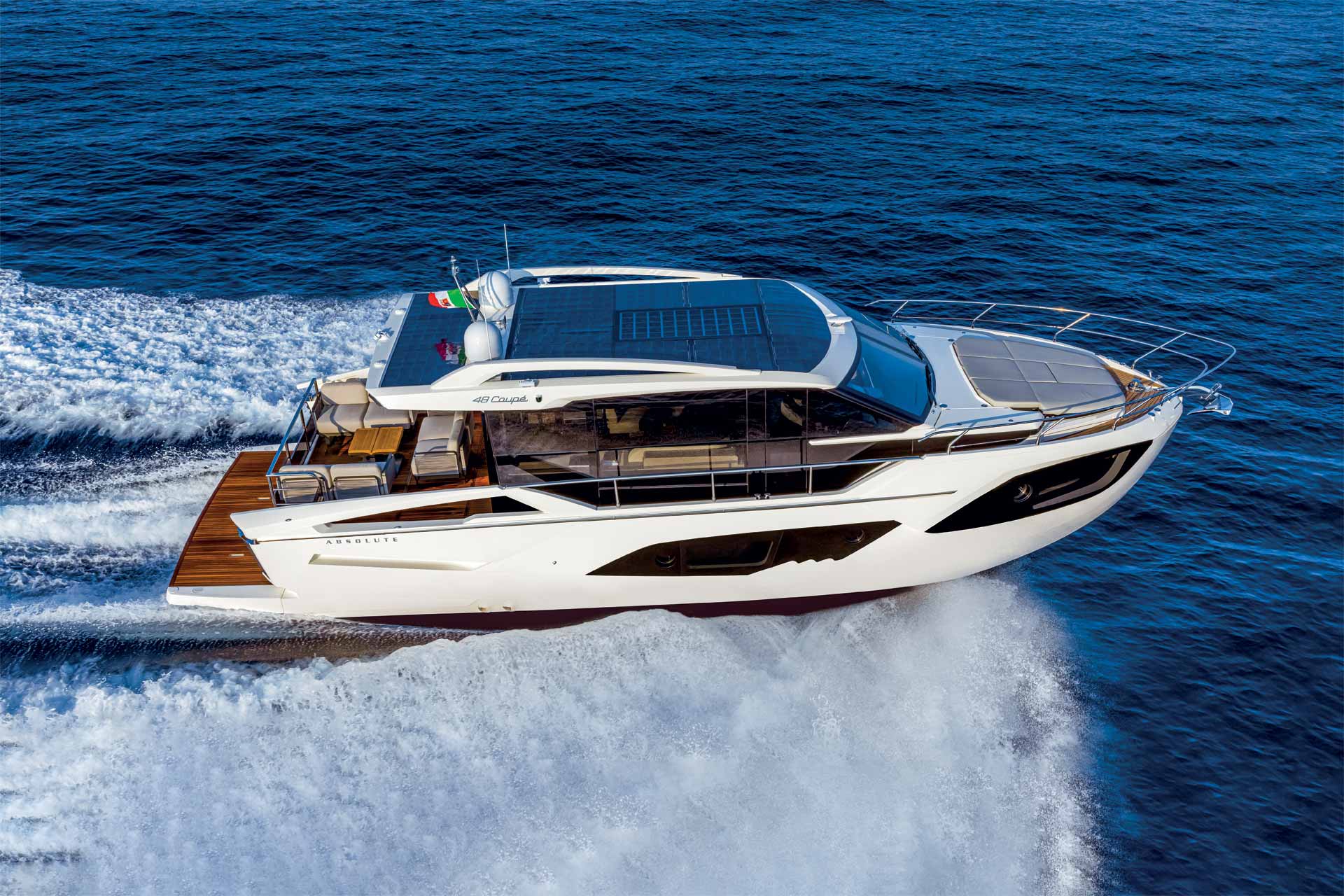 On this model the undeniably Absolute DNA has been transformed thanks to sporty lines and a modern aft, with several technical innovations up its sleeve into an absolutely fantastic 'pocket' yacht. So don't be fooled by the Coupé designation, as the clever use of interior volumes provides a good base for a variety of uses, both on short excursions and on longer voyages. One of the main features of the Absolute 48 Coupé are integrated solar panels on the top deck, amounting up to 2.5 kWp.
Absolute Horizon
They only charge batteries, admittedly, but at anchor they make sure you have peace and quiet (and functioning fridges), and do not pollute the environment with emissions, vibrations and noise as generators do. This yacht toes the segment of environmentally oriented yachts, and more green solutions from Absolute can be expected in the future, such as the installation of hybrid Volvo Penta drives. The hull looks like the hull of Absolute 47, with identical window panes, and the new model is even powered by the same Volvo IPS650 engines, but as every product line gets new moulds, so did this one.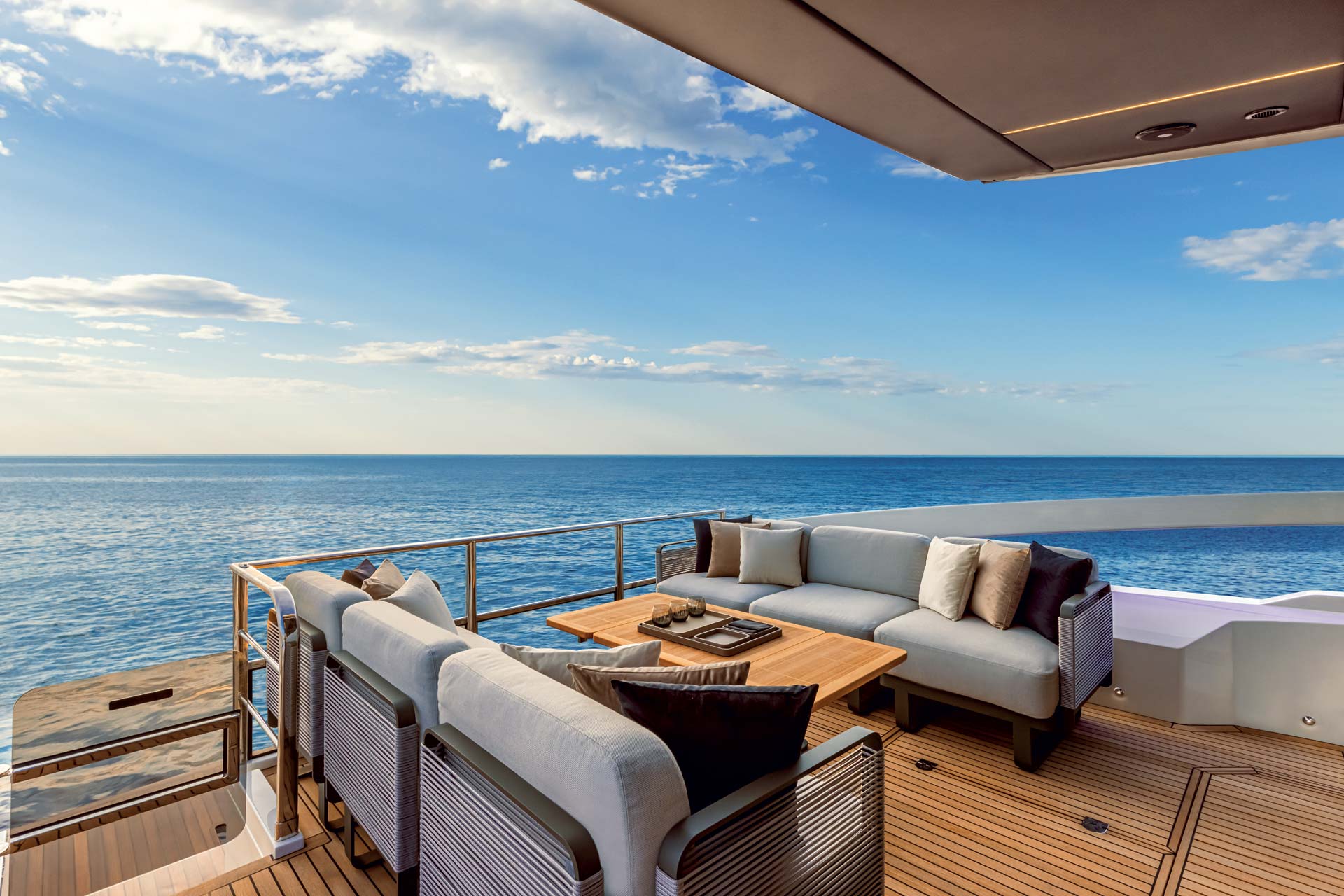 The aft of the new model, dubbed Absolute Horizon, is different, and allows the Coupé to transform into a fresh, interesting yacht that offers something no other model in its segment does. With such an aft, the absence of a fly deck is not felt at all, and the cockpit can be connected to the surroundings in a zilch, simply by lowering the large glass panels dividing it from the interior.
Absolute 48 Coupé layout
Only one layout is available with three cabins and two bathrooms and it is identical to that of the 47 Fly, but on this model it has been elevated. The galley is a bit shorter, but the salon is still generous in size, with two sofas and a free-standing table. All cabins are flooded with natural light thanks to the massive windows, and the interior has a calm vibe based on light oak and dark, shiny decorative elements, soft rounded corners, fine fabrics and quilted leather, all very elegant and measured.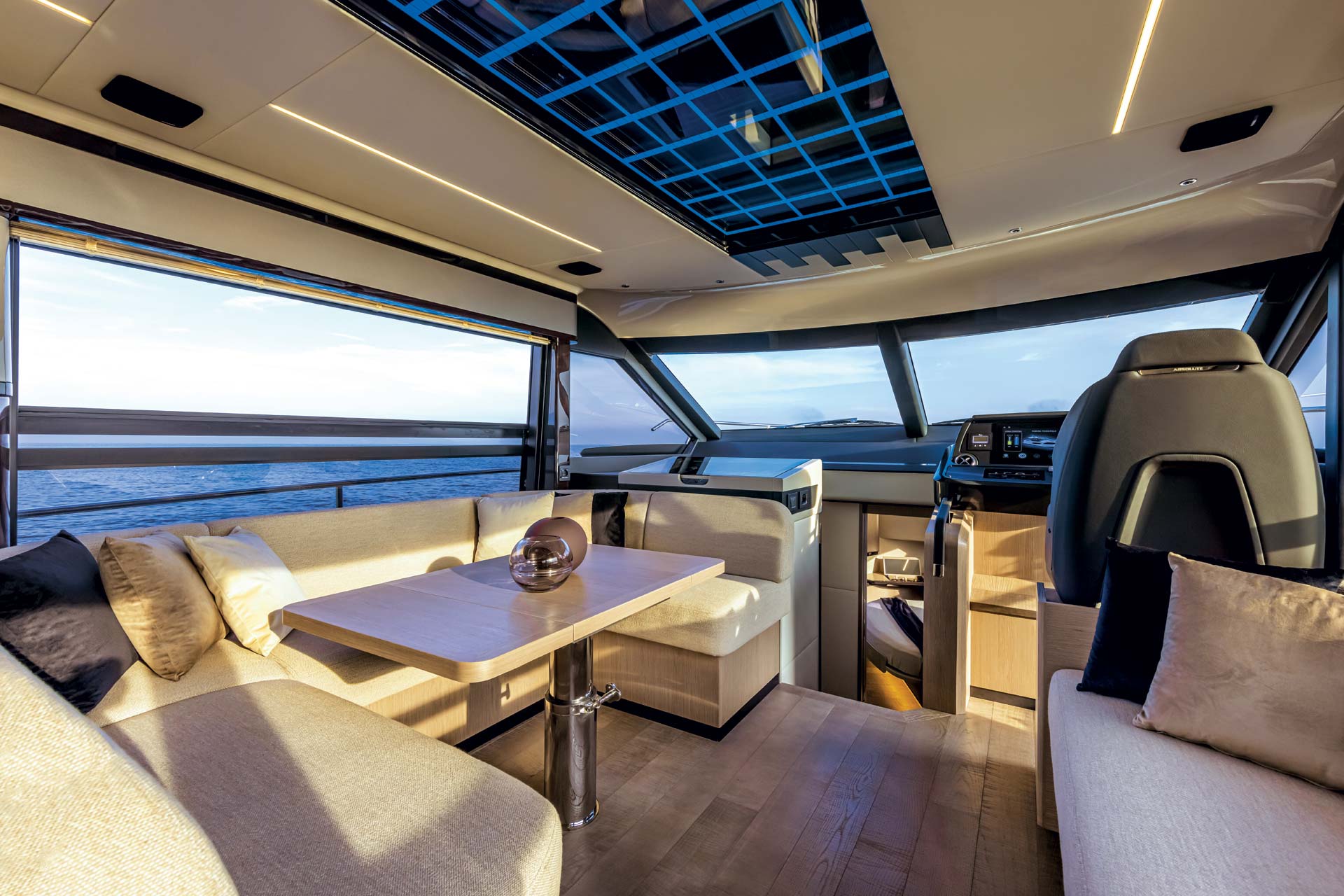 The great width of the hull even at the bow, as well as the presence of the cockpit sliding doors make it possible the owner cabin to rise to a majestic size, with a sloping bed, a small table, hanging cabinets and an en-suite bathroom. Standing height is the same in all cabins and bathrooms, and the VIP cabin as wide as the hull, with a walk-in closet and a shared bathroom (with the double guest cabin).
Exterior areas on the bow, with large sunshades, and aft, more than make up for the lack of the fly deck, especially when the furniture is moved aside and the aft turns into an entertainment are with no barriers between guests and the marine environment. Despite the high bow – accessible by two steps – the skipper enjoys excellent visibility. Functional house-style doors, not very common on yachts of this length, are a delight to see and provide plently opportunities for letting in some fresh air.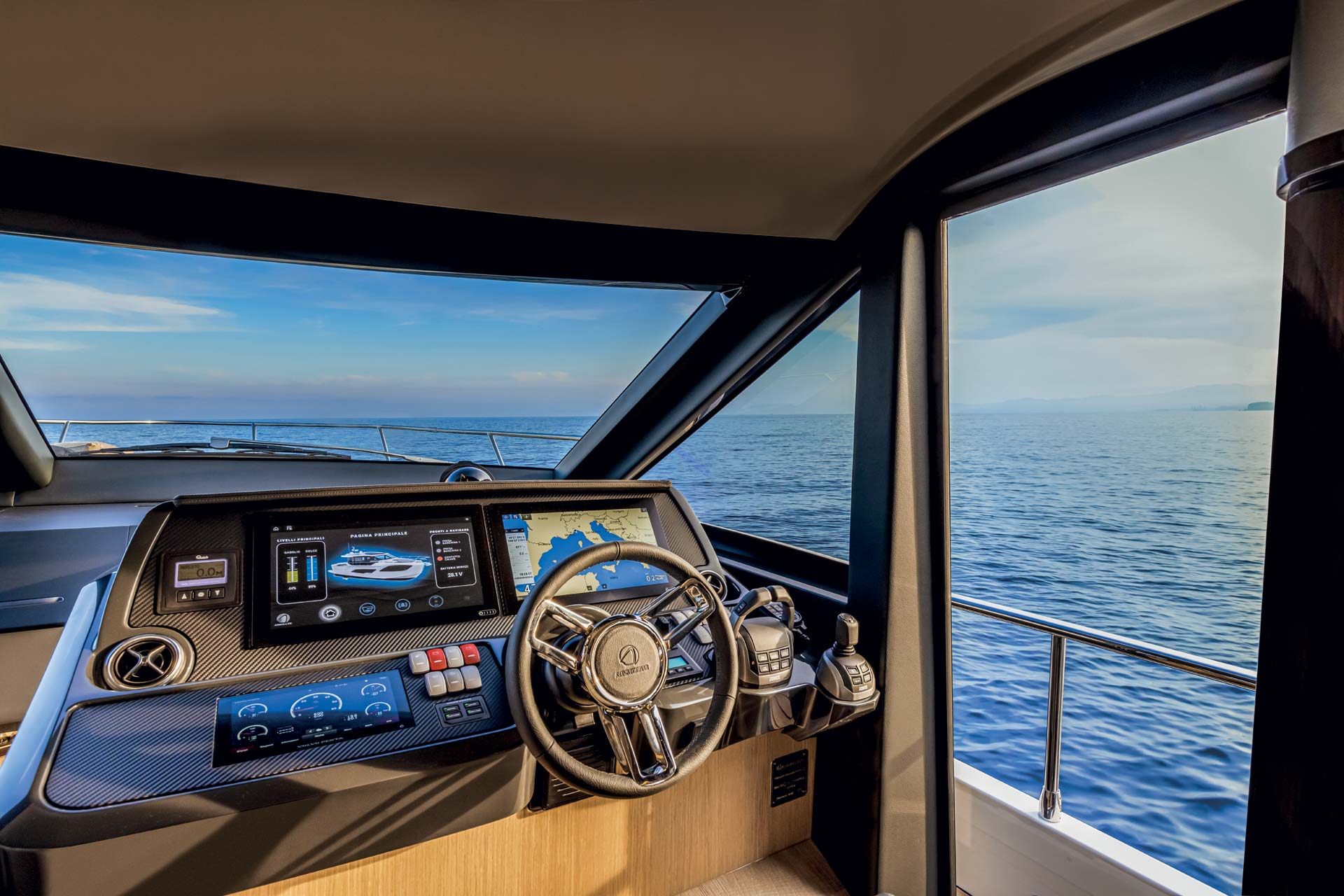 For those taller than 180cm/6 ft., the footrest under the steering wheel will be set too high, but the skipper's seat so comfortable. The new Volvo Assist system makes steering so easy it's a bit boring, and the Raymarine radar gives extra safety in sailing and performing manoeuvres. All levers and the joystick are perfectly positioned, and the DPS (Dynamic Positioning System) keeps the 48 Coupé in place with just one press of button and the motor and thruster do the magic.
Absolute 48 Coupé fuel consumption
Assistant docking allows the yacht to move wherever and however the skipper wants, but as soon as it stops, the DPS takes over. Two Raymarine screens and a 9-inch Volvo screen provide plenty of information and allow for easy use of all systems. With more than half a tank of fuel, we set off at 1,200 rpm and at 7 knots of speed, reaching planning speed in less than 10 seconds, with 2,600 rpm and 13 smooth knots. At 10 knots, we recorded mere 5 l/nm fuel consumption.
The noise stayed under 75 dB all the time, and the Coupé was an absolute pleasure at about 20 knots (3200 rpm), not only because of the silence that surrounded us, but because it remained perfectly balanced and stable in all manoeuvres. We did find th steering angle a bit to narrow, resulting in wide turns, but although this can be easily corrected, we decided there was no need for it.
Absolute 48 Coupé range
Merely out of curiosity, we set off at full throttle and reached more than 25 knots in 20 seconds, slightly less than the maximum declared speed of 28 knots. This Coupé is an absolutely fantastic choice for all those who want a balanced product, equally interesting for comfort, performance and consumption – especially with current fuel prices – and who will appreciate easy cruising at about 12 knots over 700 miles of absolute horizon.
Text Filip Bubalo
Photos & video Absolute Yachts