Antonini Navi presents a new UP40 crossover
Antonini Navi UP40 crossover is the first yacht designed by the brand in collaboration with Fulvio De Simoni. Available in open deck and enclosed bridge versions, it offers a contemporary take on classic boats
Antonini Navi presents UP40 crossover, the first of three models based on the UP40 modular steel platform that allows the concept and type of yacht to be decided during the construction process. Like the upcoming models – motoryacht and sport explorer – crossover has been designed in collaboration with multiple award-winning architect and designer Fulvio De Simoni, who said: 'This model is a modern reinterpretation of classic boats designed for a precise function: simple forms with a strong personality clad a versatile architecture open to customization, designed to offer a simple and direct way to enjoy life at sea'.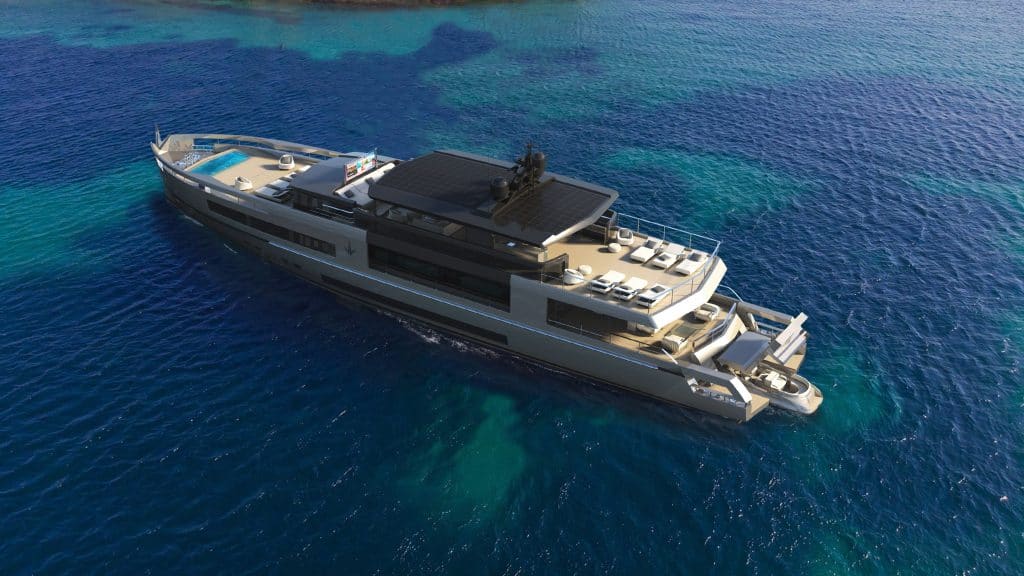 Like all the boats produced by the shipyard, UP40 crossover yacht (on which construction work will begin in September) will have a clean, balanced and innovative design. Two main decks are connected by a half-deck containing the single helm station. De Simoni described this choice by saying: 'The unusual arrangement of the decks, with the wheelhouse area and foredeck set at a height midway between the main and upper decks, minimizes the difference in height and creates continuity across the entire upper section of the boat, turning it into a huge terrace on the sea covering over 200 square meters, a sizeable portion of which (a full 90 square meters) is protected and shaded by the hard top.'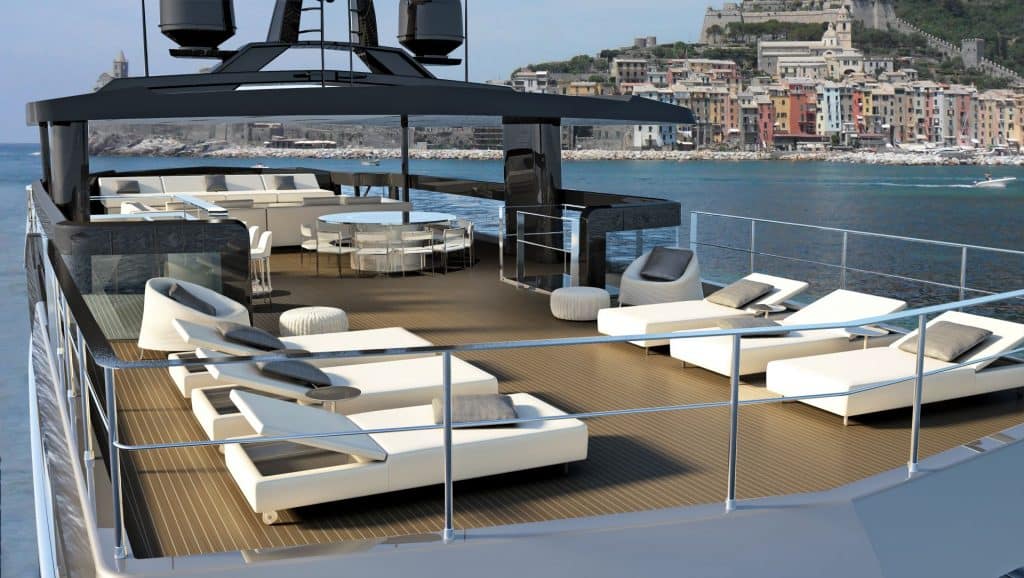 UP40 crossover is available in two versions, a fully open deck model designed for cruising in Mediterranean climates, plus an enclosed bridge version with a superstructure that covers part of the upper deck and features extensive glazed surfaces, offering a 360-degree view of the horizon. In this case, the owner's suite can have a surface area of over 60 square meters and a private terrace. The external bow area can, of course, accommodate a table for al fresco dining and a sunbathing area. There are up to four double cabins for guests on the lower deck, sleeping a total of ten people, while five cabins are set aside for the crew.
The new model from Antonini Navi will also have two tenders: the first, seven meters long, is housed in the stern hangar for easy launch and recovery, while the second measuring almost four meters in length is stowed forward for use by the crew, with a recessed winched integrated in the gunwale. The big fuel tanks and a special focus on efficient cruising deliver 'grand cruiser' range of over 5,000 miles at 10 knots. Top speed is about 15 knots and cruising speed 12 knots.
Photos & video Antonini Navi