'Chopard makes me feel like myself, but elevated to the next level!'
Chopard has chosen fashion model Arizona Muse to personify its iconic Happy Hearts jewellery and Happy Sport watch collections. Well-known in the fashion industry as one of the models most often seen with a smile on her face, in an interview she shares her vision of happiness, ethics and today's woman.
You always wear a radiant smile. What lies behind this smile?
I think that what lies behind my smile is pretty simple: my family. My son makes me really happy, my life makes me happy, my husband makes me happy, my parents and others do too. I think that people are behind my smile.
Chopard is the first watchmaker-jeweller to commit itself to a long-term sustainable development program. How do these values echo your own vision of ethics and the environment?
The thing that I love most about Chopard is that they make this beautiful jewellery and they really are very conscious of their effects on the environment and on human beings, and so they work to create these beautiful pieces. I am very passionate about this. I have become incredibly interested in the environment and in how we can work together to save it and I just see so many solutions. So exciting.
The Happy Diamonds collections are dedicated to shared happy moments. What are happy moments for you, with whom do you love sharing them?
Happy moments for me are about nature, seeing something beautiful that wasn't manmade and about the people in my life.
The Happy collections were born from the vision of women embodying and advocating women's emancipation. What message would you like to pass on to the women who admire you?
A message I would like to pass on to the women who admire me is firstly, thank you for admiring me! That helps me admire myself. Admiration is very powerful. I find that when I surround myself with people who I admire, my life is better.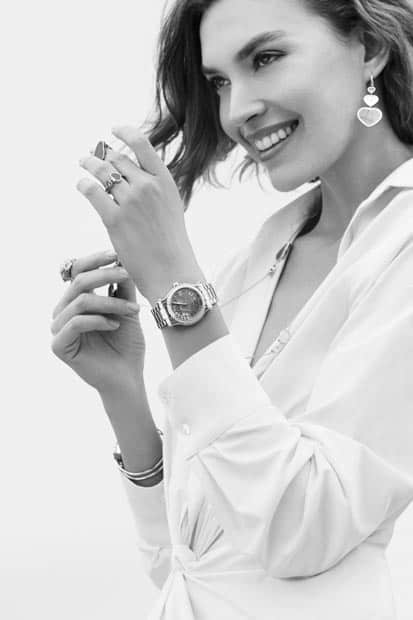 Through your life and career, you embody a kind of freedom. Is that why Chopard jewellery accompanies you?
I love the ethos behind Chopard, I think that Caroline wants every woman to feel herself and free and happy and this makes me just love this affiliation with her company.
Happy is about Joie de Vivre and perpetual motion; is it important to wear jewellery that highlights your personality?
I think that jewellery that highlights someone's personality does not have to be described in the same way as they would describe themselves. For instance, someone who wears chunky heavy jewellery, I would not necessarily describe them characteristically as chunky and heavy just because they wear chunky heavy jewellery. So I think that you can find a way to make your jewellery be a part of you without necessarily fitting the identical description.
How do strength and femininity, two values meet and match as far as you are concerned?
I think that strength and femininity go hand in hand, I don't think femininity is much unless it's in conjunction with strength and I don't think strength is much unless it's in conjunction with femininity. Even for men this is true.
Are there some particular pieces of jewellery that have been passed on or given to you and of which you are particularly fond?
Yes, I have my grandmother's beautiful gold watch with a very fine woven gold chain and my grandmother-in laws beautiful string of Japanese pearls.
Photos by Chopard