With her deck in place and her ground-breaking interior installed, the Baltic 110 high performance cruiser is entering the final phase of construction before her launch in May 2023.
This genuine multi-role super-cruiser will feature high performance sailing, exceptional comfort below deck and stunning interior design combined with the latest thinking in electric propulsion. She is a formidable go-anywhere luxury cruising yacht with the ability to perform at the highest level on the superyacht race courses of the world.
The 110's principal role will be as an eco-efficient, high-performance global family cruising yacht benefitting from sophisticated interior design by the acclaimed Swedish architect Andreas Martin-Löf. The yacht's eco-credentials are reflected in her refined electric propulsion system using a 247kW Danfoss motor driving a folding propeller which is preferred to a more complex, less cost effective hydraulic controllable pitch propeller (CPP). Her lithium-ion battery banks will be charged using hydrogeneration provided by the free-wheeling propeller while under sail and two low emission generators.
The yacht will benefit from an efficient heat recovery system, which uses energy from the air conditioning to heat the domestic hot water boiler, and there are plans to install an advanced solar panel system to further contribute to battery charging.
The Baltic 110 Custom's striking accommodation design uses the carbon structure of the yacht and combines it with features like rice paper and walnut lantern lighting in the corners of cabins, walnut furniture and the subtle juxta-positioning of units. Lighting and matching materials are used to create a feeling of simplicity and uniformity.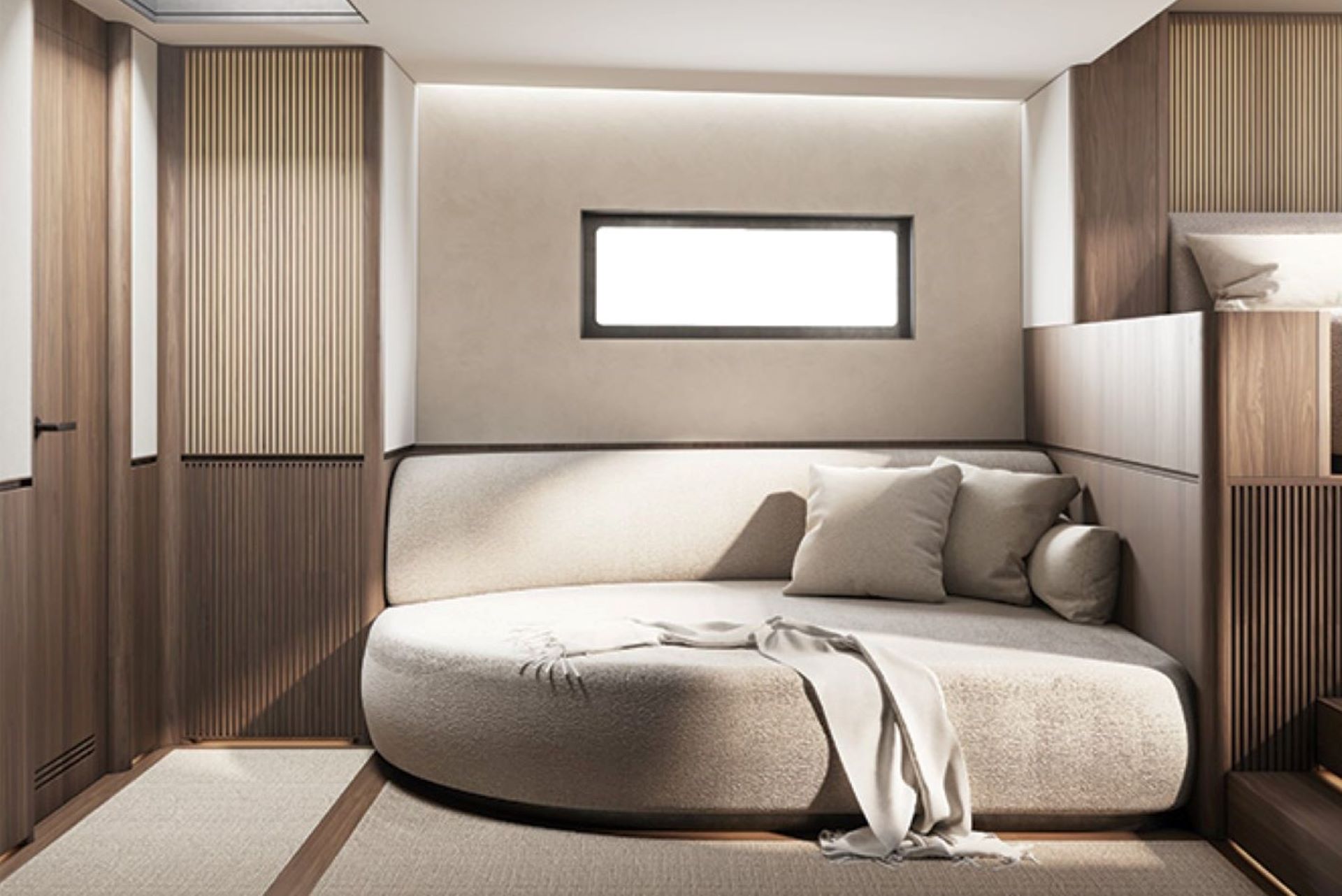 Under the water the Baltic 110 will feature a submarine anchor stowage, a bow thruster and rotating stern thruster, twin rudders and the aforementioned telescopic keel which will reduce draft from 5.80m to 3.80m.
On deck, a versatile guest cockpit can be arranged in several modes including dining for ten, a twin coffee table option and conversion to a large sun-bathing area by fitting removable covers and cushions. A soft bimini can be erected on removable titanium poles to provide protection from the main companionway aft to the mainsheet position.
Equally versatile is the stern garage, boarding and bathing area. Dubbed the 'beach club', this expansive, teak skinned fold-out platform is equipped with ladders, a shower and twin stairways leading to deck level. Its stylish design uses Malcolm McKeon's hallmark teak deck 'roll-top' design which softens the transom lines in this complex area of the yacht.
Photos & video Baltic Yachts
No tags for this post.