Benetti, icon of style and elegance in the history of luxury yachting, wins another challenge and launches three giga yachts in just 100 days
Benetti is the oldest Italian shipyard specialized in luxury yachts, an icon of timeless style and excellence in the construction. At the end of 2018, the Benetti Giga Season has officially begun: a period of great excitement and activity for the shipyard. The first giga yacht launched in Livorno was FB277, a 107 meters motor yacht, the biggest at that time built in Italy by a private shipyard. Powered by a diesel electric propulsion system, the yacht has interiors and exterior designed entirely in house by Benetti, under management by Imperial, acting as owner's representative, build supervisor and yacht manager. The giga yacht has a steel hull and an aluminum superstructure; features a large swimming pool on the sun deck, a grand piano, a spa with hammam, massage room and gym, and a touch-and-go helipad. Her maximum beam is 15,2 meters and she has a full load displacement of 3300 t. Her elongated and linear profile is emphasized by balanced ribbons of glazing that add a touch of contemporary style and minimalism. Her strong plumb bow was designed with one goal in mind: tackling swelling seas with ease and comfort. The vast helicopter pad makes for uncomplicated landings.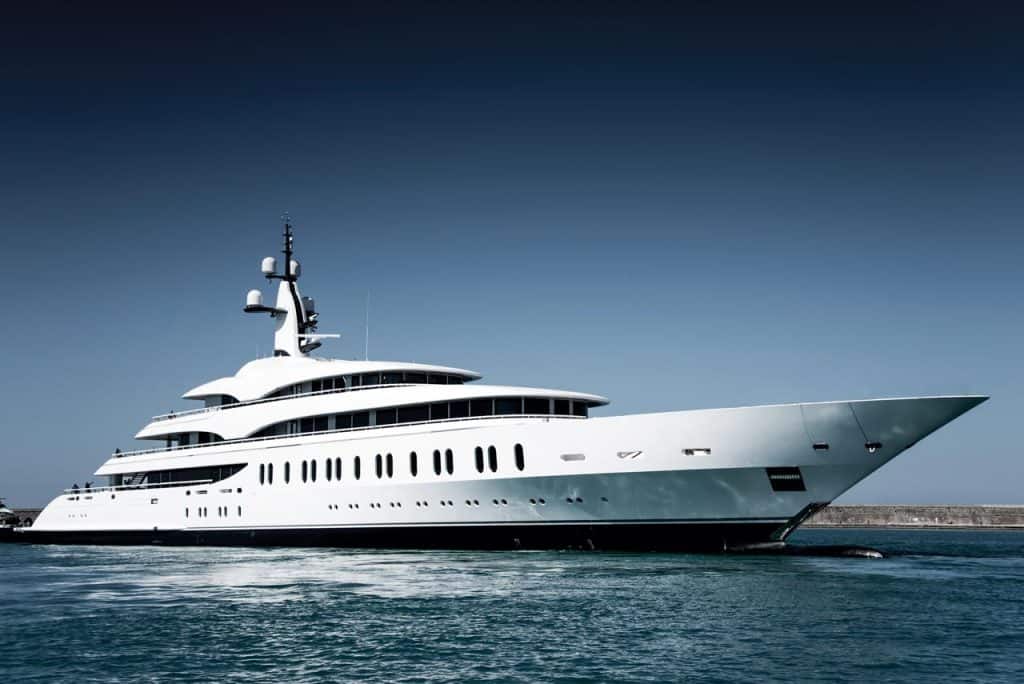 The master cabin is sumptuous, full-beam, flanked by identical port and starboard balconies leading on to vast dressing rooms and a private head. The upper deck saloon, aft of the owner's suite, is perfect for unwinding at the end of a long day, listening to or playing the grand piano, or watching a movie in the intimate movie corner with comfortable sofas. On the main deck, seven huge VIP cabins, each with a large bathroom, are located forward of the spacious main dining and saloon area. A spacious beach club has access to the sea on both sides of the beam, as well as to the aft, creating a huge connection with nature. The top deck features seating and sun pads for those looking for a nice view, while the sun deck accommodates dining areas, more sun pads and a huge pool. Benetti continued its dazzling giga yacht season with the launch of FB272, a steel yacht with aluminum superstructure, whose owner had a significant say in both the conception and development of the specification, general arrangement and exterior design. FB272 has been built to the unique taste of a very experienced owner who co-operated from the beginning with the Burgess Technical Services team. With a displacement above 5500 GT, length of about 100 meters and beam of 17 meters, the yacht is fitted with a pioneering hybrid propulsion system with diesel-electric engines and two Azipods propulsion units connected to a special battery pack conceived and provided by the owner for total vibration-free navigation in absolute silence.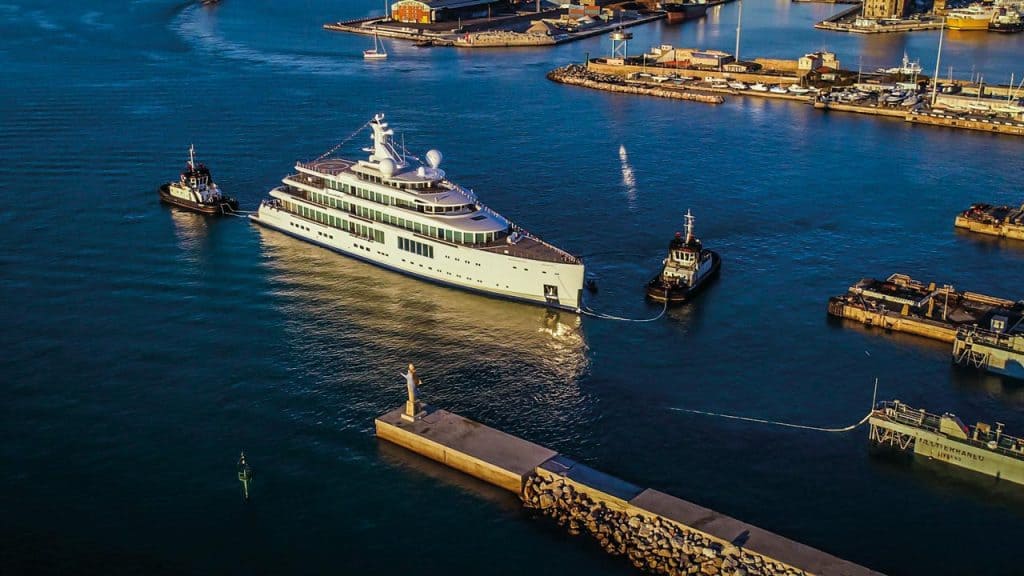 The straight bow offers brilliant sea-keeping potential, while the huge forward deck area brings guests a thrilling vantage point for relaxing in cruising. The main deck offers further dining and social spaces, sheltered and shaded by the graceful overhang of the beautifully styled superstructure. Above this area is the wheelhouse, and one level up a charming private deck leading towards the helicopter pad – fully certificated by a recognized aviation agency – equipped with fueling station. High swathes of glass wrap the main decks, with the hull featuring a long horizontal strip of glazing from mid ship to stern. Windows on the upper decks are entirely uninterrupted by structure, making decks appear to be floating. Interior design for the guest areas were conceived and developed by Zaniz Jakubowski of Zaniz Interiors. She provided her unique artistic expertise in luxury yacht designing to develop a wonderful décor fulfilling the owner's brief. Benetti completed the third and final chapter of the first part of its Giga Season with the launch of the 108-meter FB275. Her superstructure has been built in aluminum, and her displacement is 3600 tonnes. Created with the scope to cruise the oceans for thousands of miles without the need to refuel, FB275 has a fuel tank with a capacity for 345.000 liters, enabling her to achieve a range of 6500 nautical miles at 14 knots.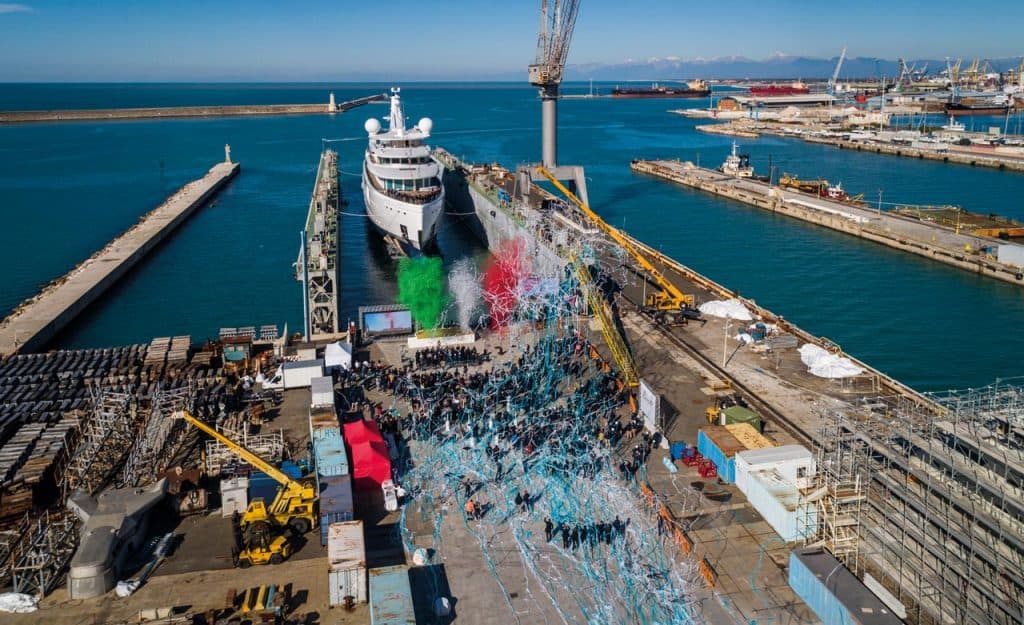 More than 1000 sq.m. have been devoted to exterior spaces, spread across five decks: the observation deck at the very top of the yacht offers breathtaking views and social circular seating, on the bridge deck two L-shaped sun pads are set around a 1,5 meter fire pit, the owner's deck has private dining and seating areas, and on the main deck there are a huge dining table and the massive heated swimming pool. 'The launch of FB275 marks the culmination of the first part of our Benetti Giga Season, yet at the same time, opens a new era of building yachting giants. With the creation of these three sister yachts, we have proven that our huge investments and constant hunger for progress have, and will, continue to pay off,' said Mr. Paolo Vitelli, President and Founder of Azimut|Benetti Group. Benetti's Giga yacht construction program has been the subject of major investment at the shipyard. An ambitious business plan has prompted financial input in infrastructure, organization, safety and security, to overcome the challenges presented by building such gargantuan yachts. Expansion at the Livorno shipyard, in the form of two new generation steel structure sheds, has enabled Benetti to massively increase their productivity and enable simultaneous building of three giga yachts. Today, Benetti is one of very few shipyards in the world with the capacity and capabilities to build yachts over 100 meters in length.
Photos by Benetti