Veronika, the 23.99-metre Bering B77 explorer, was delivered after just 18 months of construction
Bering B77 explorer, known as Veronika, has been conceived as the perfect long-range voyager with enough power, supplies and entertainment for a family of intrepid travelers. Designed in-house by Bering, this steel-hulled yacht blends a classic exterior with the most up-to-date specifications.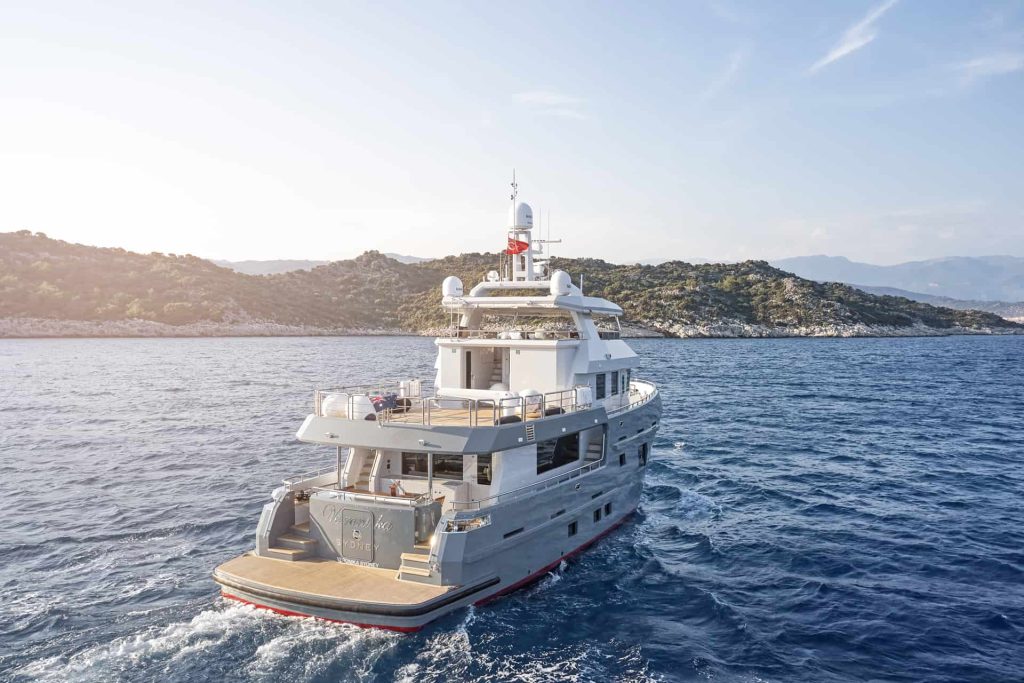 Inside, the three-decked Veronika is roomy enough to accommodate six guests and up to four crew, although she can also be sailed shorthanded.
With a massive 170 GT of volume, she outperforms most other yacht brands below 24 metres and shares the bulbous bow, hard chined hull sides, and twin gondola skeg underbody of her sister ships. Her bow is very high off the water and prominently features two large pocket anchors tucked into the gorgeous stainless steel backing grill. This impressive bow height translates into a dry ride and creates very tall interior proportions allowing for over 2 meters headroom throughout.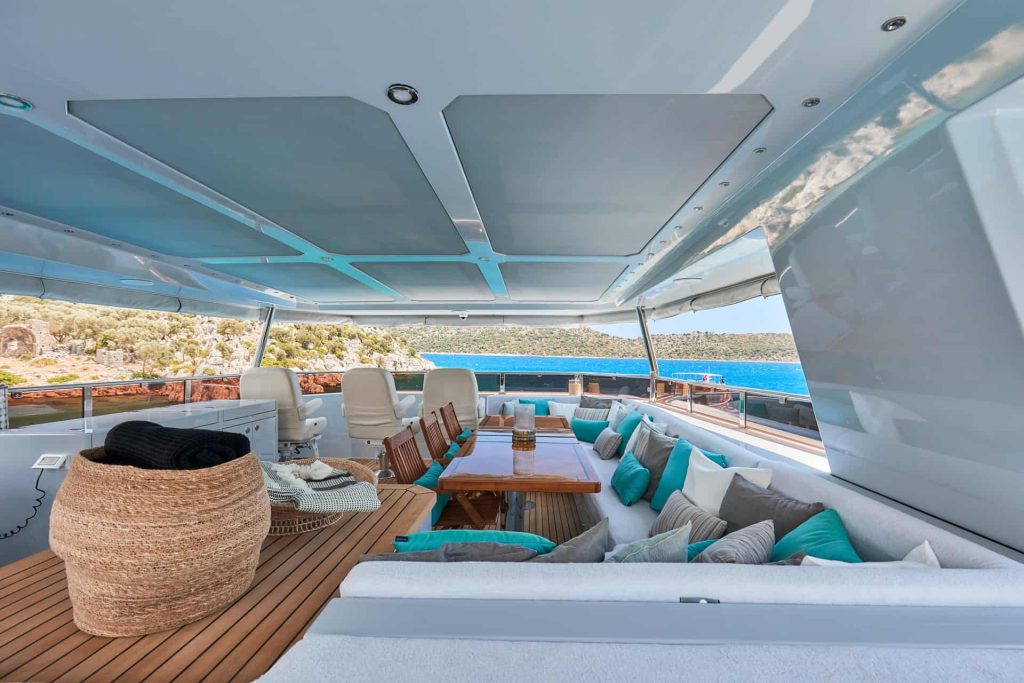 Aloft Bering 77 features a full-beam flybridge great for entertaining with a solid hardtop that easily flows aft to a large boat deck for tender and crane storage. On the main deck level, the side decks run bow to stern on both sides. The raised cockpit aft includes an outside seating area. The saloon has a built-in outboard seating and a large dining table.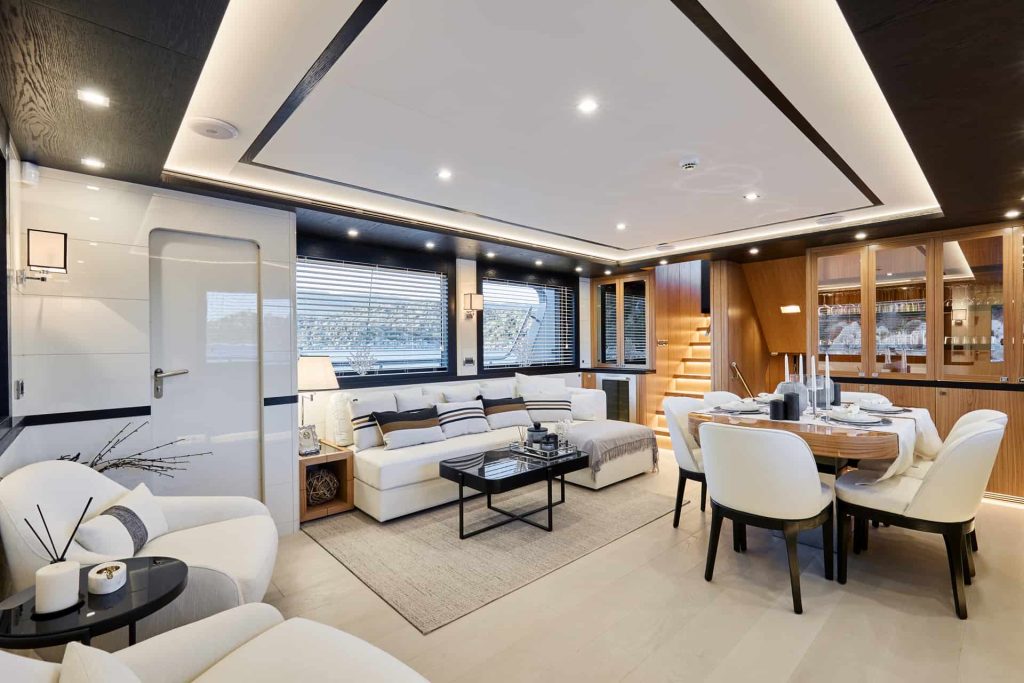 Going up a few steps, you arrive at the galley, from where you can go into the pilothouse. The large interior volume lets each owner select the number of cabins and how they are laid out in a wide variety of choices.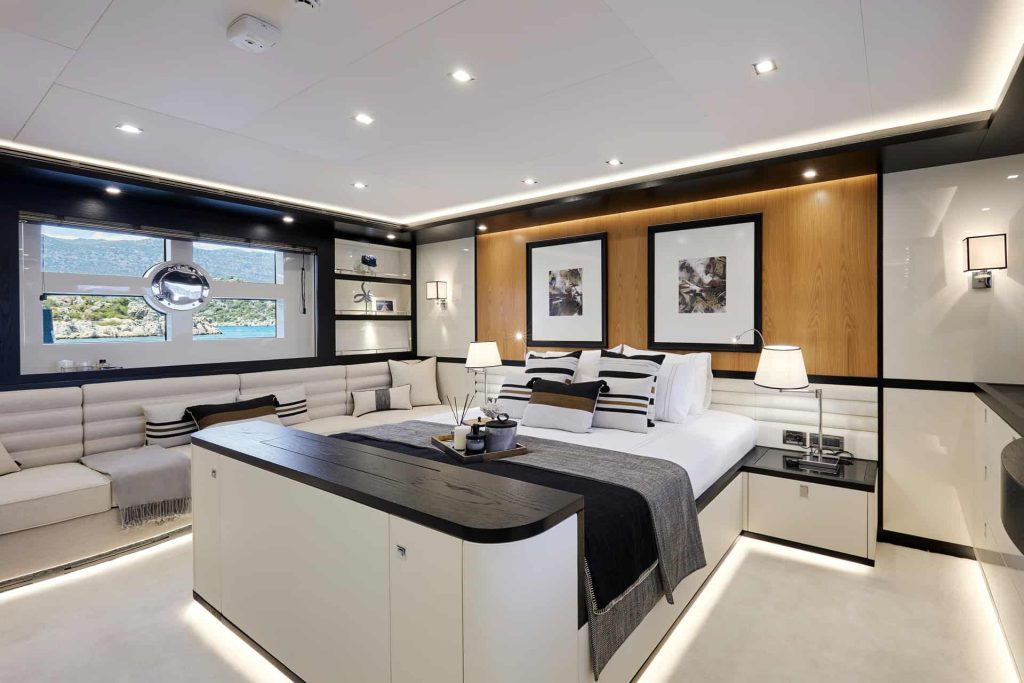 The engine room is imposing with stacked generators and twin Cummins engines in the deep gondola skegs. There is a large sea chest forward on the centerline and the access capacity for servicing machinery is impressive. Bering 77 has a range of over 4,000 miles at a cruising speed of 8 knots and can travel continuously for several weeks nonstop – letting her crew enjoy the journey while crossing the seas.
Photos Bering