The exterior design of the 80-metre yacht Leona, part of the 263 series from Bilgin Yachts, is sleek and sexy, with a dynamic hull form and a focus on eco-friendliness. The yacht, which was designed in partnership with Antalya-based Unique Yacht Design for naval architecture and exterior, has a steel-aluminum structure and weighs 1,755 groston.
Her main attraction in terms of exterior design and difference compared to her sister ship Tatiana is the red and white colour combination on the hull.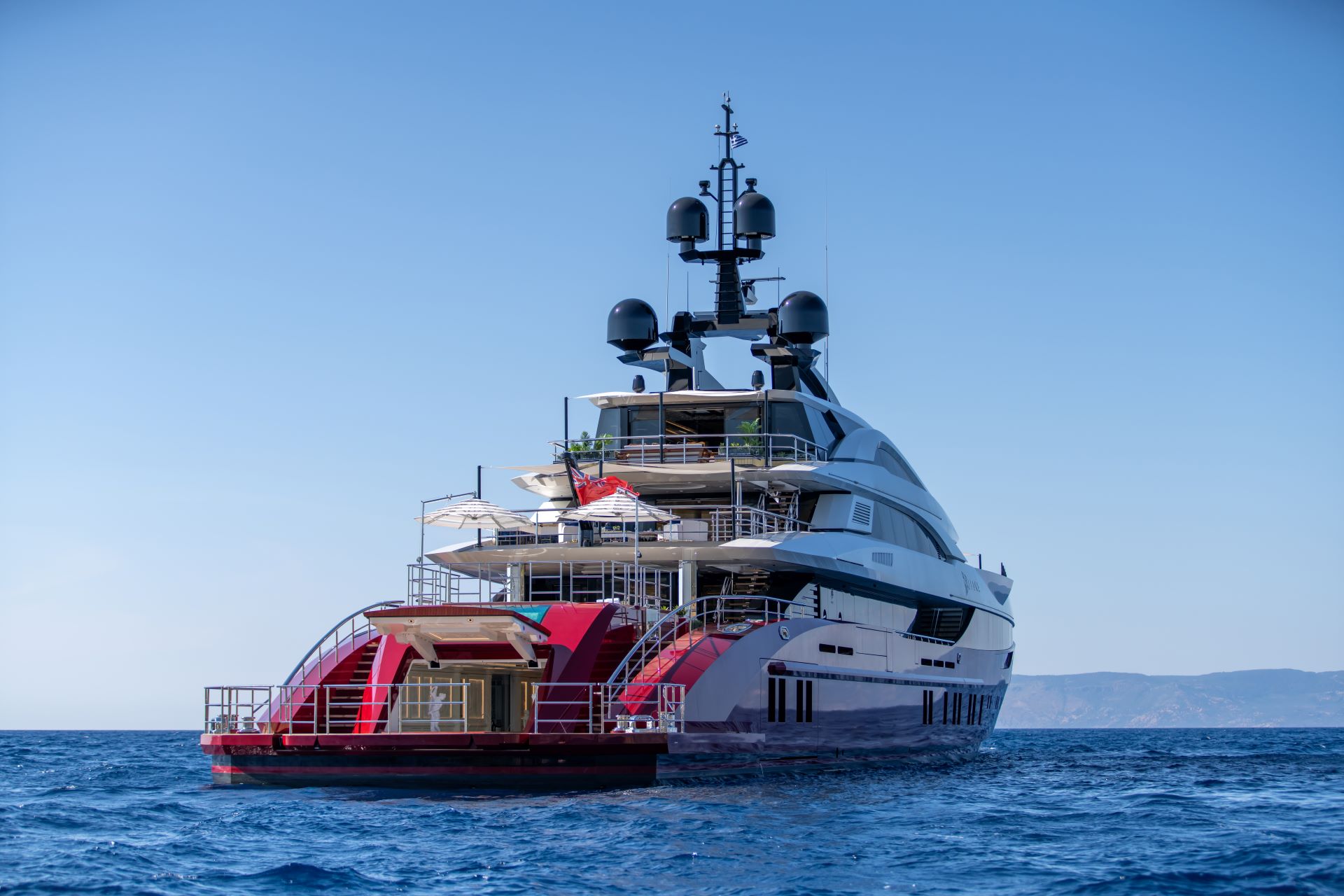 In comparison to Tatiana, Leona incorporates several distinctive design elements. The main difference between Leona and her sister ship Tatiana is the red and white color combination on Leona's hull. This unique color scheme sets Leona apart and gives her a distinct appearance compared to Tatiana.
The exterior modifications, including the extended superstructure and the red and white color combination on the hull, contribute to Leona's unique and highly personalized presence.
In Leona, port-side VIP cabin on the lower deck, which was originally present in Tatiana, has been converted into a dressing room. Also, the number of cabins on the main deck has been altered. Tatiana features a lounge area at the entrance of the salon, in Leona, you are greeted by a dining table accompanied by an aquarium.
Additionally, Leona may have different interior design elements, such as the use of golden touches on the decks, which further differentiate her from Tatiana.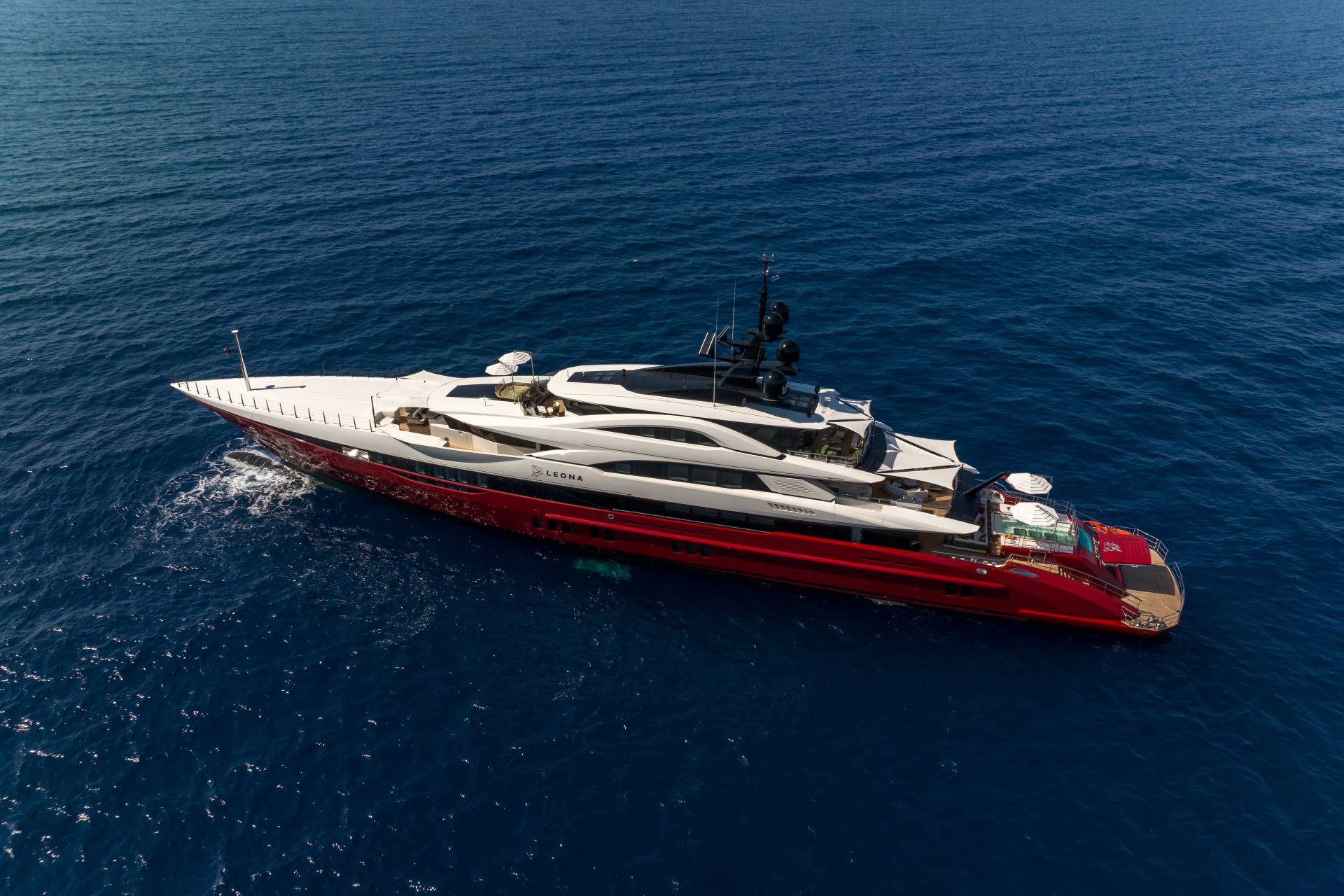 Last but not least, the mast design has been altered, resulting in a more masculine and sporty appearance for the yacht. On the bridge deck, we utilized carbon handrails, adding a touch of modernity and sophistication.
Another notable change is the transformation of the front deck into a dedicated space where the yacht owner can enjoy quality time with their guests. This enhancement further enhances the overall experience and functionality of the yacht.
Leona's design emphasizes comfort and avoids design cliches, resulting in a yacht that will dominate the yachting sector and set trends among steel-aluminum superyachts. The yacht features a special exhaust system that provides 100% clean air emissions, and two 2,560 kW engines that allow her to reach speeds up to 19 knots.
At a cruising speed of 12 knots, the yacht has a fuel consumption of 250 l/h. The 263 series yachts are all built in compliance with IMO Tier III certification and are considered to be the most environmentally friendly yachts in their class.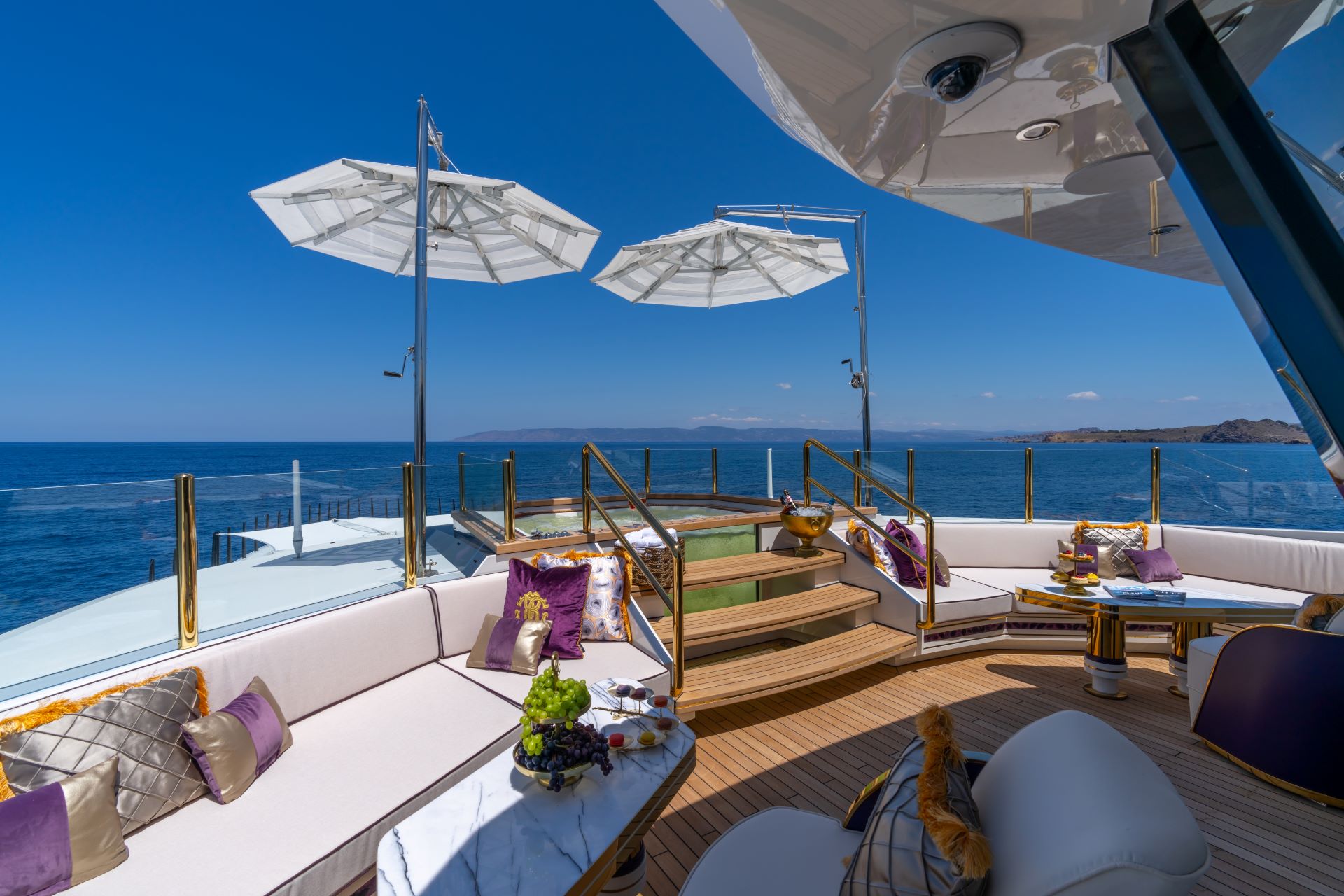 Leona's different interior design in terms of colours and materials, features mostly golden touches on the decks. She has a contemporary layout with generous living areas as well as a huge spa and beach club in the aft which are considered as the highlights of her design.
On the lower deck the third cabin is given over to additional storage in the form of a large owner's dressing room. On the main deck 4x guest cabins have been replaced with 2x generous VIP's with his & her bathrooms and dressing rooms.
The owner's deck sees the biggest change with the superstructure extended aft providing a palatial owners suite. A private lounge is located forward with access to the owner's private exterior pool.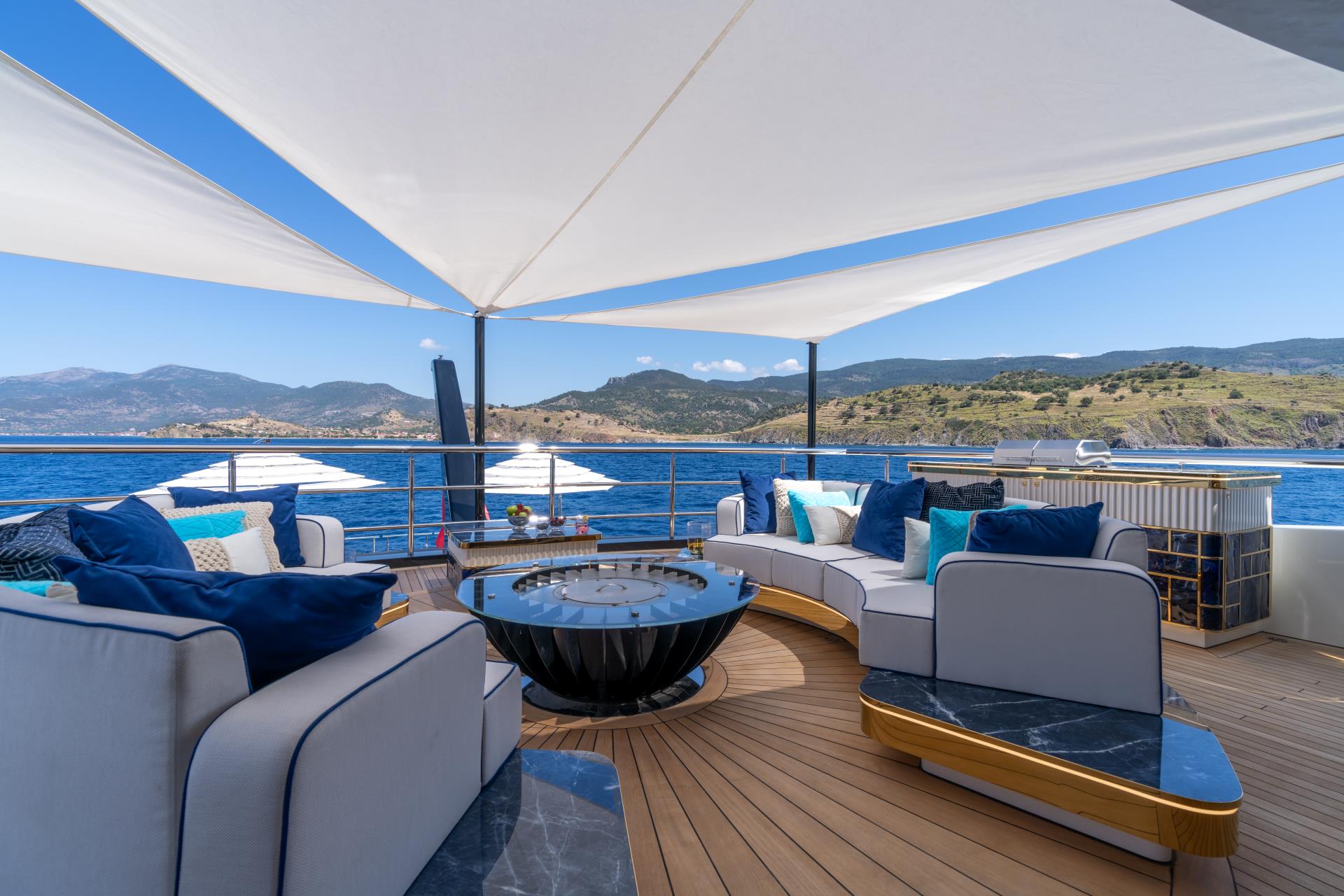 The interior of Leona user a bold opulent palette incorporating a high level of intricate detailing with a heavy use of decorative finishes & interesting textures; gloss lacquers, back lit onyx, figurative timbers, gold inlays and luxurious textiles are combined throughout. The inspiration was very much client driven, influenced by his interest in travel, love of rich materials and desire for exciting features. Each interior space was designed to have a unique look & feel enhancing the on-board experience.
Located in the heart of the interior and spanning over 3 decks, the main stair lobby houses an impressive bubble tank incorporating rgb lighting and pulsing water jets, all set within a backdrop of black marble with gold detailing, alongside backlit onyx stair treads with decorate glass balustrade.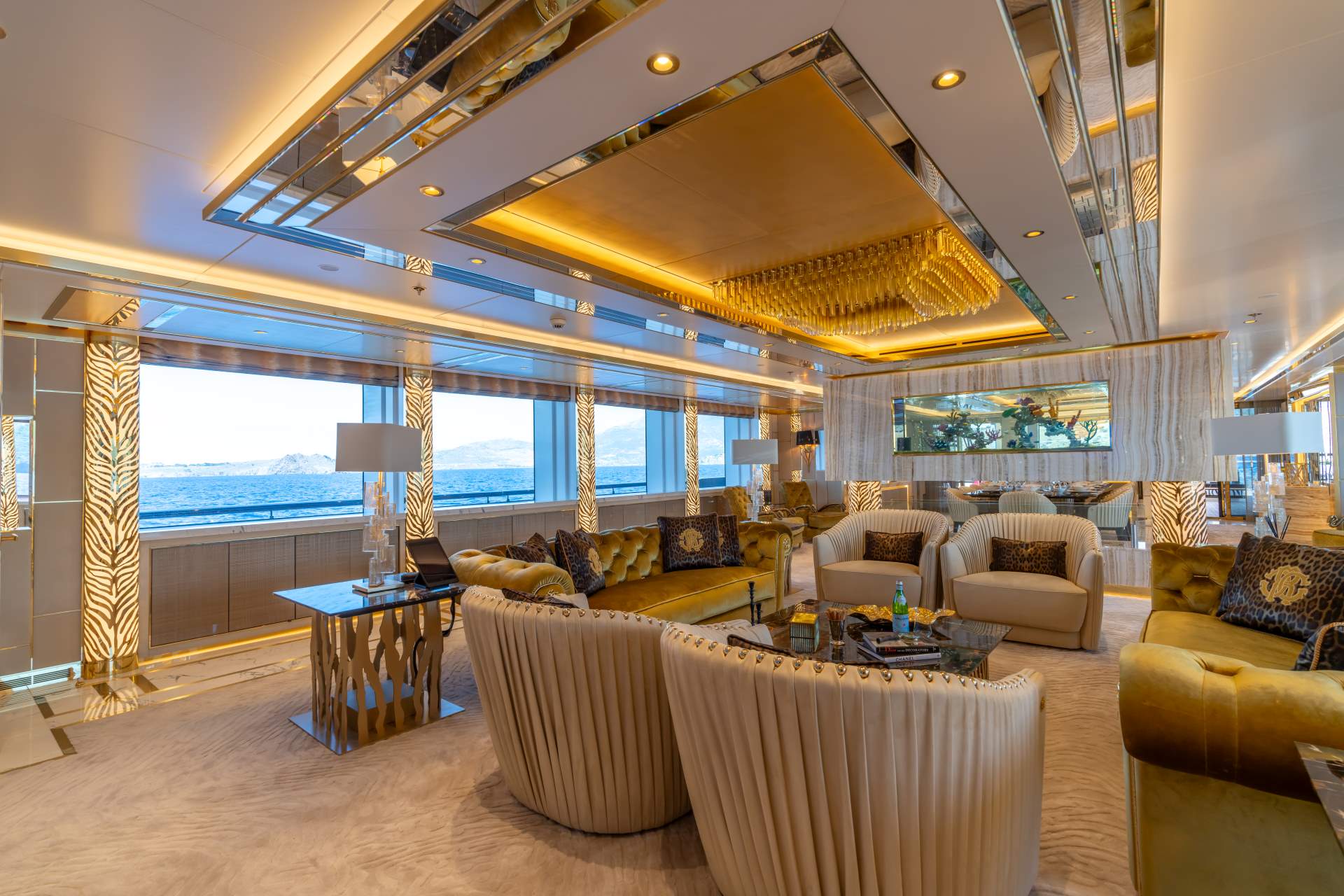 The main saloon also adorned by an imposing feature, finds a tiger onyx through fire place divide the space between formal dining area and spacious lounge. Inspired by African animal prints, textures and patterns are seen on mirrors, mullions and textiles, all complimented by Roberto Cavalli furniture.
On lower deck the extraordinary Beach Club layout as seen on Tatiana is repeated. However the design theme this time is very different; Greek statues sit on the pool edge spraying coloured water into the blue patterned tile pool. Overhead a fibre optic ceiling decorated in a 'night sky' star pattern is installed in a seamless Barrisol stretch fabric. Edge lit forest scenes captured in composite marble reliefs are framed along both sides of the pool.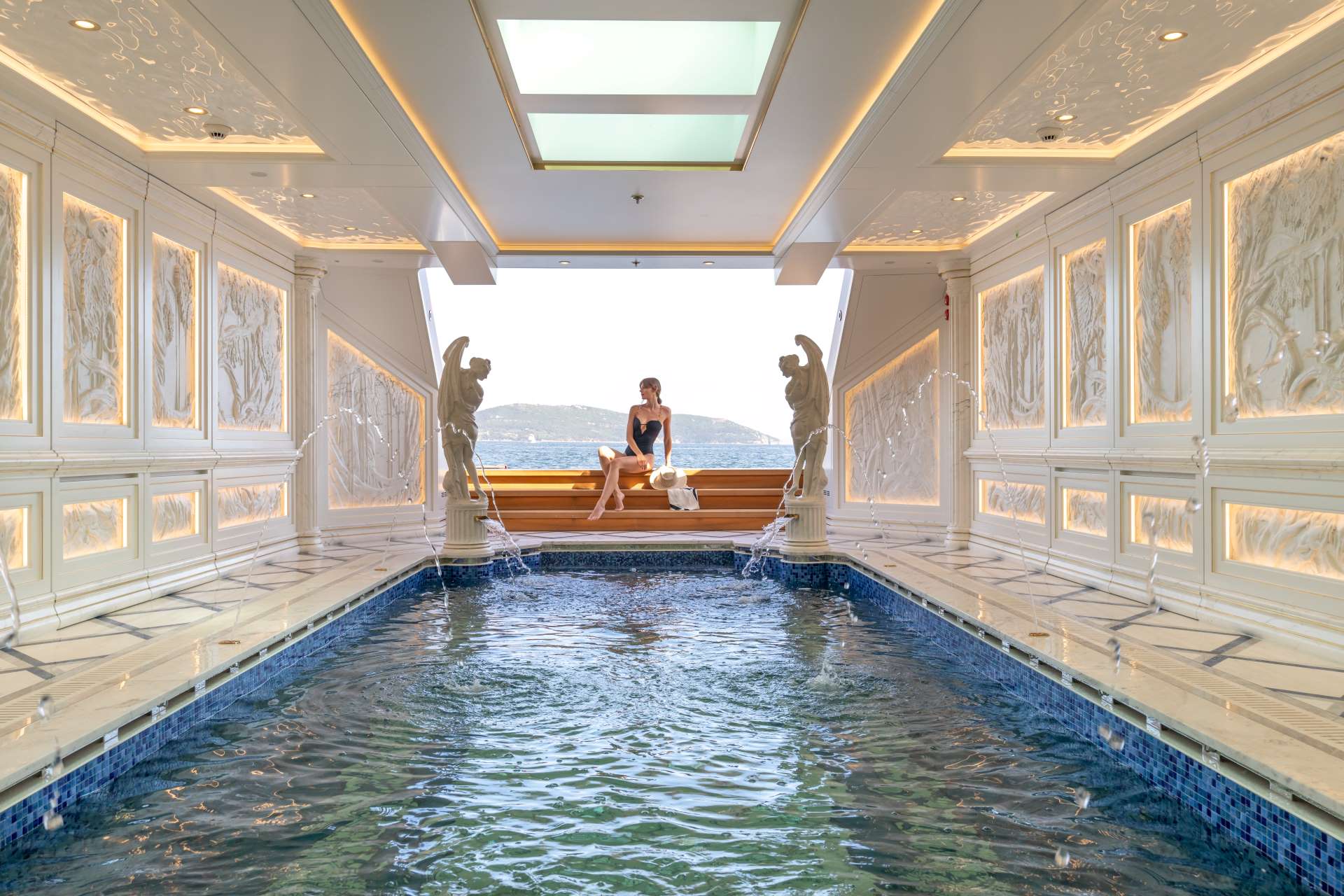 On starboard side, amethyst stones and agates embellish the bar whist a blue and grey marble diamond pattern decorates the floor. On port a Moroccan inspired hookah room offers a connection to the sea via a fold down sea terrace door and can be separated from the interior with sliding glass doors. Furniture is richly decorated with timber carvings, gold upholstered trims and colourful sumptuous cushions.
The private top deck accommodates the owner in notable extravagance, juxtaposing contemporary and traditional architectural detailing . The central bathroom with ornate gold and blue tiles accent the lavish shower room and circular bathtub. On bulkheads mother of pearl panels are bordered by white marble and ornate leaf cornicing.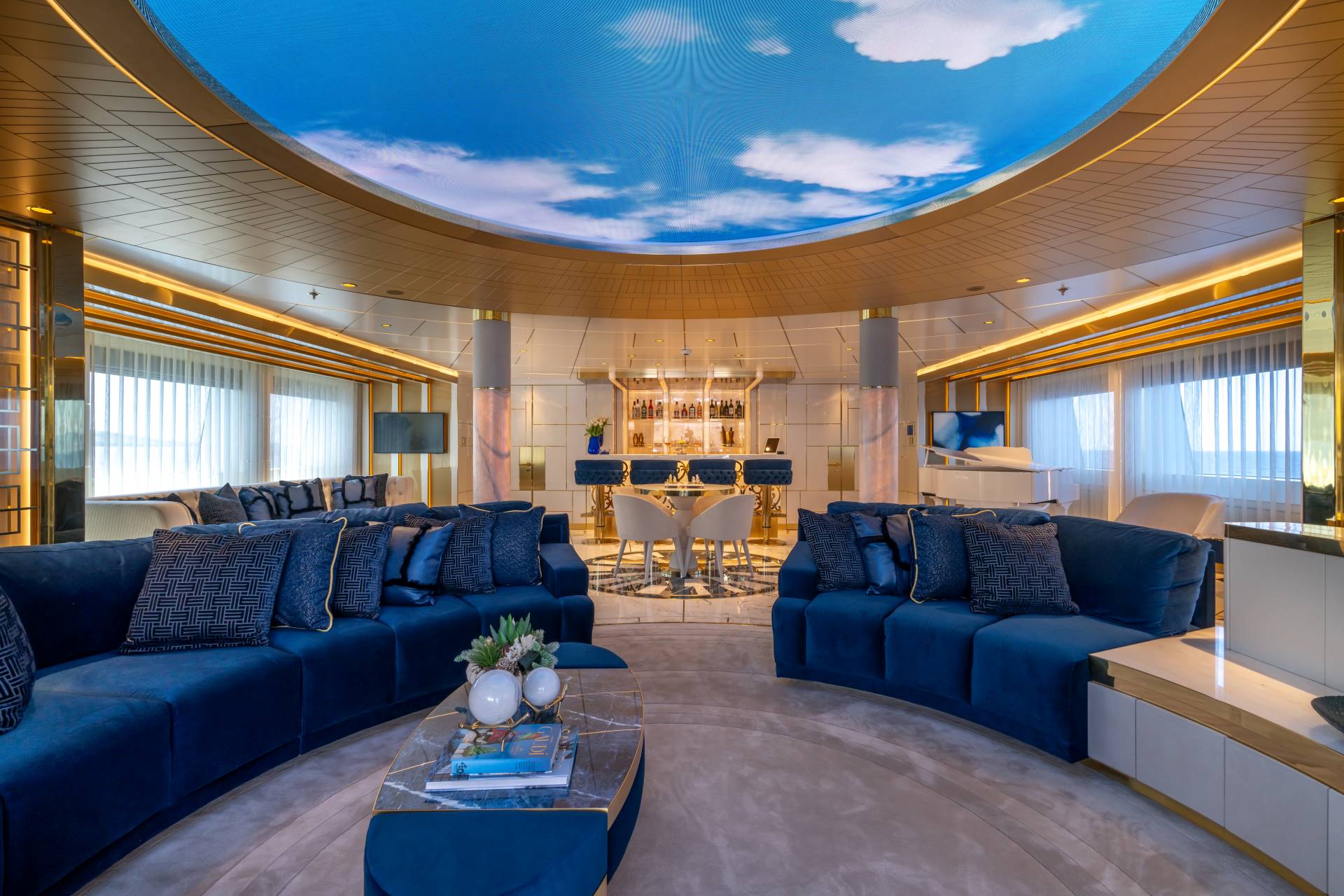 In the lounge a glass cube textured ceiling is pierced by a skylight edged by a mother of pearl cornice. A two tone purple theme colours the room while rich gold trims embellish furniture and sumptuous cushions.
Aft the owner's bedroom combined black and gold finishes to produce an opulent atmospheric environment. The platform bed with black agate bedside tables is flanked in polished black sahara marble. A cubed glass textured ceiling is again punctured by a large skylight throwing natural light over some distinctive loose furniture pieces.
In summary, every inch of the yacht has been designed to the clients exacting requirements and individual vision and boasts an array of bold selections to provide a unique and highly personalised interior.
Photos & video Bilgin Yachts
No tags for this post.