Branimir Mađer – Charter expert
We enjoyed an exquisite opportunity of having a conversation with a recent ex-employee of Croatian Chamber of Commerce, who reaps the benefits of the rich experience in the field of charter business
Branimir Mađer, former well experienced employee of the Croatian Chamber of Commerce, has dedicated his work at the Chamber to nautical tourism. He played an important role in creating and implementing vessels re-registration just before Croatia joined the EU, but also enhanced business conditions in nautical sector. According to him it is easy to work when you have a strong professional support as well as vigorous assistance of the institution you work for: 'Even before I came here the Chamber was recognized as a leader in representing commercial interests of the nautical sector and I continued, with great support of charter companies, marinas and other members from the nautical sector, worthy long-standing work of the Chamber.'
You have dedicated most of your time to charter?
In the last 10, even 15 years Croatia records continuous growth of all statistical indicators when it comes to charter business. Within this period the offer of charter vessels has been doubled, also other indicators like arrivals, overnight stays and renting capacity have been in progress. Even though the growth of the offer pursued a rather leisurely schedule, it did follow market trends, so today Croatia has at its disposal a huge fleet of quality charter vessels. If we compare ourselves with other Mediterranean and world markets it is evident Croatia has become the leading bareboat charter destination and each year more desirable crewed yacht charter destination.
Why does Croatia enjoy such position in the world of yacht charters?
The first reasons are the ones we cannot influence or do influence slightly – these are the beautiful, natural landscaping features of our coast, rich culture and tradition, transitional geographical position of Croatia and the vicinity of the largest tourist generating countries. The second reason, I would say the one we can as a society influence, is legislative basis ensuring free development of charter activities. 2005 could be marked as a turning point, when the new Maritime Code and additional law acts were passed, defining clear conditions and ways of offering charter services, bringing the end to the black charter market. The market liberalization had a positive impact on the development of Croatian charter business. And the last reason would be destination safety. Namely, tourists have been paying a lot of attention to the safety, launching Croatia high on the list of the world safe destinations.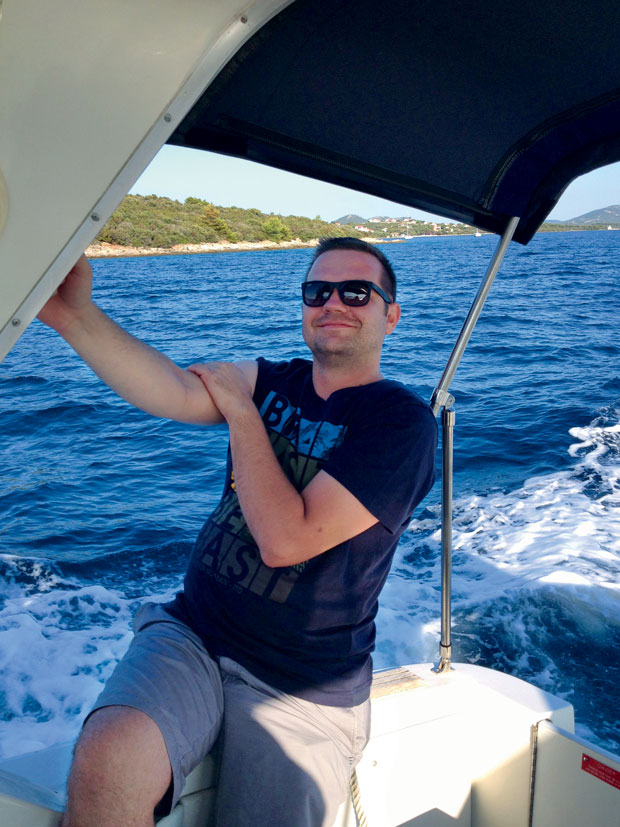 What else needs to be done? Where else can Croatian nautical tourism grow?
In the future the emphasis should be put on nautical/port infrastructure, which at the moment does not keep up with the development of the yacht charter world or yachtsmen needs, not in the sense of quality or capacity. On the coast this problem is not so evident thanks to private marinas, thus on the islands and attractive transitive nautical destinations this issue is obvious. If the issue of berth quality has been solved, then we have a problem of quantity and vice versa. When it comes to mega yachts the situation looks bad on the coast and on the islands. Croatia has at its disposal only one marina adapted to mega yachts and limited number of berths in other marinas, meaning the existing infrastructure fails to meet the needs of the high quality and the most demanding yachtsmen happy to pay the premium service. Also, yachtsmen complain about a large failure of catering and commercial offer as well as other tourist contents within pre and post-season in transit nautical destinations. This problem effects not only nautical tourism, but also Croatian tourism in general featuring exclusively seasonal-character. The designers of tourism politics have created an array of measures in order to solve this issue and final results are expected from the project 'PPS destinations' referring to the development of the destinations offer in the pre and post-season period.
Tourism year is reaching its peak. What is the forecast for this nautical year?
I studied this year's booking lists and I can predict another fruitful nautical year. In March this year booking lists of the Croatian charter companies have registered 20% better results than at the same time last year. One of the reasons in booking ratings increase rests on the fact that our main competitors on the Mediterranean, Turkey and Greece are facing big troubles due to well-known reasons. Turkey is facing a drop in bookings in comparison to last year and Greece is also facing a decrease in bookings of up to 40%. These facts shall lead to an increase of charter rentals in comparison to last year, not exactly 20%, yet increase and progress are certain to follow.
What new challenges will charter face in the years to come?
It is expected that the Greek and Turkish market will recover and the question is how it will reflect on Croatia considering the extent of the charter offer. Greece and especially Turkey invest huge amounts in promotion, we should follow their examples and significantly increase the means of promoting nautical tourism and intensify advertising activities on the existing tourism generating markets, presenting Croatia at the same time on the new fast growing world markets of tourism.
Save