Stand up paddle boarding
You're at the beach and want to have fun but also want to do something active? We recommend that you try out SUP!
SUP, an acronym for stand-up-paddleboarding, originally developed from surfing, because surfers were always trying to catch the best wave — even if it meant paddling to it. According to some sources, SUP-ing originates from Africa, from local fishermen who, while standing on canoes, would paddle to catch fish. This technique was also used by their warriors to implement swift and silent attacks. The first, modern version of a SUP appeared during the '60s on Hawaii. From here, they first spread to the US and then to Europe. Today, SUP-ing is a world-famous sport, connecting entertainment with recreation on lakes, seas, rivers, channels and even on oceans and rapids. The sport is quickly learnt and requires no previous experience, all that is needed is the desire to do something new. Anyone can try it, from the youngest and the oldest folk. You only need about 15 minutes of good effort and a warm sea. Physical exercise and entertainment do not always go together, but with SUP-ing, it's practically guaranteed. While you are paddling and having fun on the SUP board, you are exercising. Once you have found the rhythm of paddling, your constant movement activates the muscles of your whole body, improving your fitness, without awareness.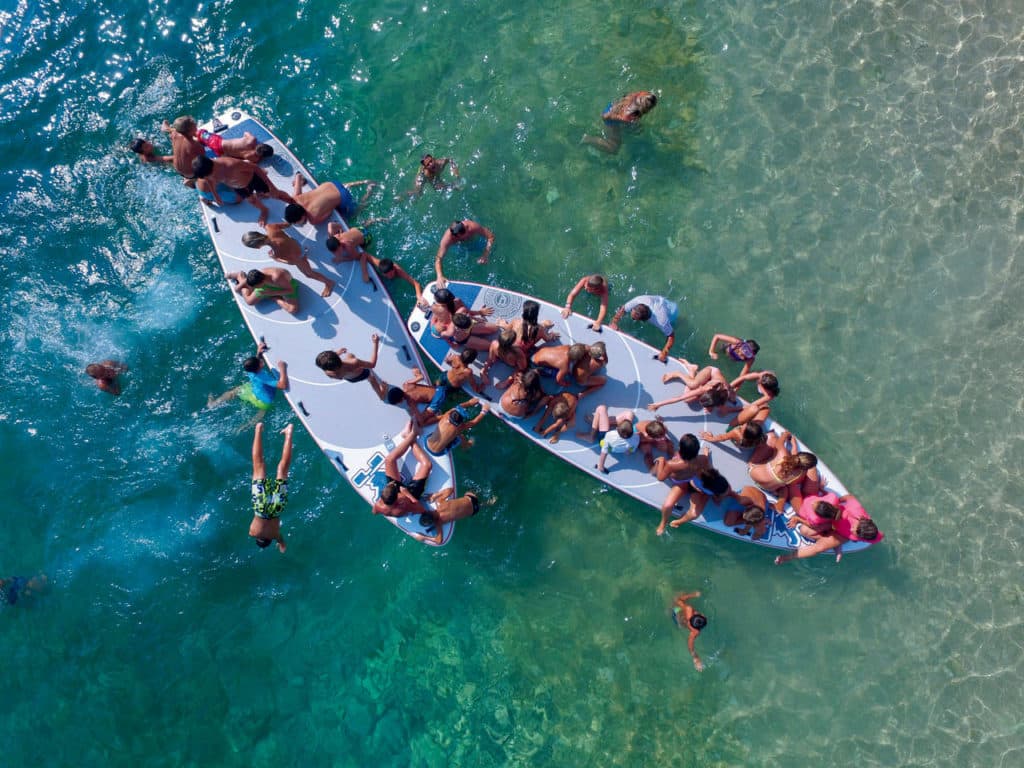 Whether you like it swift or slow, arduous or effortless, you can define your own paddling pace and relax while discovering the coastline, lakes or rivers. Improving your sense of balance is instinctive and is one of the many benefits of a SUP. The versatility, popularity and accelerated growth of SUP's on the market has increased the demand for different board-designs that suit the needs of various paddlers. The most common SUP board is longer than three metres and is not flat, but rather has bulges and recesses and underneath there are three fins, just like a surf board. The boards are made from a combination of epoxy, Australian spruce and similar trees and even of carbon-fibre, reinforced polymer. They can also be made of inflatable PVC which, with advanced technology, is extremely sturdy and can withstand heavy loads. Equally resilient are the inflatable boards that are Sun Safe, meaning that they can be stored on deck or deflated for storage. Particular shapes of paddles are used for varying conditions (long distance paddling or for use on calm lakes). So, sections of a paddle can be elevated to have a very shallow fin, like a classical kayak paddle or to become diamond-shaped. The ideal length of a paddle should be 8-12 cm longer than the paddler themselves, hence the most useful are the easily-adjusted, telescope paddles.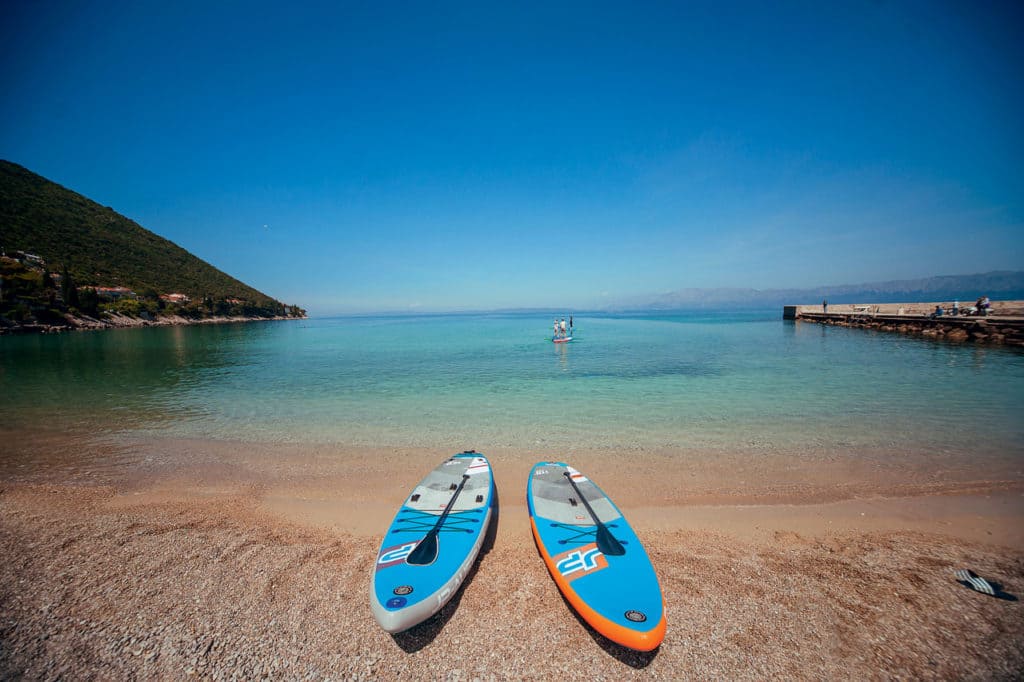 However, if you are considering the inflatable board, you can also get three-part paddle, which can be stored with ease. According to leading SUP and Surf magazines – Croatia, her coastline, larger coastal cities and the islands are the finest locations for SUP activities. 2,500 Croats are active stand-up paddlers and during the summer that number grows. If you are, in fact, a competitive person, the Croatian CRO SUP Tour open type championship is organised throughout the year. You will find not only national competitors but also, Slovenians, Austrians, Hungarians and Italians. Since beauty is in the eye of the beholder, we barely managed to single out two locations from a plethora of gorgeous spots in which to SUP. For the fans of peace and quiet, the northern coast of Brač is especially beautiful and you can paddle next to charming, pebble beaches with no distraction from boats. For those looking for something inland, the attractive Baćina lakes are situated in the Baćina village, next to the city of Ploče, you can enjoy the beautiful scenes of undisturbed nature and refresh yourself in one of the lakes during the summer. However, you can SUP wherever you are and it has, for that exact reason, become one of the most attractive accessories to ships, sailboats, catamarans and yachts. In whichever form used, a SUP guarantees joy, activity and adventure. So, don't wait – grab a board and get paddling!