Chopard Happy Sport watch
In creating the Happy Sport, Chopard invented far more than a watch, also introducing a unique allure, a flash of brilliance, an inimitable attitude
Twenty-five years ago, its launch marked the birth of an icon and more; a certain vision of independence, modernity and freedom of movement. Happy Sport now enriches its repertoire of stylistic versatility with the strength of a self-winding movement specially developed by Chopard manufacture. It also adds a precious and delicate touch with a pastel-coloured textured mother-of-pearl dial. Pure technical strength, shimmering under a mantle of light. In 1993, Chopard Co-President Caroline Scheufele effectively captured the spirit of the times in designing a sports watch based on an original and astounding association between steel and diamonds. Embodying unprecedented audacity, the Happy Sport was born. In harmony with the spirit of the Happy Diamonds that grace its dial, whirling like skaters performing free variations between two sapphire crystals, the Happy Sport soon became a powerful emblem of the Geneva-based Maison and of feminine watchmaking.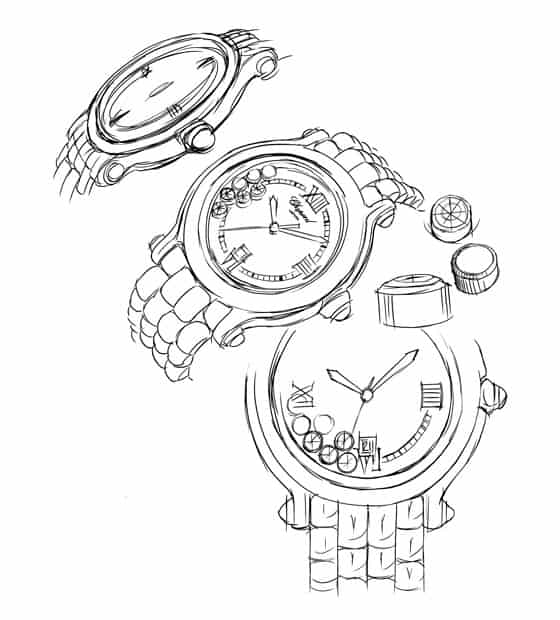 Ever since, it illustrates an inimitable sense of chic embedded in its DNA. This incredibly alluring style icon plays the mix & match game and revels in combining various genres and repertoires, steel and diamonds, the eternal and the ephemeral. Sophisticated, yet sporty. Joyful, independent, mischievous and thoroughly modern, it plays with aesthetic codes while keeping in touch with its essential femininity. Accompanying a world of changing cycles, evolving styles and inner revolutions, Happy Sport opens up infinite horizons for perpetual transformations, beating to the tune of feminine emancipation that remains very much on the move. Because life is far too precious to be fettered, Happy Sport encapsulates the pulsating rhythms of an uncompromising life. It all began with a bold move. 'Diamonds are happier when they are free!' exclaimed Karin Scheufele – who at that time had been heading the family Maison alongside her husband since 1963 – when she first set eyes on the outlines of what would become the Happy Diamonds concept.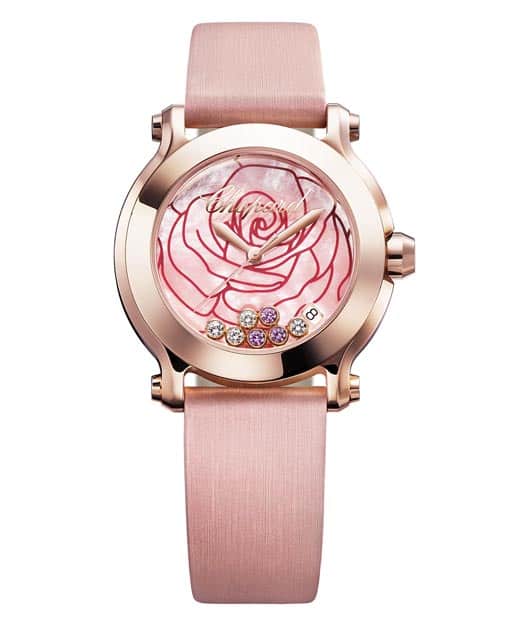 This statement became the name of the collection. Rather than static diamonds caged in by a setting, however precious, it was decided to take an entirely different route. In 1976, with society changing faster than ever, Chopard's brilliant idea was to leave diamonds entirely free between two sapphires, thus enabling them to move without restraint, and through this very movement to restore their inherent sparkle. Happy Diamonds proved an instant source of fascination, saluted by the media and in strong public demand. They became a bestseller. Guided by Caroline Scheufele's creative vision, the Happy Sport has been constantly reinvented, reflecting successive styles and evolutions in society, of which it remains a radiant symbol. In 25 years of existence, Happy Sport watches have appeared in more than a thousand versions. A wealth of models echoing the abundant creativity cultivated by Chopard, the most prolific of contemporary watchmaker-jewellers, and embodying countless ways of expressing its incredibly diverse range of skills.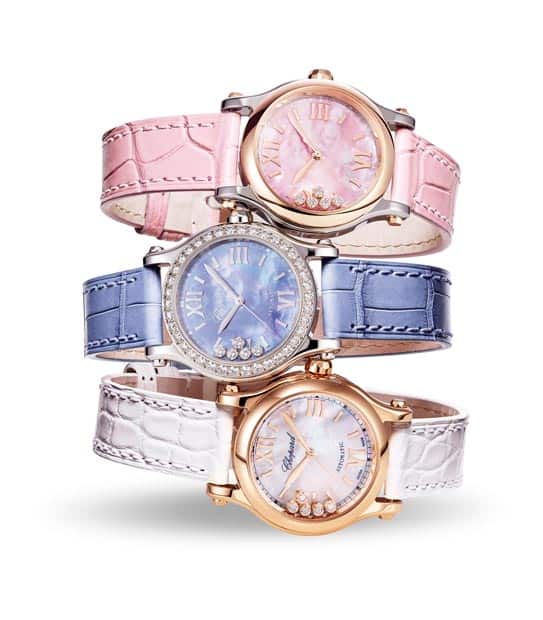 The Happy Sport has thus become the first women's collectible watch: reinvented with each new season in ever more ingenious interpretations, it continues to win feminine hearts as it always has, loyal to its bold, free-spirited nature. A spirit embodied in multiple shapes and variations: round, square, oval, set with diamonds as well as rubies, sapphires or emeralds – lucky charms of all kinds that further accentuate its 'talisman' spirit. And, of course, an inexhaustible palette of colours. Nature has always been a powerful source of inspiration for Caroline Scheufele and the timely variations of the Happy Sport reflect the magic of the maritime world and the skies above, with Happy Fish, Happy Ocean and Happy Snowflakes all becoming iconic models.