Inspired by whimsey and purity of the feminine form, Cindy Shaoul is known for her impressionistic and abstract style
She is best recognized for her series 'Brides', 'Dripping Dots' and 'Hearts', as well as her 'Plein-Air' street scenes of quintessential New York locations. Her works can be found in hundreds of permanent private and corporate collections worldwide. Shaoul has had numerous solo exhibitions and garnered the attention of notable celebrities such as Emma Roberts, Lily Collins, Ashley Park, Catherine Deneuve and John Malkovich.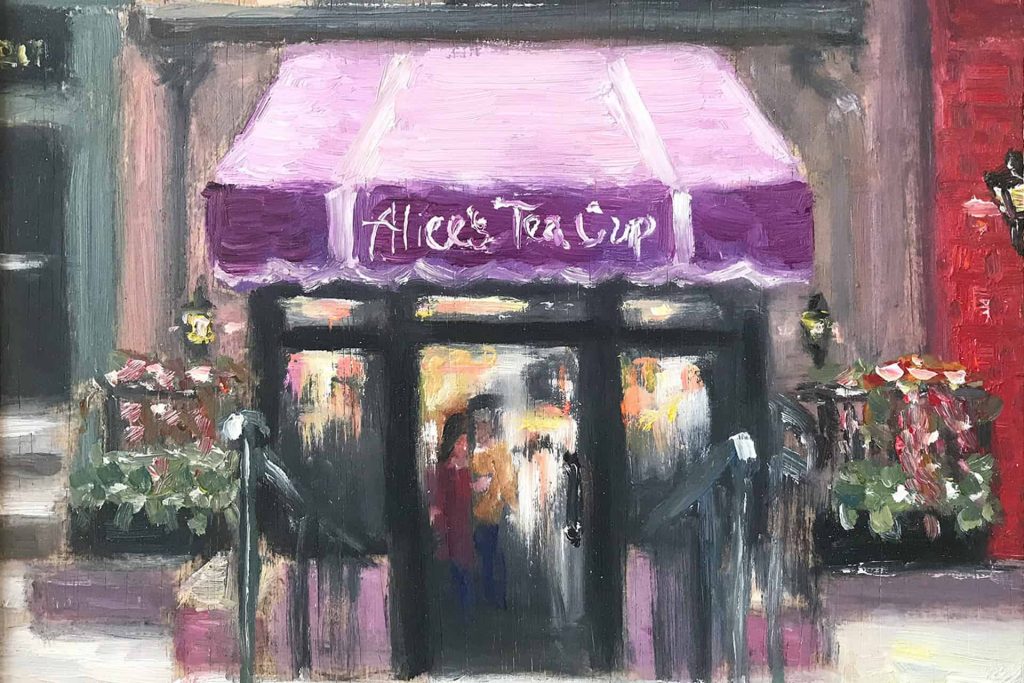 'I have always had a strong connection with art and painting. As a child, I was surrounded by it daily. My grandfather, mother, aunts, and uncles were all artists and it was a common sight for me to watch one of my family members painting in real-time. Yet, I first felt a connection to painting when I was in high school, but it was not until college that my connection deepened further as I became inspired by my travels abroad. I admire colorful scenes of everyday life in the city, beach, or park. Prior to attending the Art Students League, I embraced the beauty of nature; a characteristic that has brought a nurturing and spiritual element to my work,' says Shaoul.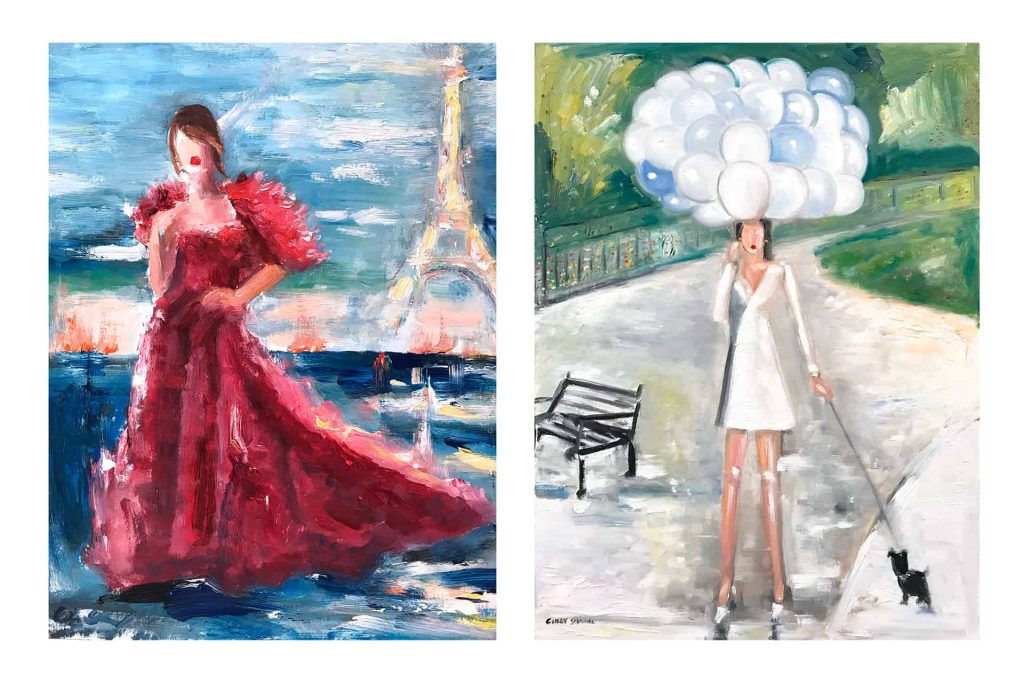 The artist traveled to Israel and Hungary, and studied abroad for 2 years at the Budai Art Institute, which created lifelong experiences that still influence her art today. Upon her return to New York City, she continued her artistic education at the Art Students League, working under the tutelage of Joseph Peller, Gregg Kreutz, and Tom Torak, where she learned techniques from the great masters of impressionism.
But it wasn't until she met renowned street artist LA II (Angel Oritz) that her work would become strongly influenced by street art and graffiti, propelling her reputation and pushing her into the city's explosive urban art scene. After she honed her skill at the Art Students League, in her studio 'Dripping Dots' began a whole new aesthetic.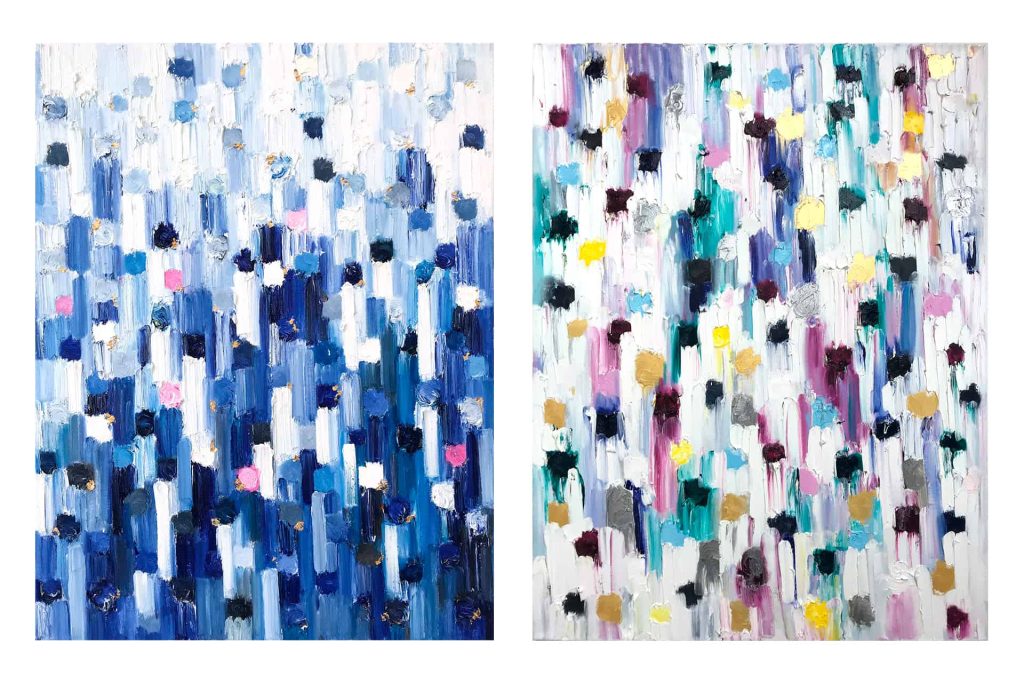 This abstract style started as she would clean her brushes and leftover paint from her pallet onto a new canvas, not to waste the leftover oils, and soon, the motion of cleaning turned into dots on the canvas. She began connecting the dots with linseed oil and this is how the motif of 'dripping' was imprinted. In 2018 she began the 'Brides' series which balances her love for impressionism with an abstract hand.
While exploring the purity of the feminine form and the drama of French haute couture, she would create a dialogue between the figurative and the abstract. Later, in 2019 she began 'Hearts', an extension of her love for abstraction. In this collection, she would fuse a symbol into the abstract.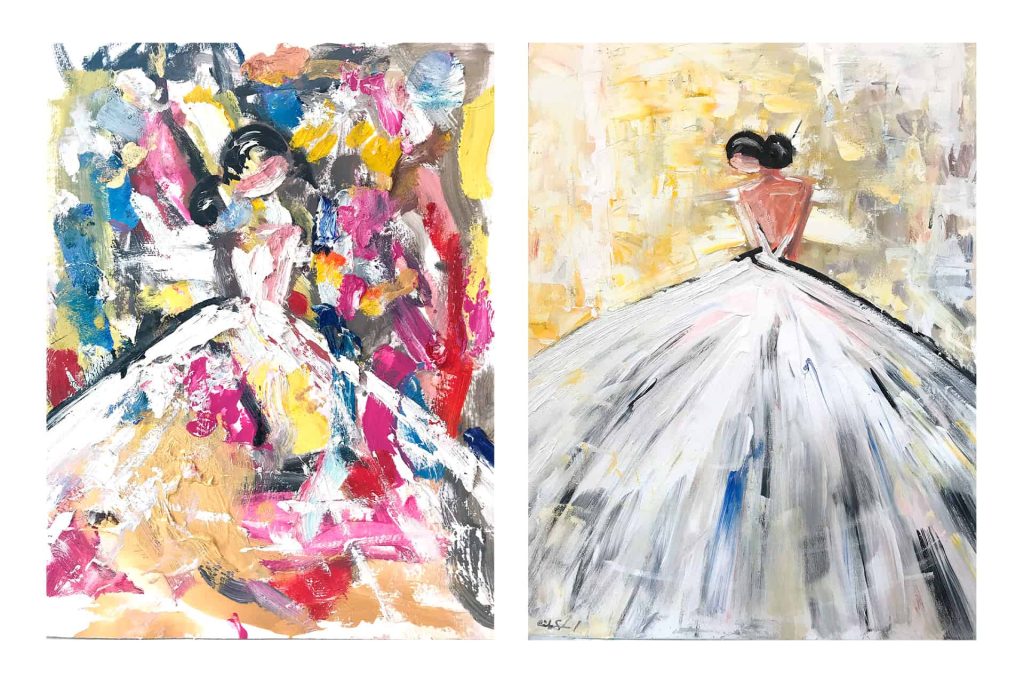 'Brides', 'Dripping Dots', and 'Plein-Air' have become a part of my daily practice, among 'Hearts' and other impressionistic scenes. With 'Brides', I aim to create exotic forms with expressive and highly textural brushstrokes that are full of intense color, loosely inspired by artists of French Impressionism such as Renoir, Degas, and Mary Cassatt. I try to capture impressions of 'Ballerinas', which are found in many of Degas' works where he captured movement like never before. With the music I listen to, my brush lands on the canvas with immediate rhythm and style.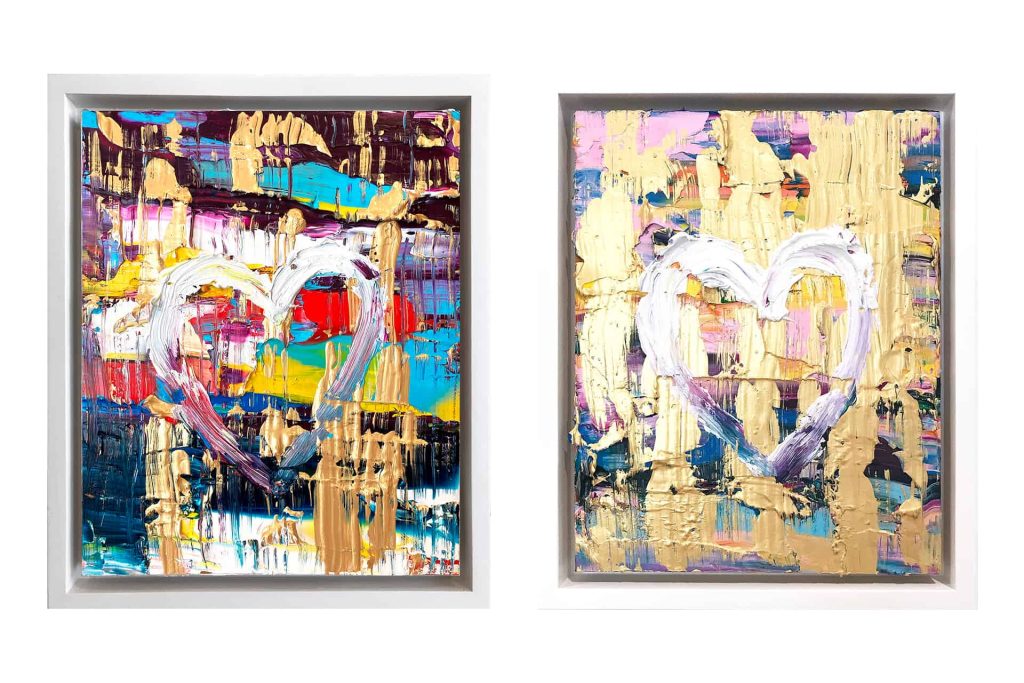 For my 'Brides' series, I wanted the works to have a dazzling explosion of variable life to symbolize the future that lies ahead for the bride. The surprise of the rhythm is what excites me while creating these pieces, and I aspire to bridge what I have learned in school with my passion for exuberant abstraction and depth of color into the essence of her figure and spirit. While I focus on a variable of subjects, they have remained consistent over the last decade. Today, I continue to use new techniques to create joy and surprises for the viewer', Shaoul points out.
Photos Cindy Shaoul