Abeille Maison glamping tents are built using only the finest natural materials to create an elegant atmosphere to accomodate your hedonistic pleasures in a natural enviroment. An intelligent solution that implements different elements makes this luxury glamping tents user friendly and stylish at the same time. A pleasant dining area abounds in stylized details. Elegant romantic bedroom design includes fancy and modern touch of contemporary art. It is luxurious space enticing you to indulge.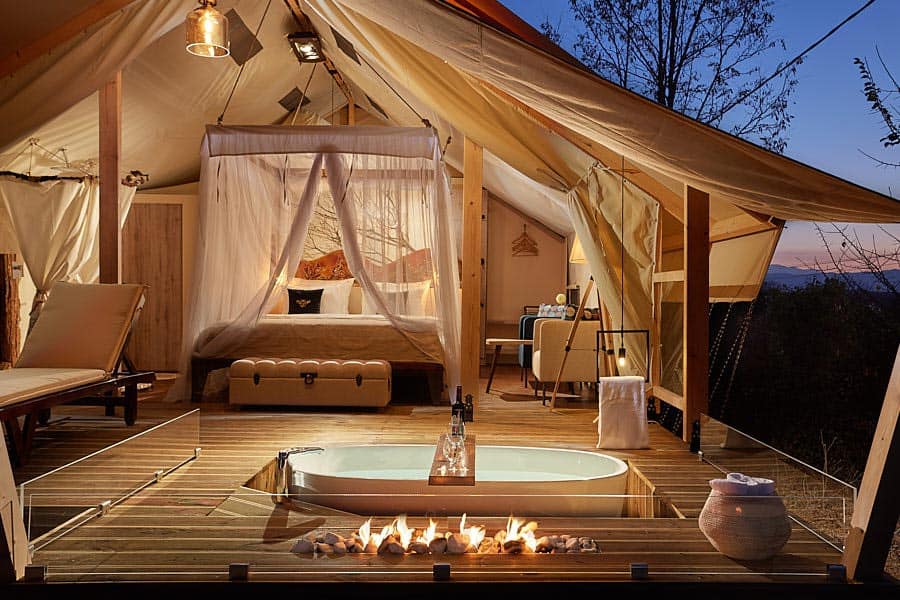 Abeille Maison offers a designed kitchen, equipped with modern appliances and no less spacious than average house-kitchen, but minimalistic with an easy-access approach. Creative modern bathroom, creates a simplistic and clean feeling with utilized shapes, clean lines and minimal colors. Patio with fireplace and bathtube is specially designed for experiencing spacious moments within the nature.
They are fully equipped accommodation units with choice of interior design for maximum level of luxurious glamping comfort. These luxury glamping tents are a superb products which are both cost and operationally efficient. Abeille Maison you can see it, feel it and try it at Zaluka Estate in Zagreb.
Photos Abeille Maison