The innovative Cranchi Yachts project, which will add to the Italian shipyard's new flybridge range, is nearing its début
With an overall length exceeding 67 feet (20.8 metres), the new model will be named 'Sessantasette', the number written out in full in Italian. It's the same principle adopted for the Cranchi flagship, the Settantotto, hinting that also this yacht will give its owners so much more than its length might suggest: the best of 100% Italian design and style, superior technical solutions, and an unmistakable and already quintessential profile.
The project was a collaboration between the Cranchi Yachts Research Development Department and Christian Grande, entrusted with the art direction aspect. The lines and shape that characterise this yacht are emblematic, complementing and echoing each other throughout the various elements of the profile. One example is the line extending from the curve of the stern hatch to the part of the fly that juts out, or between the outline of the windows and the break in the centre of the bulwark. This break provides an elegant reduction in volume on the side of the yacht, from the gunwale to the stringer, enhancing the panoramic view from the large windows that surround the saloon.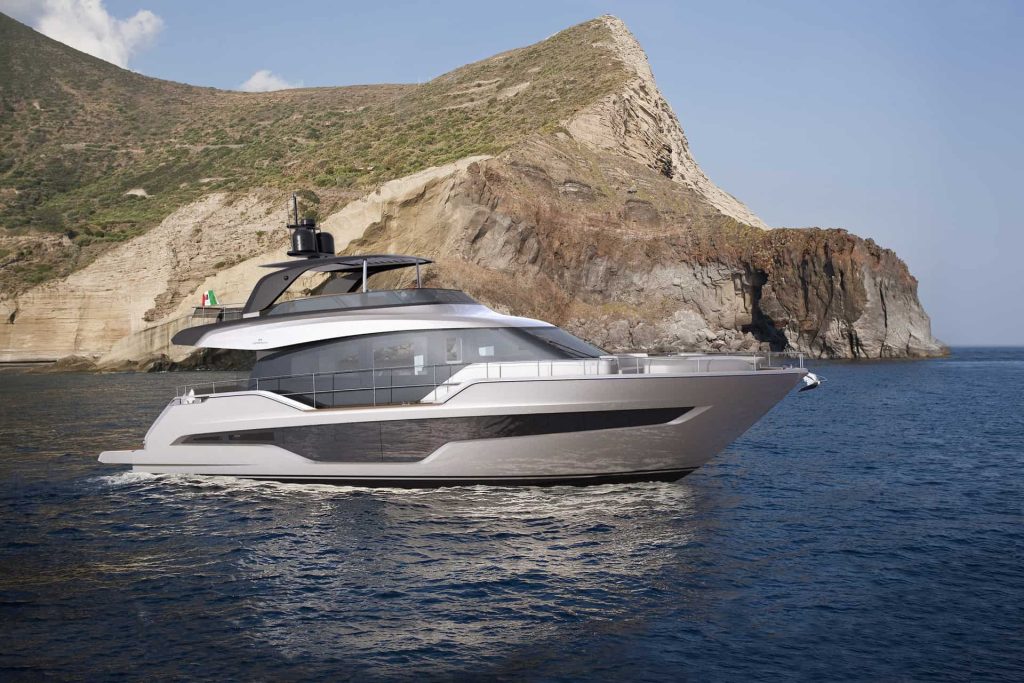 The dining room will have an uninterrupted view of the sea, with nothing to obstruct natural light from flooding the internal space. The saloon is part of an open space area that also includes the galley and wheelhouse, but the whole zone is elegantly divided by a spectacular backdrop that separates the lounge and dining room from the service areas. The galley is fully equipped, with the option of a double-door fridge. It's located on the port side, with the wheelhouse on the right. Both spaces have been conceived as capsules linked with the other spaces, but which can also remain separate.
Space and volume appear to expand below deck as well, particularly in the full-beam owner's cabin. The VIP cabin and guest cabin are extremely spacious, both with their own bathroom and double bed. As an alternative to the office area connected to the owner's suite, you can opt for a fourth cabin with bunk beds. The warm tone and relaxed elegance of the interiors is also conveyed by the décor choices based on light shades, with blonde woods and sand-coloured leather, and predominantly opaque surfaces that are easy on the eye.
The cockpit is bordered in the stern with a large seating area which can be further extended with two armchairs or more and a low table, creating a lounge area that's perfect for relaxing and welcoming guests as they come on board. The stand-out feature of the cockpit is the spectacular staircase leading to the flybridge. It's a space that lends itself to being used at any time of the day, whether your 'mission' is to sail, have lunch, enjoy a drink or relax.
Following on from the experience gained with the Settantotto, the new Cranchi Sessantasette also features extraordinary technology including an advanced home automation system combined with entertainment devices, and most importantly a wealth of hi-tech materials.
Photos Cranchi