Dufour is slowly, but surely becoming one of the most popular charter-sailboat makers in the world – and in Croatia, thanks to their managing director, Nikola Krasić, who told us that their boatyard has big plans for the immediate future
For the past three years, Nikola Krasić has been the worldwide charter manager at Dufour Yachts. Both experienced and savvy, he is obviously an excellent choice for the position. As more charter sailboats are sold in Croatia than anywhere else in the world, the first thing we wanted to know was, of course, how important Croatia is to Dufour: 'We make 50% of all our sales here in Croatia. Our second largest market is the Caribbean, followed by Greece and Spain. Four-cabin yachts are the most popular choice on all of these markets, with a tendency toward slightly larger yachts in the Caribbean.'
Dufour seems to be gaining popularity in the Adriatic. Can you tell us more about your sale results in Croatia?
One of the reasons for the increased presence of Dufour yachts in Adriatic charter fleets is our simplified sale strategy. Several years ago we decided to cut out the middle man and do business directly with charter companies. This year, in the 10-15 meter segment, Dufour is the highest selling brand in the Adriatic. I can't give you numbers, as this is confidential, but I can tell you to look around any marina and see how many Dufours you can spot.
What makes Dufour so popular, in your opinion?
I believe our success is, in part, due to Gib Sea, the model many a charter users still consider to be the perfect yacht. These days we're building yachts that can give you both excellent performance and a high level of comfort. What more could one want in a charter yacht? Also, our yachts have an attractively high post-sale, post-financing value. So, after five to seven years owners can re-sell them for a lovely sum, which in charter is a big plus.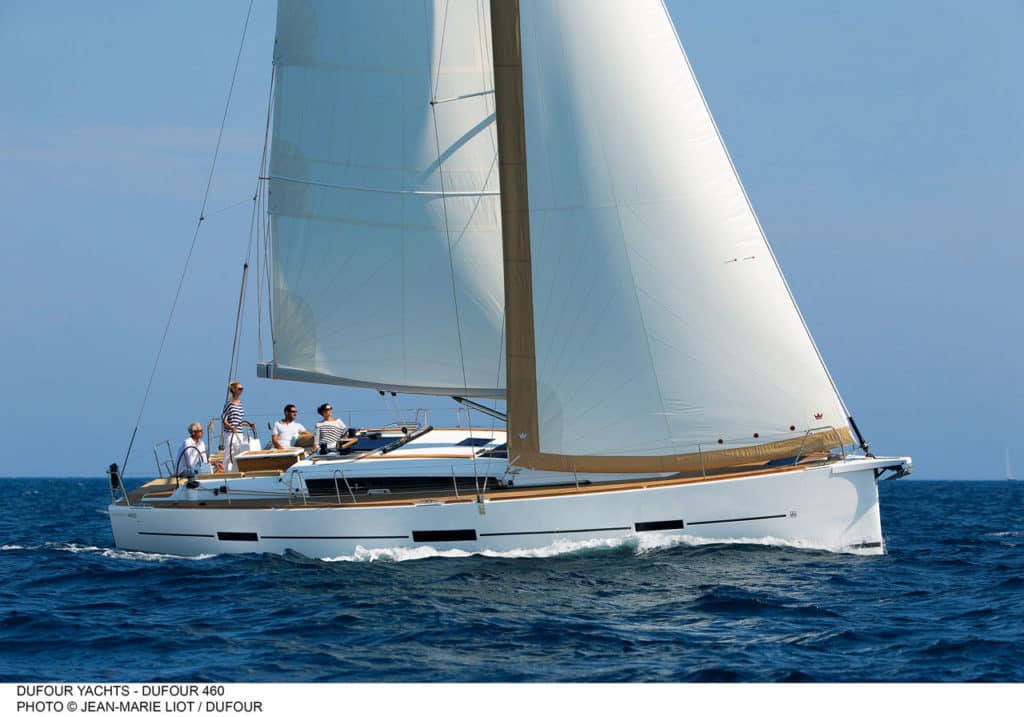 What do clients and companies appreciate most about your yachts?
In the past several years, we have adapted our models to clients' needs. We have added fridges and grills to the cockpit area, as people usually do spend most of their time on a yacht outside. We have yearly meetings with key clients and charter agencies; we listen to their ideas and use that feedback to further adapt and improve our yachts. Two-way communication between the client and the builder is very useful, as is proven by our sale results.
What are your most popular models?
On our 'most wanted' list are the three-cabin, two-head models Dufour 382 and Dufour 412. As is the four-cabin, four-head Dufour 460, an absolute winner as it is the only model in its class with that configuration. Recently, we have noticed one of our larger models, Dufour 56 Exclusive, is gaining momentum with buyers.
What are your plans for the future, seeing as how you are already doing more than well?
This year, Dufour has entered the 60 plus feet segment with our already popular 63 Exclusive. Our next big step is the development of a catamaran (Dufour Catamaran) with designer Umberto Felci. Even before the official debut, the catamaran has a waiting list, which says a lot about the trust our clients have in our yachts. In the recent years the yachting industry has been caught in the same new-model frenzy as the car industry, so Dufour also has plans to offer new models and freshen up the existing ones every year.
What are your personal impressions of the 'rest of the market'?
Worldwide, Dufour is doing especially well in Greece and Spain, with ever growing sales. We are very popular in Austria as well, mostly among private clients and due to partnering with charter management programs. Interestingly, we are very popular in Hungary, among private clients who sail on Lake Balaton (which is only 70 kilometers long!). I believe this is all due to our excellent strategy and constant investment into the brand.