As he enters what he calls the 'fourth quarter' of his life, Denzel Washington has added another touchdown to his extraordinary body of work with an Oscar-nominated performance in his new passion project Fences
Garbage man. Postman. Oscar winner. Denzel Washington's path has not been a typical Hollywood story. But it's perhaps these experiences as a young man that instilled a drive in him that has propelled him to such great heights. After a successful theatre stint, his transition to cinema produced hits such as Cry Freedom, Malcolm X, Philadelphia, Crimson Tide, Training Day, Inside Man, American Gangster, Flight, The Equalizer, and The Magnificent Seven. A turning point came in 2010 when he and Viola Davis won Tony awards for their performances in Fences, the Pullitzer prize-winning play by August Wilson. The movie version, with much of the same Broadway cast and directed by Washington, had four Oscar nominations, including a fifth for Washington and Viola Davis won in the category Actress in a supporting role. It's a family drama about fathers, sons and ambition set in Pittsburgh in 1957 with Washington playing garbage man Troy Maxson. Washington knocked on doors of Pittsburgh locals to apologise for any disruption caused by his crew. Of his third directorial outing Washington says, 'People ask me what do I want people to get from this film. It depends upon what you bring to it.' Denzel Washington gave up wine when he was 60, in 2014. 'When I turned 60, it was, like, this ain't no dress rehearsal. Life has four quarters, and I'm in my fourth quarter. If there's overtime – and I figure everything after 80 is overtime – the only way you can get overtime, you got to be at least tied. So if you're winning, you're winning, but if you're losing, there's no way round it…' He does not look over 60. He looks fit and well, but for a slight paunch, probably left over from playing the patriarch Troy in Fences. He says he will be in the gym the next day; he has to slim down for his next movie, Inner City. 'So,' he continues, 'I'm preparing for 80 now. I'm more aware of what I put in my bodyand trying to be the most efficient and effective I can be. The good thing about our job is, you have to practise remembering — it's good for the mind. It's a muscle, and you have to keep working that muscle.' 'Old age,' Bette Davis said, 'ain't no place for sissies.' You can say many things about Denzel Washington, but you certainly can't say he's a sissy. He is an actor of extreme versatility and technical skill; a burly man with a hotel room-filling – actually, rooms-filling – voice and a raucous, thigh-slapping laugh. I tell him he reminds me of Tom Hanks, who also booms in rooms. He looks baffled, perhaps slightly flattered. 'Me and Tom? Oh, okay.' There is also a Hanks-like solidity about him. With both actors, you feel they'll turn up and do a great job — in life as in art — and you sense a certain moral grandeur about them. Hanks is America, and so is Washington. Both have been called, at one time or another, America's greatest actor.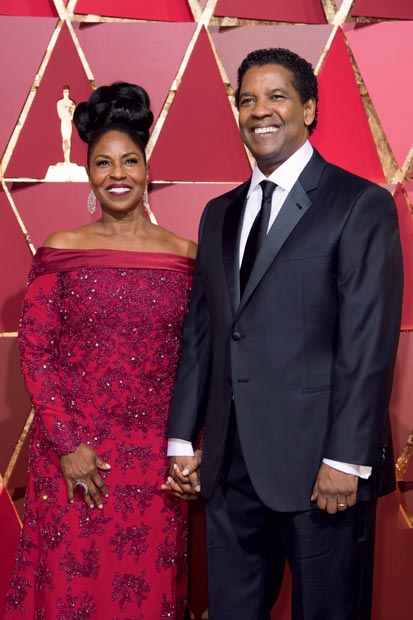 Unlike Hanks, however, Washington has had only one wife: he married Pauletta Pearson in 1983 and they have four children. Fences is the third film he has directed, the other two being Antwone Fisher and The Great Debaters. He has, in the past, found directing hard work, giving him anxious, sleepless nights. Not now. 'Now I know what I don't have to worry about. I know you just get the best people around you and let them do what they do. I have to steer the ship, but I don't have to do every job.' Fences is one of the 10 plays in August Wilson's Pittsburgh Cycle, which tracks black lives in a city suburb over the course of the 20th century. Washington performed it on Broadway and decided to go on and do the movie. The entire play takes place in the back yard of the home of Troy and his family; it was not an obviously cinematic proposition. 'I didn't want to open it up for the sake of opening it up. But you have to ask, where else would we be if not in the back yard? We could be in the kitchen. You know, where does this life take place?' The scenes beyond the back yard seem to be just enough to keep the play intact and, in one case, they add something entirely new. Troy works as a garbage man, and we suddenly cut to a scene of him waiting for a meeting in City Hall at which he expects to get sacked. He is neatly suited and fiddling with his hat. The bullying patriarch is suddenly small and shrunken, a figure in a crowd. Washington is delighted when I bring this up. 'Yeah! All that talking and he's just sitting there with his hat in his hand! I love that.' The film is set in 1957, a crucial moment for America and especially for a industrial city like Pittsburgh. It is known as the Steel City. 'If you read August Wilson's play and his description of the back yard, he says something about 'the turbulent winds of the 1960s had yet to blow'. It was 12 years removed from the end of the war and just before the 1960s. The tensions are there. Troy, in his own little way, is a revolutionary — he wants to move up and he's fighting against the system. But he's from the era before. He can't even see far enough to realise the importance of his son getting a good education. 'And we're in Pittsburgh – working-class, steel industry. It was interesting when we were shooting there. Two of the biggest companies there are Google and Uber Technologies. The young people are getting into the technologies, the Troys are out of luck. You see all those empty factories, those steel-mill jobs are never coming back. I don't know how it's going to get better. There's graffiti there – 'Destroy Google'. That's the enemy. It's a tough town.' When Troy comes home from work with his friend Bono, he goes out into the back yard and pulls out a pint bottle of gin. Each time, he shakes it, smacks the base three times, opens it and splashes a little on the ground. What's that all about? 'It's just something cultural we did as kids. You always poured out a little for the guys who were dead, or for the guys who were upstate in prison. I personally at the time – when I was 15 or 16 – didn't have anybody deceased or upstate, but it was just something you did. You all chipped in and you bought a pint.' Washington was born and brought up in New York state, where his father was a Pentecostal minister and worked for the water department. He was puritanical, preventing his son from going to the cinema. Over the years, Washington has expressed different views about his father, but these days he just says he was a gentleman, though evidently he exercised authority in a way that anticipates Troy. His mother ran a beauty parlour where, one day, a seer was watching him. She wrote: 'You are going to travel the world and preach to millions of people.' He still carries that paper with him everywhere. His parents divorced when he was 14, and his teenage years seem to have been spent on the streets. His mother got him out of there to the upmarket Oakland Academy, in New Windsor. People always say this saved him – but it's not that simple. 'I didn't realise it was an important moment at the time. I appreciate it now that my mother got me out.' Now better educated, he washeading in the direction of being a lawyer or a doctor, but then, while he was acting as a counsellor at a YMCA camp, he was told he had a talent for being on Stage. It was acting that saved him, not the smart school. But it was also, in a roundabout way, his athletic gift. He was the best runner at college until a new boy arrived who was quicker. 'The coach could see I was rattled by it, so he told me that boy didn't know how to run, he couldn't do the corners. He told me a natural ability will only take you so far. I never forgot that.' He realised that, however talented he might be, he had to work at whatever he did, and he does, furiously.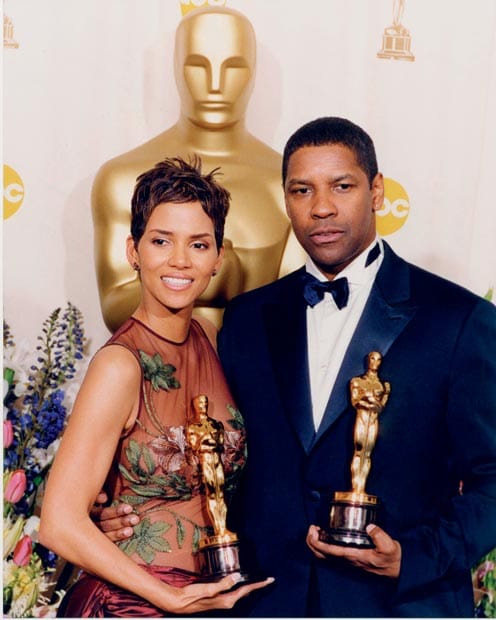 He has earned his two Oscars and countless other awards. I also ask him about the difficulty of being a black actor in a very white industry like Hollywood. This does not go well. 'I don't know what that means, to be a black actor as opposed to being a white actor. First of all, we don't have a meeting somewhere — you know, 'How we doin' this week? Not so good.' There's more work than ever before. There still may be a glass ceiling in the positions behind the camera – executives, people running studios. 'I don't think it's gotten worse, I don't think it's gotten better, it is what it is. Are you going to complain about it or are you going to do something about it?' His point – and it's a good one – is that the way to deal with discrimination is to keep on insisting in word and deed that the colour of your skin is irrelevant. He does sometimes seem to get into political hot water. It was said he was a Republican – apparently a crime for a black man in show business – and that he was voting for Trump. Now he brushes it all aside. 'Republican? I don't know where they got that from. We live in a world where people make stuff up. We live in a world where it doesn't have to be true, it just has to be first. I'm not going to live my life trying to clean up everything every Tom, Dick or Harry says. I'm an independent, I've never been registered to either party.' And Trump? 'I'm not going to go any further.' What he does talk about at length, and with conviction, is his faith. He goes to church and reads the Bible. 'I like preachers who give me something I can use. Okay, I got that, I'm going to apply it to this week, just working at being better. One thing I read was, 'Without commitment you'll never start; without consistency you'll never finish.' I like that.'
No tags for this post.