Cullinan is luxury in its purest form blended with perfect practicality and off-road capability and, quite possibly, the most anticipated Rolls-Royce of all time
The all-new aluminium sub-structure delivers extraordinary car body stiffness for exceptional 'best-in-class' functional performance on rough terrain whilst offering better ride comfort. The integration of new technologies into the architecture was also key to ensuring the fundamental quality of Cullinan as Effortless, Everywhere. Through a thorough re-engineering of the existing air suspension system – including adding larger air struts with more air volume to cushion the blows of the toughest of terrains – the strengthening of drive and prop shafts, the inclusion of drive to the front wheels as well as the back for the first time in Rolls-Royce history, and the complete reworking of the new 6.75 litre twin-turbo V12 Rolls-Royce engine to deliver just the right level of torque (850Nm) at the lowest possible revolutions (1,600rpm), the Rolls-Royce engineering team has ensured Cullinan will take owners to places no modern Rolls-Royce owner has travelled in luxury before.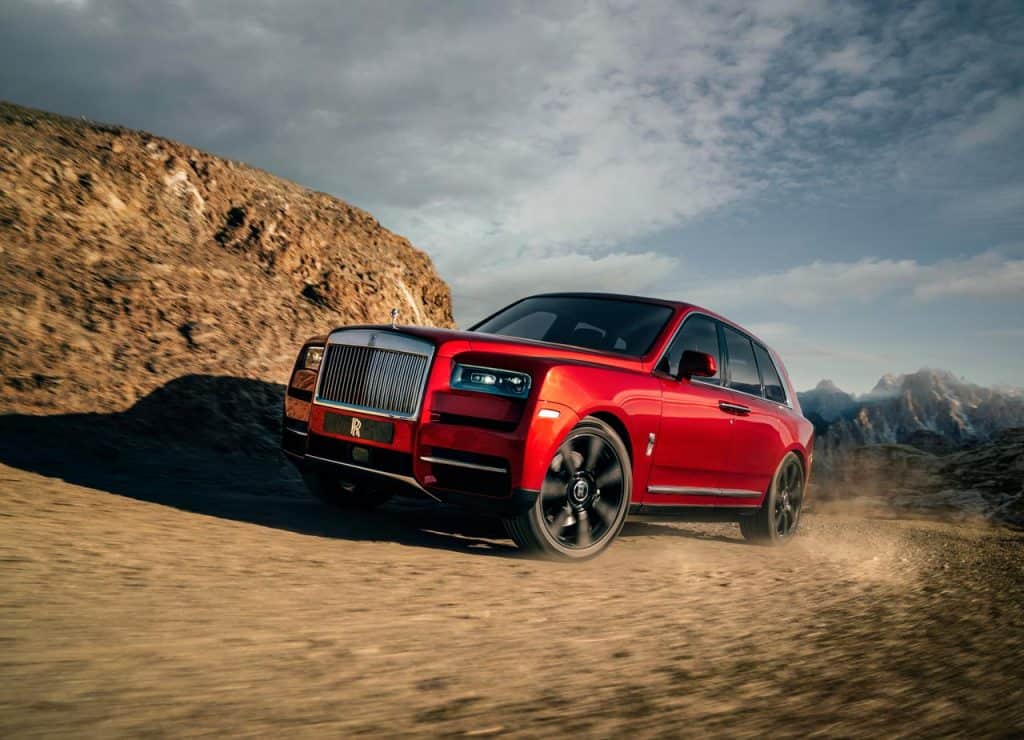 The suspension makes millions of calculations every second as it continuously varies the electronically controlled shock absorber adjustment system – reacting to body and wheel acceleration, steering inputs and camera information. A new double-wishbone front axle and 5-link rear axle deliver astounding levels of control over lateral roll and shear forces and deliver incredible agility and stability, as does the addition of four-wheel steering, all contributing to incredible drivability and nimbleness. The final piece of the puzzle of ensuring that the Rolls-Royce Cullinan is Effortless, Everywhere is one single button. Known within Rolls-Royce as the 'Everywhere' button, one single push is all it takes to harness all the aforementioned peerless Rolls-Royce engineering and unleash all of Cullinan's off-road capability. Inside, the cabin of Cullinan combines authentic Rolls-Royce luxury with simple, symmetrical functionality to express the car's inherent strength.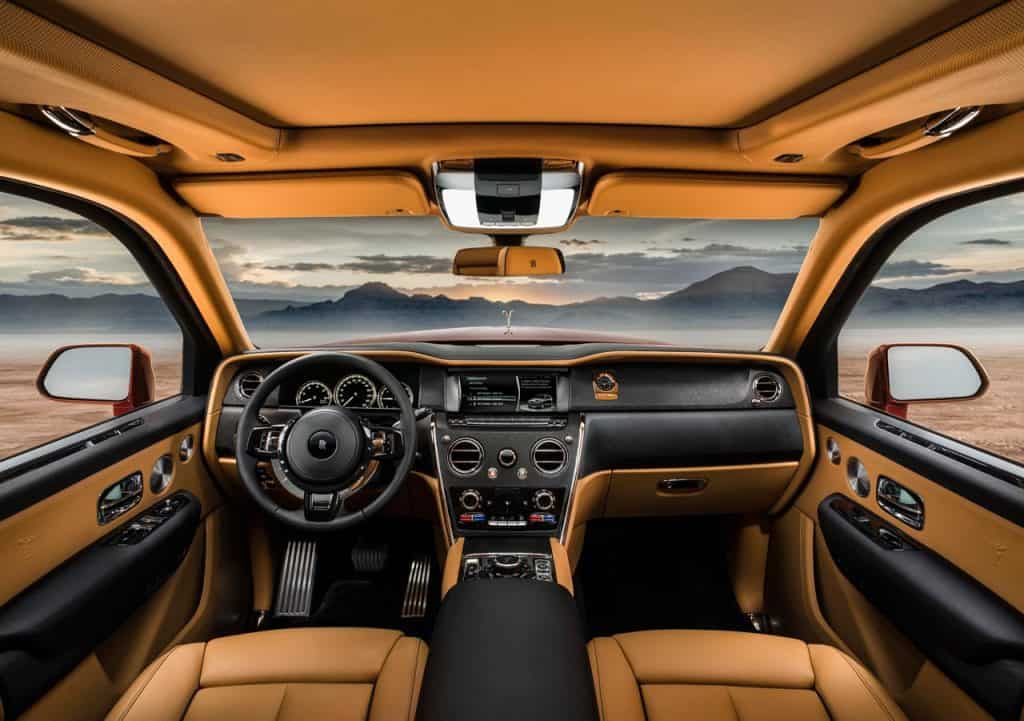 Whether the fascia and centre stack of the dashboard or the arm rests on the doors, structural horizontal and vertical elements underpin the interior design. The centre stack is framed by hand-finished metal pillars that bridge the upper fascia and middle console, giving it a sense of robustness, whilst also suspending the horizontal elements of the fascia to give a more commanding feel. The upper fascia is clad in a newly developed contemporary 'Box Grain' black leather – a durable and water resistant boarded leather similar to that used in Italian high-end luggage and handbag design. Finally, the seats in Cullinan have a bold, confident character, showcasing Rolls-Royce quality and craftsmanship. Designed to suit the more casual and dynamic quality of Cullinan, they feature a simple but modern horseshoe graphic which emphasises the supportive bolsters of the seat. These new seats also showcase Rolls-Royce's mastery of leather craft as this entire backrest panel has been crafted from a single piece of leather to pick out a highly three-dimensional surface.
Photos by Rolls-Royce