Folding and environmentally friendly e-bikes and e-scooters are very popular with boaters. Yacht owners love them because they are a simple and practical form of transport
Gocycle G4 – A Joy to Live With
The three-model Generation Four (G4) family sets a new standard for performance in the rapidly expanding portable electric bike segment and all are powered by the all-new G4drive electric motor. The G4drive provides a smooth and quiet ride, while delivering more torque and low-speed start capability – all within a class-leading compact package. The range weighs from just 16.3 kg (G4i+) making it one of the lightest premium folding electric bikes on the market.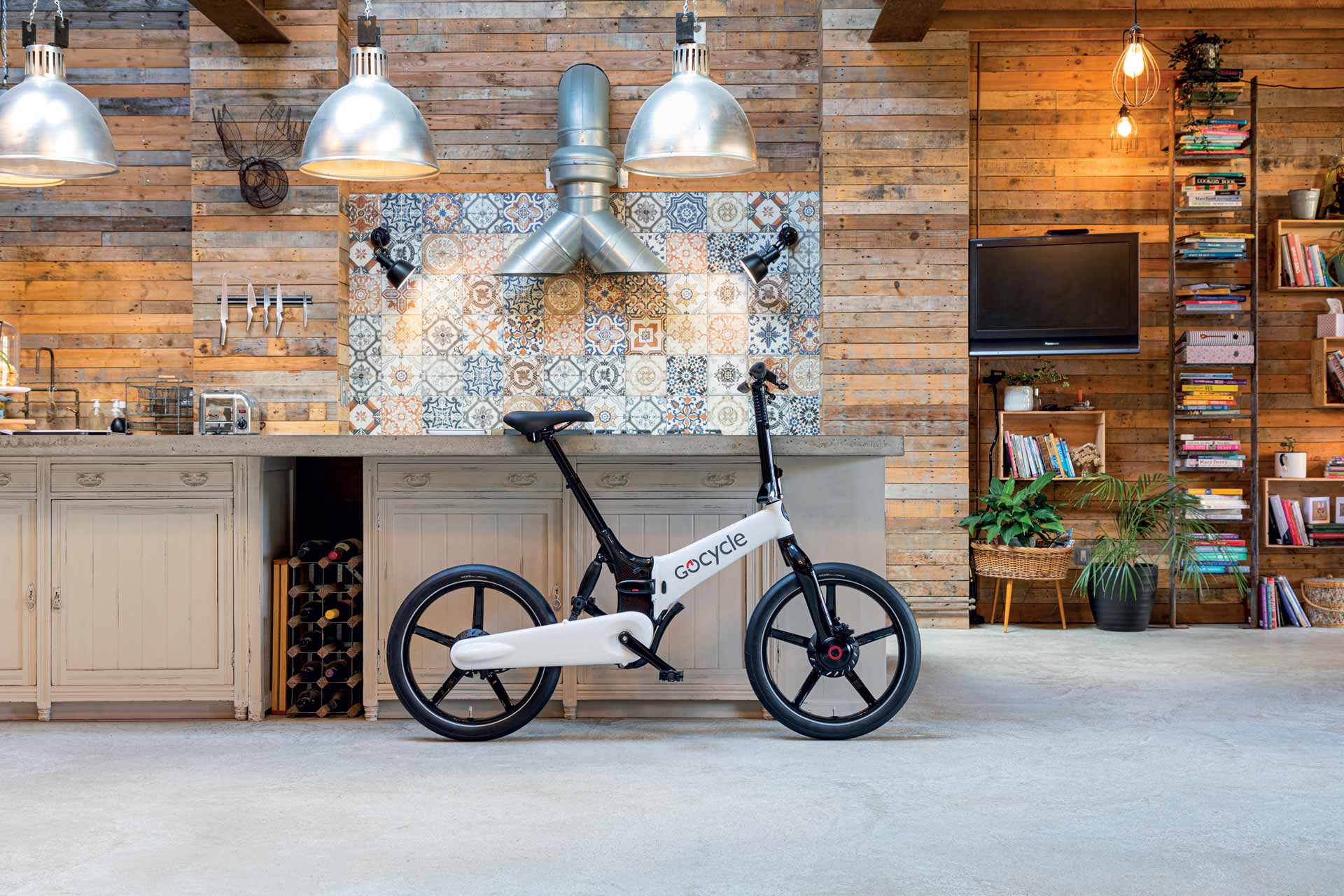 The Gocycle G4's removeable powerful Lithium-Ion battery provides a range of up to 65 km for the G4 and up to 80 km for the G4i (depending on pedal input) with 3.5 hour fast charging. Users will appreciate the intuitive folding mechanism that makes it possible to fold and stow the G4 into a compact package in just 10 seconds. The official Gocycle distributor for Croatia is the company E2GO, and you can find the entire range of products on their official website (e2go.eu) or in the showroom in Zagreb, at Ulica Antuna Bauera 11.
Tern Vektron – Ready to Roll
The award-winning Vektron is among the world's best-selling Bosch folding bikes. Once you fold your Vektron, in just 10 seconds, it's easy to roll it around. Thanks to the adjustable stem and seatpost, you can adjust the cockpit to riders from 1.47 to 1.90 cm – no tools required. Top-of-the-line Vektron S10, with a Bosch Performance Line motor provides support with up to 65 Nm of torque, and improved pedal assistance. Quiet, robust, and lightweight, the new Bosch drivetrains ensure a natural, authentic riding sensation.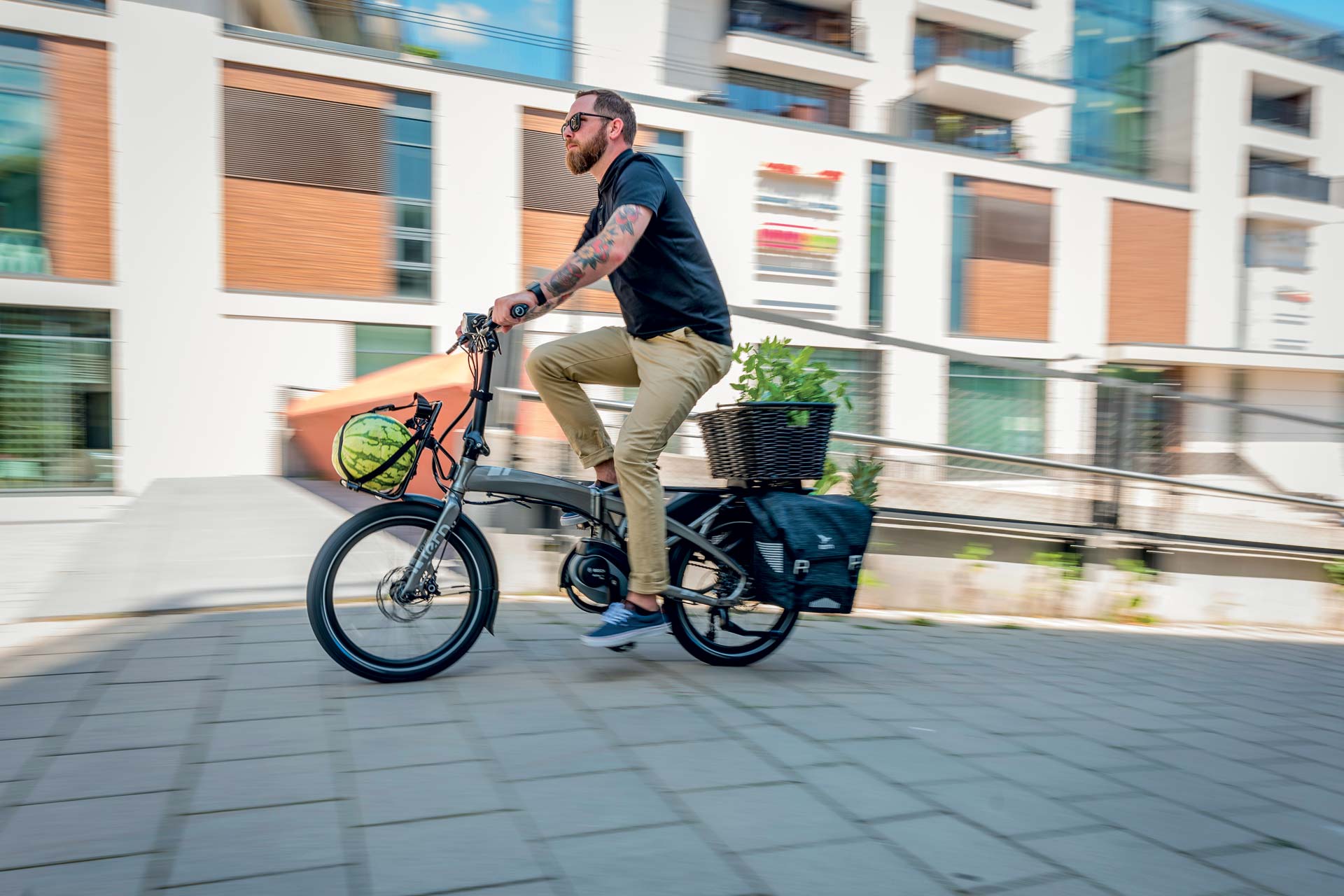 Vektron can take you up to 25 km/h, maintaining its excellent performance while delivering a quiet ride with less pedal resistance and gets a range of up to 130 km. The special frame-mounted rear rack carries up to 27 kg, and also allows the bike to stand firmly in vertical position when folded, for easier rolling and storage. Shorten distances and flatten the hills on your commute, or put a couple of Vektrons in the trunk of your car or on yacht at your next trip, so you can explore further.
G-Force T42 – Comfort and Freedom
Folding e-bike G-Force T42 has a nice sporty lines designed with comfort and freedom, allowing you to freely shuttle through the streets of the city and enjoy the fun of riding. Bike includes all the necessary features for fun such as puncture-resistant 20 x 4.0 fat tires, a front headlight that runs off the battery, suspension fork with lockout, fenders, and E-ABS anti-lock braking system on their dual hydraulic brakes.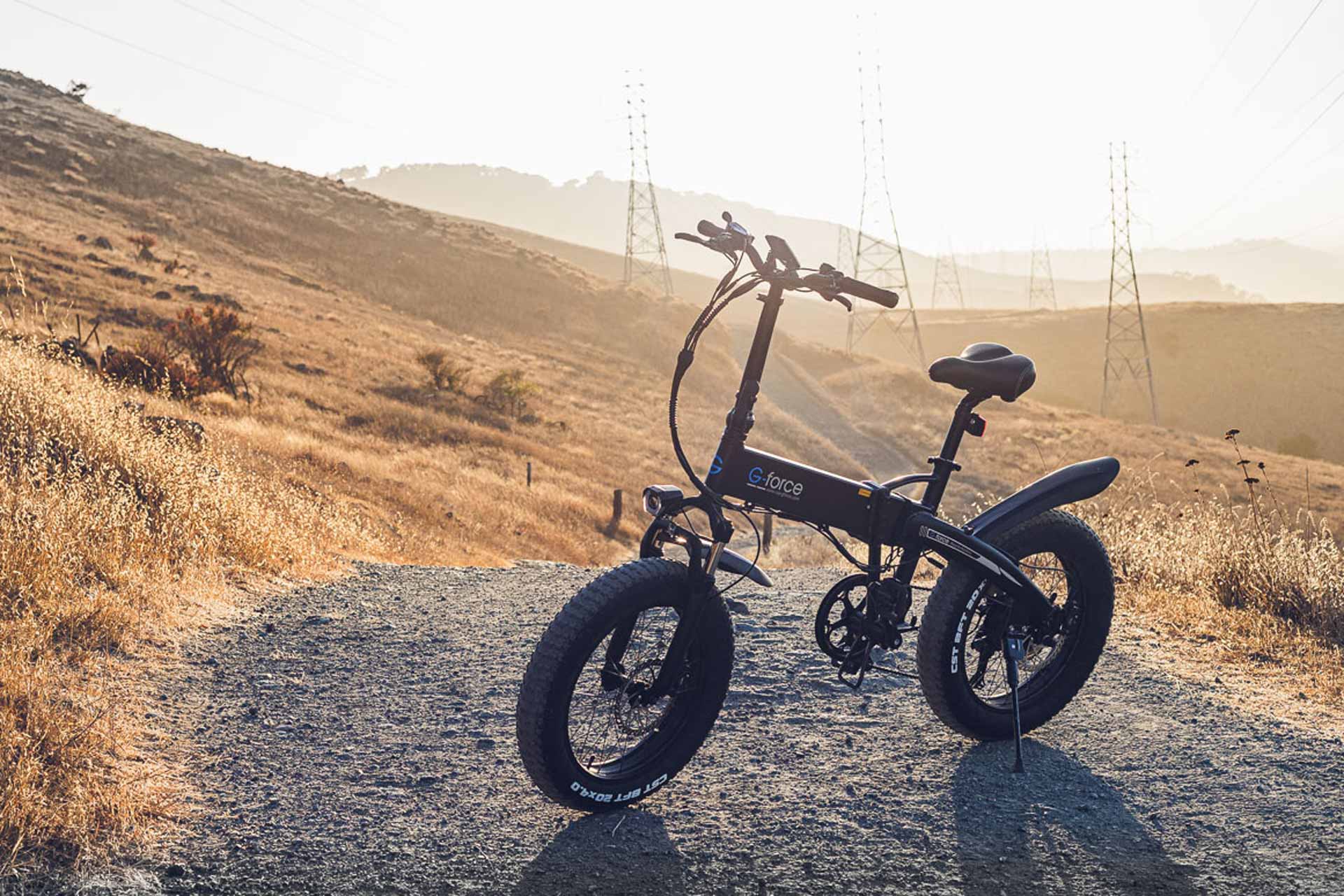 G-Force T42 is outfitted with 48 V 10.4 Ah batteries to guarantee a long lifetime and also high efficiency. With the help of pedal assist mode, the riding distance is more than 80 km per charge, and around 50 miles on pure electric power setting. The full LCD dashboard displays E-Bike performance information such as speed, mileage, power, battery level, etc. Due to the foldable and lightweight feature, it can be folded and stored in the trunk of a car, on yacht or wherever you want.
Brompton- Freedom Feels Electric
The Brompton Electric bike folds up to a third of its size and weighs 16.6 kg, which means it is suitable to take on all forms of transport – perfect for commuting on trains, popping in the boot of the car or anywhere on your yacht. It takes around 20-seconds to transform your bike into a small compact package that you can tow, stow and carry anywhere. The Electric C Line is boosted with smart electric technology for flattening hills and arriving feeling fresh.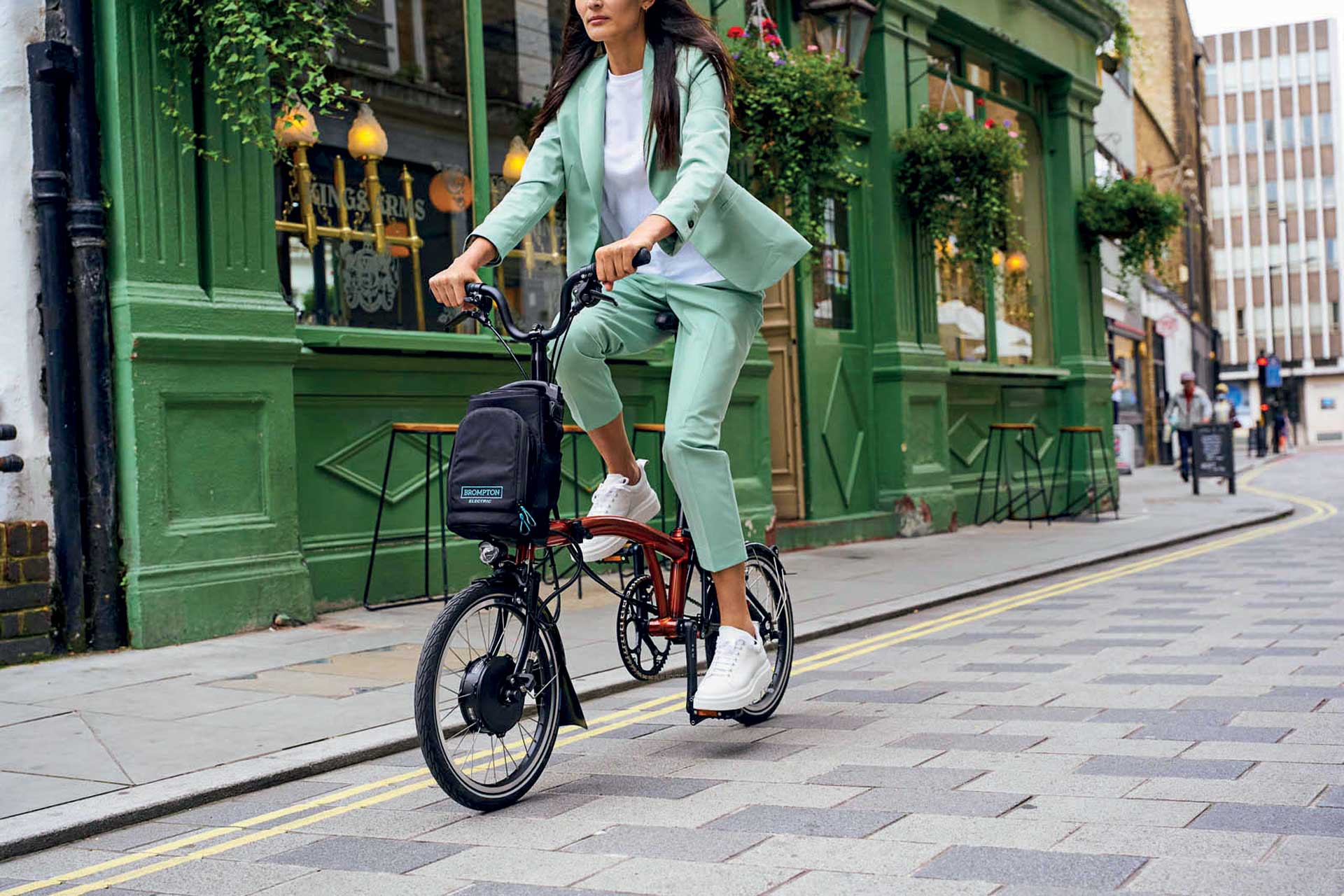 The lightweight battery pack can be removed with one click, and charged in just 4 hours. Delivering pedal-assist technology based on information from the smart sensor, the integrated 250 W hub motor utilises Formula E racing car technology to deliver both performance and portability over a range of 25 to 50 miles.
Smacircle S1 – Break the Mold
Made with a carbon fiber frame and packed with lithium-ion battery, the Smacircle S1 provides up to 12.43 miles range per charge, and the compact design makes it easy to fold in seconds and put right in a backpack.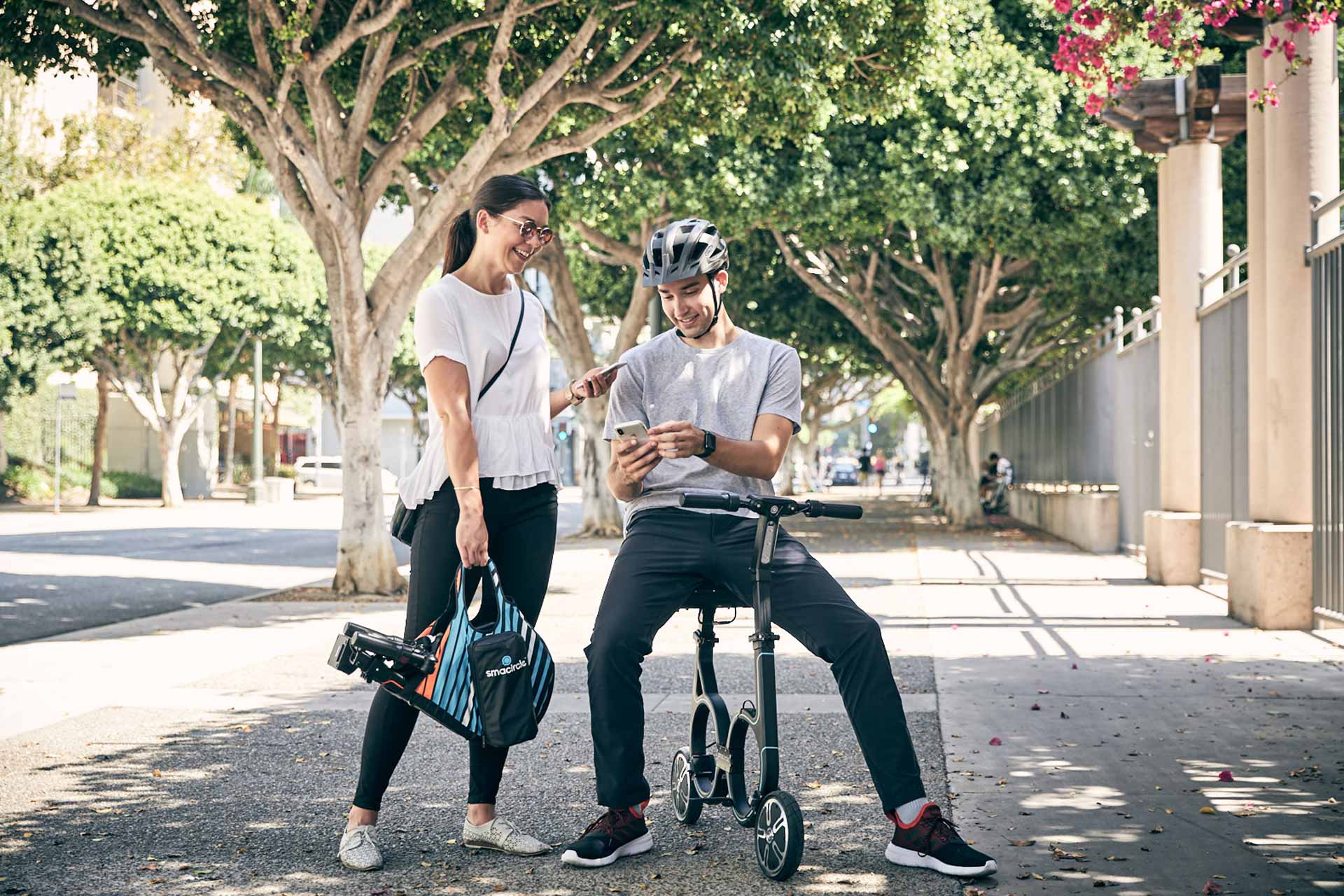 Featuring innovative wheel hub motor system, Smacircle S1 delivers power and efficiency for the daily commute, and supports incline up to 12° with maximum load of 100 kg. LED headlights and the brake lights increase your visibility and allow you to travel more safely at night. It also designed with Smacircle app, which allows you to lock and unlock S1, monitor battery life, mileage range and single trip distance.
Montana Nodo – Practical and Functional
The Montana Nodo SW7 is a folding electric bike whose folding system allows you to open or fold it in just a few seconds. Battery placed on the rear carrier allows for easy removal to further reduce the weight of the bike, as well as easier charging.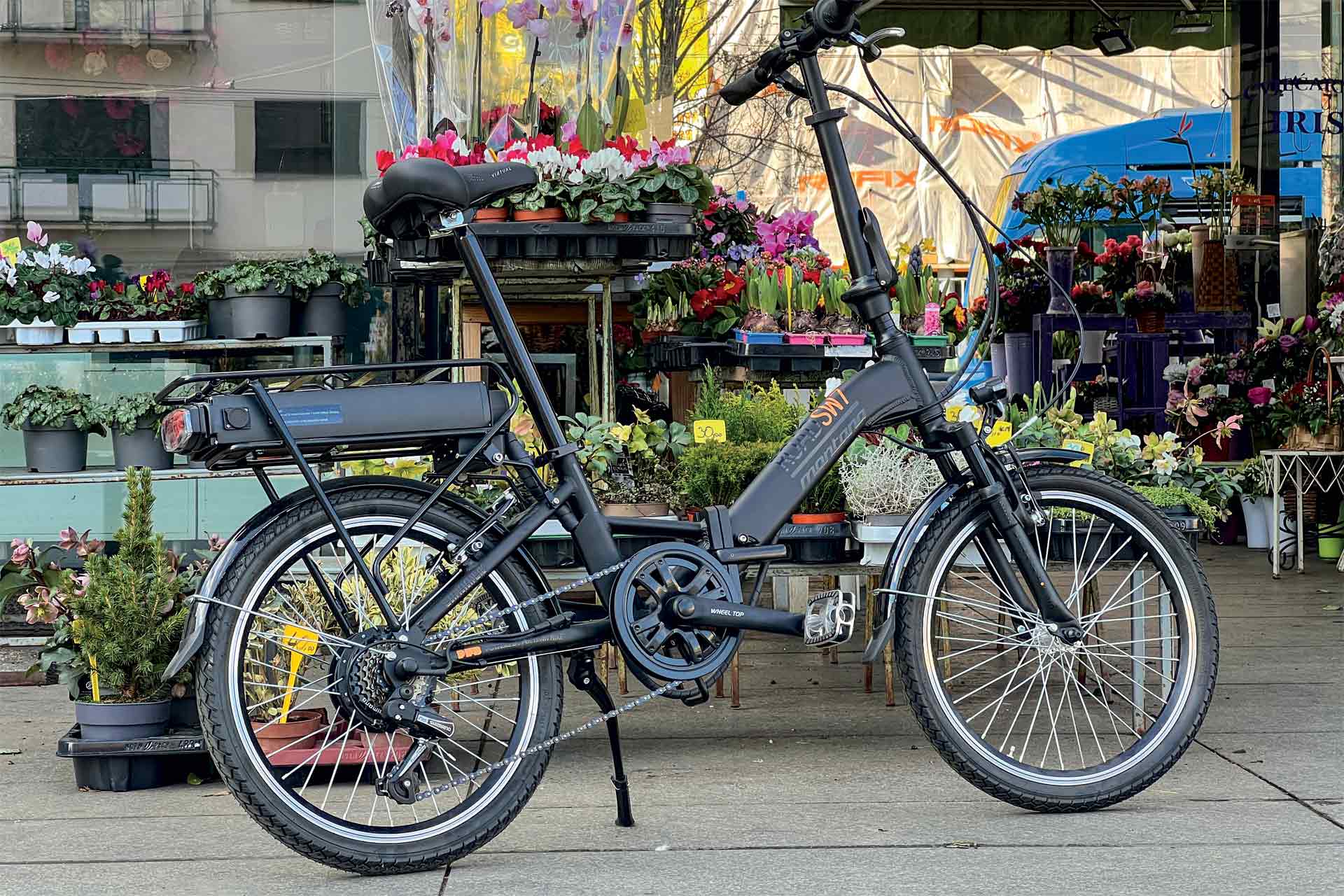 Fully unfolded, the Nodo SW7 has an upright seating position in which, with the help of the engine located on the rear wheel hub, allows for comfortable and easy transport. The engine delivers 250 Wh at 36 V, which is ideal for urban use. The steering wheel control unit has an intuitive and easy-to-use LCD screen, while buttons allow control over the engine assistance level and the lighting mode.
Scotsman – Sleek and Speedy
With smart features integrated, Scotsman represents a premium, high performance vehicle. This all-carbon fiber scooter has 3D frame printed entirely from thermoplastic carbon fiber composite, which allows for a strong yet lightweight and aesthetically pleasing structure. Dual motors deliver a safer, and more comfortable ride while providing better torque, uphill power and weight capacity.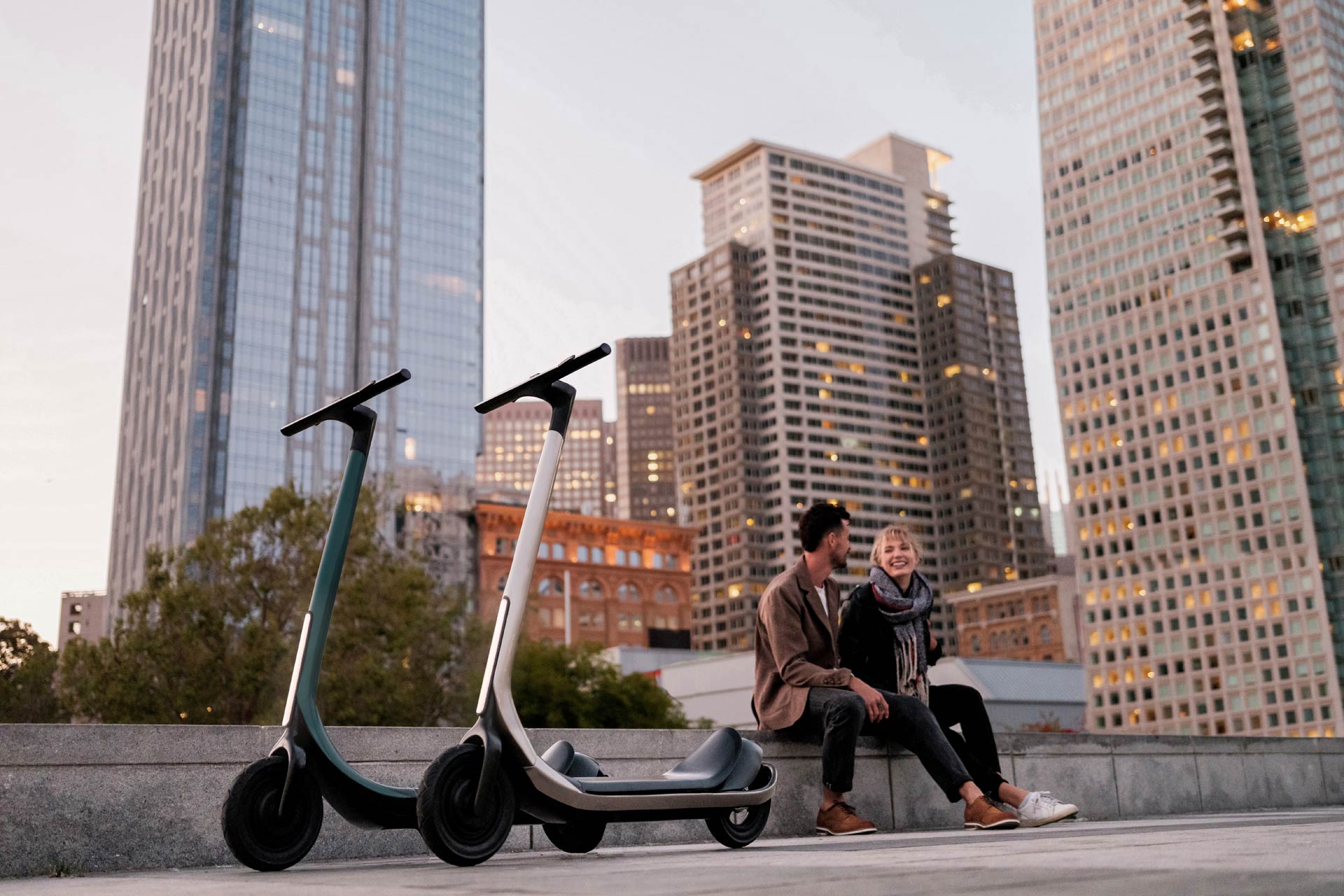 Large ten-inch wheels, generous 8-inch wide deck, and long-wheelbase work together to ensure a comfortable and safe ride and it folds down in seconds for easy transport and compact storage. The LCD panel, integrated into the handlebars, displays battery level, speed, riding mode, turn-by-turn navigation, distance traveled, and distance remaining. Because each scooter is individually 3D printed for each owner, company is able to provide an unprecedented level of customization.
Okai Neon – An Attention Grabber
The stand-out feature for the Neon is a set of customizable lights across the front stem and the undercarriage of the scooter. These lights can be customized with a variety of colors, patterns, and flow rates to create a tailored expression with every ride. The Neon is quite capable, housing a 350 Wh battery that enables up to 25 miles of range. The 500 W peak front hub motor punches out 16 nm of instant torque, able to climb up a grade of 20 percent.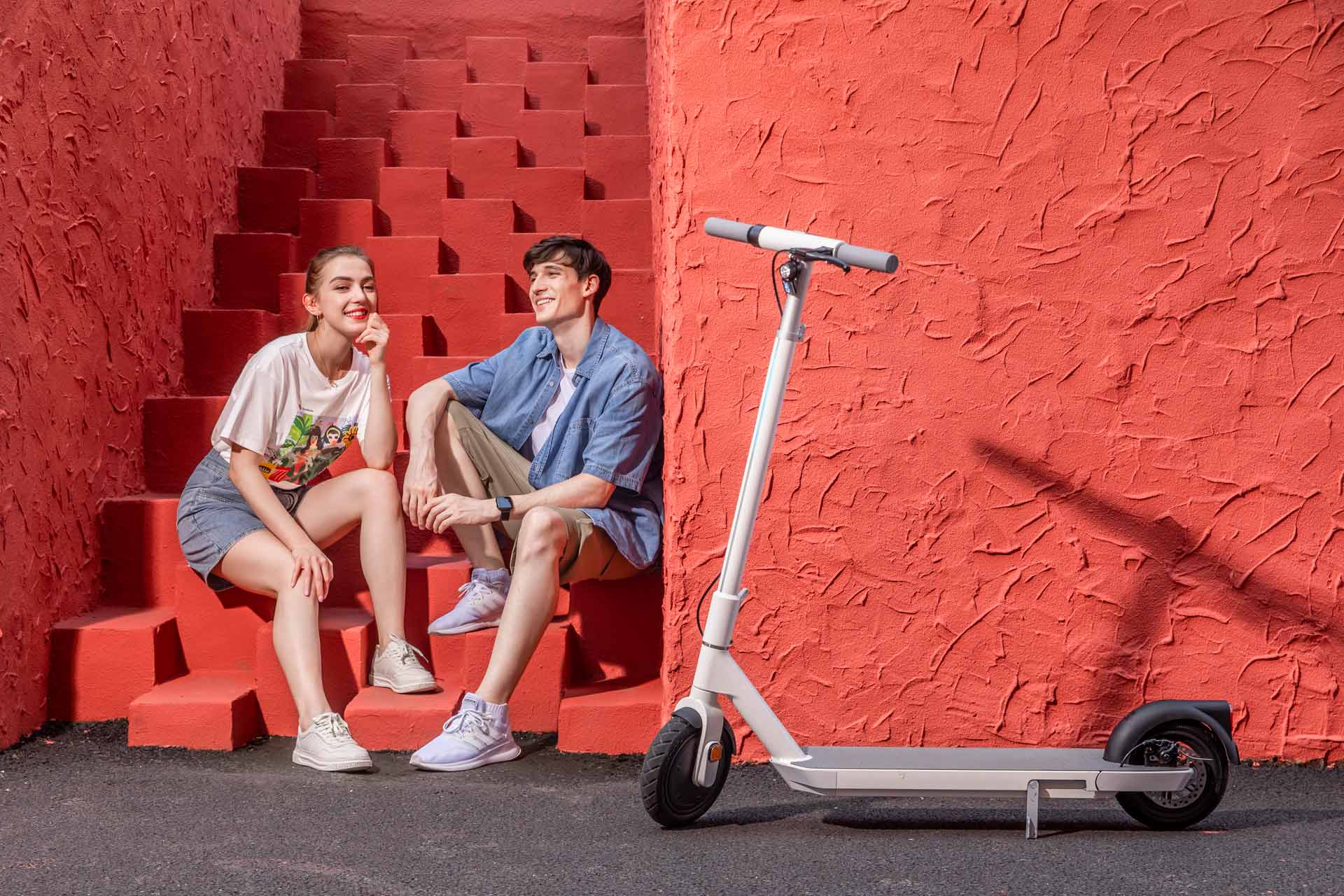 That's impressive power for a scooter that looks amazing, not only with lights, but even on its own design merit. The white matte finish with gray and silver accents is the perfect match for any mood. The lights, fenders, reflectors, folding latch, grips, kickstand, and cable routing all operate perfectly and still serve the appearance of the scooter.
Taito – Built to Last
Taito is a smart mobility solution that stands out in terms of safety, durability, and quality. One of Taito's highlights is the refined wheels based on a special, patent-pending suspension system and floating bamboo platform design which allows the riders to glide smoothly on uneven roads, potholes, and cobblestones without fearing the intense vibrations and trembling.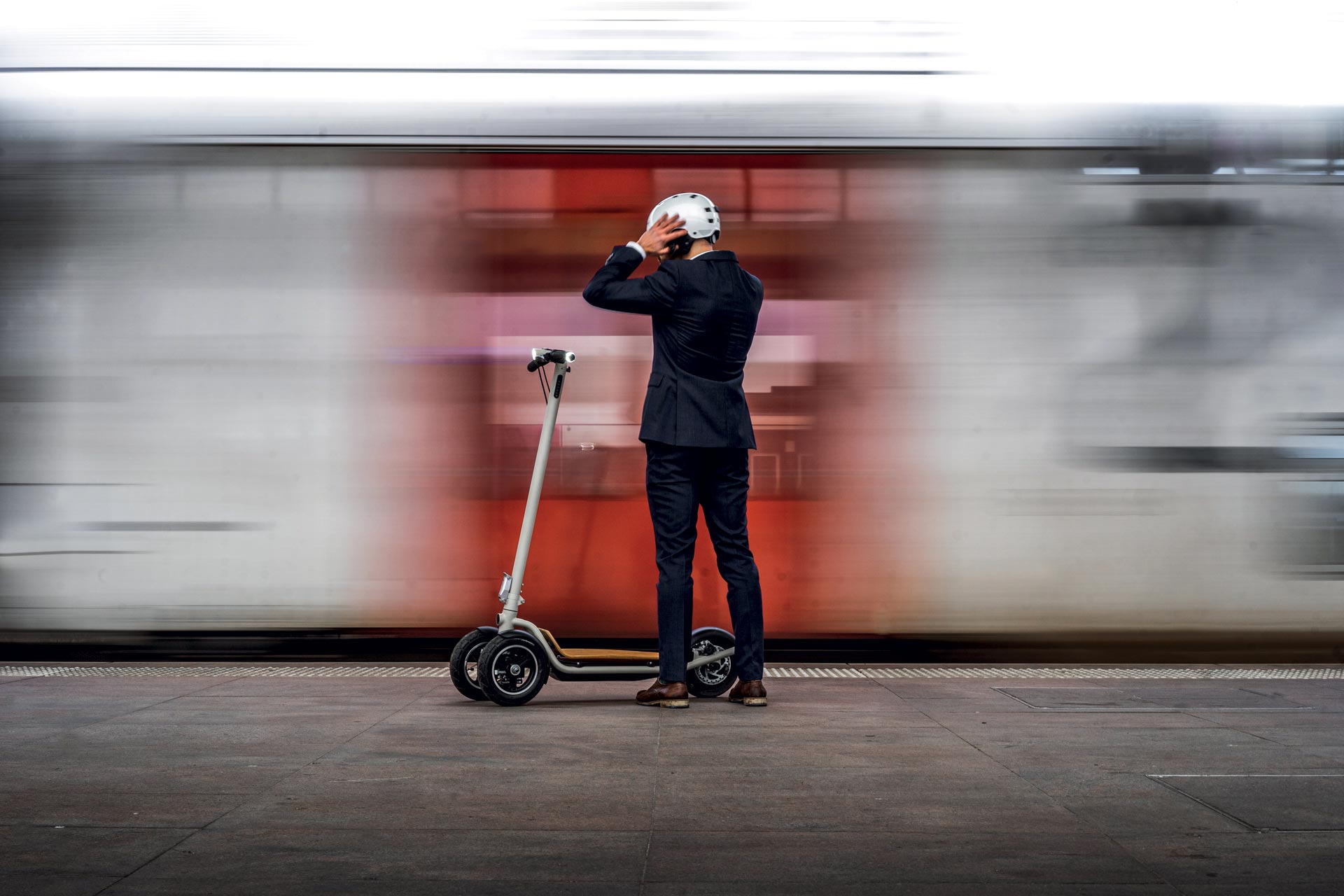 With a fully charged battery you will be able to ride for 30 km at full speed while riding in Eco-mode will allow you to go 40 km or more. LED lights and integrated indicators in the handlebars make sure you can see and be seen all at the same time. The e-scooter also comes with an app which can be mounted in the middle of the handlebars which will display the speed and range of the scooter. The app also allows riders to lock Taito e-scooter as well as track it via GPS.
Metz Moover – Easy and Foldable
The Metz Moover PRO is ideal for getting around town on short journeys, quickly and safely. Just push twice, then the electric motor can be switched on by the hand pedal. The most striking feature of the Metz Moover is its wooden stand, which is exceptionally wide at 18 cm and with the sandpaper-like anti-slip strips, it offers a secure hold and is visually reminiscent of a skateboard.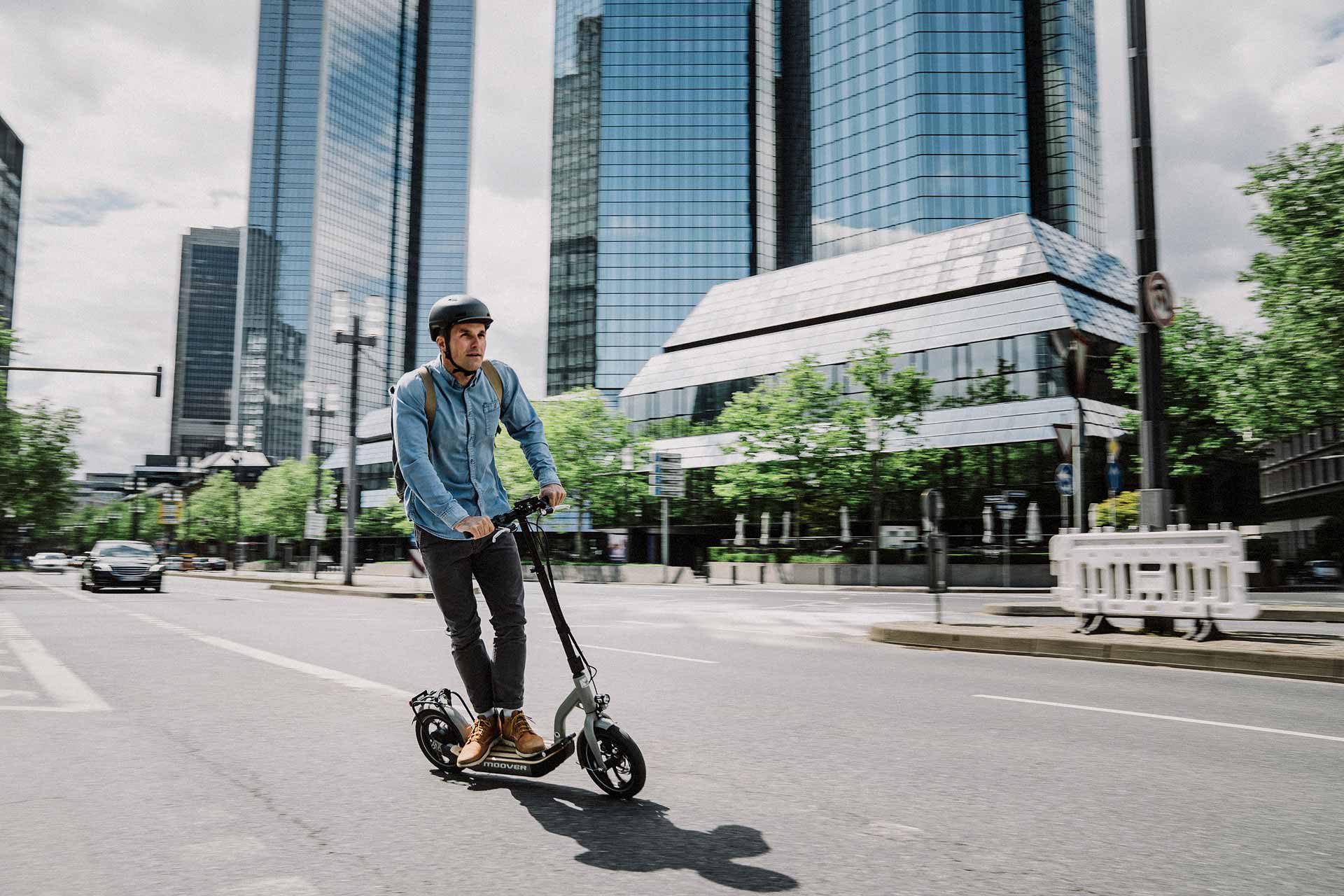 Thanks to the brushless rear motor with a nominal output of 250 W (500 W peak), the e-scooter has plenty of power and gives a fantastic driving experience with the top speed of 20 km/h steadily. The lithium-ion battery has a capacity of 216 Wh, has a voltage of 32 V and it is fully charged after about 3.5 hours. It is also safe on the road thanks to the wide 12-inch pneumatic tires. When folded, it is just one meter long, which means it fits everywhere.
Photos Tern/PhotoShelter, GoCycle, G-Force/Paul Ferradas, Brompton, Smacircle, Rog Joma, Scotsman, Okai, Taito & Metz/Dan Zoubek
No tags for this post.