For several years, awareness of the impact of boats on the marine ecosystem has led boat manufacturers and sailors to rethink sailing practices. The most environmentally friendly is undoubtedly yacht, as it uses the strength of the wind to propel itself
For those who prefer motorised propulsion, energy efficiency and low-cost solutions already exist and are implemented by bodies involved in the industry: propeller and/or engine design to reduce energy consumption, particulate filter-scrubber solutions (water-based flue gas scrubbing system called 'scrubber' to capture toxic particles), rotorsails or turbosails (concepts based on a rotating cylinder that uses the Magnus effect to increase the propulsive sail carrying power of the boat), direct injection in fuels (injection of hydrogen admixtures or other with a view to reducing emissions by 20%), 100% electric or hybrid thermal-electric propulsion, LNG or bioLNG (20% reduction in CO2 emissions), E-fuels (liquid fuels combining CO2 (fatal) and hydrogen produced from low-carbon electricity such as e-methane, e-ammonia), etc.
BLUE NAV – BLUE SPIN
BlueNav is a French manufacturer of electric and hybrid boat engines. Innovative and winner of multi-awards, BlueNav stands out for its mild hybridisation approach. The BlueSpin electric motor (available in 3 models) is retractable, rotatable, compact and lightweight. It can be installed on new or existing boats, without any structural modification, and allows switching from 'thermal' mode to 'electric' mode in just a few seconds.
E-MOTION
E-Motion offers zero-emission hybrid propulsion systems, with the ability to switch to diesel-electric navigation at the touch of a button. e-Motion hybrid systems offer 10 functional modes for parallel hybridpropulsion and 5 functional modes for series propulsion Advantages include: reduction in fuel consumption of up to 30% in economical navigation mode and fast charging of the batteries: 90% load in 35 minutes, increased performance thanks to Power Boost mode.
FIN X – FIN 5
Paris-based start-up creates finned propellerless boat engines, and is convinced that the best way to preserve nature is to draw inspiration from it. This new eco-designed and efficient nautical propulsion mimics the swimming of fish. FinX has created Fin5, the world's first propellerless, 100% electric and safe finned boat engine. It is intended for small boats and sailing boats up to 3 tonnes.
JEANNEAU NC 37 – Bateau hybride expérimental Bénéteau x Volvo Penta
The JEANNEAU NC 37 is equipped with a Volvo Penta twin D4-320 DPI Aquamatic hybrid-electric concept and up-to-date technology including Volvo Penta's comprehensive joystick docking system and the dynamic positioning system, which have been adapted to operate in electric mode. This test boat also features enhanced manoeuvrability, a hydraulic clutch for quiet shifting at low rpm, and improved control thanks to the precise joystick functionality.
MERCURY – AVATOR
Partner of the Cannes Yachting Festival 2023, Mercury is expanding into the electric outboard engines market with the all-new Avator series equipped with a powerful cross-flow engine that generates high torque with little effort. Quiet, quiet and smooth, with intuitive controls and advanced technologies that monitor battery level and battery runtime, Avator outboard engines allow you to fully immerse yourself in nature and explore water with confidence.
RIM DRIVE TECHNOLOGIES
Perfectly suited for those who want to sail with electricity, Rim Drive's motors have only one rotating part and can be used on any type of boat. Rim motors transmit their movement to the propellers magnetically.
With sleek, durable and functional designs, Rim Drive motors are fully waterproof, easy to install, easy to manoeuvre in ports and not susceptible to debris.
THE ICON BY BMW & TYDE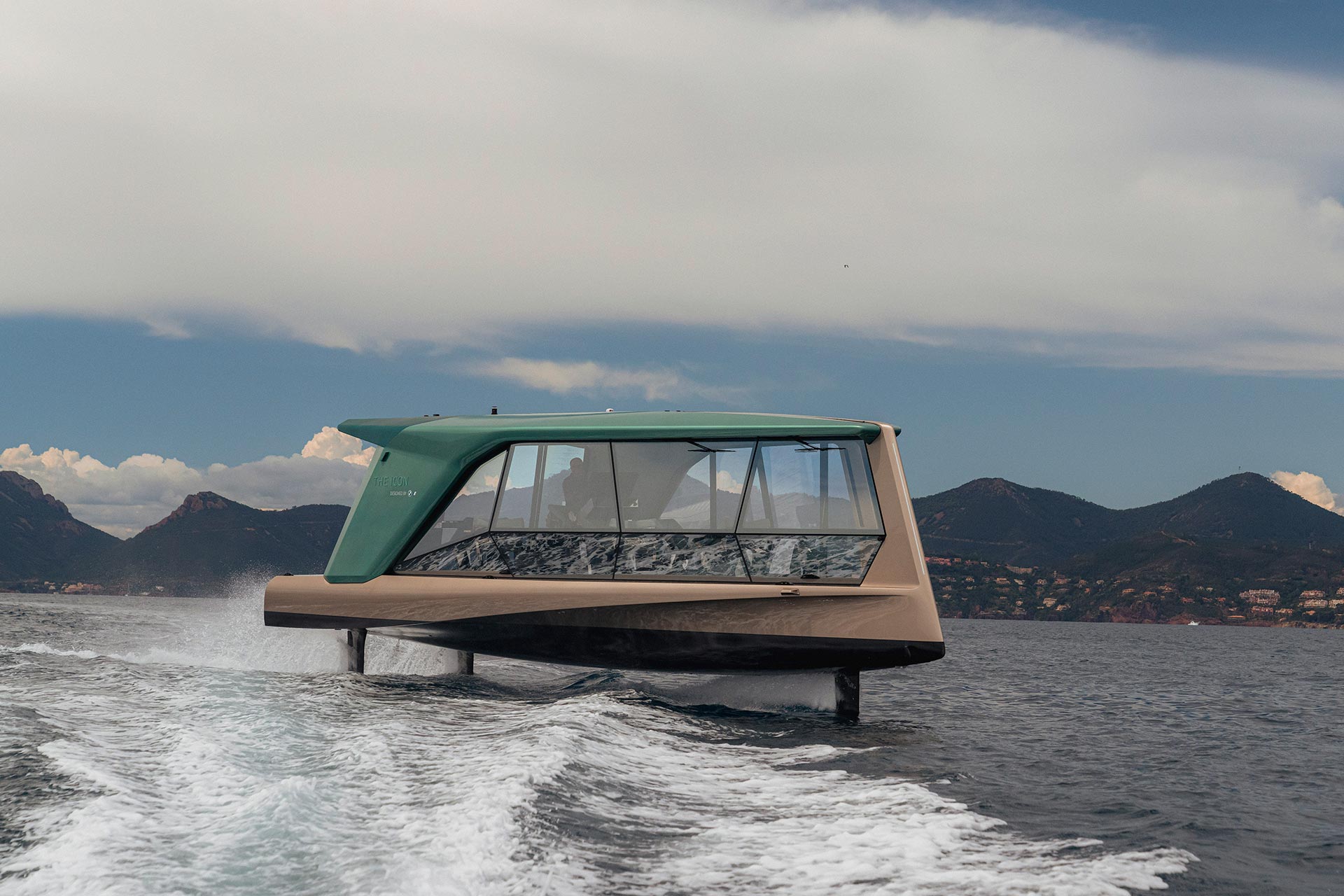 The Icon, the electric hydrofoil derived from a cooperation between BMW and the Tyde boat builder, is capable of reaching a speed of 30 knots. It is powered by two 100 kW electric motors, combined with six 240 kWh batteries from the BMW i3. With this configuration, the boat has a range of 50 miles and a cruising speed of 24 knots. To increase its range, comfort and speed, the Icon is equipped with foils that reduce energy requirements by up to 80% compared with a conventional hull.
YAMAHA – XTO 450 CH
As a partner of the Cannes Yachting Festival 2023, Yamaha will be presenting its new 450 hp XTO motor. As the leader of the Yamaha range, it offers optimum efficiency thanks to its direct injection and exhaust, improving thrust and reducing consumption.
WHISPER YACHT – WHISPER 50
Whisper Yachts offers boats that exclusively use solar-electric propulsion. The propulsion system is powered by Torqeedo, which uses BMW batteries. It consists of two electric motors connected to shaft lines and propellers. The electric motors are powered by BMW 200 kWh batteries. The batteries are charged from 3 sources: solar panels (30 m2) with a total of 6 kWp, connection to the shore power grid (13.2 kW), 25 kW backup generator (2 x 25 kW optional).
Photos TYDE Video Jeanneau, E-Motion & Rim Drive