At the Croatia Boat Show With the New Dealer
After consolidated the market in the western Mediterranean, Evo Yachts continues to expand into new areas, choosing to consolidate its dealers network in the Balkans. As a result of the new agreement signed with Navis Marine, a dealer with outlets in both Croatia and Montenegro, for the first time Evo Yachts attends the Croatia Boat Show.
At the show, the shipyard will officially get the Mediterranean trade fair season underway with a total black version of Evo 43, made even more appealing and aggressive by its pairing with orange upholstery. The cockpit, clad entirely in teak and fitted with various solutions to create shade, is a flexible space with modular seating, an extending dining table, and a large wet bar.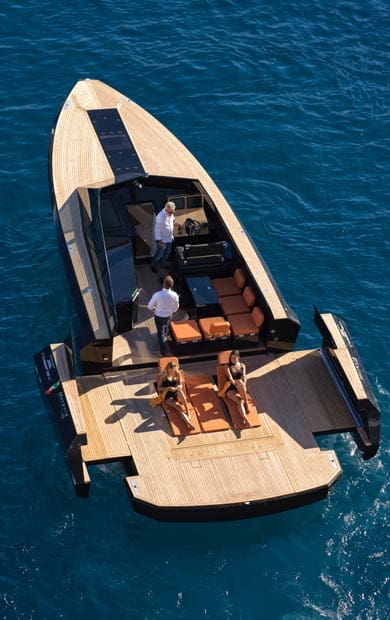 The beach area can be totally transformed with the help of a digital control system, which opens the 'XTensions' side walls in less than 30 seconds, turning the cockpit into a 25 square meter terrace on the water that can be configured as a lounge area, a sunbathing area with incorporated lounger, or even a diving platform. This and the other functions can be controlled using an iPhone or iPad, transforming the boat for more comfort and space and increasing the width to a maximum of 6.3 meters, usually the prerogative of a distinctly superior category.
Photos by Evo Yachts