Powered by twin Mercury Verado 350HPs, the Galeon 325 GTO measures 9.99m in length overall with a beam of 3.28m. From the full hardtop to the in-hull ports, everything is molded in – not cut out and inserted, making the intricate design well worth the effort for the impressive result.
Jacek Kobylko, President Galeon Yachts, commented, 'Galeon Yachts is an aspirational brand for many and we are extremely honored to bring hallmark quality, design, and innovation to the brand new 325 GTO. This outboard-powered, feature-rich, 32-foot craft ensures Galeon is attainable for a larger audience of boating and yachting enthusiasts.'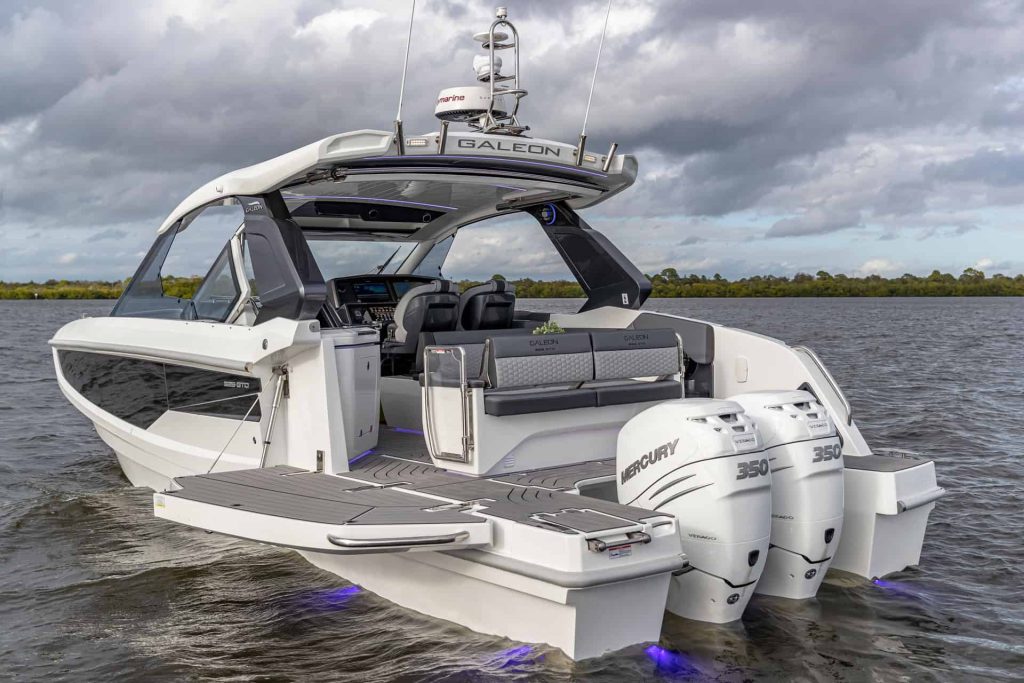 It is a breakthrough vessel, where its design created by Tony Castro fits into the global trend for fast and luxurious weekend yachts powered by outboard engines.
Class leading design, quality, and features are abundant with a stunning multicolor lighting package, single level deck throughout, power adjustable helm seats and steering wheel, and interior appointments consistent with their larger yachts.
Even better, Galeon does it with a head-turning profile, outstanding space utilization, and high-style amenities usually found only on large luxury yachts.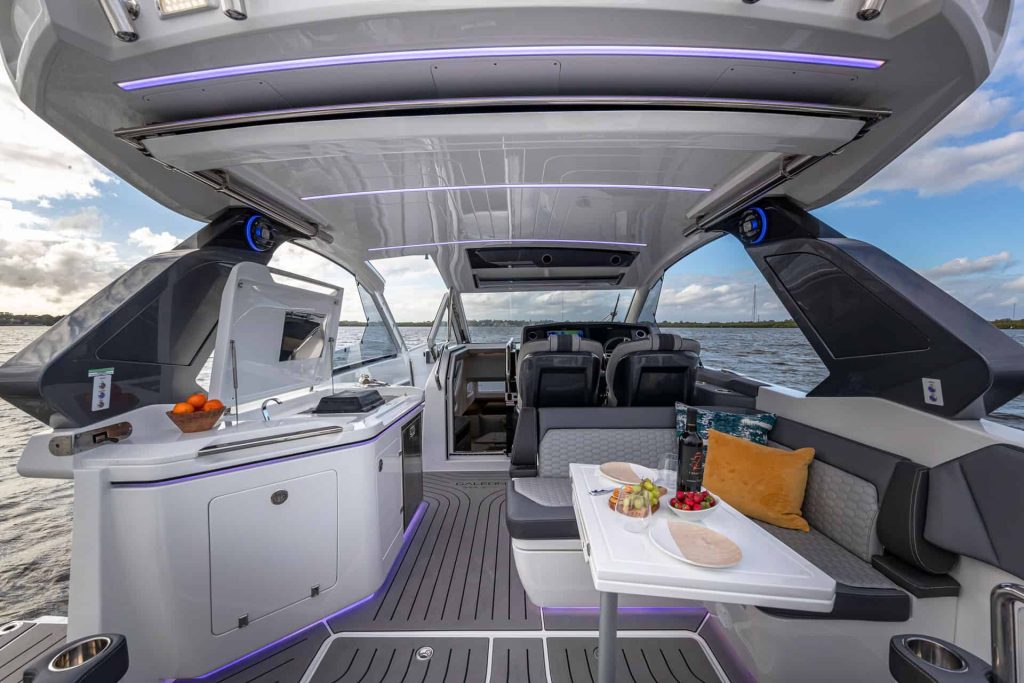 Even the full-width, single-piece windshield is more intricate, and brilliantly designed. A walk-through section to port lets you access the plentiful bow seating without stooping, climbing, or squeezing through a small opening.
In a feat of ingenious engineering, this section slides up into the hardtop, preserving full standing headroom and all-around space for you to pass. The bow area is the perfect social spot and comfortably accommodates a crowd, since the 325 GTO carries the full beam far forward.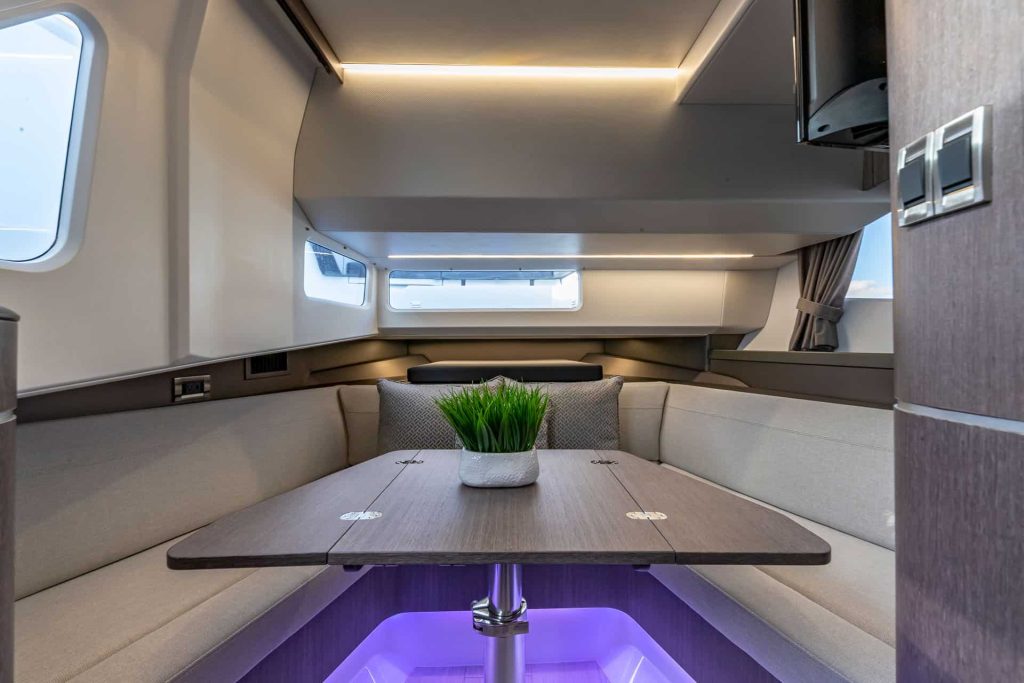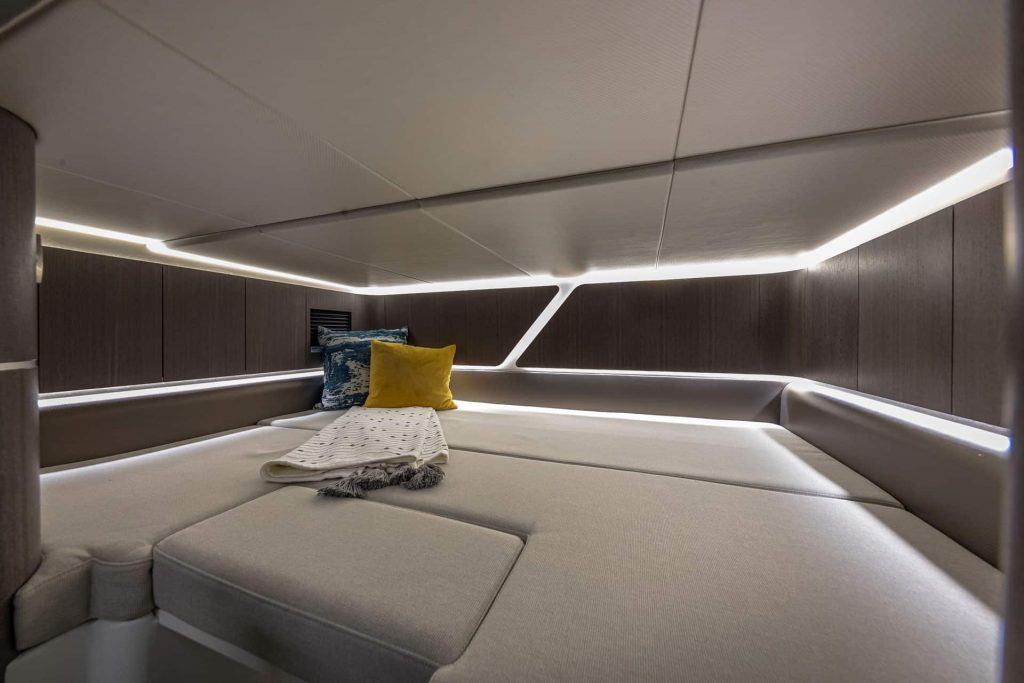 The boat is even more social aft, thanks to a unique fold-down platform to port. Finally, the lighting design sets the 325 GTO far apart from its competitors. From the state-of-the-art speakers in the bow to the well-equipped helm – where the twin seats look like they came straight from a sports car – and to the bold nameboard aft, LEDs illuminate everything.
Add in the power and reliability of twin outboards, and the 325 GTO is, simply put, the biggest and most impressive boat in its class.
Photos Galeon