A mile in my shoes…
Inspired by boats, cars and a healthy fascination with hell raisers-including Bowie, Bauhaus, Warhol and the Lords Dashwood and Rochester- Guy West is a bon viveur, libertine and shoemaker to the stars. In this exclusive interview he bares his sole and invites us to join him in a walk on the wild side
As I sit in the car park of a nondescript hotel in a flat patch of Northampton countryside on a cold, grey winter morning, I wonder if I've ever witnessed a scene so mundane. It is drab, unremarkable, anemic even. But I'm waiting for a man whose public profile is so unashamedly kaleidoscopic that I am convinced the wait will be worth it. He is the co-founder of a shoe-making company that has taken Northampton's stuffy, impeccable, dust-laden heritage by the scruff of the neck and spiked it with a cocktail of flavors as diverse, radical and sybaritic as Bowie, Vaudeville, Burlesque and Bram Stoker. For a place that has been the undisputed center of traditional shoemaking for several centuries, it must have felt like a rude and incendiary awakening-and naturally enough, when the man at the heart of it all arrives, it doesn't take long to spot him… Guy West's jet-black, crimson-trimmed car appears like a blood-red rip in the monotone landscape. The doors are spiked with the livid graphics of a thrusting fencer in a Top Hat and on the back are emblazoned with the lyrically scribed words: 'Immersed in the Pursuit of Pleasure'. As he pulls into a space, I have to confess it's the most dramatic entrance to a car park it's ever been my pleasure to witness-and as Guy himself steps from his vehicle in a flowing woolen coat with nautical epaulettes and gleaming brass buttons, the drama of the occasion is hardly diminished… He doesn't seem to be carrying his famous cane, but there is a pleasant friction here between the wayward generosity of his hair and the more tailored drama of his clothing. Beneath the tight tan leather of his gentleman's gloves, glittering Gothic rings suggest a rapacious appetite for the darker things in life-and on his feet, the inelegant frumpishness of the everyday shoe is ousted by a pair of handmade dress boots as slick and pristine as any I have seen.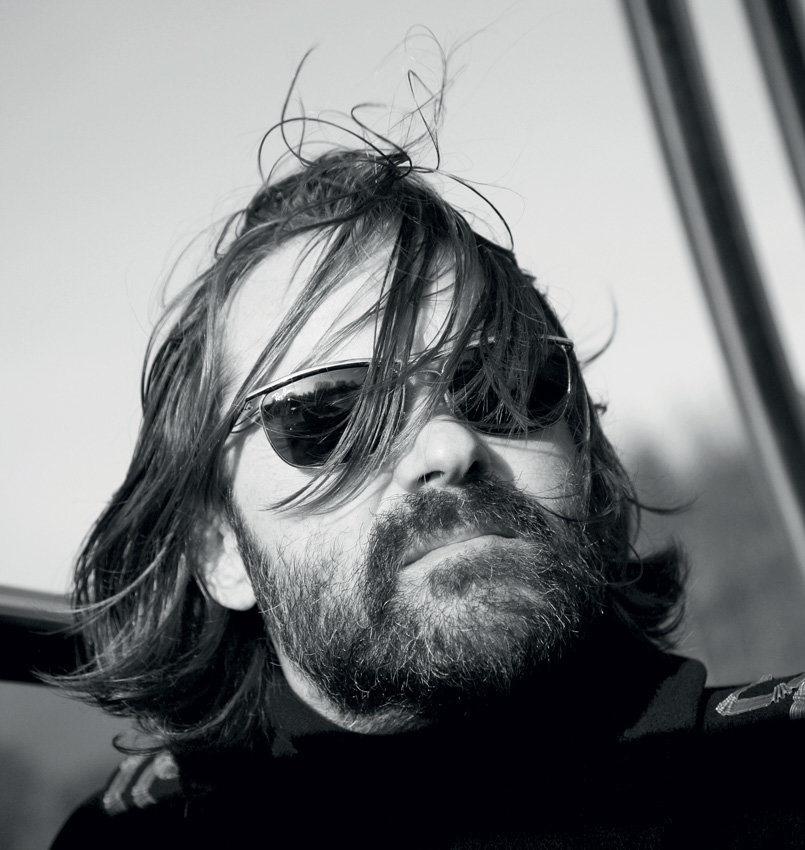 It makes very satisfying sense that a man like this should be at the helm of an exuberant English shoemaker like Jeffery West. As I walk towards him with my hand outstretched, I already suspect that this is going to be a very memorable chat…
So Guy, tell me how you got into shoes.
When I left school at the age of 15, Mark Jeffery (my business partner) and I would buy rejects and end-of-line shoes from the local factories. We would customize them before selling them around southern England at markets in Aylesbury, Northampton and Kensington. We quickly moved on from that to creating the designs ourselves. Guys from the local factories would come and cut out our patterns by hand, so we learned every single stage right from the start.
How did you kick things on from there… if you'll excuse the pun?
Five or six years later when we actually started Jeffery West Shoes, we needed investment, so we took our wholesale orders to the bank. The first three banks said 'No', but the man at the Natwest Bank was quite cool. His actual words were: 'Yeah, I'll give it a whirl.' He gave us five grand ($8,300) and at the age of 22, it all kicked off. Amazingly, we still deal with our first ever customer, Instep Shoes in Clifton. English shoes with a Jeffery West touch – they love that in England's West Country.
But as a famous historical heartland for shoemaking, there must have been some resistance to a couple of young guys with fresh ideas?
Well I would skateboard to work, so you can imagine how people looked at us. Some of them were five generations into shoemaking. And who were we? They expected us to fail-they probably still do-but the irony is that I love all the factories. I love the tradition of Northampton shoemaking. In fact I was heavily involved with the local shoemaking museum and the thing is that we're still very English. People think of that as just being about heritage or tradition, but my influence, my heritage, is all post- war. It is Bowie, Roxy Music, Bauhaus, Pop-Art. It isn't stiff-upper-lip and trying to be the Prince of Wales. It's British in that it's about the music and the sub-cultures that thrive right here in the UK.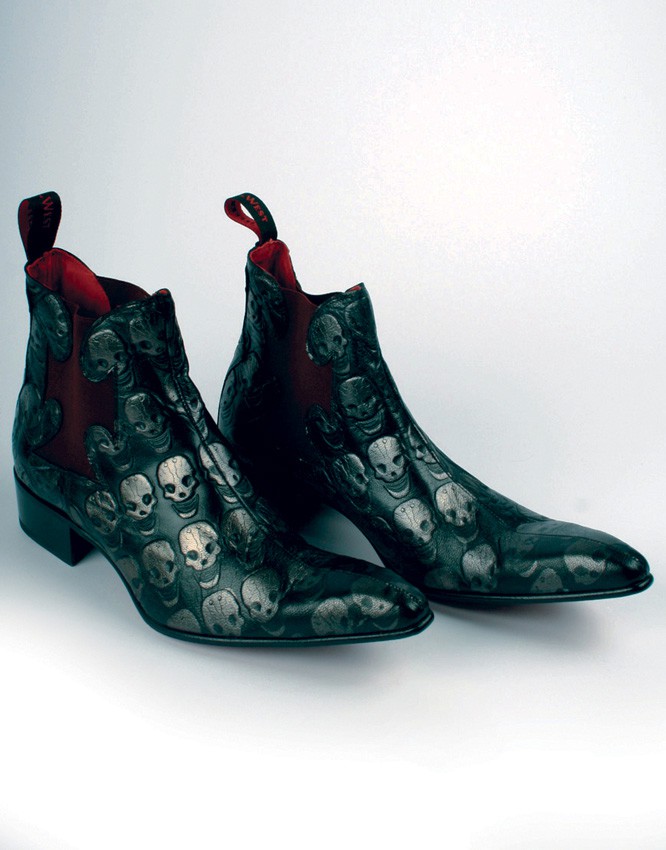 So would you say your keenest design influences are rooted in contemporary sub-cultures?
Yes, music, art, clothes and style. I guess it's all quite low-brow in that it's not classical, educated stuff but we were into the kind of art that was accessible to us at the time like The Ramones, Iggy Pop, Lou Reed, Andy Warhol, Studio 54. Life is about lots of different influences and if some of them are quite base or contradictory, there's nothing wrong with that.
So who buys your shoes today?
Well we obviously make shoes that are different, so people often think we're a fashion brand but that's not what we're about. We do shoes for men who have the confidence to embrace their own look; people who believe in the Adam Ant thing-'Ridicule is nothing to be scared of'. They're happy to wear snakeskin boots down the local pub-and if their mates go 'What the f*ck are you doing?' they go 'Yeah, exactly, brilliant aren't they.'
Do your most famous customers reflect that same kind of attitude?
Yeah, a lot of them do. We did David Beckham's shoes when he went to Downing Street to meet Prime Minister Tony Blair-and we do quite a few of the comedians: Paul Merton, Jimmy Carr. We're doing some bands too like Maximo Park, Rival Sons, The Struts, Robert Plant. The fact that they like what we do is great.
You're plainly successful but you don't strike me as a man bogged down by business.
No I'm not, but that's because I do things the way I like them to be done.
How do you mean?
Well everything is so corporate now and I know you've got to make a profit, but where has the passion gone? Where's the personality? People are bored of standardization and mediocrity, so when I hear people talking about margins it drives me mad. At Jeffery West, we're still prepared to take risks by doing things that don't conform to what's fashionable or commercial at the time. If we can offer something special that people really want to buy and still make a living out of it, isn't that enough?
So your shoes are designed to be just a bit more special?
Yeah, definitely. They're beautifully handmade in Northampton and yet I use all kinds of styles and materials, from iridescent patent to crocodile and snakeskin. The heel is also very distinctive. It is raised to give a flow to the sole that echoes the flamboyant lines of a car or a boat. It has a cleft built into it that makes it look like a satyr's hoof and on the soles, you might have the words: 'Pleased to meet you. Hope you guessed my name.' Of course it's tongue in cheek, but it's all about embracing the Devil in you; about the 'Bad Boy' thing done in a way that means really enjoying life. That's what I love.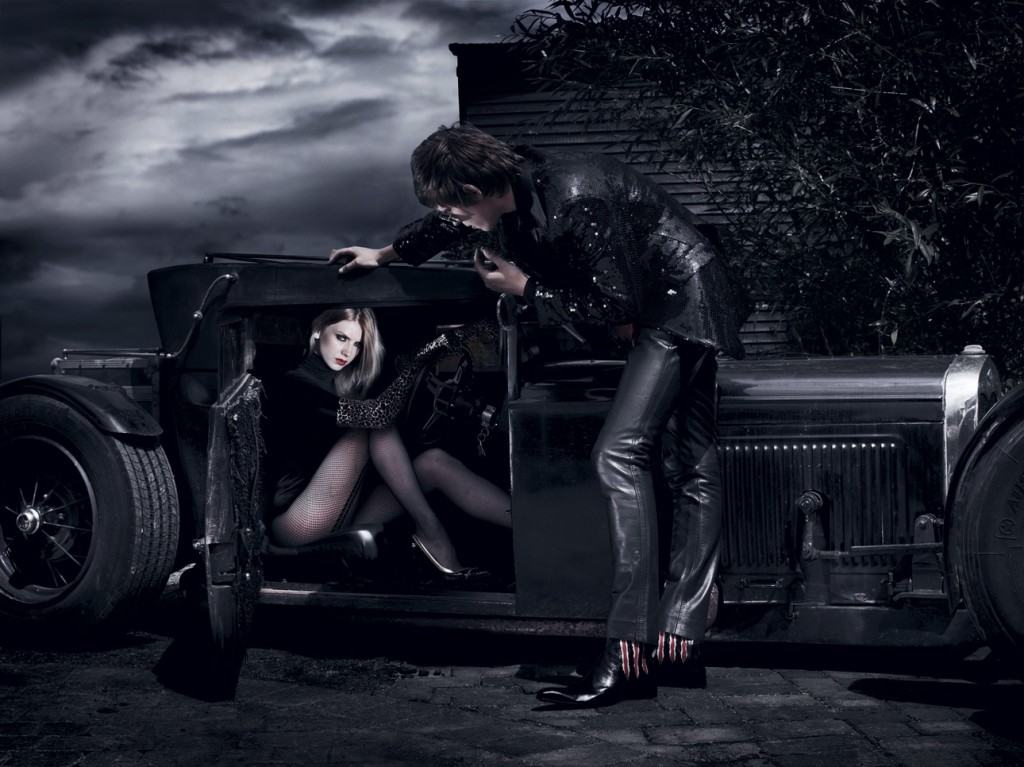 So I'm guessing your idols are the people who have really pushed the boundaries?
Most definitely. People like Keith Moon, Olly Reed, Peter O'Toole, even Pete Docherty and Lord Dashwood too, the guy who founded the infamous 18th century Hellraiser Club. They're all awkward and difficult characters but for right or wrong, they have dared to live their lives in whatever way worked best for them. That's a great way to be.
Is that why you name your shoes after famous hell raisers?
Exactly. I name all the lasts (the frames around which the leather for a given shoe is shaped) after people who have been influential, like Lord Rochester. He was amazing; hard drinking, womanizing and decadent but brave and charismatic. He really fits our ethos.
So what else do you love, apart from shoes?
I enjoy boats, wakeboarding and I love cars too. I've got an old Jag XJ and a beautiful Bristol Zagato 412, both in black. The Bristol is amazing. It's so ugly but it's got something about it. It looks like a car that should have been driven by Rutger Hauer in a British version of the movie 'Hitcher'. I should be pulling my boat with it really, but I couldn't quite bring myself to put a towbar on a car like that. You can only take sacrilege so far…
If you hadn't been a shoemaker, what would you have been?
A Navy diver or an auctioneer. I loved the TV-series 'Steptoe and Son' as a kid, the one about scrap merchants. I remember thinking that's what I want my house to look like; I wanted to live in Steptoe's yard.
If you could go back 30-years, what kind of advice would you give your 16-year old self?
Just don't waste any time, because everything takes three times longer than you think. You work at a thing and then eventually, people say: 'Oh, I understand what you're trying to do now!' Well why didn't you understand it when I first came to you?
Sitting at my desk some days later, revisiting my notes and immersing myself once again in the Jeffery West mindset, the voluptuous decadence of it all reminds me of a night I once spent in a burlesque bar. I was reclining on a stuffed tiger, musing on the excellence of absinthe and various intoxicating substances while around me, velveteen ladies with heaving bosoms and pinched waists danced a slow fishnet opera to the strains of a lazy jazz pianist. When I eventually stepped out of that technicolor titillation into the morning light and made my way home through sidewalks strewn with beautiful semi-conscious people, I imagined how wonderful it would be if life was always like this, but in a strange, grown-up, commercially viable and socially appropriate way. Guy and his business partner appear to have achieved exactly that. There's a dark, lustrous sensuality to everything he does and it's not a contrivance to sell shoes; it's a symptom of the fact that it's what he loves and who he is. Tongue-in-cheek though it might be, it's a dangerously intoxicating mindset. Having taken pity on my comparatively nondescript footwear, Guy sent me a pair of his 'Lemmy' Chelsea Boots and I have to confess, their unflinching wildness makes me feel like a lusty libertine, fortified by dark secrets and devilish memories. I'm not of course. I'm a middle-aged man with bills to pay and deadlines to meet, but that only reaffirms the fact that men like Guy and products like his are the refreshing exception to the everyday. They are the brazen texture on the pallid plains of established methodology; flashes of unabashed carnality in a world preoccupied with the vapid securities of blending in. They expose their colors not in a bid to court confrontation, but because they are too self-assured to fret over the consequences. In short, they are the epitome of 'cool'- and if you're not man enough to add them to your wardrobe and wear them without apology, it's time for some concerted introspection.