Writing an entire century of watchmaking history while demostrating more dynamism than ever
Mido, which was founded in 1918 in Solothurn (Switzerland), is celebrating its centenary in 2018 with a pleasing display of vitality. And to put it mildly, 100 years after its creation, the Swiss Made brand – whose name means I measure in Spanish (yo mido) – remains true to the four cornerstones on which it has built its international reputation: appealing and timeless designs, a great ability to innovate, accurate and reliable movements and, the jewel in the crown, value for money that is undeniably one of the best in the market. These intrinsic values are the foundation for Mido's bright future at a time when fine watchmaking enthusiasts are becoming more and more discerning. The proof is undeniable – some of Mido's automatic watch collections, designed to last a lifetime, are still featured in its catalogue despite being first introduced over fifty years ago. This demonstrates the longevity of Mido's designs, which have stood the test of time without ageing, in a state of perpetual renewal. Mido's philosophy combines innovation, aesthetic and functionality. The brand shares these essential values with some iconic architectural glories from which it draws inspiration for its carefully considered and timeless design. Through this discipline, Mido continues its quest for the harmonious and coherent choices that ensure an object's ability to stand the test of time. Nothing about a Mido watch is left to chance or ignored, be it ergonomics, its wealth of finishes, or its functionality. A brand with 100 years of history naturally draws inspiration from its rich past and the present environment to design its collections.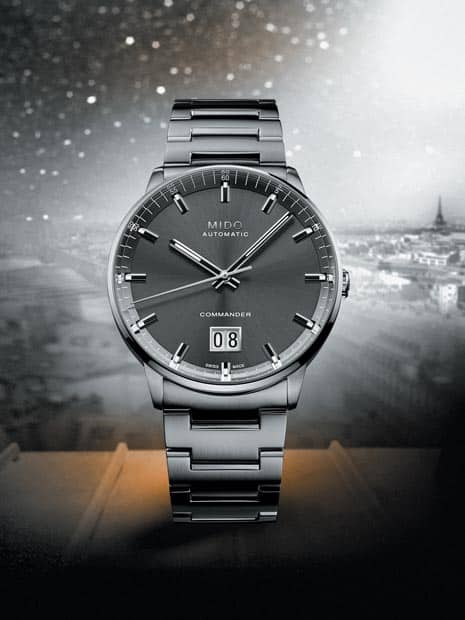 While an anniversary is traditionally the occasion to reissue iconic models, this is not only the spirit of Mido. Quite the opposite – after ten decades of business, the Swiss brand is leaning on its past and its present to look to the future. It is in this context that in 2018 the Swatch Group brand is unveiling (amongst others) the Caliber 80 with a large calendar aperture, an exclusive Mido movement that powers the stunning brand-new timepiece: the Commander Big Date. This elegant automatic watch, which respects the original Commander Collection's DNA, features a large date aperture at 6 o'clock, a big date to celebrate an iconic date – Mido's 100th anniversary – a feature generally produced by only high-end watchmaking brands. To top it all off, as its name suggests, its high- performance movement gives it a power reserve of up to 80 hours (compared to 42 hours for a standard movement). Fuelled by this same dynamism, in 2018 the Swiss watchmaker is also releasing a number of vintage-inspired models sure to appeal to both enlightened watch enthusiasts and new buyers.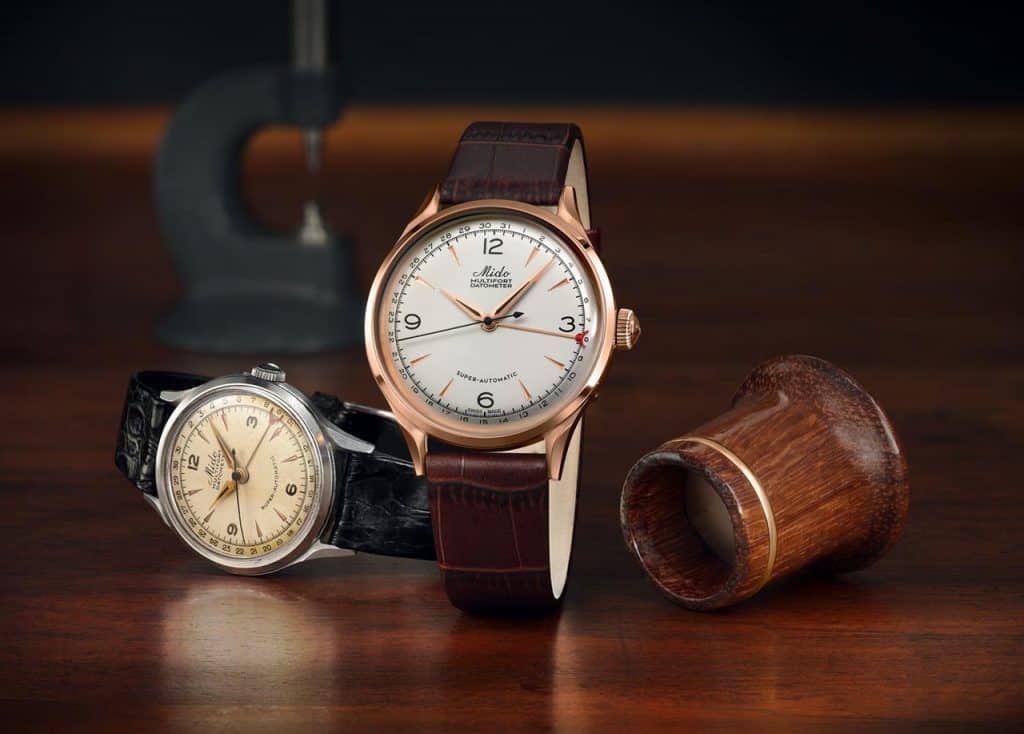 The Multifort Datometer, which first appeared in catalogues in 1939 and is characterised by a date indicated by a hand, is being reintroduced in a limited edition adapted to modern tastes. The new model of this truly classic and elegant timepiece has been given a rose PVD-treated steel case measuring 40 mm in diameter, a simple yet functional dial, and a warm colour palette – in other words, an exterior designed to weather another 100 years without going out of fashion. In addition, Mido is unveiling the Commander Shade this anniversary year. Freely inspired by some models from the late 1970s, this special edition borrows their smoked and graduated sunray dial to create a 2018 version with a – finish that pairs elegance and simplicity with a thoroughly vintage touch – this spirit being further highlighted by a 37 mm diameter case, a domed acrylic crystal and a Milanese mesh bracelet reminiscent of watches of the past. As a true pioneer, Mido has elevated the affordable luxury watch sector over the past 100 years with its creative design and its innovations. This 100th anniversary is an opportunity to reassert its vocation: to design timeless, flawlessly crafted watches positioned in a favourable price segment – all while looking to the future and continuing to innovate. Creating high-quality timepieces while maintaining moderate price tags – what if this is the future of the watchmaking industry in the 21st century? In any event, this is the clear path that Mido has chosen. The Swatch Group brand has some other delightful surprises in this special year to make it a truly thrilling year for watchmaking enthusiasts worldwide.