This is a real Harley. And you can feel it as soon as the engine starts. The sound is unmistakable. You have the impression that you can conquer the world driving it, and do it fast, too
In order to bring their products closer to new motorcycle enthusiasts, the US manufacturer introduced the revitalized Fat Bob, an aggressive, futuristic and exciting motorcycle model. Lovers of the traditional Harley-Davidson models, rich in bright chrome parts, might not like the model, but they are not the target audience for the Fat Bob. The model is intended for a 'cool' new generation that likes retro but wants to own a modern motorcycle at the same time. The shiny new thing about it, or rather, the matte-black new thing about it, is its design. It features LED forward lighting, mini-ape handlebars and an aggressive bent. According to the manufacturer, this is a truly special model because, as they say, 'something this innovative can only come from Harley-Davidson.' A brand-new Fat Bob. 22 lbs lighter, Fat Bob's massive Milwaukee-Eight engine has a crisp throttle response, high-performance suspension, quick acceleration and handles curves with ease, all that with a cutting-edge design. You get 2-into-1-into-2 dual side exhaust, a unique asymmetric graphics on the tank, thick tires with aggressive profiles and a brand new Softail frame. You have the impression that you can conquer the world driving it, and do it fast, too. 'Feel free to sit down.' And so, we did. Make no mistake, this is a genuine Harley. You can feel it as soon as the engine starts.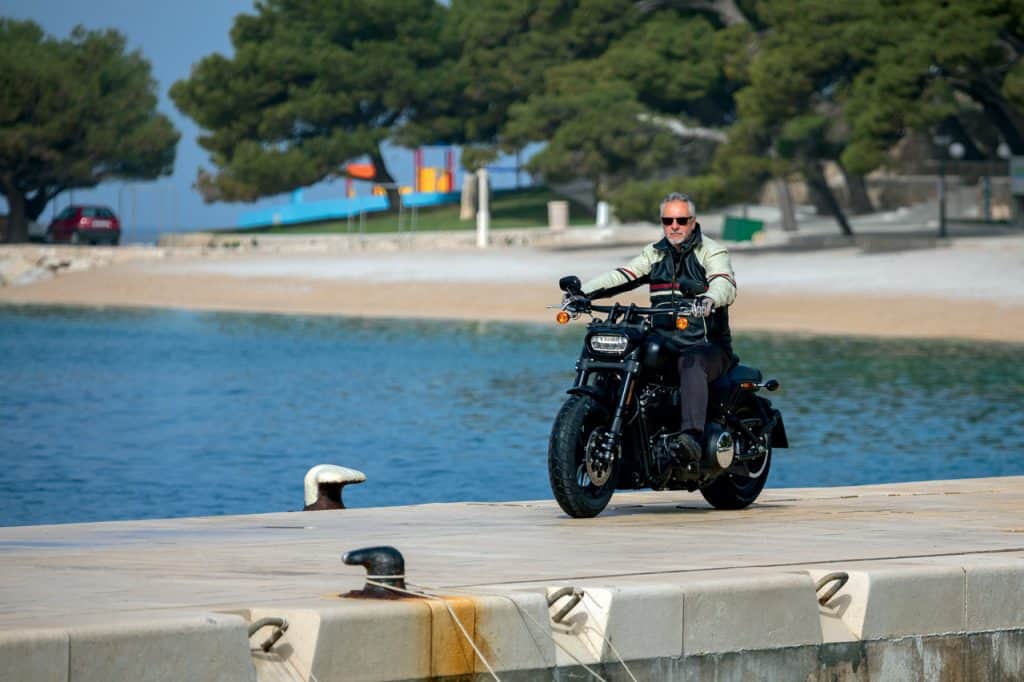 The sound is unmistakable. Vibrations are still present, but as soon as you start driving, they smooth right out. The Fat Bob comes with a choice between the 107-inch Milwaukee-Eight and the 114-inch version, and we took the 107-inch model on a drive from Harley Davidson center in Split. The impressive Milwaukee-Eight V-twin engine has a 1,745-cc displacement and 87 hp. The maximum torque of 145 nm can be achieved at 3,000 rpm. Compared with today's sport motorcycles, it seems modest, but there was no lack of power when we drove it. The displacement / horsepower ratio guarantees this Harley's longevity. It is a bike that lasts a lifetime. Along with the traditional Harley values on this model, there are various innovative new additions to the Fat Bob. You no longer need to insert the key anywhere to start it. Now you only need to have it in your pocket. When you come near the bike, the alarm turns off and you press start to ignite it. There is also a US B charger, indispensable for every Millennial. The Fat Bob leaves an impression that it truly is – impressive.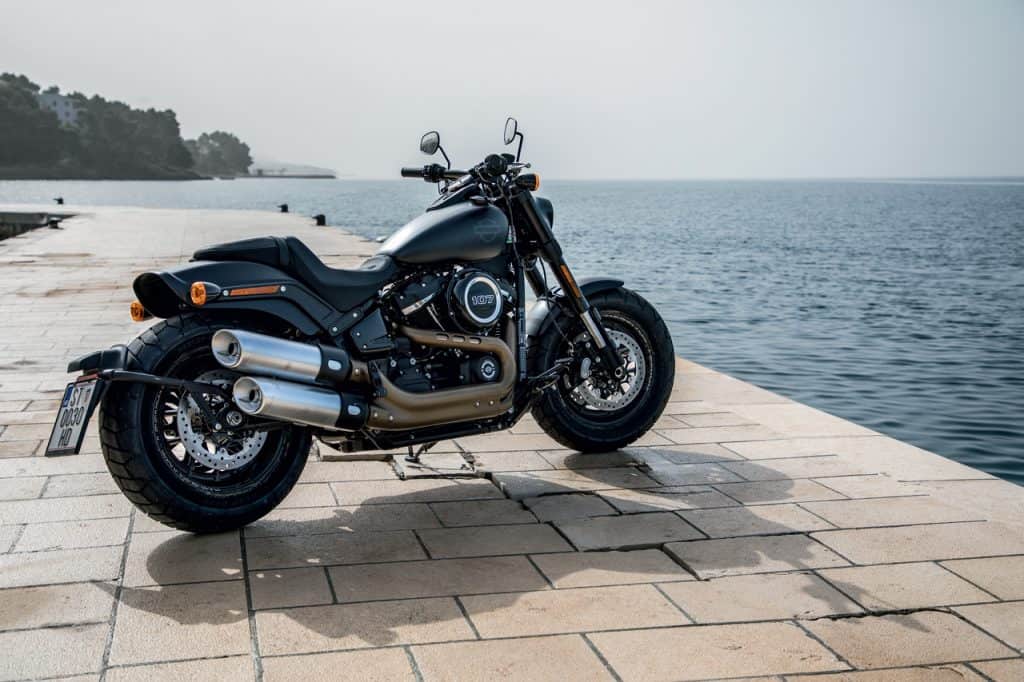 Now you need to see how it handles the road. Unsurprisingly, the Fat Bob did not fail us. We hadn't experienced such a pleasant ride in a long time. The seat position on the engine is extraordinary. It is designed to keep you on the engine even when you crack the throttle, and it is very comfortable for long driving. You can stretch your legs forward, in a typical Harley cruiser manner. This means that the Fat Bob is best out on the open road. In addition to that, its handling and agility are also a pleasant surprise. It was our intention to try it on the road between Split and Makarska, especially on the Omiš Riviera, known for its beauty landscapes, but also the road that is a true test ground for ay motorcycle. Riding Fat Bob on this road was a genuine pleasure. It just loves the road. At 2,000 rpm when the engine purrs you can sit back in the comfortable seat and enjoy the landscape. By switching to a lower gear and increasing rpms, the Fat Bob becomes more aggressive and its powerful torque provides a precise trajectory in sharp bends. We stopped next to the coast behind Omiš, overlooking the pebble beaches that will be full of swimmers within a week, then we went down Biokovo towards Makarska and drove down to the still dormant Brela. A short trip to Vrulje and then going back to Split gave us an insight into the drievability of the new Harley, which caught attention everywhere we went with its sporty looks. www.harley-davidson-split.hr
Harley-Davidson Fat Bob
Length: 2340 mm • Seat height: 710 mm • Fuel capacity: 13,6 l • Dry weight: 296 kg • Engine: Milwaukee-Eight 107 • Displacement: 1.745 cc • Engine Torque: 145 Nm / 3.500 rpm • Wheels / Front: Denim black, Structure cast aluminum with laser etched graphics • Back: Denim black, Structure cast aluminum with laser etched graphics
Photos by Darko Šupuk