New era for the shipyard
The launch of the 37m yacht named 'Clorinda', hull #11 of the Sport 120 model, took place in Ancona, in the premises of ISA Yachts. In September 2017 she will debut at the International boat shows of Cannes and Montecarlo. Less than a year after the acquisition of ISA Yachts by the new property, 'Clorinda', whose construction began in October 2016, is the first yacht completed in the Ancona yard.
ISA Sport 120 is a model that strongly reflects the philosophy and aesthetic features of the ISA Yachts production, representing an 'icon' of the Italian brand. She combines sporty and timeless elegance, exterior living space and rich interior environments in a particularly successful and appreciated model, awarded with MYDA (Millennium Yacht Design Award). 'The launch of M/Y Clorinda has a huge symbolic value for ISA' – stated Giuseppe Palumbo, CEO of ISA Yachts, who also highlighted the importance of team work and the support from authorities and territory. 'This is a first goal and we want to deem it as a good wish, and a sign of a true rebirth and transition towards a brand new course'.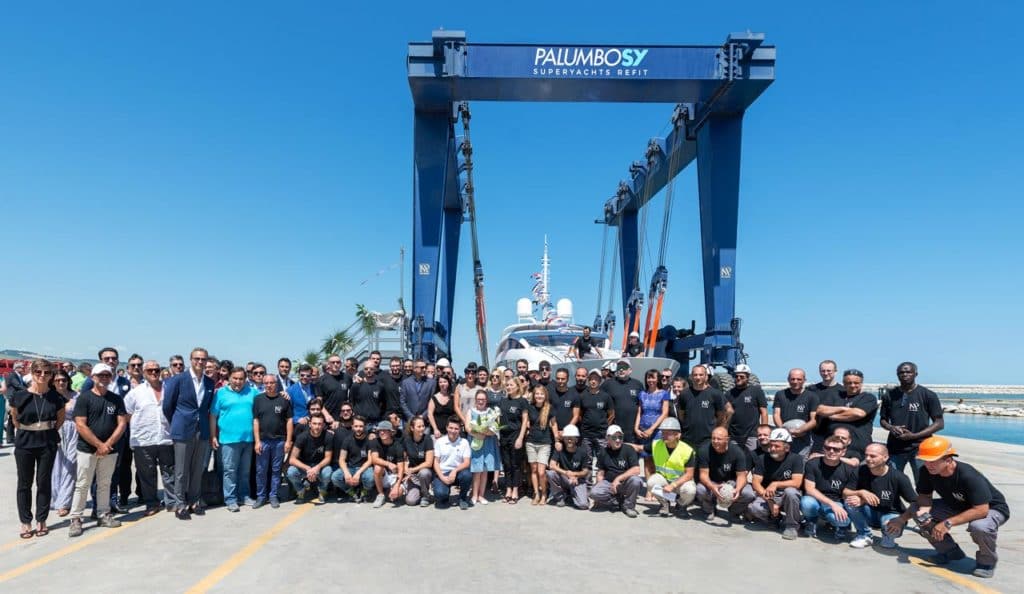 ISA Sport 120 comes from a whole project and design aimed at meeting the requirements of ship owners who love being sporty and elegant, and enjoy the large exterior spaces of an open yacht, along with the inside comfort of internal areas typical of a one-and-a-half decker cruiser. The proportion between exterior and interior spaces is extremely balanced, with large terraces above the sea, spacious cockpit and flying bridge on one hand, and a huge and bright salon and ample cabins on the other hand. The fully-customizable interiors exploit the available space in the smartest way and making it a plus: the master stateroom, for instance, is laid on two levels, conveniently using the fore sections of main and lower deck.
ISA Sport 120 'Clorinda' is propelled by three MTU 16V 2000 M96 engines developing 1790 Kw each, coupled to 2 side KaMeWa waterjets and a middle KaMeWa booster. Maneuverability is then agile and smooth, with great performance matching an exceptional comfort. The top speed is 33 knots, with a cruise of 27.
No tags for this post.