The most fashion-forward man of 2016 tells us why he believes clothers should be fun
'It's a fun thing to get all dolled up,' says Jared Leto with a smile. The key word here is fun. Velour blazers, beaded multi-coloured jackets, lumberjack boots, velvet slippers, and turquoise bomber jackets with embroidered dragons have all been worn by the actor in recent months on his rise to the top of the style league. Men such as Ryan Gosling, Eddie Redmayne, Robert Downey Jr, Idris Elba and Tom Hiddlestone may be well-dressed, but nobody takes risks like Leto. In 2014 he was held up as the poster boy for a new fashion trend: the lumbersexual, a cross between metrosexual and rugged tough guy. He cut his long hair in March 2015, sparking a period of mourning among fans, but instantly reinventing his look. In 2012, however, came a fashion low point as Leto was photographed wearing silver Crocs on, of all places, the front row of a fashion show. We're not convinced either by Leto's own range of fanny packs, or as he calls them 'hip packs.' But we digress. Women's fashion website whowhatwear.co.uk wrote of Leto, 'To us, he's nothing short of a style icon. The fact that he's a man has absolutely nothing to do with our obsession with him and our lust for his entire wardrobe.' The driving force behind Leto's sudden surge to style icon in 2016 is his relationship with Gucci, the menswear label of the moment and one man in particular: Alessandro Michele. Gucci's creative director for menswear and womenswear has shaken the fashion industry to its foundations with a riot of patterns, stripes, flower motifs, bold colours, and dazzling embroidery. 'Alessandro has made it fun for men to wear clothes again,' Leto says. 'I mean he really celebrates fashion in a way that other people haven't. I said that he makes it as fun for a man to wear clothes as it may be for women and that's a difficult thing to do.' Striking up a bond with Leto – as well as Ryan Gosling – was a smart move for Michele as Leto's theatrical presence matches Gucci's outlook. We asked Leto what he thought when he met Michele. 'The first conversations with Alessandro were actually here, here in L.A. and they were great,' explained the star of current box office hit Suicide Squad. 'I was curious to meet him. I'm always interested to meet fellow artists. And I think that we made a pretty strong connection. I think that we have, you know, some similarities, being people that have kind of wandered along our own paths and maybe made unexpected choices.' A highly creative person, Leto went to art school before launching his screen career. He studied painting at the Corcoran College of Art and Design in Washington, D.C., enrolled at Philadelphia University of the Arts and later at the School of Visual Arts in New York. But he packed his paintbrushes away in 1994 when, aged 22, he landed a part in cult TV show My So-Called Life opposite Claire Danes. Speaking of his early years, Leto said, 'Creativity was always a way of life. It was never a job. Being an artist was a passion and a way of life.' With such a keen interest in art, it's no surprise that Michele's work at Gucci caught Leto's eye. 'I knew a bit about him. I knew a bit about what he was doing and how he was reimagining Gucci and bringing an entirely new  perspective to the company. I really appreciated what he had been doing. And I thought that was really powerful.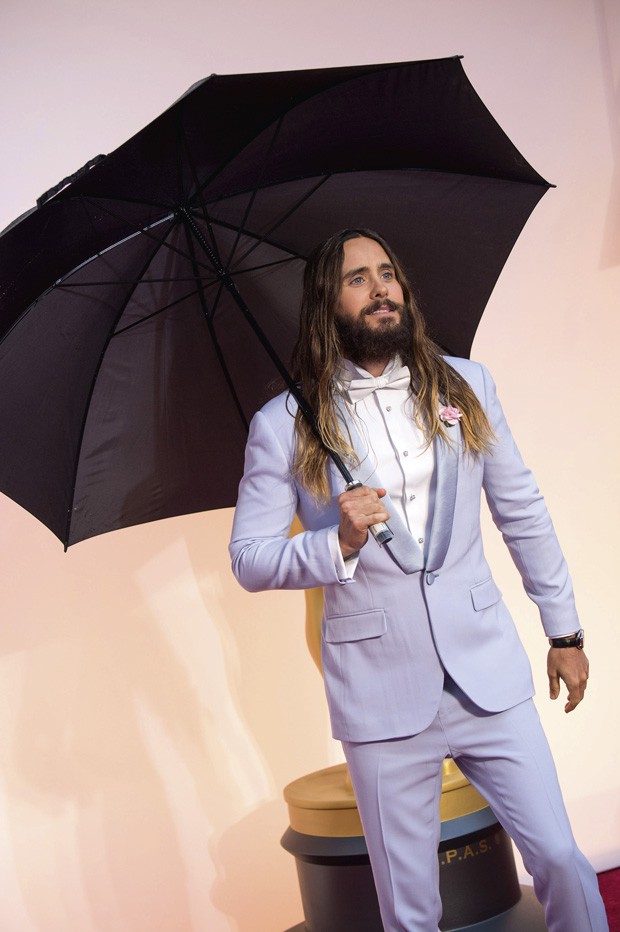 It was powerful enough that I had noticed it, and I'm not Mr Fashion, you know.' As well as wearing Gucci at fashion and film events around the world, Leto, 44, has also been chosen to front the brand's new men's fragrance Guilty, starring in a video and photographic campaign that was shot in Venice. Does he enjoy photo shoots? 'If they're with the right people, yeah, that can be really interesting and fun and creative,' he says. 'Just like anything else, if you're out and working with the greatest it really inspires you – it can be magic.' Perhaps the only guy out there right now who can rival Leto visually is not even real: The Joker. Leto's performance as the flamboyant maniac in the dark comic book carnival has thrilled and terrified audiences in equal measure. Leto's immersion in the character he describes as 'a beautiful disaster' has been much talked about. 'I tend to kind of be cut off a little bit when I make films,' he says. Leto met with patients 'who had committed horrendous crimes' and psychiatrists to help him form the character, that was so memorably played by Heath Ledger in The Dark Knight, for which he won a posthumous Oscar. Leto told Total Film magazine, 'I knew I was going to have to dive deep and go to a place I had never gone before.' He described playing the part as 'intoxicating.' Suicide Squad's director David Ayer said of Leto, 'As an actor, he's flinging himself into the abyss on that one. And he was scary on set. He was intimidating.' Leto's commitment was largely down to the comic book fan community. 'That's one of the reasons why I felt so much pressure in the role. I know how special these characters are to people and especially a character as iconic as this one,' he told Open Skies magazine. 'The guys on set were always saying that they hadn't met Jared, only The Joker. But that's the only way you can approach a role this complex. You just have to dive straight in. He's an icon, the baddest of the bad, and a total psychopath. He seems to be having the most fun. I mean, who wouldn't love to play that role?' Suicide Squad was a rare chance to see Leto on screen. His previous movie Dallas Buyer's Club was released in 2013. Before that he'd been absent from cinemas for six years, instead touring relentlessly with 30 Seconds to Mars, a band he began in 1998 with bandmates Tomo Miličević and Shannon Leto, his older brother. A first album was released in 2002, since when they have shifted more than ten million records and played all over the globe. The band's over-the-top stage shows and Leto's bizarre costumes are further proof of his wild creativity. Coupled with songs that are filled with grand ideas, it's an approach that has grated with some. 'We took a lot of hits for many years, and still do,' shrugs Leto. 'We have a certain element of theatricality. It's definitely more art rock than it is punk rock. We like to explore ideas and not to be constrained by what we think is cool or not cool. I've always been an artist interested in creativity and doing something that I was proud of and, you know, taking on challenging projects and pushing myself to the limit.' Non-conformity has been a consistent theme in Leto's life. Born in Louisiana, he cris-crossed America with his brother Shannon and his mother Constance who he calls 'a free spirit'.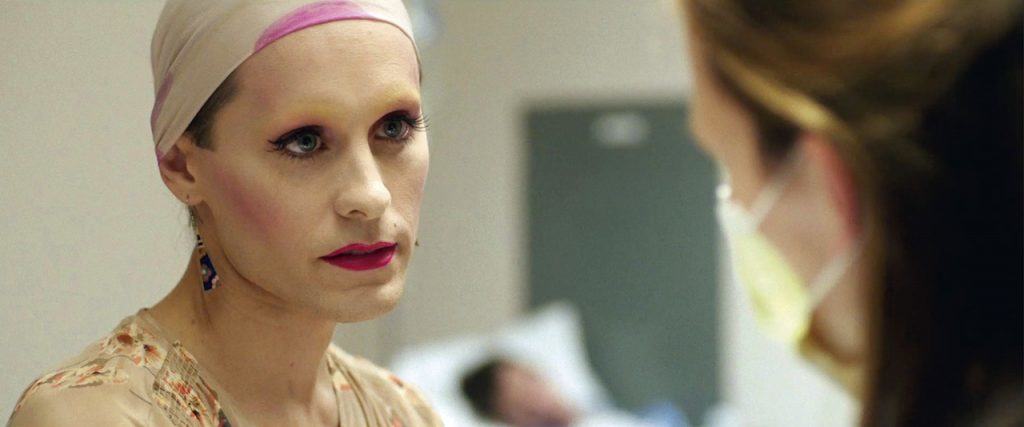 Leto's father committed suicide when he was eight. Leto told The Sunday Times, 'In those early days, we moved around a lot. It was nothing new to wake up in the car and find we were on the road again. Mom got odd jobs. She loved art so many of her friends were artists, photographers, actors and musicians. We'd live in communes and watch them paint, print, make pots, and often join in.' His teens were turbulent. 'I was in trouble quite a bit with the authorities, any person who made rules or the law,' he told The Big Issue in 2013. 'I dropped out of school. I think we're all dealt a set of challenges in our lives and we all deal with them in different ways. When you're younger you don't have the tools, you don't know how to cope with those challenges.' Art school focussed his mind, as did his big break in My So-Called Life. Strong performances followed in films Requiem For a Dream, Fight Club, American Psycho and Panic Room. Dallas Buyers Club, starring Matthew McConaughey, marked a dramatic return to the film business for Leto in 2013 after six years. The wait was worth it as he won the Best Supporting Actor Oscar. Leto – wearing a white Saint Laurent tuxedo jacket – took his mother Constance to the awards and thanked her in his acceptance speech 'for teaching me to dream.' He added, 'I guess it's all about gratitude. My mom, against all odds, made a better life for herself and my brother and inspired us to work hard and reach for something incredibly special in our lives. The whole thing is a giant dream. It's been so much fun and I've been so lucky and grateful.' However, that six year hiatus tested Leto's steel. 'In the downtime away from movies, I did start to question what I had to offer as an actor,' he told actor James Franco in Interview magazine. 'I don't think I considered myself to be a very good actor or to have much to offer during that time. But it made me not only a better person, but a better actor. It gave me more confidence.' For Leto's mother the trickledown of her son's success has not only meant a seat at the Oscars, but a pretty swanky wardrobe too. 'Dior sent my mom something to wear for the S.A.G. awards,' Leto grins. 'They sent me clothes to wear and that's great. I know brands do this because they get something in exchange but they've been wonderful. You end up with something really nice.' And how does 2016's style icon feel about looking good? 'I don't think about it so much or put much thought into it,' Leto shrugs. He's just having fun getting all dolled up.