Dubai
From humble fishing village to the world's most iconic metropolises Dubai is one of the few cities in the world where it's beautiful all day long, but in winter; there are much more activities to do to enjoy the charm of this magical city
When you observe the sprawling desert city packed with gleaming high-rise towers that Dubai has become today, it is hard to imagine that this monument to the modern world started out as a tiny fishing village. While the discovery of oil in the 1950s and 1960s was a turning point for Dubai's development, Dubai does, in fact, have a rich history that actually began centuries before. Dubai's roots reach all the way back to 3000 BCE. The site where Dubai now lies used to be a vast mangrove swamp, and by 3000 BCE that swamp had dried up and become inhabitable. The livelihood of the area's inhabitants was based on fishing, pearl diving, boat building, and providing accommodation and sustenance for the traders, who would pass through on their way to sell gold, spices and textiles – the very wares that can be found in their souks today. Marvelous city which is synonymous with art, architecture, and modern development as it has evolved from a dry desert to an epitome of modern infrastructure. Well, modern Dubai started with Sheikh Rashid bin Saeed Al Maktoum who began transforming the city from a small cluster of settlements near the Dubai Creek to a modern port city and commercial hub. Due to its rapid development, Dubai has become a popular tourist destination.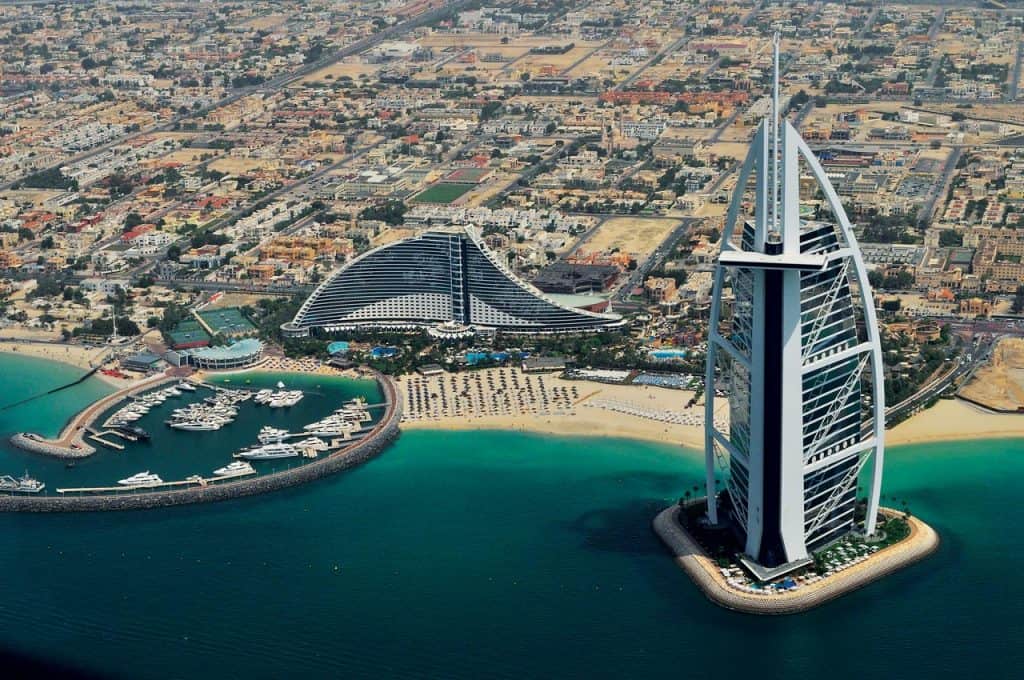 Housing the world's tallest building, world's most luxurious hotel, world's largest mall, the most luxurious restaurants, and one of the best amusement parks in the world, Dubai has ticked all the boxes of being a perfect holiday escape. Imagine dining at the 122nd floor of the world's tallest building. At At. Mosphere, this imagination is personified with a fine dining and one of the most romantic restaurants in Dubai serving scrumptious European cuisine amidst the enthralling views of the city and the ocean. Other section of the floor serves sparking wine and high tea. Dine at this opulent restaurant for an unforgettable experience or stay at the world's only 7-star hotel, Burj Al Arab, not only the most luxurious hotel in the world but also one of the most expensive one. This sail-shaped hotel does not only charge exorbitantly but also provides equivalent amount of services. From ultra-luxurious suites providing panoramic views of the city or the sea, to private beach access, personal butlers, chauffeur-driven Rolls Royce, and some of the world's best dining venues, this hotel has everything to make your winter an indelible one. Owing to its location in the Northern Desert Belt, Dubai experiences a tropical desert like climate. Summers are extremely hot and humid. Therefore, December to March, is the best time to visit. Any trip to Dubai is incomplete without visiting Burj Khalifa, man-made engineering masterpiece. Its observation deck provides majestic bird eye views of the city with powdery desert on one side and and an ultramarine ocean on the other.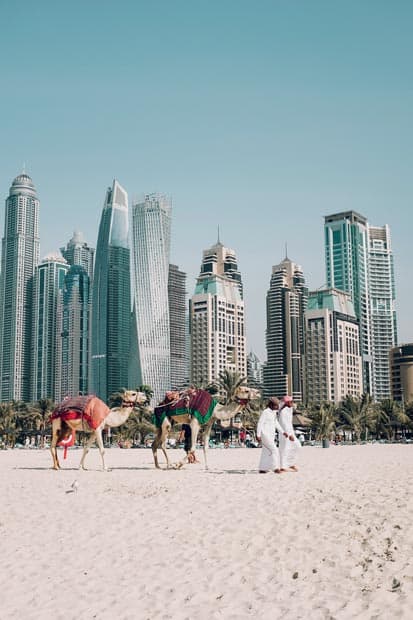 Quintessence of Arabic architecture, the Jumeirah Mosque is the most photographed mosque in all of Dubai in January specially, and another unique feature of this place is that it is the only mosque in Dubai that welcomes non-muslim guests. Its, 'Open doors. Open minds.', programme allows travelers to gain insight into the cultural and religious beliefs of the people of Dubai. Another marvelous place worth exploring while visiting is Dubai Creek, natural saltwater creek which passes through the centre of the city and divides it into two halves-Bur Dubai in south and Deira in north. Travelers can enjoy a boat or an abra ride with their families, friends, or partners to travel from one part of the city to the other through this shimmering creek. Another best things to do is to board an Arba and sail over the Burj lake to witness the second largest choreographed fountain in the world. Dubai Fountain is one of the most alluring tourist attractions in Dubai with a range of 900 feet, and capable of spraying over 22.000 gallons of water at any given moment. With over 6.600 lights and 50 coloured projectors, the fountain plays a variety of Arabic and world music.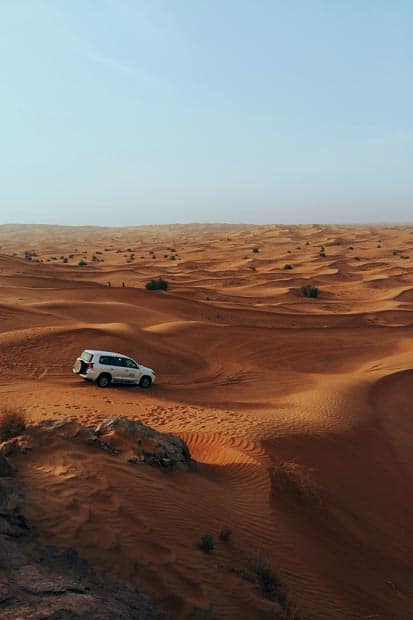 But if you want your winter in Dubai to be filled adventure, then sit behind the wheels of your favourite car to enjoy the three most exciting laps of your life and grasp the F1 feel in the heart of UAE motorsport arena. Quench your thirst for adventure during the Dubai winter season by indulging in the crazy activity of sky diving. Feel the thrill of a free fall by throwing yourself out from the sky, and leave the rest on your instructor who will make sure that you land alive and crave for another daring dive. You think that is all? Well can you imagine a skiing arena in a desert area? Dubai has made it possible with a 22.500 meters of ski area which offers year-round skiing and snowboarding opportunities. It is the first ever indoor ski resort in Middle East built inside the Mall of Emirates. Grab your tickets and indulge in some of the most thrilling winter activities in Dubai offered at Ski Dubai. One of the most important thing to do in Dubai without which your trip to Dubai is incomplete is desert safari. Live an Emirati lifestyle for a day which starts with desert safari, dune bashing, quad biking, sand skiing, camel ride, sunset photography, and ends with a delectable Barbeque dinner along with a shisha session and drinks, and a belly dance show for your entertainment in winter in Dubai.
Photos by Dubai Tourism and Unsplash