In the eyes of many colleagues and peers, Joaquin Phoenix is a uniquely talented actor, but more importantly, a pure and kind human being
Winning an Oscar – or even being nominated for this most prestigious award – is every actor's dream. And yet, when the announcer called Joaquin Phoenix's name that evening, his face didn't even stretch into the expected polite smile.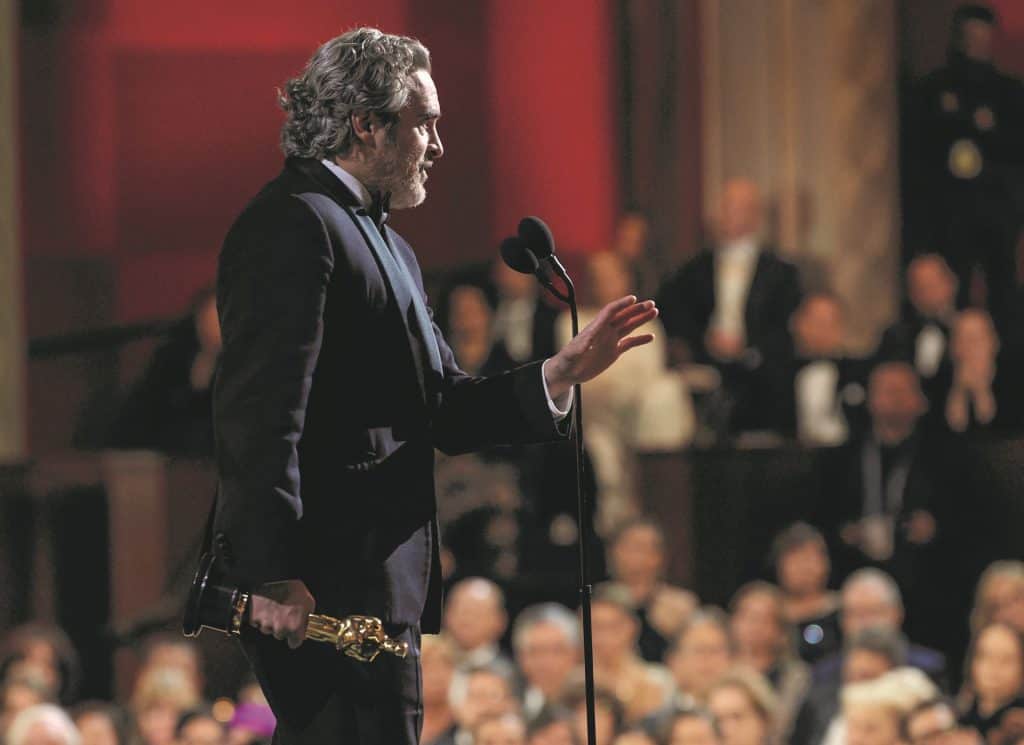 Phoenix is a man on a mission
Phoenix is a man on a mission, not just an actor – so says every step he's made in life, from the unusual upbringing, to careful selection of his roles, or carving out his personal moral code. Accepting his Oscar – for 'Joker', after previously having been nominated three times, he won the award for the role that perfectly embodies the zeitgeist – he displayed modesty and used the attention to address issues close to his heart.
In a speech that now seems to predict the predicament that descended upon the world mere months later, Phoenix called on humanity to muster up understanding and support for all life. 'But I think the greatest gift that it's given me, and many people in (this industry) is the opportunity to use our voice for the voiceless. I've been thinking about some of the distressing issues that we've been facing collectively. …I think, whether we're talking about gender inequality or racism or queer rights or indigenous rights or animal rights, we're talking about the fight against injustice. …I think we've become very disconnected from the natural world. Many of us are guilty of an egocentric world view, and we believe that we're the center of the universe. We go into the natural world and we plunder it for its resources', he mused, holding the golden statuette. The speech earned him a roaring applause and reverberated in media for days.
Working with Joaquin is like working with this beautiful wild animal, where you have to give him the space to be free, so his performance can roam freely: raw, uncontrived and truly natural, described Garth Davis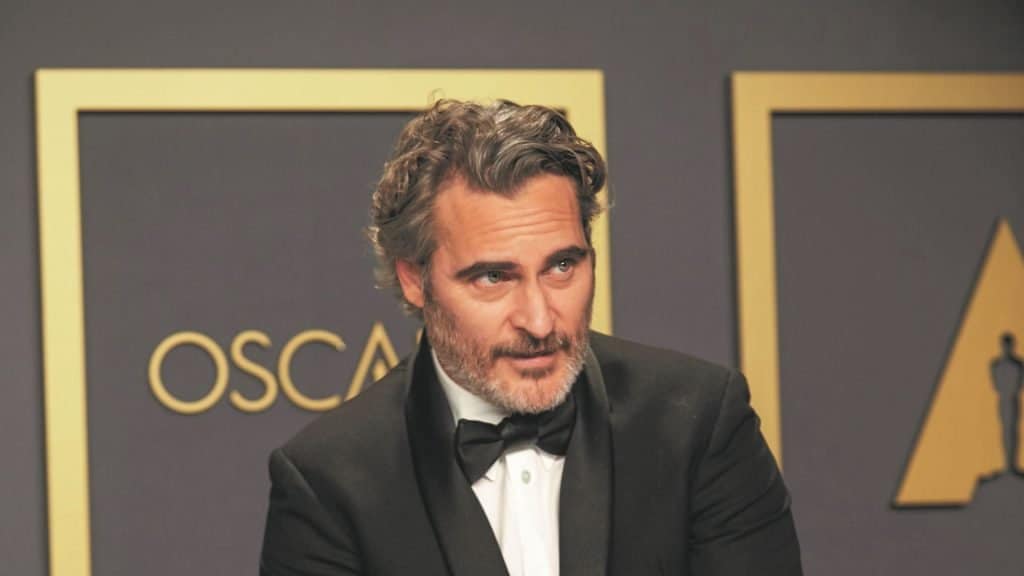 This middle child of two unique individuals, members of the notorious cult The Children of God, was born Joaquin Raphael Bottom, in Puerto Rico. The Bottom family moved around often, and upon their move to Los Angeles marked the new beginning with a name change: Phoenix was chosen for the obvious symbolic value, rebirth. As his four siblings – younger sisters Liberty and Summer, older sister Rain and brother River (personal idol and one of the most talented young actors of his own generation) – Joaquin caught the acting bug early in life and entered the movie world at the age of eight.
River Phoenix's tragic death
A new move, parents' divorce and uninteresting role offers put a temporary halt to his budding career, but a family tragedy brought him back to acting. After River tragically died, Joaquin says to have found therapeutic value in acting. Always very picky about roles, he soon crafted himself into one of the finest actors of the era, ultimately leaving his older brother's shadow.
'No, I don't want to talk about River. I have nothing to say about it that I would want to be public', he said once in an interview, one part of the acting profession he still sabotages, given an opportunity. Difficult to interview, but a pleasure to work with, in the eyes of many colleagues and peers he is a uniquely talented actor, but more importantly, a pure and kind human being.
Vegan since birth, kind to all life, Joaquin Phoenix refuses to wear real leather even for a role – he famously wore vegan leather in 'Gladiator'. That careful role selection he's known for often leads to roles of emotionally charged, traumatized anti-heroes: Jimmy Emmet in Gus van Sant's 'To Die For', Commodus in Ridley Scott's 'Gladiator', Jesus Christ in Garth Davis' 'Mary Magdalene' and Hollywood's greatest villain, Joker, in Todd Phillips' 'Joker'.
After working with van Sant, Phoenix starred in several movies that didn't do too well at the box office, but delighted critics and shone spotlight on Phoenix's performance – earning him attention of the greats like Oliver Stone, who cast him in 'U Turn', and Joel Schumacher, for '8 mm'. At the turn of the century, Phoenix got his first Oscar nomination, for his nothing short of brilliant performance in Ridley Scott's 'Gladiator', starring Russell Crowe.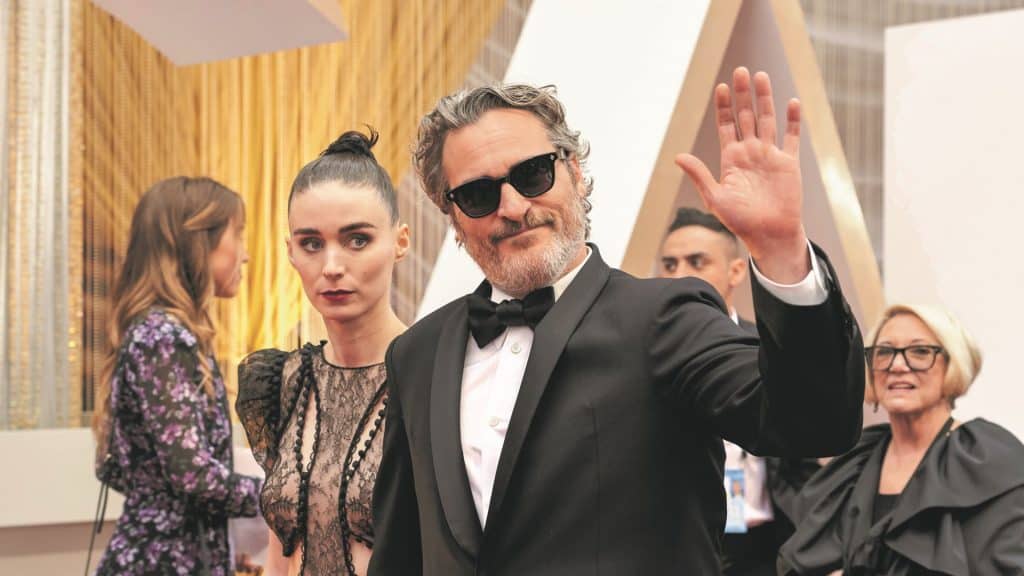 Five years later, Joaquin Phoenix played a living legend in 'Walk the Line', almost disappearing into the role of the country great Johnny Cash: not only did he receive the seal of approval from Cash himself, but sang all the songs on the soundtrack, for which he won a Grammy. Showered in awards, he still checked into rehab for alcohol abuse that same year. 'I don't know why I always get to play these guys who have few redeeming features. But don't knock it. Villains are much more fun', he says, trying to explain his choice of roles.
In 2008, he announced retirement from acting, saying he would pursue a career in hip-hop… which turned out to be for another role, in the 2010 mockumentary 'I'm Still Here', directed by his friend Casey Affleck. The role of a war veteran struggling to find his place in the post-war society in Paul Thomas Anderson's cult classic 'The Master' (along the late great Philip Seymour Hoffman) earned him plenty accolades, as did the role of a lonely writer falling for his artificially intelligent virtual assistant in 'Her' by Spike Jonze. Jonze won an Oscar for best original screenplay.
Oscar for the role of Joker
Garth Davis, who directed Phoenix in 'Mary Magdalene' (starring, among others, Phoenix's now fiancée, Rooney Mara), has a deep and unique take on the actor: 'Working with Joaquin is like working with this beautiful wild animal, where you have to give him the space to be free, so his performance can roam freely: raw, uncontrived and truly natural', he says.
Even the Oscar for the role of Joker, king of all difficult, maladjusted weirdo roles, didn't change Joaquin Phoenix's humble and honest true nature. 'I have been a scoundrel all my life, I've been selfish. I've been cruel at times, hard to work with, and I'm grateful that so many of you in this room have given me a second chance. I think that's when we're at our best: when we support each other. Not when we cancel each other out for our past mistakes, but when we help each other to grow. When we educate each other; when we guide each other to redemption. (the love of film)… has given me the most extraordinary life. I don't know where I'd be without it.'
Text Filip Bubalo
Photos Nick Agro, Valerie Durant, Richard Harbaugh / ©A.M.P.A.S. & Shutterstock.com
Video Oscars