The most celebrated cellist of his generation
Julian Lloyd Webber, made his professional debut at London's Queen Elizabethm hall in 1972 and has collaborated with a medley of world renowned musicians since. As William Lloyd Webber's second son, Julian's family tree is flowing with musical blood, and he is perhaps most famous for performing Dvorák's 'The Cello Concerto' in B minor with the Czech philharmonic orchestra, conducted by Czech maestro Václav Neumann, in Prague 1989.
The performance's political significance is the subject of Tony Palmer's documentary 'Dvorák – In Love?' which explores how Dvorák's 'The Cello Concerto' first came into existence. The 1988 film was originally a co-production with Czechoslovak Television, but when they saw its political message it was prohibited under Communist rule. It was two years later when the Soviet Union finally withdrew, that 'Dvorák – In Love?" was the first documentary shown on newly-uncensored Czech television. As the soloist in question, Lloyd Webber has, in a way, become part of history.
We spoke to Lloyd Webber about this period of his life – and what it means to have Palmer's 'Dvorák – In Love?' released on DVD. 'The Cello Concerto' is known as the king of cello music and the film is based around a recording I made in of the Dvorak concerto in Prague. For me at that time it was an extraordinary thing to do because I was recording this piece in the very hall it was first performed at in the 1890s. It was a dream come true. The communist ruling in Czechoslovakia clearly made an impact on Lloyd Webber's experience of Prague. 'It was so unlike the West,' he says, 'there were massive long queues in the shops, it was completely dark at night, no nothing. Looking back on it, our recording was incredibly focused, the whole thing was made over three days so a very intensive time.'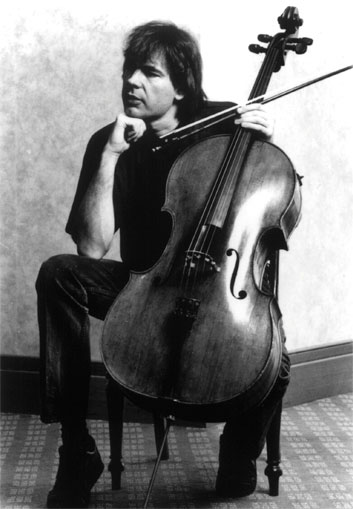 However Lloyd-Webber paints a very different picture upon returning to the city after the Velvet Revolution. 'I actually went back about two years later and the capital was completely changed. At the time we made this recording everything was very strictly controlled and there was only one hotel where foreigners were allowed to stay.' Sadly, Lloyd Webber was due to return to concert performance there in October but due to an unforeseen neck injury, he has been forced into early retirement. 'That was one of the concerts I was most looking forward to, it would have been a real return for me.' Lloyd Webber's early retirement is obviously a huge shift in lifestyle. 'People ask me to write about how I feel and what I'm going to be doing in the future and I can't really answer either of them because I miss the music tremendously' he explains.
'But on the other hand I am looking at it as an opportunity.' One thing he's sure of, 'whatever happens', is remaining in the music field. 'It's been my life and will continue to be my life. Ever since I was 16 I was practicing six hours a day. I was getting up every morning and going straight to the cello.' Injury may have curtailed Lloyd-Webber's performing career but he remains dedicated to conducting and composing. He's also known for fighting to make the cello and classical music as accessible as possible, famously challenging GMTV to involve more classical music. Surely, then, there is a feeling of excitement for the future? 'There's fantastic concerts going on all the time all over the country and sometimes they seem to just pass by as if they never happened and I just think there should be so much more coverage of classical music, people are missing out.
' Perhaps 'Dvorák – In Love?' will continue his legacy of accessibility. 'In a funny way 'Dvorák – In Love?' really brings things back to me as it was a really a hugely important thing for me to do and the music itself is so important, so it's thrilling for me to watch.' Lloyd Webber's already done so much for the nation's musical education – forming the Music Education Consortium with James Galway and Evelyn Glennie in 2003, receiving a Classic FM Red Award for outstanding services to music in 2005, and holding honorary doctorates from the University of Hull and Thames Valley University. Is music education another avenue that retirement has opened the doors to? 'Definitely. I think I've got so much information to give to students and I just learnt so much over the years. It would be a pity not to use that knowledge.'
By CMYK Interview Hub