Dominator's project – Ilumen 28M
The long-awaited new Dominator presented in Monte Carlo is set to become the star of this year's autumn shows
After three years and more then 10.000 hours spent on precision engineering and design the 28-meter long Ilumen is ready to shine. Italian builder Dominator has changed ownership, and Ilumen is the first yacht to be completely built by the standards of new owners. The long-awaited project creates a new niche on the market, and despite being built according to the values of the brand – uncompromising quality and full customization – it is a completely new kind of Dominator, but also unlike any other yacht on the market. Mid-June we were invited to the launch event for the new Dominator, where instead of the yard's representative – all the guests were warmly welcomed by Ilumen's proud American owner. Especially thankful for the yard's willingness to meet his every wish, and pleased with the number of details that set Ilumen apart from all the yachts on the market, the owner praised the yard, revealing its representatives even visited him twice in his home state of Texas to present him with interior decoration fabric samples. This yacht was created with passion and emotion, and it is visible in every smallest part of it.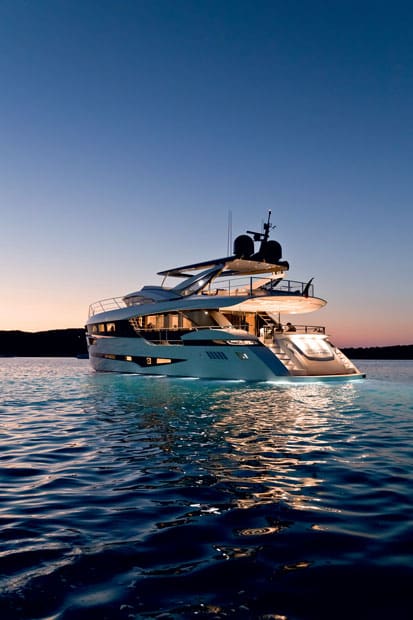 The visionary of the brand, Mr. August Pernsteiner, says: 'We have kept our promise and created Ilumen, even after coming very close to quitting. Personally, I have given my all to this project, and it took encouraging support from my daughter Angela to give me the strength to continue. We expected to meet certain technical challenges, but it all went perfect. Instead we met many obstacles in interiors. But now I'm very proud to say Ilumen is here; being technically and conceptually unbelievably advanced yacht.' Pernsteiner's words resonated with us when we set out to explore the fully customized interior of the yacht, with every step on board we continued to learn about the building materials, the advanced propulsion and the unique concept the yacht follows. Miss Angela Pernsteiner confirmed project Ilumen was a challenge. At the impressive launch event in the Monaco Yacht Club marina – where Ilumen will also return after debuting internationally in Cannes in September – Miss Pernsteiner said: 'Everything my father has taught me in the years before, I had to use on project Ilumen. I used to literally cry and took things very personal in this tough industry, and three or four years ago my father was always there to encourage saying – move on. It was very hard school. But now it was the other way around; it was my father who needed support when he got a little bit tired and I could take up and really take all the lessons he thought me.'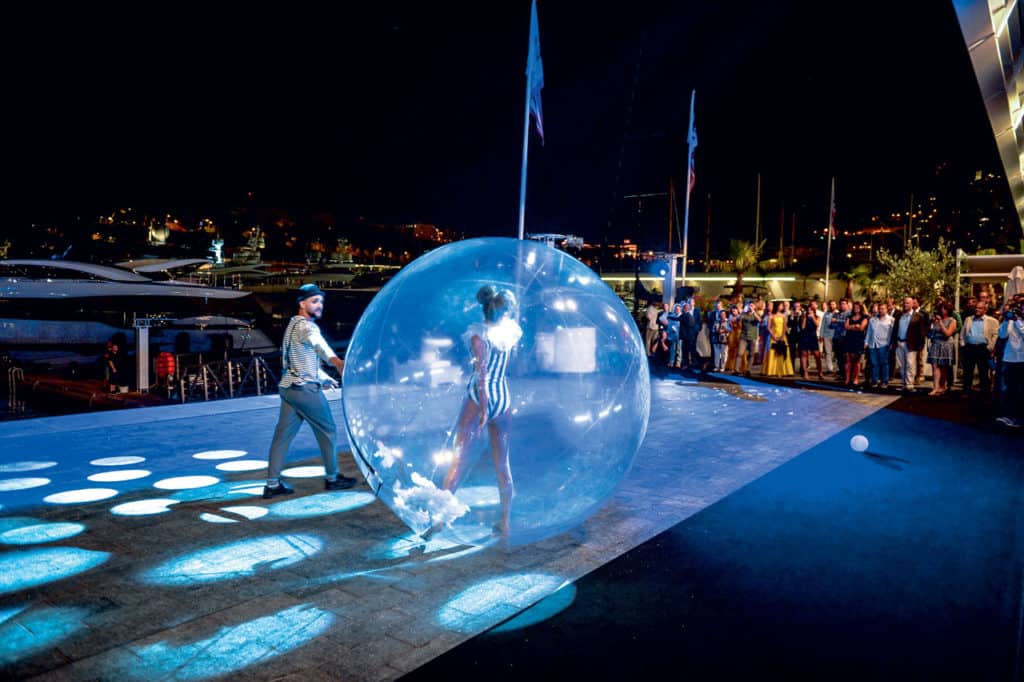 Designer Alberto Mancini is also extremely pleased with Ilumen: 'Ilumen was a huge challenge, starting with the new concept. Everything was new, and some of the elements have never been seen before on any yacht, for example the 30-square meter double deck master cabin with direct access to the private terrace. I've designed Ilumen to be a floating villa, with intimate areas for the owner alone. As a big fan of the beach club concept, I have used it on Ilumen, adding a rotating stern door with an Opacmare transformer. The flybrodge is unique, as well; it houses a jacuzzi, a transformable dining table that can become a sun pad. The interior is built to specification, and the salon is wide enough not to need folding terraces. I have many new ideas for future units; for example the bow are could see improvement in furniture shape, as the garage will be bigger, to house a tender and a jet-ski. Still, my favorite part of any project is customization. There's nothing better than discussing the details with every new client. For example, all the tables have been designed by my studio in Trieste wit boxes for champagne and ice'. Delightfully designed and extremely well built, Ilumen is truly a unique yacht with many fresh solutions, so we can unmistakably say it is one of the most interesting projects of this year. Set to debut internationally in September, Ilumen on sea trial will be featured in our next issue.