For a decade the Klitschko brothers have dominated heavyweight boxing – but as interest in the sport continues to fall, thomas hauser fights their corner
Wladimir Klitschko's latest title defense against Italian-born Francesco Pianeta this past May in Mannheim, Germany, was similar to his last seventeen bouts dating back to 2004. Klitschko entered the ring an overwhelming favourite and won every minute of every round. He stuffed batteringram-like jabs in Pianeta's face leaving the challenger's bruised and swollen. As Panieta weakened, the champion stepped up his assault. Despite never having lost in his professional career, Pianeta looked completely out of his depth. Constantly in retreat, he felt the force of Klitschko's fists 116 times. The only safe haven he found was on his stool in between rounds. The battering was stopped with 10 seconds left in round six after a vicious three-punch combination from Klitschko floored him for the third time. The crowd cheered, but no one was surprised. In the past, boxing's heavyweight division paraded as a showpiece for the sport. Indeed, in many cases it transcended the sport and grabbed the world's attention – more important than the Olympics Men's 100m or the Monte Carlo Grand Prix. The world tuned in to watch legends of the ring trade sweat and blows; newspapers would wax lyrical about upcoming fights on their front pages; good fighters became household names and champions became icons.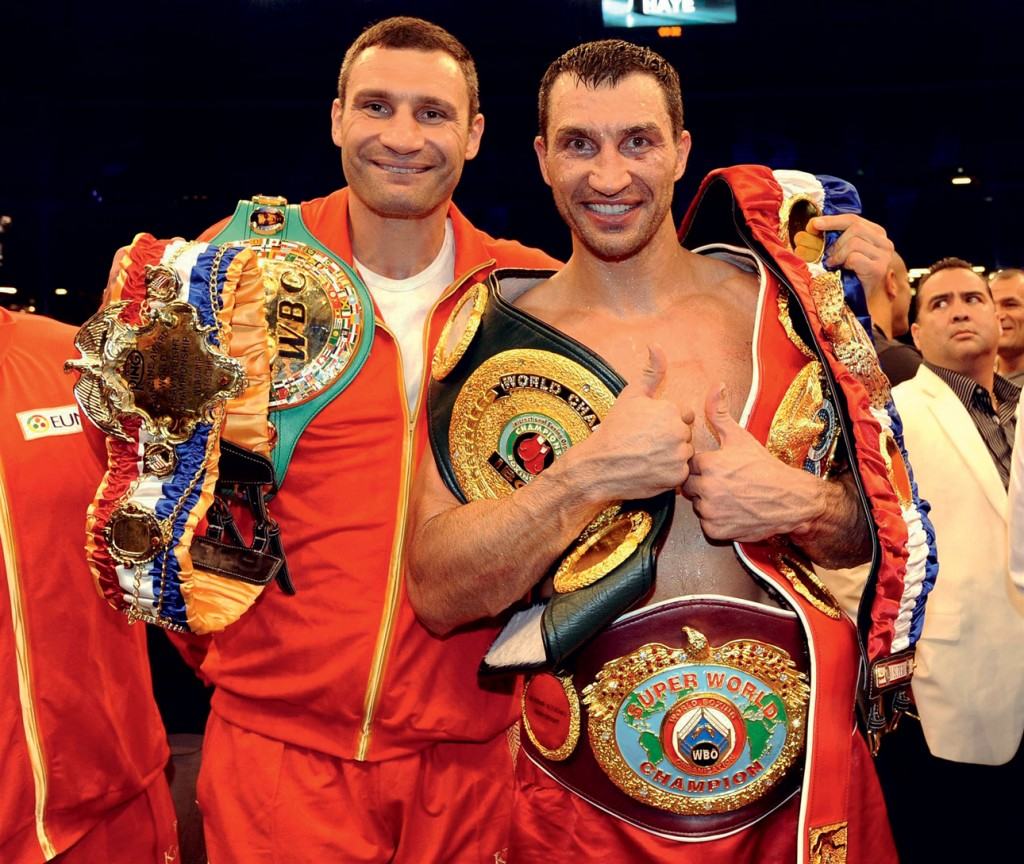 Today, the man on the street wouldn't be able to pick the heavyweight champion out of a line-up. The win in Mannheim seemed like just another day at the office for Wladimir Klitschko – who will next face Russian contender Alexander Povetkin on October 5. opsided matches have become standard operating procedure for him and his older brother, Vitali. Together, the Ukrainian fighters hold every credible World Heavyweight Title belt and are without question the dominant heavyweights in boxing today – they have been for quite some time. Vitali Klitschko was born in Kyrgyzstan in 1971. Wladimir was born in Kazakhstan five years later. Their father, a career Soviet Air Force officer from Ukraine, died of cancer 25 years after playing a role in the clean-up of the 1986 nuclear power plant accident at Chernobyl. Vitali was the first Klitschko to meet with international success in the professional ranks. He won his first 27 fights by knockout and captured the World Boxing Organization (WBO) heavyweight belt in 1999, before an injured shoulder forced him to withdraw after nine rounds during a title defense against Chris Byrd in 2000. Three years later, horrific cuts over his left eye led to the stoppage of his challenge against heavyweight king Lennox Lewis. But since then, Vitali has been undefeated. He currently holds the World Boxing Council (WBC) heavyweight title, and his record stands at an impressive 45 wins against two losses with 41 knockouts. Younger brother Wladimir won a gold medal in the superheavyweight division at the 1996 Olympics in Atlanta and turned pro later that year. After winning his first 24 fights (23 of them inside the distance) he faltered, collapsing from exhaustion in the eleventh round of a bout against American journeyman Ross Puritty in 1998. Rebounding from that loss, Wladimir went on to annex the WBO title with a unanimous-decision victory over Byrd in 2000. But after knock-out losses in 2003 and 2004 to South African Corrie Sanders and American Lamon Brewster, questions regarding his fortitude were raised. Today those doubts have been put to rest, as Wladimir has since won eighteen consecutive fights and is currently recognized as heavyweight champion by the World Boxing Association (WBA), International Boxing Federation (IBF) and WBO. On paper the reason for their dominance is relatively straightforward. In the ring, more often than not, the Klitschkos have a significant size advantage over their opponents. Vitali stands 6-feet-7-inches tall and weighs in for fights at roughly 250 pounds (113kg). Younger brother Wladimir is an inch shorter and several pounds lighter. Both brothers – and Wladimir, in particular – are safety-first fighters. They've mastered the art of using their height and reach to avoid getting hit solidly on the chin and seldom take risks. Wladimir's right hand is as concussive as a train wreck. But he rarely throws it with conviction until he feels secure that his opponent has been rendered helpless by jabs. Such is their supremacy in the division that their fights often seem akin to performances rather than competitive athletic contests. For that reason – and because the brothers refuse to fight each other to establish a single dominant heavyweight – there are complaints in some circles that the decline in heavyweight boxing lies firmly at the feet of the Klitschkos. But is it right to blame the brothers for the fall in interest? Is it the case of the brothers turned their vicious jabs on the actual sport of heavyweight boxing, slowingly beating it into submission? On the evidence of the 50,000 fans that routinely attend Klitschko fights in their adopted country of Germany and the millions more who watch on television, the obvious answer is no.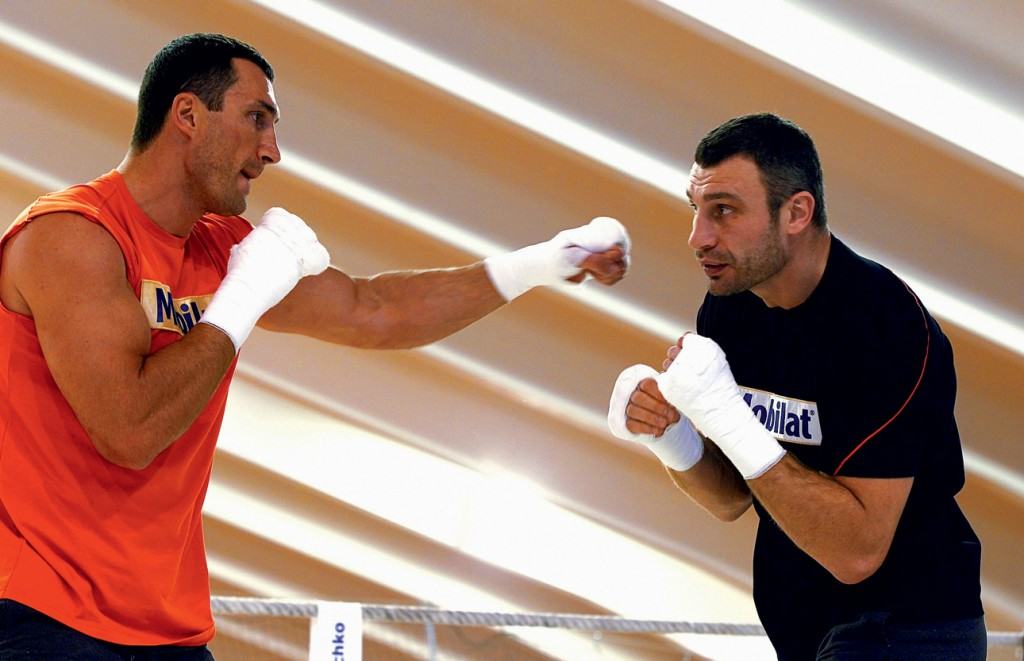 But in boxing's traditional stronghold – the United States – dwindling big match buy rates have boxing's showpiece weight division backed up against the ropes and reeling. The primary negative with regard to the Klitschkos is that there are two of them. It breeds confusion among casual fans and precludes recognition of either man as the heavyweight champion of the world. The fact that they categorically, and appropriately, refuse to fight each other is another source of agitation to the boxing public, who crave – and perhaps need – the dream match up. Now 41, Vitali is nearing the end of his ring career. Wladimir is 37 and still has several good years of boxing left in him. The feeling among boxing insiders is that, had they been matched against each other in their prime, Vitali would have been victorious. Wladimir is more skilled, but big brother is thought to be mentally tougher and possesses the stronger chin. But it is a question that will frustratingly remain unanswered – a fact that continues to frustrate some fight fans. In boxing, as in most sports, one of the most intriguing questions is how current champions compare to previous generations. Could the Klitschkos have coped with the aggression of Mike Tyson, the raw power of George Foreman, or the speed of Muhammad Ali? It is fair to say that, given their size and skill, the Klitschkos would have been competitive against any heavyweight in any era – what is further frustrating is that, unlike Ali and Tyson, they are fighting at a time when there are few, if any, inquisitors who can test them. But all that aside, to understand why the popularity of boxing continues to dwindle in some areas of the world, we must look deeper than just pointing the finger at the dominance of the Klitschko brothers. There are theories that the huge US boxing market has been alienated by the Klitschkos because they are Eastern European, and therefore the US public struggle to rally around them. However, that reason doesn't hold much water when compared to other global sports that have witnessed US crowds embracing overseas conquerors such as Roger Federer, Usain Bolt and Rory McIlroy. In fact, one of the most baffling points is the idea that their dominance makes them less appealing. A curious claim seeing as traditionally, boxing has thrived when it has a dominant heavyweight champion. Joe Louis, Ali and Tyson are proof positive of that. The reality of the matter is that the biggest threat to boxing isn't the Klitschkos, it is the modern day structure of the sport itself. Most sports peak in popularity as they prepare to crown a champion. Fans know who won the World Cup, the Super Bowl, Wimbledon and the Champions League. The general public doesn't care much about boxing's heavyweights anymore, but it doesn't care much about the other weight divisions either. That's because people don't know who the champions are. Once upon a time, boxing had eight weight divisions with one champion in each division. Now there are seventeen weight divisions and four world sanctioning organizations, which – for a sanctioning fee, of course – designate 'world' champions, 'super' champions, 'diamond' champions, 'silver' champions, 'interim' champions, and champions 'emeritus.' The powers that run boxing have also embraced an economic model that limits viewership to those who are not only willing to pay for premium cable television, but also willing to then spend an extra $60 (220 AED) to watch major fights on pay-per-view. No other sports reduces viewership for its flagship events in that manner. As a result of these and related factors, boxing is no longer part of the social fabric and dreams of the lower classes, instead it has been supplanted by other sports. These days, a young Rocky Balboa won't be training to become a professional boxer, he'll have his eyes set on the big money that comes from team sports. Currently, the average annual salary for a NBA player is roughly $5 million (19 million AED). In the English Premier League, it is in excess of £1.1million (6.5 million AED). Very few fighters make as much money in an entire career as an athlete in a top team sport can make in a single season. Also, big money comes more quickly for athletes in other sports than it does in boxing. It's no longer uncommon for elite American high school basketball stars like Kobe Bryant and Lebron James to limit their college years and enter the professional ranks as soon as possible for tens of millions of dollars, or for a footballer like Leo Messi move from Argentina to Spain to sign for FC Barcelona at the age of 13. Hall-of-fame boxing trainer Emanuel Steward, who helped resurrect the careers of both Lennox Lewis and Wladimir Klitschko, observed, 'If Vitali and Wladimir had been born in the United States, with their size and coordination, they probably would have become basketball stars.' Indeed, many of the top American fighters of the past 25 years (Roy Jones, Oscar De La Hoya, Shane Mosley, and Floyd Mayweather Jr) began boxing in large part because their fathers pushed them into it. So, the question still remains: have Vitali and Wladimir Klitschko hurt the sport of heavyweight boxing? Perhaps the best way to answer that is with another question. What state would heavyweight boxing be today without the Klitschkos? For starters, there would probably be four so-called heavyweight 'champions' instead of two. And most likely, those four would be hopelessly mediocre because the truth of the matter is that practically all other heavyweights in the world who aren't named Klitschko are just that, mediocre. The Klitschkos are the only fighters who make heavyweight boxing legitimate today. Without them, the division would be a wasteland. Outside of the ring, the brothers are also good ambassadors for boxing. All too often, misconduct and trash-talking are embraced as a marketing tool by television networks and promoters. The fivedivison world champion Floyd Mayweather Jr has been criminally convicted on three occasions for being physically abusive to women. Other fighters have seen their market value rise after outbursts of profanity, homophobic and misogynistic rants and threats of physical violence outside the ring. One never picks up a newspaper and reads about Vitali or Wladimir Klitschko being arrested for assault or carrying a concealed weapon. Both brothers are fluent in Russian, Ukrainian, German, and English. Their public comments are marked by dignity and restraint. They have worked tirelessly over the years in support of charities like UNESCO and their own Klitschko Brothers Foundation, which supports educational and health initiatives in Ukraine. In addition, Vitali is now chairman of the Ukrainian Democratic Alliance for Reform; a political party dedicated to free speech, gender equality in all aspects of Ukrainian life, and replacing what he calls 'a closed oligarchical economic system' with equal economic opportunity. In 2012, he was elected to Ukraine's parliament. Yes, the sport of heavyweight boxing may be in decline at the moment, but the blame cannot be laid at the feet of the Klitschkos. Rather than trying to criticise them, boxing fans and non-boxing fans alike, should tune in to Wladimir's October 5 fight and appreciate their dominance while they still reign. Thomas Hauser is the author of Muhammad Ali – His Life and Times, the definitive biography of the most famous boxer ever. His recent book: Thomas Hauser on Sports: Remembering the Journey was published earlier this year by the University of Arkansas Press.
No tags for this post.