Somehow forgotten traditional Dalmatian dishes refreshed in modern edition served in a new Split gastro destination of enchanting atmosphere and magical tastes
Attractive location near Splitske Bačvice Beach hosts a tavern bearing a distinct name Ma:Toni. Ma meaning manjada, old Split word for meal blended with the chefs name Toni. Toni Arnerić enjoys a long culinary experience and idea of opening up his own place with his girlfriend Tisija Prohić has been dwelling in their souls for a long time. 'I have been working as a chef forever, in à la carte restaurants and on ships, I also worked as a cold kitchen chef at hotel Le Meridien Lav. I have always dreamed of running my own business, creating short and simple menus, just like the one I have here now, with plain fresh food', confessed Arnerić. Ma:Toni menu offers traditional dishes chef Arnerić prepares using local seasonal ingredients thus adding his modern signature to it. 'We use local products, and recipes are more or less domestic because we tend to stay faithful to Dalmatian cuisine with our touch of creativity. We do not prepare a classical Dalmatian pašticada (meat stew). Our version would be beef cheeks with penne in dark thick sauce seasoned with thyme, as opposed to traditional seasoning of laurel and rosemary', explains the chef.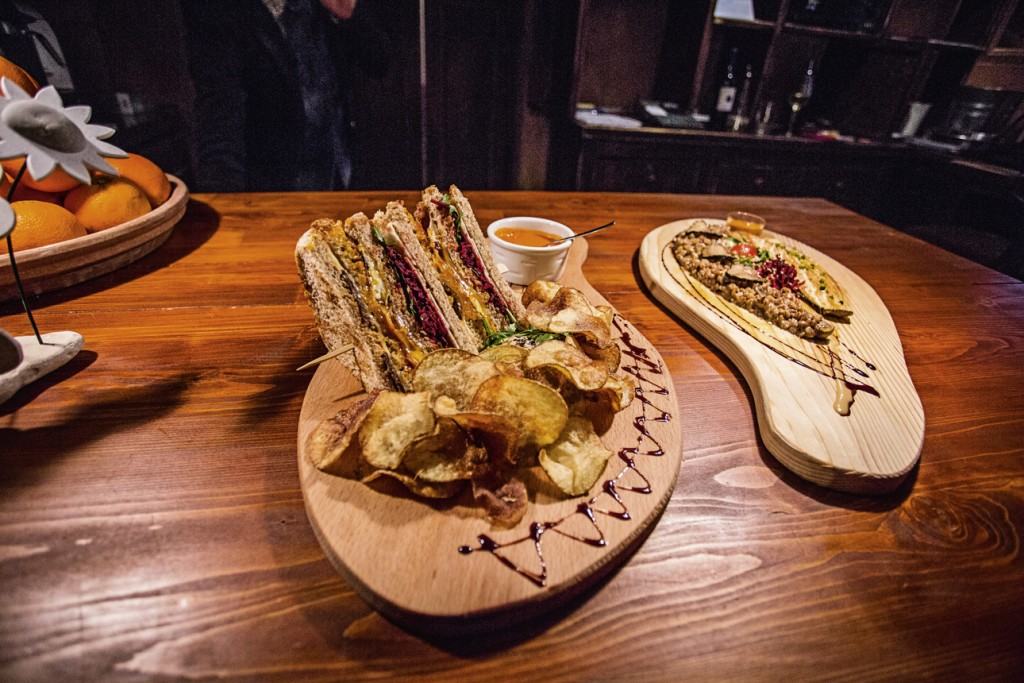 Tavern also opens up possibility of tasting unusual dishes like bull's tail. 'Bull's tail is an excellent dish, although here left behind, just like latežine (sweetbreads-lamb/veal…nuggets). We adjusted these and presented in a somewhat modern way bearing in mind traits of traditional Dalmatian cooking. We are a tavern and it is essential for us to serve solid food at affordable prices, bottled wine as well as house wines. Our motto is: wine serves the drinking purpose', says Arnerić. Distinguishable house specialties would be duck breasts Divina in red wine and orange sauce with baked, crunchy potato dumplings sprinkled with poppy seeds, smoked sea bass, tongue and lamb shanks. The standard menu undergoes changes two to three times a year depending on the season. The weekly menu provides interesting varieties. 'The point is our regular customers can always try something new. We always surprise them with our weekly offer. We tend to have a creative and updated menu', emphasizes Tisija Prohić. Owners tend to make everything on their own, because it makes a big difference in taste and food quality. When preparing desserts they already use homemade jams and with appetizers their own pickled vegetables. Soon they plan on producing their own homemade olive oil and liqueurs. Tavern also hosts enoteca Terra featuring exquisite wine selection and wine card based on Croatian wine producers – the focus is on Dalmatian, Istrian and Slavonian wines. The utmost satisfaction to any chef is definitely guests' reaction, hence Toni can be found outside the kitchen door talking to people, exchanging suggestions. 'Feedback is essential. It is great pleasure when you have complete freedom of choice to design menu with food currently available and provide your guests with new experience. That is the main point for me.' Excellent food, beautiful interior and domestic atmosphere – represent munching at Toni's. What more can one wish for?