Unique 50 metre on the international nautical scene
At the Overmarine shipyard in Viareggio was launched the 12th Maxi Open yacht from the Mangusta 165 series and third unit of the new 'Evolution' series. A yacht with a displacement around 300 tonnes, can cruise at a speed in excess of 35 knots at full load very smooth on the water with no vibrations on board. This has been possible due to the design and construction technique of hull & superstructure and to the installation of 4 2600 HP MTU 16V2000 M94 engines, 4 Rolls Royce/KameWa NP waterjets and 4 Seakeeper stabilisers.
This yacht has unique performance, almost identical to that of the propulsion packages used previously for the Mangusta 165, but with significantly lower consumption at the same speed. This is also due to the effectiveness of the stabilisation system, which optimises navigation in all conditions especially at low speed. Owners can, therefore, use their yacht in displacement mode even at a minimum speed of 8-10 knots, in total comfort. The same comfort is guaranteed when she is moored, too.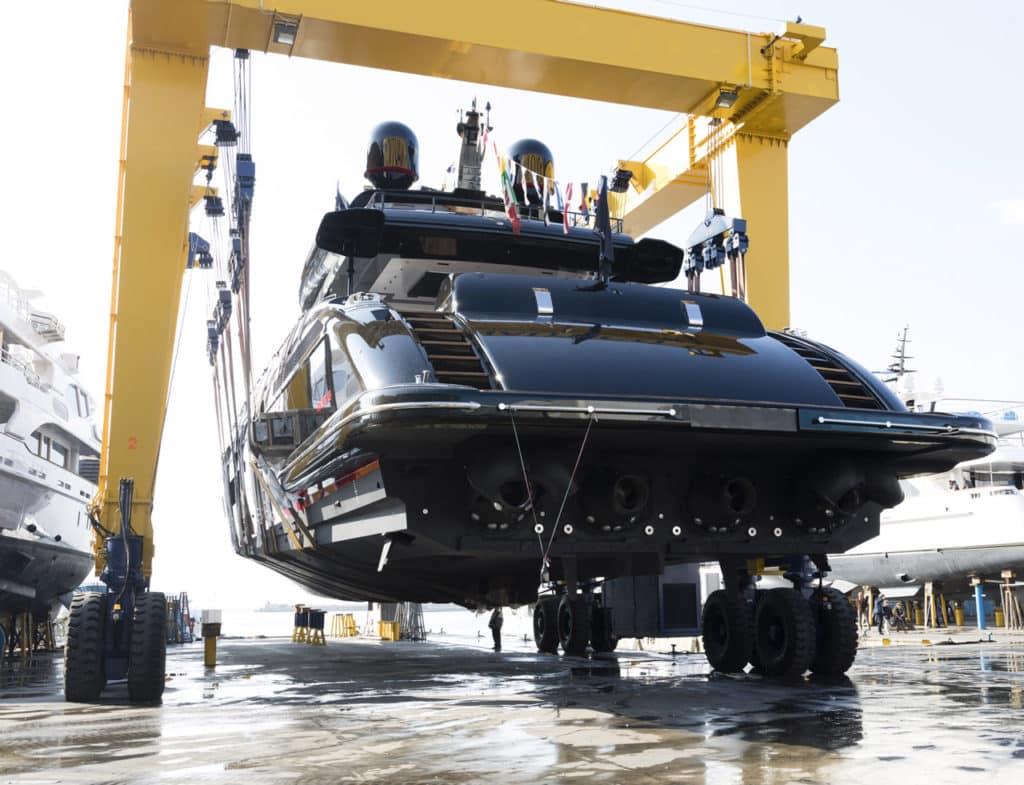 This Mangusta 165 is characterised by the unmistakeable racy, sporty lines which are an authentic icon of the brand. She brings together the recent aesthetic and structural alterations introduced for the Evolution series, amongst which the new shape of the glazing on the main deck: the single side window and the 3 big skylights on the main deck let in copious amounts of natural light indoors and guarantee an uninterrupted dialogue with the outdoors. An extended flybridge, where the end section of the stern features a new design and a stainless steel grill, gives the yacht even greater dynamic thrust and a stronger aesthetic impact when viewed as a whole.
The unusual characteristic of this new unit is, however, the fact the hull and superstructure are black painted with red details, including the yacht's logo, designed together with the Owner. This design choice further enhances the sportiness of the yacht and anticipates the performance of this jewel of technology, fruit of the Overmarine Group's unmatched experience.