Multiple world and European freediving champion, alpinist, glider pilot and director of the Croatian office of Sea Shepherd Lidija Lijić Vulić explains why she poured her passion for adrenaline into marine environment protection
Although there's no telling when she will get another chance to break a freediving world record, Split-born Lidija Lijić Vulić trains every day. Dedication to diving, mountaineering and flying gliders even in the time of Corona is part of her lifestyle. Holder of multiple world and European gold medals in diving, she also conquered the highest summits of the Alps and Kilimanjaro.
Lidija Lijić Vulić made a new Guinness World Record
Lidija Lijić Vulić made a new Guinness World Record for the highest dive in the world. At 4,130 m in the Himalayas, she and colleague Vitomir Maračić went freediving under ice. She graduated architecture in Venice and in addition to working as architect, engaging in adventure sports under water, in the mountains and in the air, Lidija also heads the Croatian branch of the Sea Shepherd Conservation Society.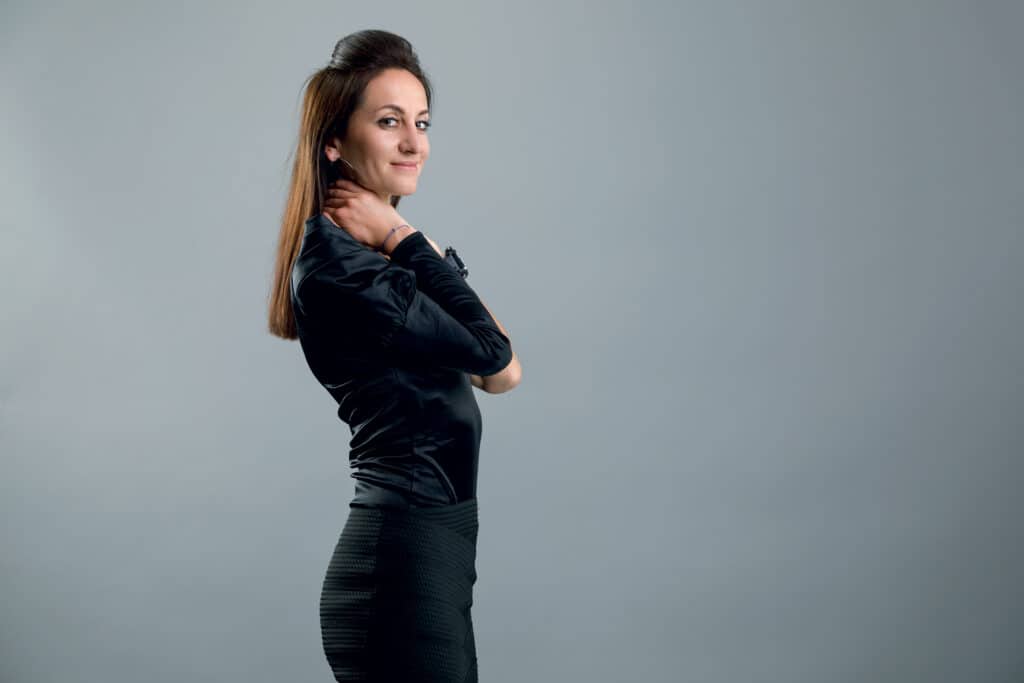 What is the undersea landscape like when you dive into the Adriatic?
I find the marine ambiance magical. The Adriatic is my 'home', blue and cold, but unfortunately desolate. I know that it will never be as rich as tropical waters, but it bothers and saddens me that it's desolate when compared to the Adriatic of my childhood. Over the past fifteen years that I've been diving professionally, I've witnessed the marine world being progressively depleted. Unless you're an experienced fisherman, it's highly unlikely that you'll see a dentex or a gilthead seabream in their natural habitat. There are more and more boats at sea and therefore more trash, which is sometimes not intentionally discarded, but ends up in the sea because of tourism anyway. We lack ecological awareness. There are entire garbage dumps on the sea bed, which got there because of locals. For starters, we need to educate the local population, from small children to the elderly, to make them realise just how valuable the sea really is and how important it is to protect it. The view from the sea to the shore shows just how overdeveloped it is, as well as destroyed by haphazard construction and by building apartments. Whichever way you look – vertically or horizontally – all you see is regression.
Sea Shepherd ambassador
What steps are you taking to make a difference?
The Sea Shepherd, international marine conservation society invited me to join them as an ambassador, which is an honour for me because they make concrete steps in the prevention and rehabilitation of the destroyed sea. Instead of protesting and petitioning, their form of protest over the past four decades has included direct boat action with crew consisting of volunteers from around the globe. Their numerous actions, from saving the whales in Japan to fighting against poaching in the Mediterranean indicate the need for a Marine Environment Protection Act and therefore its enforcement. Zones prohibited for fishing have proven to be efficient in Italy, Spain and France, which means that designated areas in the Adriatic could be replenished with fish stock in 3–4 years. This is an initiative we are trying to implement with scientist from the Ruđer Bošković Institute. We also need appropriate legislation to be able to send volunteers in these zones at a later stage, to make sure that there is really no fishing going on there.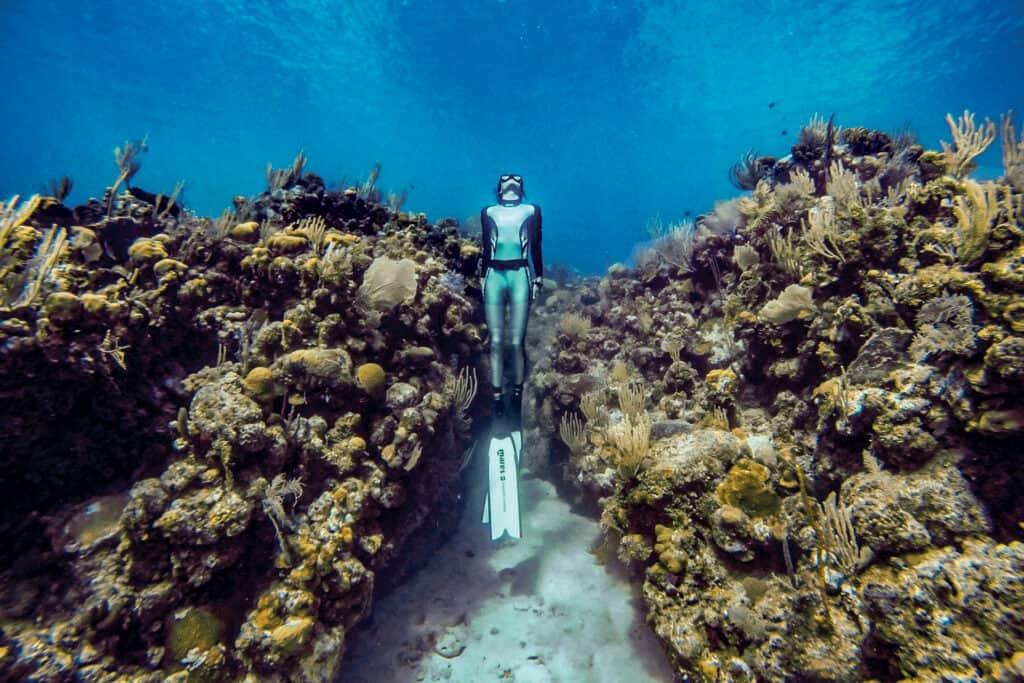 Which zones in the Adriatic need an urgent Sea Shepherd action?
Fishing is restricted in the Jabučka Kotlina (the Jabuka pit sea waters), but as Jabuka is Croatia's most remote island, there's fishing going on there daily, out of sight. Zones would be identified from northern to southern Adriatic where fisheries would be completely prohibited so that fish could move and spawn freely in the area. Another big problem are illegal, and therefore unmarked, fishing nets. Numerous are thrown in the sea, often they get lost at sea and become ghost nets. Fish get tangled in them, the net gets full, sinks to the bottom, and then when the fish rots, the nets resurface. Huge amounts of fish are needlessly killed each year because of this. Sea Shepherd International got its 13th boat last year, for patrolling the Mediterranean in Italy, Greece and Croatia. Before it reaches our waters, we have our Italian colleagues' boat at our disposal. It's 30 metres long and holds about 20 crew. As soon as the epidemiological situation stabilizes, I hope that we'll be able to declare and mark zones and send out volunteers to locations to stop fisheries there.
Critical condition of marine life
What was your impression of Ali Tabrizi's 'Seaspiracy', a co-production with the Sea Shepherd, available to watch on Netflix?
Seaspiracy is a fantastic documentary, presenting for the first time the facts about the global issue of overfishing and its environmental impact. In a great way, the director tells the story of how an average environmentally conscious person can be under the delusion that he or she is dedicated to preserving the ocean. The truth is out in the open about one of the biggest issues of today that all countries have kept quiet about, which is the critical condition of marine life. Tabrizi presents thought-provoking arguments about the point of most global marine conservationist societies, pointing to how immune we are to the ocean's health. It makes me happy that the film also shows the work done by the Sea Shepherd, making viewers think about whether ignorance grants you amnesty from responsibility. What will be left from the sea and us if the marine life is no more? If only one species goes extinct, the entire ecosystem is affected, but you still have people engaging not only in large-scale fishing, but also in fishing for endangered sharks for a soup made only using their fins. They throw the remaining carcasses back into the sea. A European Citizens' Initiative was launched in order to put an end to this. Signatures are collected until the end of the year to stop the import of shark fins. Naturally, as an EU member, Croatia is also a part of the campaign, so citizens can contribute to the campaign by signing the initiative at official web site STOP FINNING EU.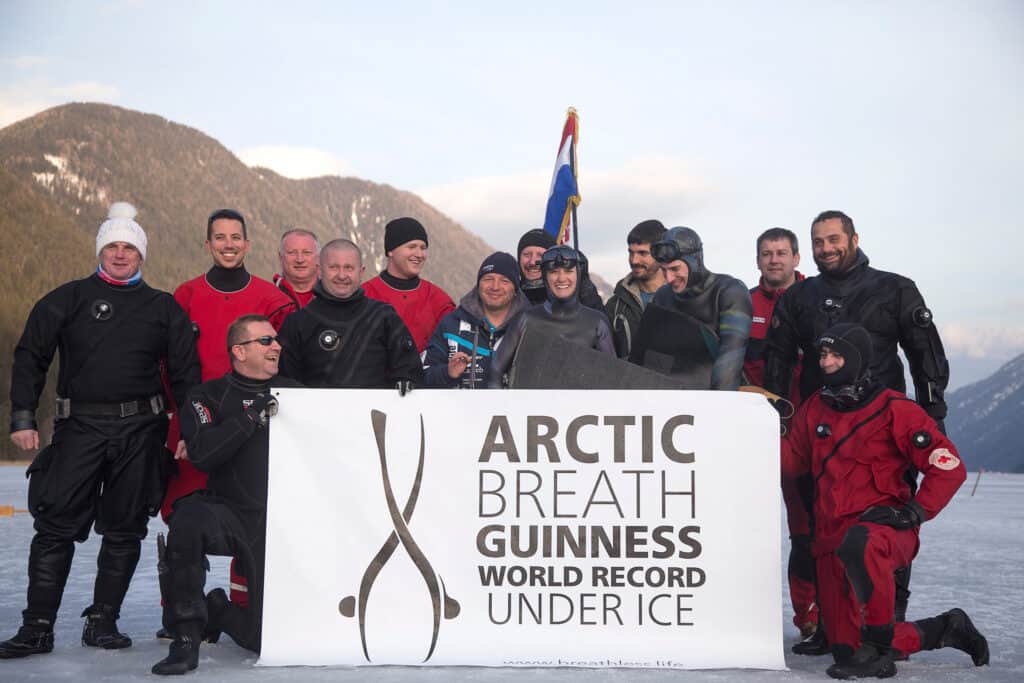 You are president of Sea Shepherd Croatia; what can regular people do for the organisation?
We are financed through donations and profits from selling T-shirts, hats and various other items. Companies need to adhere to specific criteria for us to accept their sponsorship, so we refuse companies that do not implement an environmental policy. Since its inception, the Sea Shepherd has insisted on promoting its core values, which is why people still trust them. The fact that there's a 5-year waiting list for becoming a volunteer is a good indicator of how sought after their membership is. The Croatian branch could use all the help it can get, so anyone who is interested is welcome to get in touch.
Actions in Adriatic
Volunteers record all activities in endangered zones at sea. Where do you report poachers to and what are the penalties?
Sea Shepherd director Alex Cornelissen was there at the presentation of the Croatian branch last year. A hundred volunteers of various occupations already got in touch with us, including marine surveyors. However, neither the fleet nor the number of people are sufficient to detect and collect evidence of all prohibited fisheries. We have support from marine surveyors and port authorities that will fine violators based on our evidence. We also remove illegal nets and, as we are stationed in zones prohibited for fishing, potential violators are deterred.
Is your work dangerous for your volunteers?
It can be. I haven't had any bad experiences, but a Molotov cocktail was hurled at a Sea Shepherd vessel during its last operation in a vaquita refuge in Mexico's Gulf. Poachers threw stones at the ship until the police came. Fortunately, our actions are state-approved, so in cases of conflict, the police protects volunteers. We already have assurances from marine surveyors that they would follow and support us in our actions in the Adriatic.
When you dive, you are truly alone
Although global diving competitions have been postponed due to the pandemic, you train every day. What do you think about when you dive at 225 m?
It is said that a scuba diver looks around him or her and a free diver dives to look inside him or herself. When you dive, you are truly alone with yourself and you try to eliminate your thoughts. Each divers wants to be as dedicated to the moment as possible, to feel it and not think. It isn't easy, but when I truly manage to disconnect at the moment of the dive and feel the water down my face, the pressure of the water, shades of blue getting darker… I hear the cracking of the sea and try to enjoy the weightlessness. The sensation is similar when you parachute from an aeroplane; it's just that flying is more aggressive, faster and adrenaline-filled. Freediving and descending into the deep bring calm, and that's why each diver comes back for more.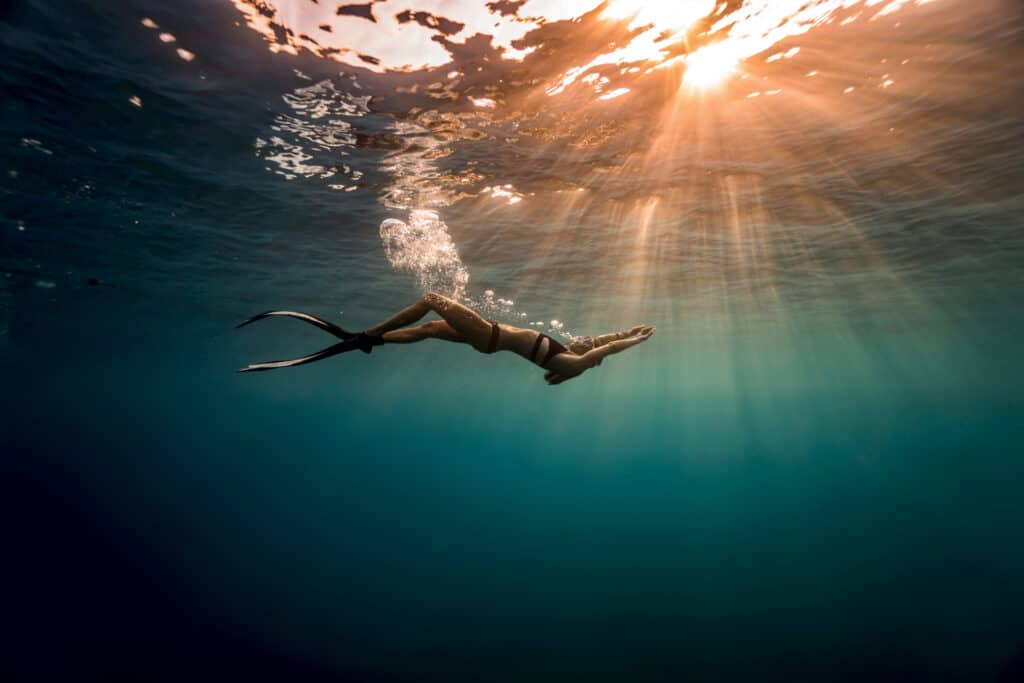 How important is a wristwatch in these extreme conditions and what technical characteristic does it need to have to be useful to you?
A watch is an essential part of equipment. Paired with a great diving suit and swim fins, I'd say it's the most important, sometimes it can mean a difference between life and death. When you dive, it measures the water's depth, your heart rate, shows how relaxed you are and indicates if you need to relax some more, whether you're ready to dive or you need to cancel it. The alarm is crucial for divers because at one point, you close your eyes as you descend the rope and don't know the depth you've reached. This is why I set my alarm and when it rings, I open my eyes, do a turn and start ascending. The dive logs store valuable data that I later use to analyse my training. Garmin Descent MK1 is my dive computer and a replacement for my trainer when I'm under. Each training is recorded in the table and analysing each piece of data leads to better results. My success in diving is not measured only by dives and broken record, but an entire wide range of training aspects: strength, endurance, compensation, speed, technique and tactics.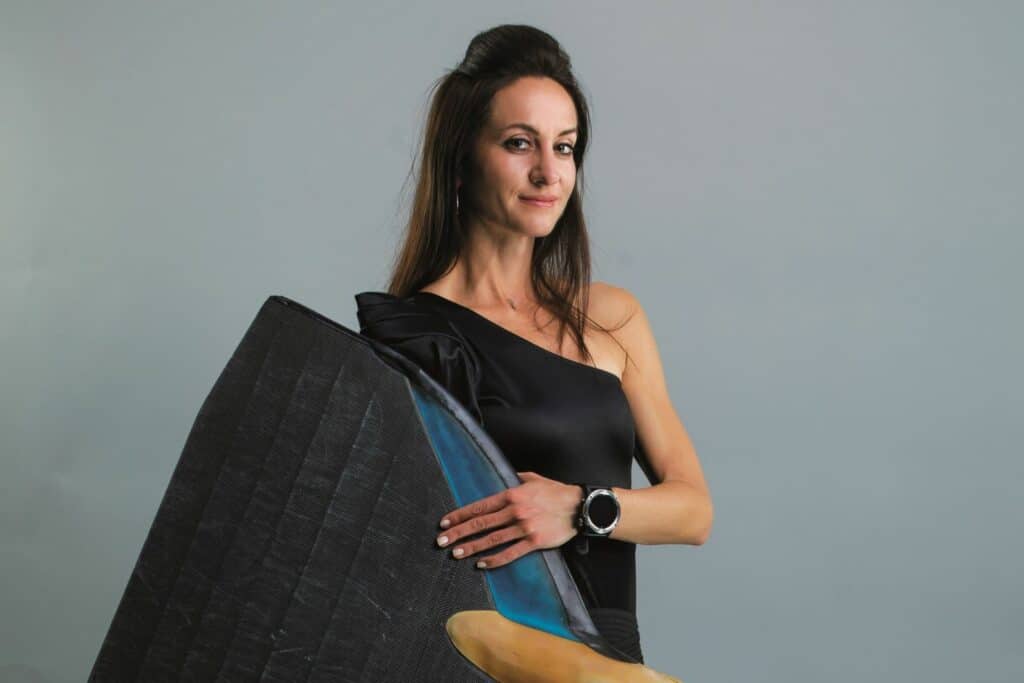 What do diving, mountaineering and flying gliders have in common, as these are all adrenaline skills that have been filling your vacations, weekends and free time for years now after you clock out from your day job as architect at Brodosplit?
All of the above has helped me build my personality. Diving has taught me what it means to set a long-term goal for yourself, how to reach it, overcome obstacles, realise what it means to be persistent, devoted, experience loss and get up and move on after you've failed to accomplish your goal. Just like mountaineering, diving requires mental toughness training. Croatian mountaineer Stipe Božić says it's difficult to give up once you're 200 m away from the summit, but it takes skill to control yourself, step back and try again when you feel that your body and your mind can give their very best. The same goes for flying: that's where I've strengthened my belief that everything needs to be perfect for a good flight.
Raising awareness of climate change
Because you were born a perfectionist or because the smallest mistake can prove to be fatal?
The latter. I am not a perfectionist by nature because I have too many interests and too little time to tackle each of them individually. I've been flying for four years and have recently started going to additional classes for flying powered sailplanes. A few months ago, we flew to Biševo and Palagruža and these flights over the sea are the most exciting, as are the ones flying over Biokovo and Sveti Jure. Flying low gives you a bird's eye view of our stunning coast.
My grandma always says that she has no idea why I engage in all these sports when she can watch Stipe Božić climb from her chair, without climbing a single mountain. Grandma might be right: I should make beautiful documentaries about the sea and mountains, show people the gorgeous landscapes above the land and sea, what's hidden in the underwater world. Maybe I could raise their awareness and make them more passionate about saving the planet.
Where did you get married: in the air, in the mountains or under the sea, as you and your husband Nikola share a passion for adventure sports?
In a little church by the sea, built directly into the rocks.
Text Dubravka Tomeković Aralica
Photos Robert Matić & Archives Lidija Lijić Vulić