Landscape hotels where nature and imagination run wild. Experience the magical glow of the Northern Lights, pure snow and soothing silence
Every year, when Torne River turns to ice a new Icehotel is created in the small village of Jukkasjärvi in the north of Sweden, 200 kilometer north of the Arctic Circle. The ice of the river transforms to design and architecture of Icehotel where the guests are welcome to sleep in rooms created by ice and snow. There are two ways of spending the night – in the hotel rooms made of ice and snow or in the warm cabins. Most of the people stay one night in 'cold' accommodation and the other nights in the warm hotel accommodation.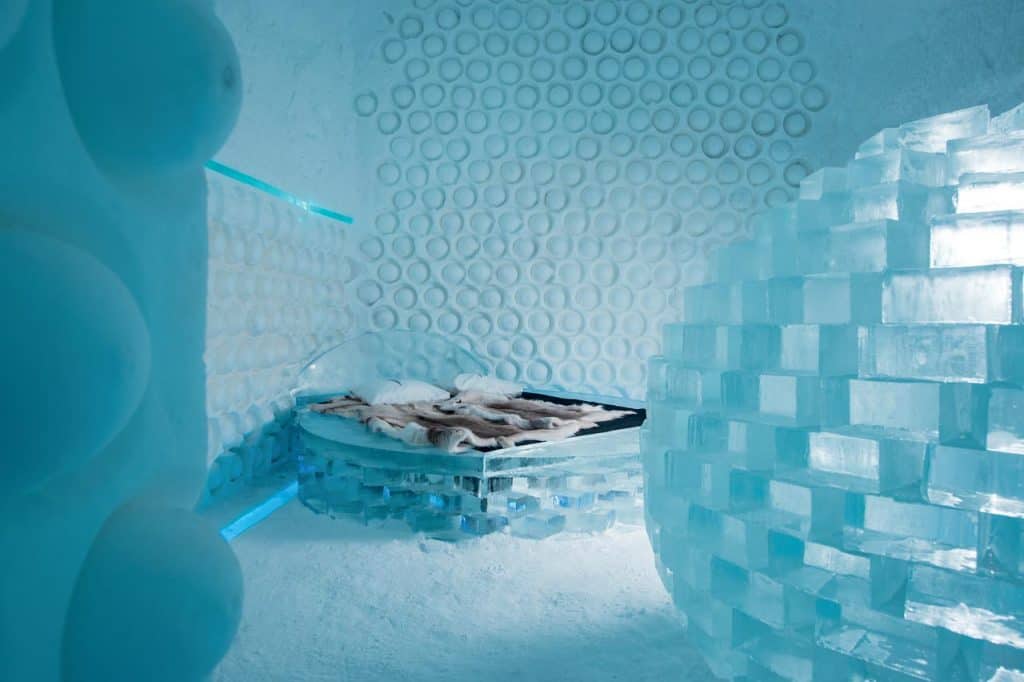 An Icehotel guide holds a 'survival course' in the evening informing guests on how to dress appropriately and how to make the bed with the Arctic sleeping bags. The indoor temperature is set on a constant minus five degrees Celsius. There are no doors to the art suites, snow and ice rooms, so in the morning, a member of staff draws the curtain that covers the doorway and wakes the guests up with hot lingonberry juice in bed. When checking out or moving into warm accommodation, guests are given a diploma stating the date and temperature inside and outside Icehotel on the night that they stayed there. There is also a specially designed 2100 square meter ice art hall, which includes ice and snowsuites, bar, ice gallery/event hall – open 365 days of the year and run on solar power from the midnight sun.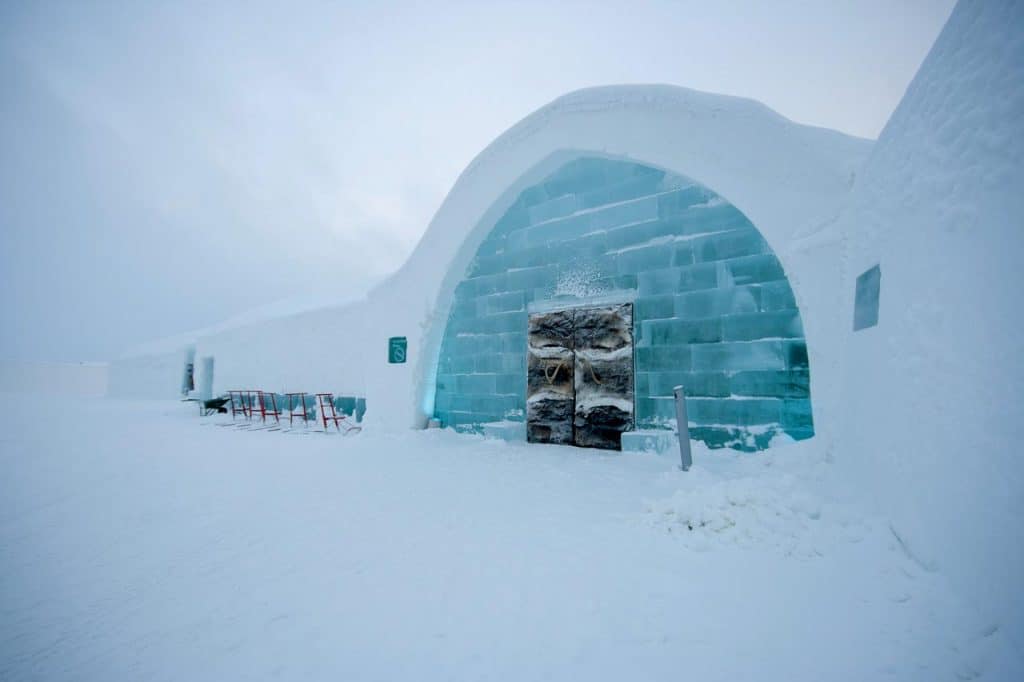 Treehotel offers a unique hotel experience: treerooms with contemporary design in the middle of unspoiled nature in the pine forest of Northern Sweden. The idea behind Treehotel is to offer high-standard accommodation in a harmonious place where daily stress melts away. Guests can relax and renew their energy while surrounded by unspoiled nature. Treerooms are suspended 4-6 meters above ground – all with spectacular views of the Lule River.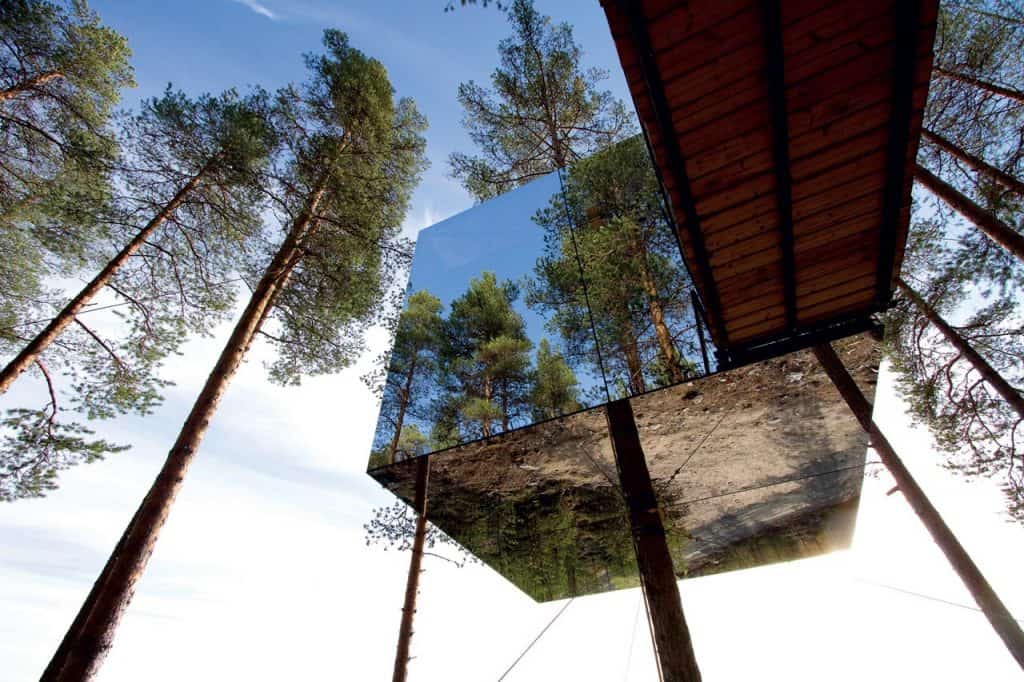 A very important part of this concept is to consider ecological values and make minimal environmental impact. The Mirrorcube is a shelter up in the trees: a lightweight aluminium structure hung around a tree trunk, 4x4x4 metre boxes clad in mirrored glass. The exterior reflects the surroundings and the sky, creating a camouflaged refuge. The interior is constructed from plywood and the windows give a 360 degree view of the surroundings. The cube provides living space for two people: a double bed, bath, a living room and roof terrace.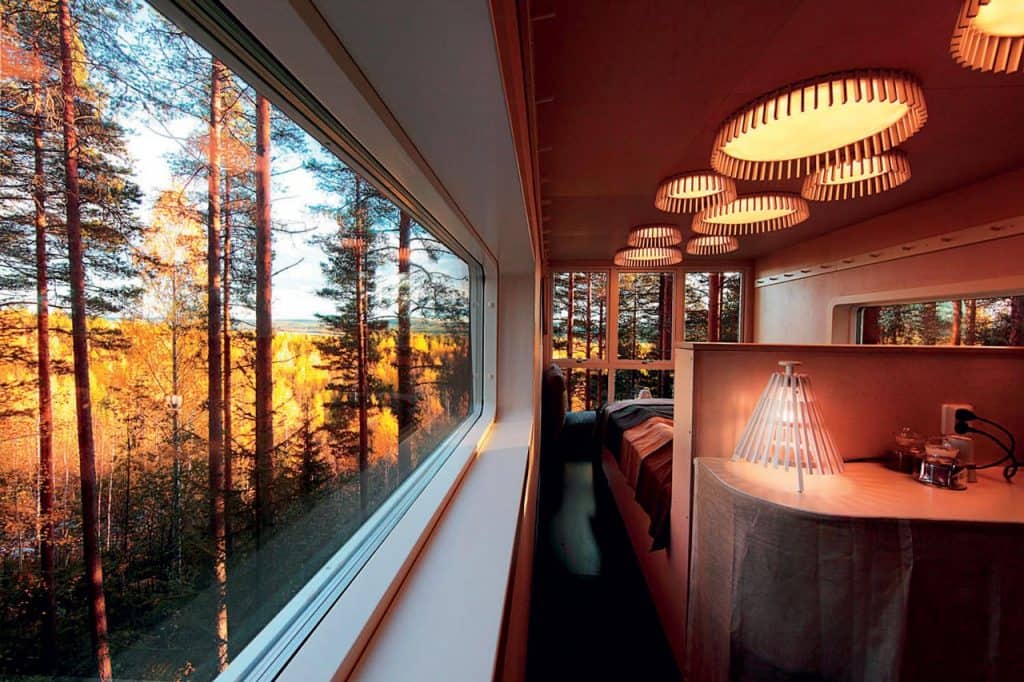 Access to the cabin is by a rope bridge. Gaze out at Sweden's spectacular nature from up in the Mirrorcube and watch the Northern Lights illuminate the sky above you and your snowmobile, or take a family fishing trip and learn all about the berries and mushrooms you pick up along the way. One thing's for sure at the Treehotel, you'll be inspired by your surroundings and experiences.
Photos by Paulina Holmgren / Icehotel, Ragnar Th Sigurdsson / Icehotel, Treehotel, Jeff Schultz / schultzphoto.com