Corinthia Hotel London
Surrounded by London's famous past, the distinguished Corinthia Hotel still manages to embrace the future
For hotel lovers, London is the promised land. There are more famous, distinguished and immortalised hotels per sq metre in the English capital than anywhere else in the world, many of them relics of a bygone era of Victorian hospitality. Carved within a huge, ornate Victorian building, the five-star property blends 21st Century luxury and modern freshness with timeless and traditional British grandeur. With 294 rooms, including 40 suites and seven penthouses, the hotel's enviable position just off Trafalgar Square offers stunning views across the River Thames and London's political district Whitehall, while popular tourist spots such as the West End and Covent Garden are within strolling distance. The hotel's entrance sets the theme with plush furniture and modern art cuddling original and restored Victorian columns and architecture. Just past the reception lies the impressive and welcoming Lobby Lounge with its spectacular full moon chandelier, made from 1,001 crystal baubles, hanging beneath a stunning glass dome.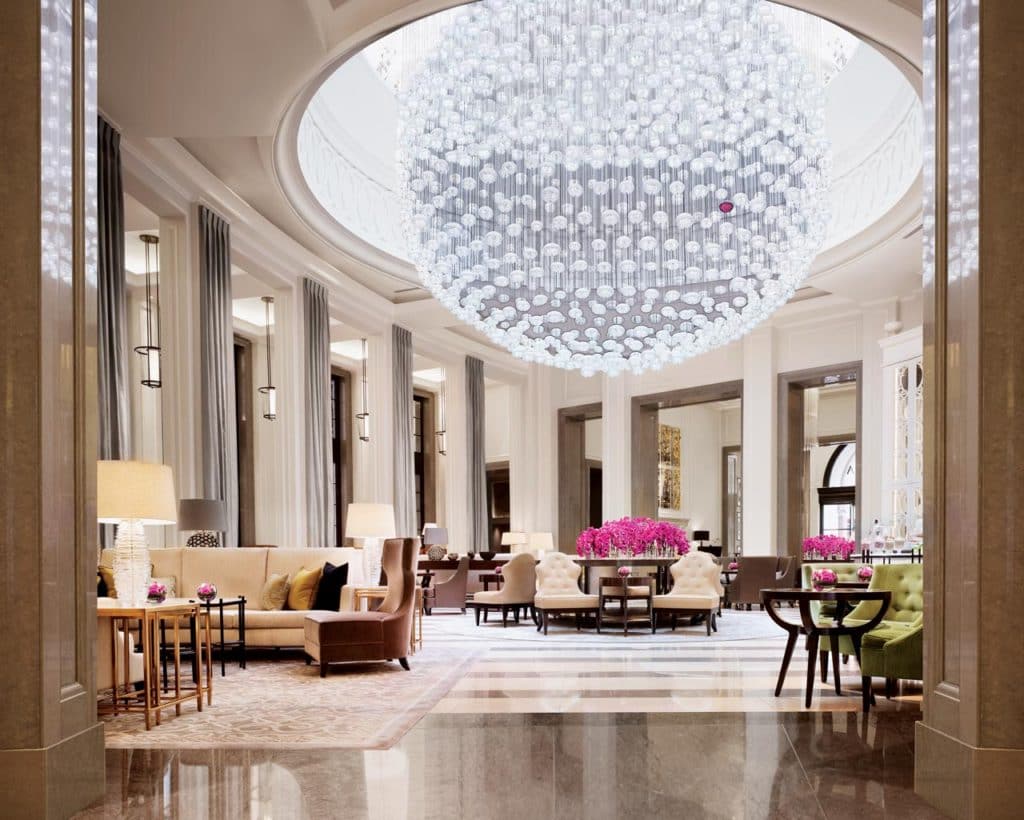 A bustling space with private alcoves, it's well worth taking a seat and joining the city workers and other tourists in sampling the hotel's extensive tea menu, regarded as one of the finest in town. Off to the side is The Garden Lounge, which offers all-day dining options in an al fresco setting. Nice for a midday snack but better for an evening tipple and cigar, especially if you're looking for a secret, green hideaway from the crowds. Two restaurants may not seem like much choice if you're accustomed to five-star GCC hotels, but offering any more in a city with such a strong dining scene would be risky. The Northall serves British produce throughout the day with Garry Hollihead, winner of Michelin stars at three different restaurants, at the helm. He even has a greenhouse on the hotel's roof where he grows fruit and vegetables that go straight onto restaurant's menu – his lemon verbena and balm in the desserts, for example. Massimo, on the other hand, is a modern Italian restaurant with a Gatsby-era look and feel; its stone columns and glass sphere lighting only belittled by the brilliant food.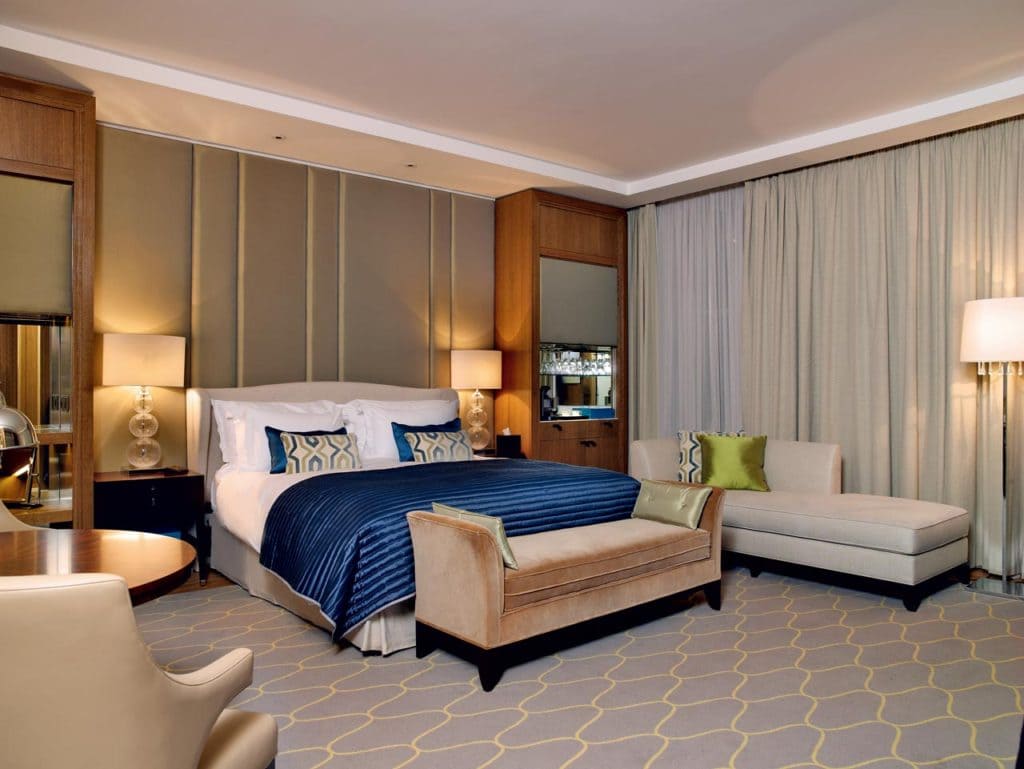 There is also the Bassoon Bar, a musically inspired, classic-styled haunt serving molecular cocktails and nightcaps inspired by colonial times. The Corinthia claims to have the largest room sizes in London's luxury hotel market, averaging 45 square metres. While we didn't measure our room personally, it was certainly spacious with tall windows letting in swathes of natural light. The furnishings were plush and luxurious, but most of all homely. Thick carpet covered most of the wooden floor, on which sat mini wingback chairs, an ottoman, a chaise lounge and a mini-bar cabinet. Behind the bathroom's sliding double doors sat a bathtub with TV, his and her sinks and a rain shower, all basked in natural light. The overall feeling is that the rooms haven't been overcomplicated. There aren't 20 switches to operate the lights and air-con; there are five, and they're clearly named. Be sure to keep one morning free for a trip to the hotel's next-generation spa. The ESPA Life is spread across four floors, with 17 treatment rooms, an indoor pool, sauna, ice fountain, private sleep pods and many other features. There's a reason it's previously been voted the best spa in Europe, and the hotel is deserving of a similar title itself. Corinthia.com/London
Corinthia's military and political neighbours
The Household Cavalry Museum
Go behind the scenes and watch the soldiers and horses get ready for their time on guard, and learn about the history of the regiment.
Churchill War Rooms
A museum dedicated to the late British leader comprises the Cabinet War Rooms, where he worked and lived during WWII.
Banqueting House
All that remains of the Palace of Whitehall, it was the country's first neo-classical structure, and is home to a famed ceiling painting by Peter Rubens.