The voice of reason
For most decorated actors, home is not far away from the bright lights of Los Angeles or the buzzing streets of New York – but, then again,  Morgan Freeman is not like most  actors…
You would be forgiving for not being able to point to Clarksdale, Mississippi, on a map. Located an hour and a half's drive south of the city of Memphis, Clarksdale looks like any other small southern American town, but by asking around, it doesn't take long before a beaming local declares that Clarksdale is the birthplace of Blues music. Considering the small population of 18,000 people, Clarksdale has is fair share of names to drop. It's where Blues  legends Muddy Waters, John Lee  Hooker, Ike Turner, Robert Johnson and countless others developed their musical craft. Robert Plant  and Jimmy Page named Led Zeppelin's 1998 album Walking  Into Clarksdale, as a tribute to the city's musical heritage. But today we are in town to talk to arguably its most famous resident. At the very edge of town, after driving through cotton fields  and along the Mississippi river banks, we come across the Ground Zero Blues Club. The ragged, saloon-style bar, which – except for a stage in the middle of the hall, where bands play daily – wouldn't look out of place in an old Western movie. At bang on 9.30am, on a hot and humid summer day, while the photography team is finishing setting up, a Porsche pulls up right in front of the venue. A few seconds later, the owner of Ground Zero walks through the front door open. At 6'2", Morgan Freeman is taller than most 77 year olds. Dressed in an impeccable suit, there is no mistaking the man who made his name in Driving Miss Daisy, The Shawshank Redemption and won an Oscar for Best Supporting Actor in 2005's  Million Dollar Baby. As the stylist asks if he'd like to see the clothes, Freeman snaps: 'What do you mean, the clothes? I'm already wearing a nice suit! Why do I need to change?' For a few seconds, everybody freezes, before the twinkle in Freeman's eye gives away his dry humour. He is in good form. Sitting down over some breakfast, Freeman recounts the story of how he set off for New York from Mississippi in his early  twenties with just $300 in his pocket, only to spend it all on dance lessons for him and his friends. The actor's relaxed demeanour puts  you instantly at  ease. His famed, unmistakeable voice is comforting and conversation flows as if swapping anecdotes with an old friend – the kind of friend that you could chat to about anything:
What made you decided to open a Blues Club in Clarksdale?
Myself and a friend started noticing that there were a lot of people in Clarksdale from out of the country wandering around the streets, saying 'where can we find some Blues?' There was a little place called Crossroads, but there was nothing stable about – one  weekend it might be open, another it might not. So we decided, 'this place needs a real downtown joint, a real Blues club!' And so twelve years ago we found this building and we kept it looking pretty much as it does now.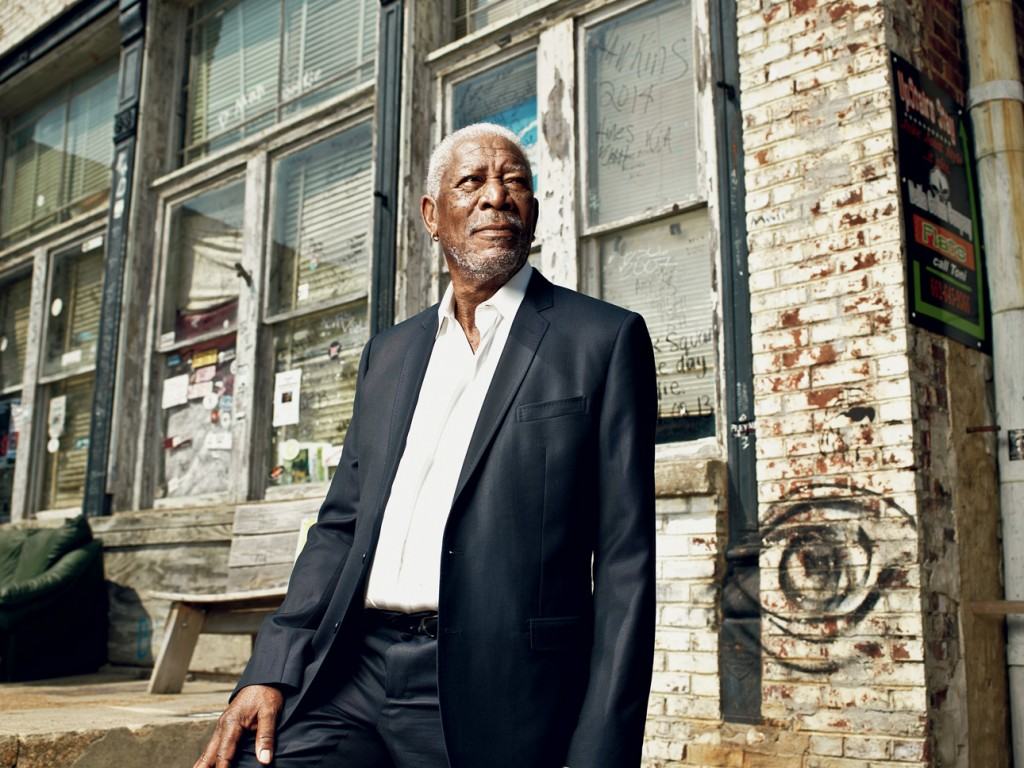 Mississippi isn't an expected location for a Hollywood star…
It goes back to my great-great grand parents, and probably even further back than that. My grand-mother was born in the Delta, my mother too. My biological and my step-father too. I have deep roots here.
That's why you moved back out here?
No, that's not really why. I did a lot of traveling myself. I left when I was eighteen. In my travels, it occurred to me that this whole racial issue we have here in the United States, well, we weren't the capital of it. It's everywhere, almost.
It wasn't unique to Mississippi?
It wasn't. So my parents moved back from Nashville, in 1956 or '57, and bought some property not far from where I grew up. My second wife and I started coming to visit in the '70s, and every time we came here, I had the same feeling of comfort I had as a child. And I thought 'this is the best place in the world!' I had to decide where I was going to put roots down and build a house. I lived in New York in the '80s, and really got sick of New York. I was getting actual stomach pains from the tension and the stress! I lived on the Upper West Side, in a wonderful neighbourhood, but then the gentrification movement started. The oil crisis in the '70s had  started putting landlords in a bind as they couldn't sustain the buildings due to New York's laws against raising the rent. All those old people living in those rent control buildings were now at loose ends, so New York became one of the capitals of homelessness. Not a good place to be. But coming down here was like to moving into paradise!
Are you a Blues fan yourself?
I'm a music fan. Yes, I'm a Blues fan. I grew up with this music in the Delta. All those old Blues guys. None of the guys that play here at the club are as old as I am, but they remind me of the guys who were playing just like this, amateur guys who played guitar, sitting on the front porch or the back porch drinking moonshine, playing the blues.
Do you have a favourite Blues man?
It used to  be… (pauses to think). I've recently learned that when you get as old as I am, you can't remember stuff, not because you're getting forgetful, it's just that  there so much stuff up there [points to his head] you got to go through before you can find it! Muddy Waters and BB King are from here. We just lost a great one a few years ago, Pinetop Perkins. He was in his 90s.
Very few movies have been made about the Blues.
Not a whole lot. A couple of them, but they weren't that successful. Did you see the picture Ray?
Yes.
There you can see the marriage between blues and gospel. That's how rock was created.
Your filmography includes just about every genre available. Has it influenced you as a person?
It would be hard to say it didn't. But I couldn't tell you how!
What is your favourite part about being an actor?
When they say 'that's a wrap'! That's when I'm a happy camper.
How do you prepare for a role?
I'm not a method actor at all. I just learn the script and go for broke.
Do you feel that you that the older you become, the more interesting the roles have become?
I was old when I started! I was fifty when I got my first movie role, my first good movie role. Prior to that, I was on stage, nobody knew me outside of New York. But towards the end of that twenty-year period, I had pretty good reputation in New York. Then I got into the movies, with a picture called Street Smart with Christopher Reeve, which launched my movie career. But, boy, had I been around for a while!
Most actors dread getting older, as they think the roles are going to stop coming…
The conventional wisdom in Hollywood is that once you get past forty, nobody wants you. That's not really true. You just can't get the beauty queen roles. But if you're a really terriffic character actor, then there is always plenty of work – just look at Meryl Streep! Today, there is so much work available. Now we've got Netfix, for Christ's sake! You just have to relax and go with the flow…
These days you can afford to be rather selective of your roles. What usually draws you to a specific role?
It's primarily the script and character. I don't tend to think too much about the director, although there are situations now where I'm doing things for specific directors. But the most important questions to me are still: What is the story? Is it really inviting?  Only after that, I think: Who is in it? Who is directing?
You've played a god-like character several times. How do you approach that?
By learning the words (laughs). There is no way you're going to say 'now, I'm going to play God, what am I going to use as a template?' Where can you go to do research about how to play God? Nowhere! Just be yourself.
It's rather ironic that you, as a believer of science, being cast as God on screen.
Ah, but you see, they chose me to play God in a comedy. If I was  Evangelical, I don't think they'd ask me to be involved where God was a major character in a comedy.
Good point. You also have one of the most iconic voices in the business. Was there a point where you realized: 'Oh, people want my voice?'
No. I had  no idea. I did the voice-over for The Shawshank Redemption. After that, I received calls from people wanting me to do  voice  work. Then the whole 'myth' about my voice being 'unique' started. No voice is unique!
You've done a number of movies with Clint Eastwood. Do you have a special connection with him?
My special connection with him is that he's one of the best directors in the business, and one of the best to work with. I like the  way he directs. He doesn't direct actors, he directs a movie. If he hires you to be in a movie, then the acting is up to you. (Chuckles) He has a certain unique way about him that's very endearing to most actors. Everybody I know who's ever worked with him, adores him. He's been directing a lot longer than most people would think.
Didn't he start in the Seventies?
Yes, Play Misty For Me was the first movie he directed. And it seems that whenever he plays a movie, he plays a vulnerable character. A tough guy with a big heart underneath.
His film Gran Torino is a movie where the main character is not in the typical 'leading man' age range. But it works very well.
Yeah, Clint's now taking on parts where he's aging. He's not trying to dye his hair black and be Stallone or Schwarzenegger. I hear Schwarzenegger is going to do Terminator 5!
Away from films, you have spoken out many times about our planet and environmental issues. What do you think is the most pressing issue at hand?
Population reduction. There are now over seven billion people on the planet. And if you fly around the world, you'll see there's a lot of uninhabited space, but that's only because it's uninhabitable. There are no people there because there is no way to sustain life. Some of it is covered by ice, some of it is deserts covered by scrubs, sand, etc. All the other places are overcrowded with people. The way we live now, with longevity, the population growth is speeding up. We're actually already straining Earth's resources. I had an epiphany the other night – what if global warming is not just from the outside, but also from the inside? The earth's core is molten metal, iron. Over the past hundred years we have constantly sucked oil out of the planet. What does the oil do for the Earth's mantle? Suppose it's a bu'er, suppose it's a heat disperser, suppose it's something that ameliorates the core temperature of the earth so it doesn't bleed so much to the surface. And now it does. There's no way to stop global warming, if it is at all true.
They're trying to find alternative sources of energy…
The  people responsible for it are not in a big hurry, because everything is pretty much petroleum-based, which is a money making industry. So, what can we do about it? The biggest problem  is human existence. We're polluting everything. We're over-fishing the oceans. We're moving out everything else that lives, or killing it. We're turning everything on the planet into food for humans! People complain about mountain lions killing their pets here. But that's because they moved up in the mountains where the mountain lions live! They're the ones that have been pushed out. Pretty soon there won't be anything left but humans. And then what?
In an interview with 60 Minutes you once asked a presenter to stop thinking of you as a black man, and you would stop thinking of him as a white man. Do you think if we stop labelling people, it will improve things?
Yes and no. The world used to be a really, really big place. If you think about what's happening around the world right now, the stuff that's happening in the Middle East specifically, and what's  happening between Russia and Ukraine. Many years ago that stuff was already going on, but we didn't know about it. News didn't travel as fast. Nothing is new except we now know about it. The whole thing about relationships, racial, religious – they exist just because. Have you seen  nature shows  about chimpanzees? They're war-like. They kill and eat. We're not that  di'erent, except we don't find  humans that tasteful.
We are only a few chromosomes apart from chimpanzees…
We're 99 percent the same as them. So, perhaps we are not programmed for peaceful existence. Here in the US, we started with a premise that, two hundred and thirty eight years later, we're still struggling to realise: to make true the idea that all men are created equal. If all men are created equal, then you and I don't have anything to argue about, in terms of who is better. It's ridiculous, it's always been a ridiculous argument among humans, but we insist on having it. If you look at India, India is maybe a hundred years behind in regards to the idea that all men created equal. They have a cast system that works very well for them. Slavery, for example, was the wrong system for the US. I believe that you either you live up to your premise, or you have to scratch it out.