Open your eyes to sea excellence
The Sealine C430 is a dynamic and sporty motor boat that is thrilling in design and driving experience. On 43 feet she astonishes with up to three double cabins, various technical refinements and visual highlights.
The hull of the new Sealine C430 was developed according to the latest designs and is unique in its class. Both floor structure and bulkheads are laminated, so it achieves a high stiffness which is maintained in all situations. This stiffness allows the new Sealine C430 to be equipped with the largest hull, roof and saloon windows in its class, with a total of 26 square meters of window area, which creates an indescribable feeling.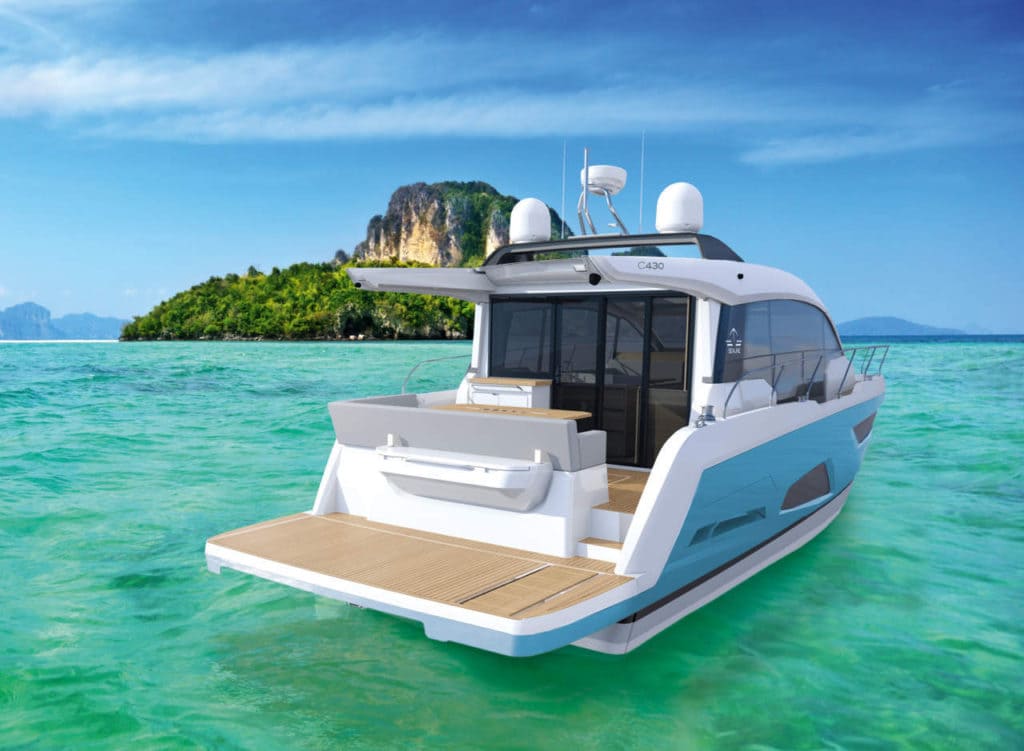 The Sealine C430 can be designed precisely for the needs of the owner. The standard layout includes a large master cabin in the center and a VIP cabin in the bow of the yacht. If more cabins are desired, the master cabin can be moved to the bow and two additional cabins are built in the middle of the boat. The two bathrooms are equipped with large skylights, that allow ample of natural light in the heads. The saloon is perfectly unique, large U-shaped sofa invites you to relax and the ground-level windows allow for an unobstructed view of the water.
Every new Sealine C430 is equipped with the Smart Boat System. It allows the owner to control the systems of his boat via the plotter or a tablet and retrieve information such as fuel level or water temperature. Due to the ultrasonic sensors, installed in the tanks, all tank contents are displayed exactly to the point.