A culinary trip accompanied by a marvellous view over islands and relaxing Mediterranean surroundings – a perfectly harmonious and modern ambience
Dalmatian gastro scene has shone the spotlight on a new star this summer. Olympia Sky restaurant opened its doors on the 10th floor of a newly opened hotel in Vodice. This à la carte restaurant provides a breath-taking 360 degree panorama view over Vodice and its surrounding islands. Dinner at Olympia Sky enriches the heart and soul with an array of delicacies, meat and fish specialities. Chef Stipo Gavrić carefully develops his menu with the aim to meet different tastes with traditional, Dalmatian dishes like fish soup or clams. You can opt for sushi roles, tempura scampi, octopus burgers and many other tasty bites.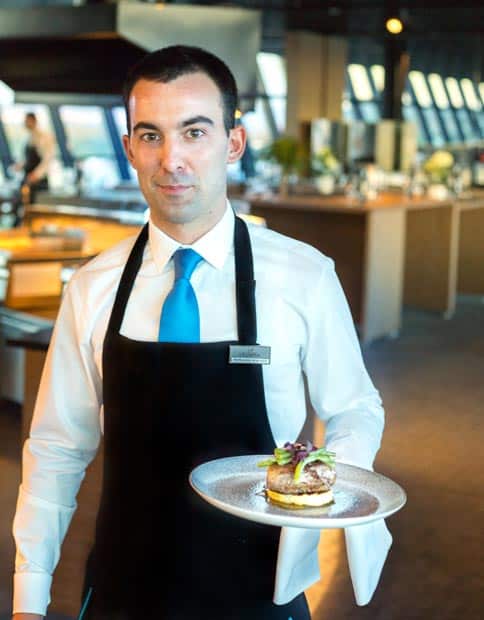 Black gnocchi with scampi holds a special place and other sea-fruit meals are there to be discovered. Oysters are served fresh or grilled, St. Jacob shells are presented baked in a shell and another choice may be tuna chateaubriand. Steak lovers and meat fans will be content with aged beef, rump steaks and lamb chops. A balanced composition with vegetables and gravies as side dishes. Dessert lists offer white chocolate pancakes, pannacota, cheesecake plus many other sweet treats. Good food calls out for good drink – the most famous whiskey sorts, numerous gins, champagne and exquisite array of wine including both domestic and foreign wines make for an abundant selection.