There can be no greater accolade for a performance automotive impresario than to be described as 'a modern day Enzo Ferrari', but it's a comparison being drawn with increasingly frequency for Horacio Pagani
We may live in a world brimful with hyperbole, but this praise is not without merit. Horacio Pagani dreamt of building the world's finest supercar, and we believe he has achieved it with the Pagani Huayra: a seminal masterpiece of performance design and engineering that we weren't just fortunate enough to drive, but also to meet the man himself. Occasionally life delivers amazing opportunities, unscripted and without plan, and often it's just about occupying the right place and time. In this case, it was a 30-second window where, for a brief moment, I felt like one of the daredevil test pilots from the 1920s or 1950s: an Alberto Ascari or a Bentley boy. I'd just completed a few very fast laps behind the wheel of the 1.3-million Euro, 223mph, Pagani Huayra supercar at the Yas Marina Circuit in Abu Dhabi. I was dumbfounded by its poise, acceleration and overall track manners. Breathless after a few blisteringly quick, heart-racing laps and almost speechless from genuine admiration, removing my helmet I walked into the pit garage and straight into the diminutive, smiling, grey-haired gentleman who awaited my reaction.
'Congratulations Mr Pagani, you have built an outstanding car.' Do you know how long I have wanted to do that? To hand the keys of one of the world's fastest supercars–after giving it a proper spanking–back to the man who's name appears on the badge? In that brief moment, while delivering an honest appraisal at Pagani's request, I knew how Ascari felt after climbing out of his post-war Ferrari Tipo 375 Grand Prix car to report back to Enzo Ferrari. I was occupying that same space, but not time, as the Bentley Boys delivery their post lap debrief to W.O. Bentley after descending from the high-speed banked turns of Brooklands. Sure, there's a hint romanticism in my writing, but my generation of motoring journalists and test pilots is the first to never meet the pioneers of supercars like Mr Ferrari, Ferrucio Lamborghini or Dr. Ferry Porsche after driving one of their creations. In today's world of global amalgamation, where the brand name Bentley belongs to VW and the trademark of Ferrari is owned by Fiat, Pagani the man is Pagani the car. And here he was, intently listening to me of all people, asking what I thought of the Huayra.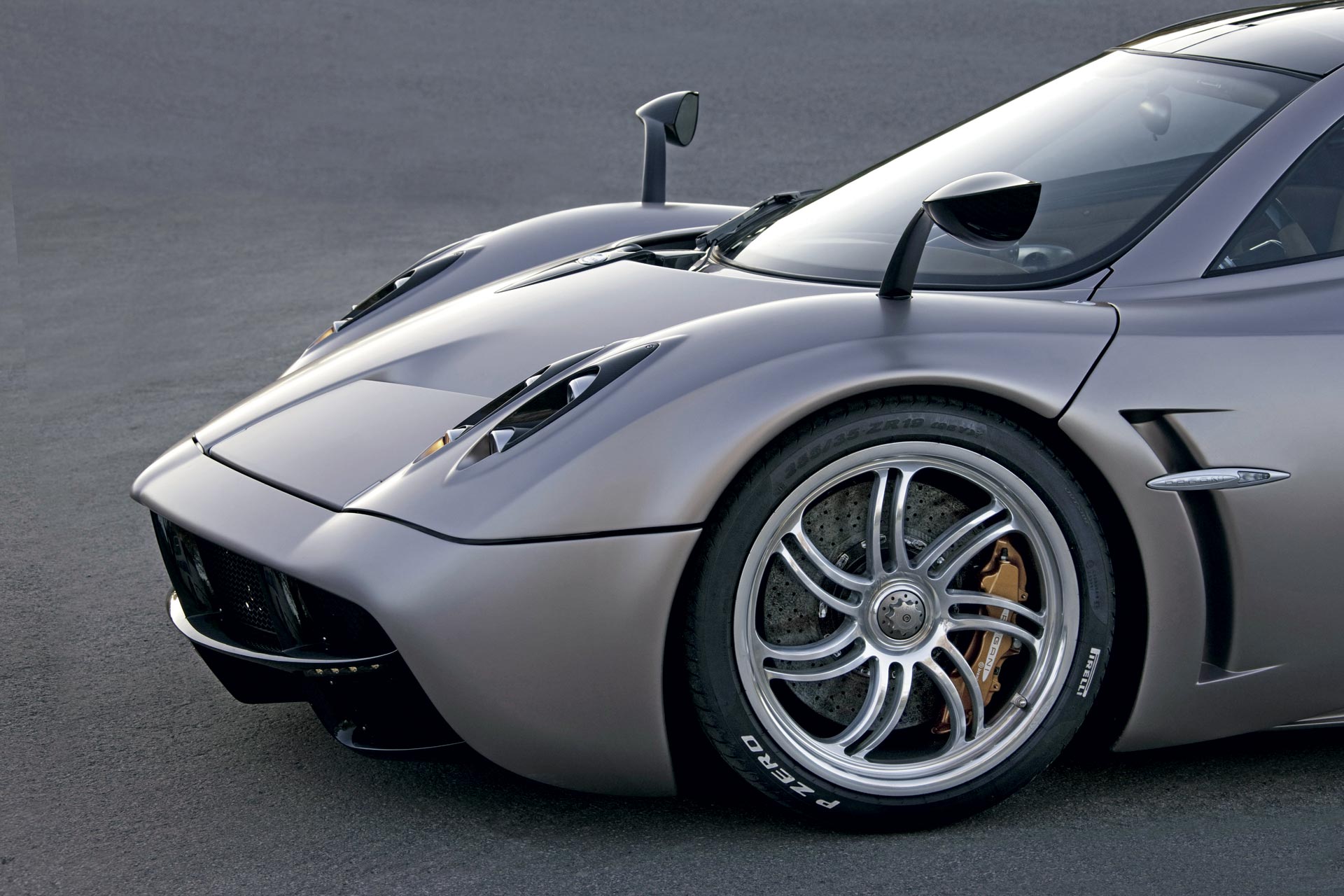 Mr Pagani's life-long love affair with cars began in his native Argentina, no doubt influenced by his countryman, the great, five-time world champion, Juan Manuel Fangio. But as a budding designer, Italy was the only place to be. So, with his wife Christina, a suitcase, two bicycles and a tent, he made his way to Italy and eventually found work as a designer with Lamborghini. 'At a time when only McLaren was producing carbon fiber components for its Formula One cars in the 1980's, I was pioneering the research of composite material in production cars. After five years I began working with Lamborghini to create the first chassis in carbon fiber for the Countach evolution,' Mr Pagani revealed to me. 'While this was happening, I also worked around the clock to build my dream, which was my own car company.
That came to fruition in 1999. I slowly created a niche market that probably did not exist at the time; that of a very highly customized car, completed with craftsmanship that you can only find in Italy. Pagani the company, today has 100 people based in Italy for research, development and production, so it's a small team with everything created in-house under my leadership.' Being modest enough in company size, and character, to listen to his customers, Pagani has toyed with the idea of building a smaller, more affordable supercar in the range of 800,000 Euro to supplement the Huayra. This model could also take advantage of the access he has to AMG's other, smaller V8 turbo engines. This has been held back however, primarily at the request of his US distributors who prefer to keep the brand at the top of the supercar tree as a stand-alone model. 'At the time we had six dealers in the US who all represented multi-brands, all of them turned down the concept, believing the brand should always be the one to target only the very high end supercar customer,' Mr Pagani said. 'This was disappointing for me as a car designer as it would have been a new challenge. In all honesty I came back from the US a little disappointed, but I haven't given up. It's interesting though to see the market here, where we are in the Middle East, coming to Pagani and considering it is a young brand, so there's always people trying to come to the factory asking what's next?'
We asked if Pagani could had the capacity of building a more affordable supercar in higher volumes, while maintaining their current exacting standards? 'In that consideration, yes,' Mr Pagani replied. We are currently building a new production plant in Modena on land surrounding the original plant, which is about five times larger. So Pagani could be ready to include something else.' Smiling, Mr Pagani draws us back to the here and now however, quipping 'but we must really first consider what we have achieved today. We have developed a high performance supercar from scratch to cater to a global audience and one that is compliant with the toughest safety requirements.' Grasping the carbon fiber steering wheel of the Huayra; sinking into the leather race seat and drinking in the outlandishly ornate polished metal dash and trim is something you need to do slowly: savoring every moment and nuance. Every element is designed and built in-house, with the sole exception exception being the Xtrac transmission and the Mercedes AMG-sourced engine. The engine however is still a bespoke unit, not shared with any other Mercedes product and it even has its own engine number; M158.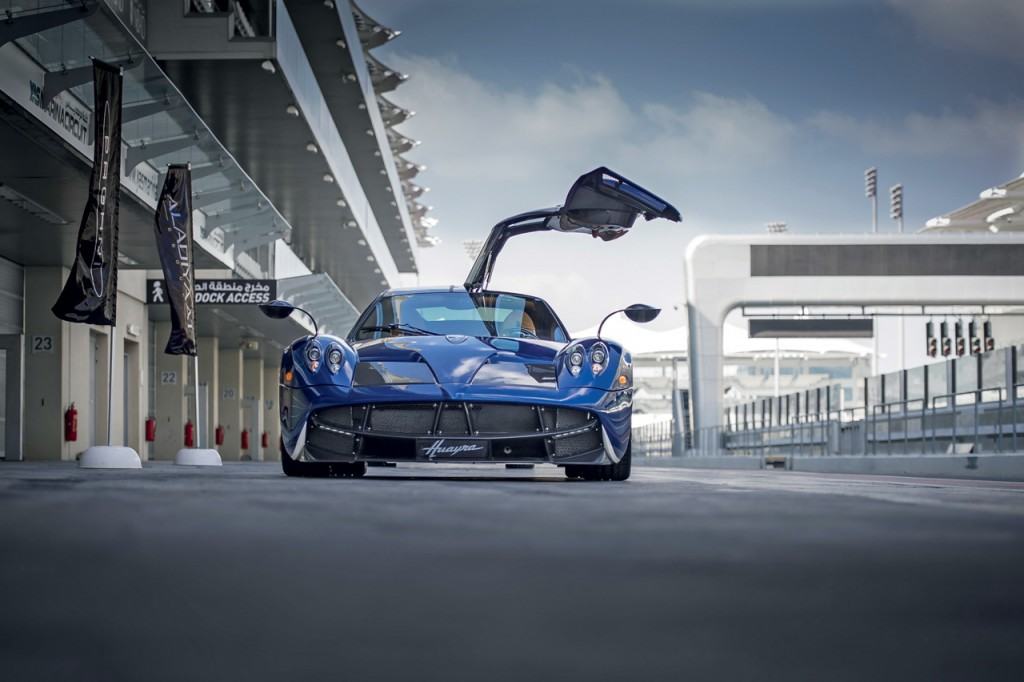 After hunting around briefly for the non-existent start button, I instead twisted the old-school key–a model of the Huayra carved in solid billet steel. Bracing myself for an initial ferocious bark before the engine settled into an angry idle, what I instead discovered was the opposite. Almost like a jet engine spooling up, there was a smooth whir of starter motor followed by a gentle burble. Selecting first gear and idling down the pit lane in an eerily quiet manner only added to the anticipation. Exiting the unique tunnel at the end of the pit I joined the Yas Circuit and–knowing the Huayra is rear-wheel drive – cautiously eased on the gas, feeding in less than my usual throttle percentage. The Huayra still took off like a scalded cat however, slamming me back in the seat and firing me over the blind crest into the first chicane like a cannon. Brakes, brakes, brakes! Such acceleration certainly tends to grab your attention! In the ensueing laps I discovered the Huayra is simply breath taking and put in some of the fastest laps I've recorded at Yas Marina Circuit, be that in road or race car.
Touching 170mph on the main straight felt almost too easy, no doubt engendered by the fact it is just so spookily quiet. There's no ear-shattering snarl from the 6-litre, V12 behind your head, just an aural kaleidoscope of whirs, fizzes and pops from the two turbochargers. Having deliberately tuned this car to be quiet, but in such a seductive way that it still stirs emotions, Horacio has pulled off a stroke of genius. He based his research on jet engines, so aside from the cockpit's aviator look and feel, the Huayra also sounds like a fighter jet. It also performs like one In stark contrast to the rest of the supercar world that is trying to make their cars louder and smoother, the Huayra is quiet, yet quite rough on the gear change.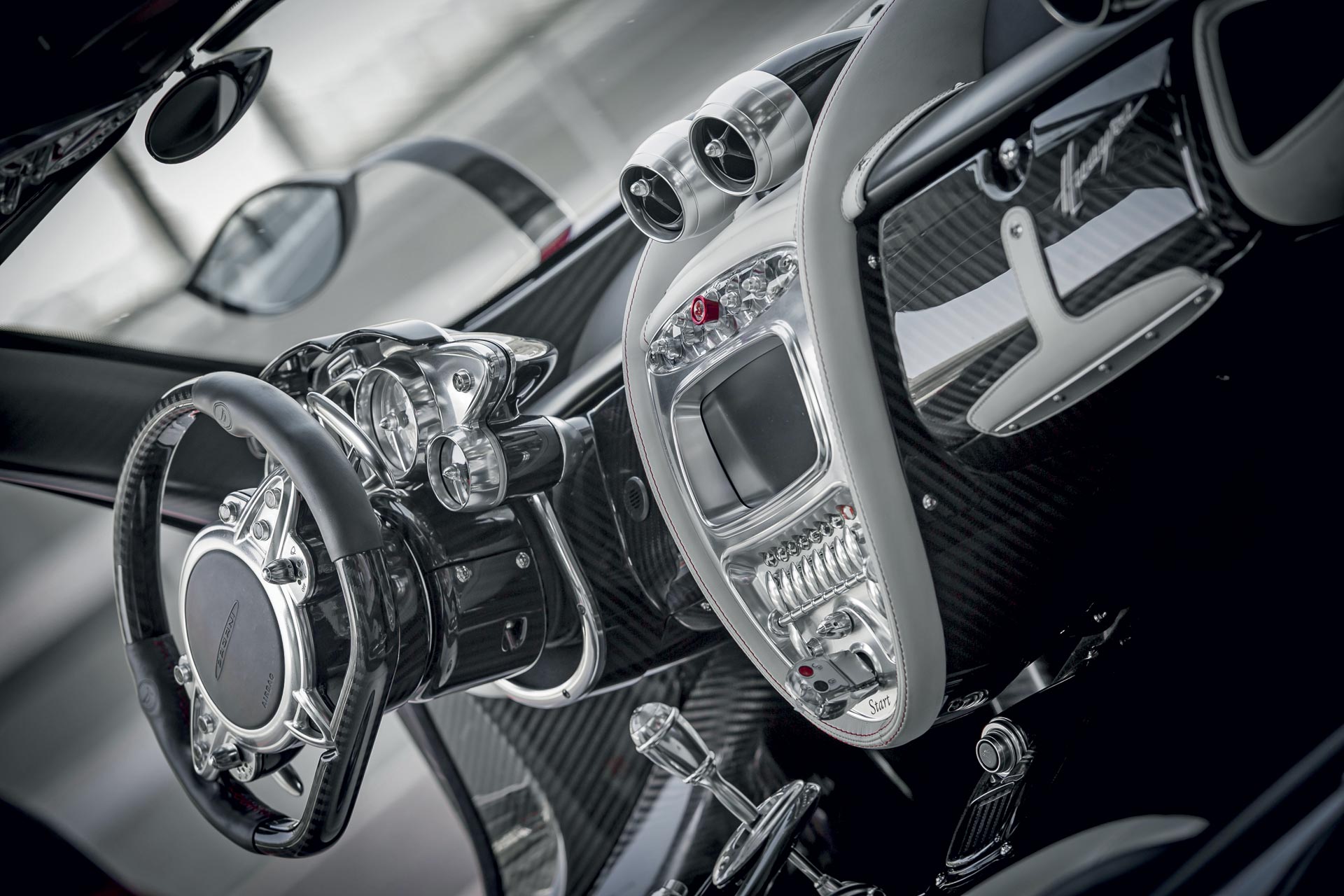 To save around 154lb in weight, Horacio decided to pass on the industry-standard double clutch boxes and instead go with a single clutch Xtrac unit. It's an arrangement that delivers a meaty smack to the back of the head on up changes and throws you forward with each down click. Apparently it's also what his owners like. The giant waste gates in the turbochargers sound orgasmic each time you jam the throttle and suddenly lift off; effectively your right foot orchestrates the 12-cylinder wind instrument behind your head. But then there's the brakes… in truth they take some time to get used to. The giant carbon ceramic discs require a lot of pressure, so you have to push hard to get them to bite. They feel grainy through the ball of your foot–which I liked as it provides a reassuring connection–but for a moment, getting the thing to pull up seemed like a task too far. Then, without warning, the pads bite and the car stops on a needle, turning in bang on the apex. It's not the most reassuring sensation I've enjoyed arriving at the first significant corner at 170+mph, but it certainly got the job done, corner after corner, lap after lap. So one can't argue with that.
The AMG engine pumps out 750bhp, but maybe it's because of its lithe 3,000lb weight that it felt more like the 1,000+hp of the Veyron Supersport or LaFerrari. The Huayra's power and traction out of tight bends seemed superior to either of those hypercars, which is amazing considering this doesn't benefit from all-wheel drive like the Bugatti and top shelf Lamborghinis. The tight hairpin leading on to the back straight at Yas can snap the tail of just about any car, yet planting the right foot on the apex exit ensured the rear simply squatted down, the rear wheels delivering their power to the tarmac, and off it went. No catching slides, it just did the job. Along with the superb titanium-laced carbon chassis tub, the active aero deserves much of the credit for the Huayra's handling. It features two small rear wings matched by two at the front–they all operate independently and react in an impossibly short time to a myriad of factors that include the pitch angle, brake position, speed and steering input.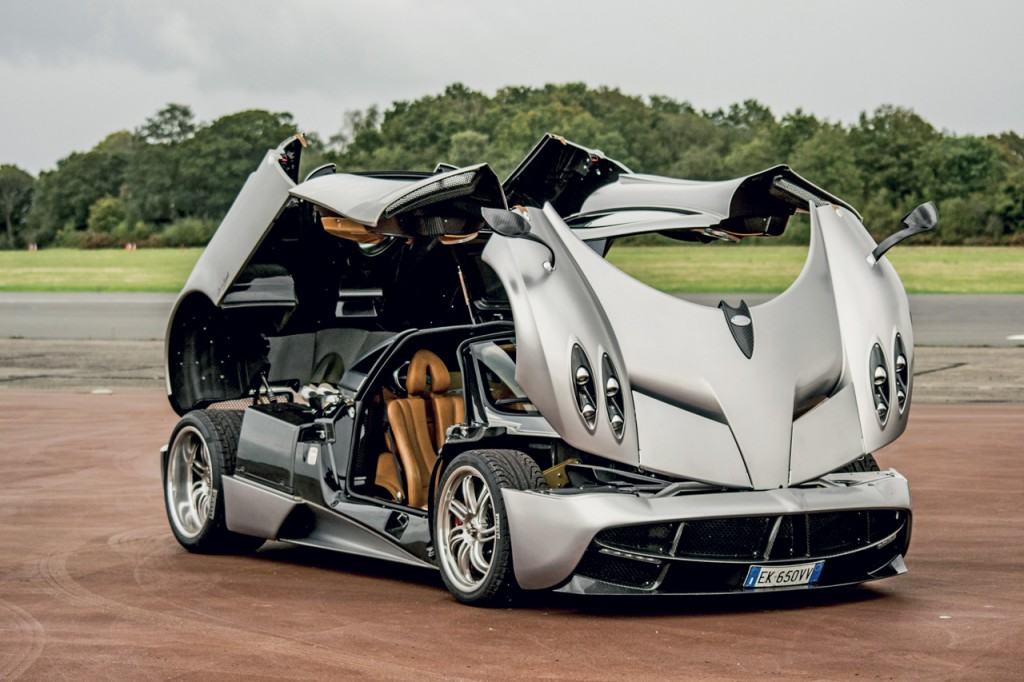 Jumping on the brakes we were initially surprised to see two air brakes appear in front of us, but as the laps progressed it was fun to watch them flick from left to right according to throttle position and directional changes. In fact, it's not dissimilar to watching a frill neck lizard preparing for attack. In every sense this car is alive and appears to enjoy the challenge of each and every corner. Reacting within a split second to every input from your feet, fingers and brain, it's a car one almost feels wired into. Rather than simply driving the car or controlling it, the Huayra generously imparts the feeling you're contributing to the success of its performance. You push harder, it pushes harder; you search for your limits and it complies.
Fully locked into this ever increasing spiral of physical and mental exertion and concentration, the spell was broken by a blurred board on the straightaway signaling our call back into the pits. Lifting off the gas to coast in, I inhaled deeply. It felt like the first breath I'd taken in 20-minutes. Switching of the engine, still sweaty, exuberant and jacked on adrenaline, I handed the key back to the man whose design and engineering genius gave birth to this astounding creation. The grin that split my face was bigger than any displayed after testing a Ferrari or Lamborghini, and admitting this resulted in a genuine smile reflected back from his. The Pagani Huayra: this is his car and it carries his name. It was an honor and a privilege, we salute you Mr Horacio Pagani.