In an exclusive interview, Sir Richard Branson says Virgin Galactic is in the final test phases before making space flights accessible for all. The adventure of sending six tourist passengers on each trip encountered unexpected setbacks and delays, resulting in several missed deadlines since 2004. It is rocket science after all! As the first commercial launch is scheduled for the first semester 2015, we spoke to both Sir Richard and mother Eve Branson about the project to open up the final frontier
'We're going into space!' cried Eve Branson as we sat down for lunch at the Savoy Grill Room, earlier  this year. Eve turned 90-years old in July and is showing no signs of slowing down. She is always on the go and a great inspiration to everyone who has ever met her. An adventurer and a writer, her most recent memoirs-'Mums the word: The High-Flying adventures of Eve Branson'-is full of anecdotes and savvy comments. In truth, it is a hard-to-put-down page turner. As a professional editor and journalist I appreciate the dedication and energy required to write, but for Eve it is just one of dozens of projects she'll have on the go at any given time. 'Heading toward the heavens to release the first rocket full of 'Virgin astronauts', should give me much more to write about!' she recently tweeted.
Entrepreneurial spirit
A former airline stewardess for British South American Airways, Eve-born Evette Huntley-was married to Edward 'Ted' James Branson, a former cavalryman. The mother of three and the family's breadwinner, she was never one to sit idle. Eve has worked her entire life. A philanthropist, she has been running the Eve Branson Foundation, helping local women and young girls in the villages of the Atlas Mountains of Morocco to set sustainable enterprises making craft items for sale. Three villages are now under the Foundation's responsibility, with around 40 women in each program supporting both themselves and the local community. In one village, profits from the women's enterprise were used for digging a well and providing the inhabitants with clean water for the first time. Eve's various projects keep her young and the endeavor of 'going  into space' thrills this fearless woman. Virgin Galactic's mother ship, from which the spacecraft will ultimately launch, is named after her.
The twin-fuselage plane with a 140′ single wing is powered by four Pratt & Whitney engines and is three times bigger than WhiteKnightOne; the plane used for the original flight. On the chosen day for Virgin Galactic's first commercial flight Eve will be aboard WhiteKnightTwo and once it achieves an altitude of 50,000′ she'll be given instruction. Reaching for a button she'll wait for the final command before pressing, and once she does a small 60′ rocket ship slung beneath the central wing will drop like a stone, before catching itself momentarily and boosting itself to the very edge of space in a supersonic flight. Inside SpaceShipTwo, will be her son, serial entrepreneur and Britain's most popular tycoon who confirmed for us: 'Eve will be pushing the button to release the spaceship at launch.' He's inherited not just his mum's entrepreneurial spirit, but her adventurous streak too.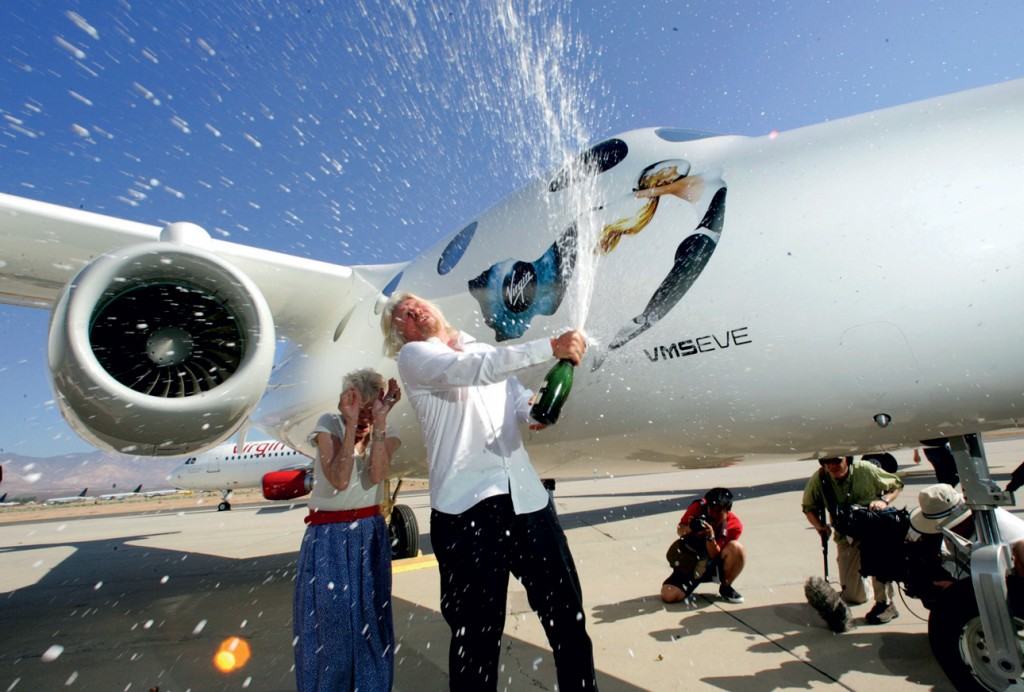 The Ansari X Prize
It's been a decade since Burt Rutan won the Ansari X Prize with his suborbital air-launched spaceplane Tier One, later renamed SpaceShipOne. Created in May 1996 and initially called just the 'X Prize', the space competition was renamed the 'Ansari X Prize' on 6th May 2004 following a multi-million dollar donation from entrepreneurs Anousheh Ansari, and Amir Ansari. An Iranian-American engineer, co-founder and chairwoman of Prodea Systems, Anousheh became the first woman self-funded space explorer to fly to the International Space Station. The X Prize Foundation offered a $10-million (USD) prize for the first non-governmental organization to launch a reusable manned spacecraft into space twice within two weeks. It was modeled after early 20th-century aviation prizes, and aimed to spur development of low-cost spaceflight.
The competition's goal was to demonstrate that a private vehicle was capable of flying a pilot to the edge of space, defined as 62-miles (100km) above the earth. This goal was selected to help encourage the space industry in the private sector, which is why the entries were not allowed to have any government funding. It aimed to demonstrate that spaceflight could be affordable and accessible to corporations and civilians, opening the door to commercial spaceflight and space tourism. It is also hoped that competition will breed innovation, introducing new low-cost methods of reaching Earth orbit, and ultimately pioneering low-cost space travel and un- fettered human expansion into the solar system.
On 4th October 2004, the 47th anniversary of the Sputnik 1 launch, the prize was awarded to the Tier One project designed by Burt Rutan and financed by Microsoft co-founder Paul Allen, using the experimental spaceplane SpaceShipOne. More than $100- million was invested in new technologies in pursuit of the prize. Pilots for both flights were Brian Binnie and Mike Melvill. Virgin licensed the technology behind this spaceplane. The Ansari XPRIZE was meant to demonstrate that private space travel is commercially viable, and with Virgin Galactic planning its first commercial flights next year, that is exactly what the Ansari XPRIZE achieved.
The 'rebel mogul'
Richard Branson, the 'rebel mogul', had long dreamt about going to space. 'I consider space to be the final frontier that is so essential to the future of civilization on this planet,' he has said. 'The future of industry, communications, energy and even  food, depend on man conquering space. With the end of the oil era and climate change progressing faster than most models predict, the utilization of space is essential to the logistics of our survival. Space is the only remedy to the world's overpopulation and the rapid depletion of oil and minerals.'
Upon meeting astronaut Buzz Aldrin, Richard had discussed possible spacecraft launches. Both agreed that a launch at altitude would help avoid many complications that are inherent in ground-launched designs. This is mainly because greater drag  in the lower regions of the atmosphere make it necessary to equip spacecraft with much more powerful engines, while the higher launch speed calls for a stronger and heavier airframe. Branson, ever the unconventional maverick, is world-known for his daredevil risks. In 2004, his airline Virgin Atlantic was the sponsor of the GlobalFlyer, built by Burt Rutan's company Scaled Composites, in which Steve Fossett would fly a solo nonstop airplane flight around the world. Between28th February until 3rd March 2005-in 2-days, 19- hours and 1-minute-Fossett set the record for the fastest nonstop, unrefueled circumnavigation.
Daredevils
The day we spoke to Sir Richard was special indeed. On 4th September this year, Sam, his 29-year old son had brushed with death until plucked to safety by helicopter airlift off the peak of the Matterhorn. The Virgin Strive Challenge 2014 is a run, row, cycle, hike and climb of over 621-miles (1,000km) from London to the Matterhorn, one of the largest peaks in the Alps. The Virgin Strive aims to raise well over half a million pounds to support young people across the UK. The journey coincidentally represented onetenth of the distance required for SpaceShipOne to collect the Ansari Space X prize.
'After running, rowing, cycling and hiking from London to the foot of the Matterhorn, all that was left for the Virgin Strive Challenge team was to climb 11,082′ (4,478m) to the summit of the most iconic mountain in Europe. Just 650′ (200m) from the summit and suffering acutely from altitude sickness, with one monumental final effort, Sam pushed himself to make it to the top, joining cousin Noah Devereux, Stephen Shanly and their guides,' wrote Richard in his blog. 'Sam was in a very bad way and was finally taken off the mountain, hanging outside of the helicopter, which was as terrifying as the altitude sickness. I watched all of the drama unfold and felt totally helpless.'
So naturally, our first question to Richard the next day was to ask how Sam was doing? Sam will be on the first space flight with Richard, and we were told in confidentiality that he will also soon be a father himself. Another question that came to mind was whether as he'd been such a daredevil himself all his life, Richard didn't feel somewhat responsible for setting the bar too high for his offspring? 'Sam's fine,' he replied, 'all recovered and quite satisfied to have accomplished what they had set to accomplish'. 'Naturally my children, Holly and Sam, grew up with me doing foolish things. They could have discarded it and gone the other way, however both of them have embraced it. Pushing the limit with a purpose, it is great to see what people are capable of, overcoming the fears that come with these challenges.' So what is his state of mind as making space flights accessible for all is getting increasingly closer?
'Like everyone at Virgin Galactic, I'm very excited about the upcoming adventure. Space is full of infinite possibilities, so by further opening up the frontier, we are hoping to create a number of extraordinary opportunities.' No launch date has been set yet for Virgin galactic. 'We've set a launch date on a number of occasions, and missed it! So we are aiming for first half of next year for commercial launch, but our test program is ramping up right now.'
Over ten years have past building the world's first 'spaceline' to provide suborbital flights for space tourists. 'It has taken a dream, a number of technological advancements, an immensely talented team of people, a whole lot of investment, and a huge amount of trust-not just in technology, but in our ability as humans  to achieve the seemingly impossible,' said Branson. So when, and why did he decide to go into this adventure? 'The dream came about due to the moon-landing, as suddenly space felt a lot closer and 'impossible' became just another word. Watching the event, I started to fantasize that one day, I would go into space. After spending most of the 80s and 90s shaking up the airline industry, we believed we could do the same for space travel, so in 1999 we registered the name Virgin Galactic.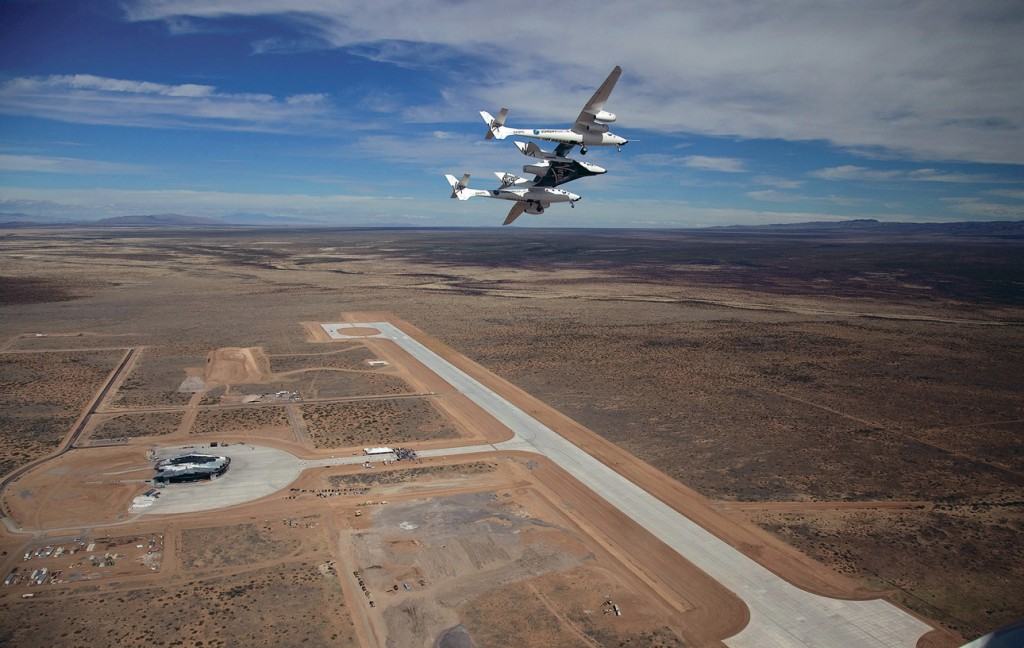 When SpaceShipOne won the Ansari X Prize in 2004, we finally found the technology and innovation we were looking for to launch the adventure.' Tickets currently sell for $250,000. But what kind of training does a tourist need to go through in order to become a Virgin Galactic astronaut? 'All Virgin Galactic astronauts must undergo three days of flight and safety training at the spaceport, and training in zero-gravity and G-force is recommended. While there are elements of physical exams and psychiatric evaluations, our goal is to ultimately make space travel available to everyone-so if there are future astronauts with physical or mental disabilities, we hope to be able to work with them to give them the trip of their dreams.'
Branson is a maverick who has set himself huge challenges throughout his life: recapturing the Blue Riband for Britain in the transatlantic dash, ballooned across the Atlantic and the Pacific ocean,.. the list goes on. But is creating the space tourism industry the biggest to date? 'It is a huge challenge, but it's not my challenge to face alone. We have an incredible team of capable people working to achieve the goal. We have gone into a number of industries and undertaken several challenges with a lot less support. I am 100 percent confidence in the ability of the team to get the job done, and am excited about giving people access to an out-of-this-world experience.'
Branson seems to still be thriving on adrenaline. What is it exactly that he most enjoys? 'My golden rule in business, and in life, is love what you do to, and do what you love. Life's not a dress rehearsal; if you don't enjoy something, don't do it. I have thrown my energy into a number of projects throughout my 64-years, but family and using business as a force for good have, and will continue to be, the most important aspects of my life.' He has written that he became an entrepreneur almost by default, so what does it take to be a suc- cessful one? 'I became an entrepreneur almost by default, because I was raised by parents who encouraged me to live out my dreams, chase adventure, challenge the status quo, and contribute positively to the world. I feel all entrepreneurs should share these ambitions and I believe they are huge factors that contribute to success.'
The high-school drop-out went on to set a number of businesses worldwide with varying degrees of success, and says  he's very proud of all of Virgin's businesses, but he adds, 'our non-profit foundation, Virgin Unite truly stands out. Uniting great people and entrepreneurial ideas, Virgin Unite aims to reinvent how we live and work to help make people's lives better. Business can and must be a force for good in the world, and Virgin Unite showcases this through a number of wonderful initiatives, from The Elders to the Carbon War Room.'
Branson has never hesitated to put himself on the frontline, promoting Virgin, his brand. Has he ever regretted it? 'It's incredibly important to be visible and passionate,' he says. 'Passion is infectious, it can inspire others to believe in and support your service or product. While I've most definitely felt a little bit silly at times, I do not regret anything I have done. I don't believe in having regrets-there's more to be learned from mistakes than successes, so I'm all for embracing missteps. My philosophy in business is to love what you do, create something that is innovative and of great use, challenge the status quo, and con- tribute positively to the world.' So what does he expect this new venture will bring to the next generation?
'Just like the moon-landing did for me, I hope Virgin Galactic inspires people to dream, put themselves  outside of their comfort zones, and to strive to achieve the seemingly impossible. While Virgin Galactic is set to be the first-ever commercial spaceline, we will also be working with organizations like NASA to contribute to research experiments-which could have the potential to truly open up the space  frontier, and help us learn more about the universe, and humankind.'
As a distant relative of the great South Pole explorer Robert Falcon Scott, how would he like to be remembered one hundred years from now? 'I would like to be remembered for having made a positive contribution to the world, and for helping people realize that everything is within reach if you have the right attitude and determination to chase your dreams. Fun has, and will always be, at the core of everything I do. If I don't enjoy something, I won't do it. While how I class fun may have changed, I am still having a blast. We have a number of projects and businesses in the pipeline-what they are I can't tell you just yet. I will always continue to push myself, and those around me; and Virgin will never cease innovating or challenging what is accepted as 'normal'. As I get older, I am enjoying committing more and more time to expanding and strengthening the work of Virgin Unite.'