Rossinavi's Project 157 Argo
With Ken Freivokh Design
Currently under construction at the Rossinavi shipyard in Viareggio is an explorer project built for the Pacific Oceanic crossings with two big tenders hosted in the forward bow garage. But, not satisfied with stopping there, the team's progressive nature has led them to conceptualize a remarkable new explorer yacht bearing the prestigious signature of Ken Freivokh as the designer. The shipyard is respected as one of the most technically gifted in the world, testified by multi-award winning deliveries like Vellamari, Param Jamuna IV and Polaris in recent years, before also demonstrating their versatility with the delivery of MY Taransay, a 39 m reproduction of a classic 1900's gentleman's cruiser in 2015. Teaming up with the Southampton, England-based Freivokh, responsible for iconic designs like Perini Navi's SY Maltese Falcon and Sycara IV, makes this something of a 'Dream Team' situation. The result, Project Argo, a 48 m contemporary long-range explorer with some very neat features and capabilities.
Defined by distinctive lines and an almost militaristic profile, Argo sports an exceptionally versatile open aft deck, the largest open space within her class, opening up the opportunity for a whole range of outdoor activities from the extraordinary number of toys and tenders she is designed to carry. Rossinavi and Freivokh envisage the yacht appealing to an owner who wishes to truly explore the world and indulge in adventures, from high altitudes to rivers that run through jungles and deserts, from the traditional cruising grounds the the earth's most remote regions. With a custom designed crane capable of launching and recovering up to four 12 m tenders and/or submarines or amphibious vehicles from two decks, Argo has the capability to function as both a shadow yacht or standalone expedition yacht. The aft deck is fitted out to suit touch-and-go helicopter use. Further, as an option, the lower deck aft can be fitted out to include a proper beach club, with a wide opening aft to the full beam swim platform. Unique in this size category, Argo offers a private elevated owner's deck, including a full beam cabin, a private terrace, a study and a further family or nanny cabin, VIP stateroom or indeed captain cabin.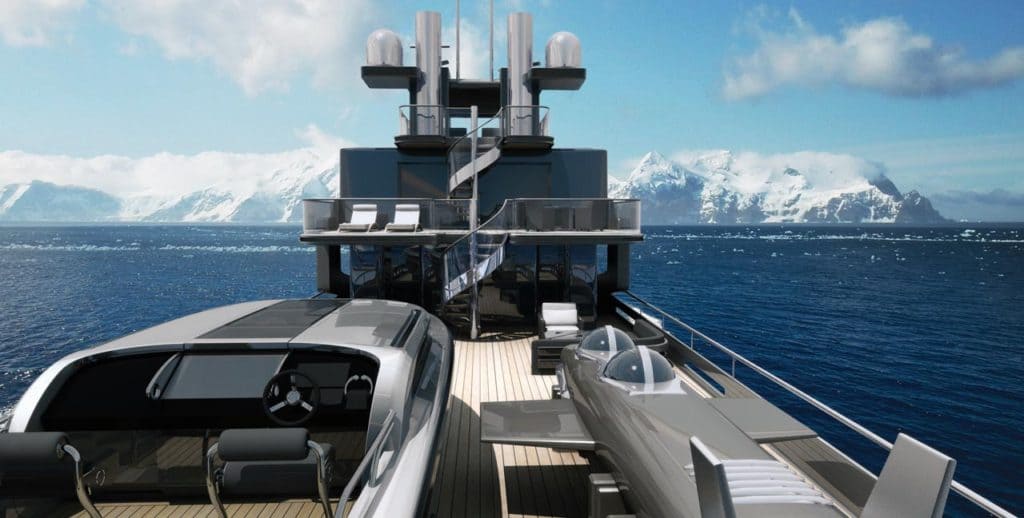 Also unique at the size is the total segregation of the crew block, which enjoys its own vertical circulation right up to the bridge, and down to a deck housing laundry, utility, stores. At main deck level there is a most handsome open plan saloon/dining/bar area which opens to the sea and to a protected terrace aft, creating a separation to the tender deck. The four guest staterooms all enjoy panoramic windows to the sea with direct access to the saloon. The forward guest staterooms include Pullman berths, so potentially Argo could take the full MCA guest complement of twelve guests. The top observation deck is planned under louvres, to control exposure to the sun, and will offer sweeping 360-degree views. Making full use of the latest glass technology, with uninterrupted windows allround the bridge and owner's deck, the project has been designed to optimize accommodation and internal volumes within the constraints of the MCA 500 Gross Tonnage rule.
To achieve a range in excess of 5,000nM the yacht has been conceived with the view of being constructed entirely in aluminum, and Rossinavi's technology allows them to build aluminum ships that can still obtain 'D' Ice Class certification. Uniquely, Argo features two pantographic hatches on the aft deck for access to the large garage located below, with the designer and shipyard believing this to be a safer and more practical system for the launching and recovery of tenders in high wind situations. Argo will also have the option to feature an alternative propulsion system, Rolls-Royce Azipull pods in place of traditional shafts and propellers. The hull has been tank tested for trim and rolling and Argo will also be equipped with electric fin or gyroscopic stabilizers. The entire project has been designed with a full implementation of 'Zero nois' technology, an engineering process which will affect the complete naval architecture of the boat (insulation processing, air and structural noise circulation, glasses interlayer selection, noise fonts analysis, selection of interior materials and more). It's a very exciting proposal and one that's sure to generate attention in a burgeoning sector of the market.