Third Sanlorenzo from 460Explorer line and 14th of the SD126 line
Sanlorenzo's Superyacht Division, located in La Spezia, launched the third superyacht in its 460Explorer line: Ocean's Four. Measuring 42.2 metres in lenght, Ocean's Four is a 460 gross tons superyacht, with a steel displacement hull and aluminum superstructure. The Explorer is a peculiar vessel, characterized by elevated comfort, high technology and, most important, by a high degree of self-sufficiency and autonomy at sea, designed for those owners with a love for exploration, adventure and, at the same time, refined and elegant design. Ocean's Four's interiors are designed by Antonio Citterio Patricia Viel, in a spirit of a close bond between internal and external spaces.
The designers tried to fit the boat sketch inside the boat, reproducing naval architecture in all the settings. The same applies to the owner suite where the openings were shaped so that it would be possible to see outside from the bed, without altering the outline of the side of the boat. 460Exp's exterior lines, strong and imposing, recall the design of large exploration ships, suited for navigation in remote and unexplored corners of the world. The volume of the superstructure develops towards the ships' bow, creating a large space on the stern section of the main deck, offering the possibility to house different toys during navigation, such as a private submersible, a seaplane, a sailing or fishing boat etc. Once at anchor and free of toys, 460Exp's main deck becomes a wide solarium. Ocean's Four differentiates from Moka (the first 460Exp) and X for the Graublau-coloured hull and for its lowered side bulwarks, allowing an exclusive view to sea from the main salon.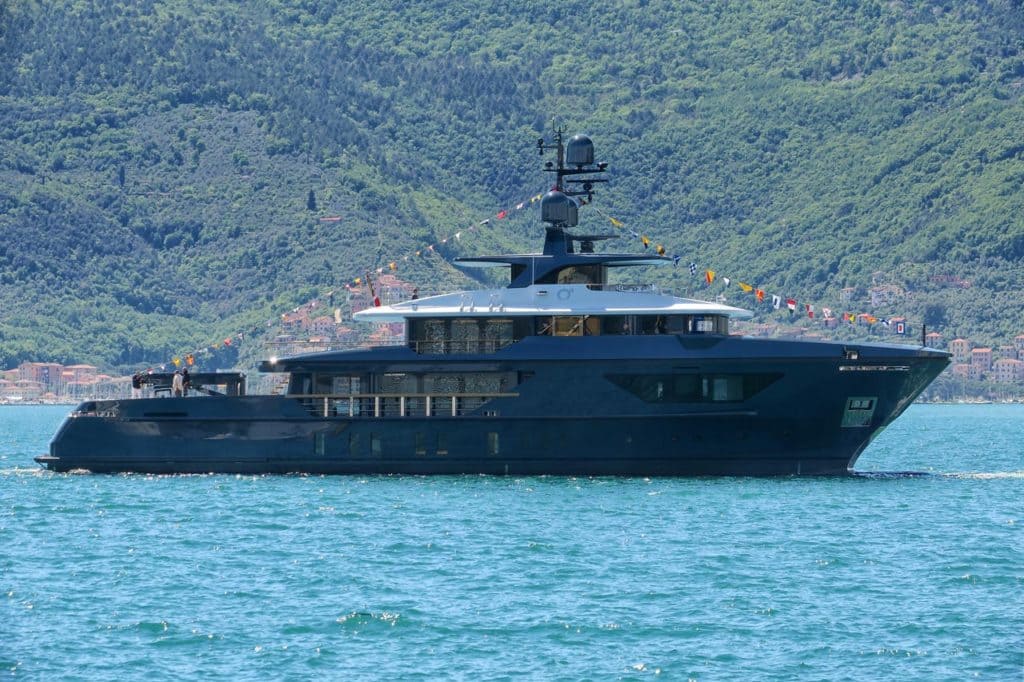 Sanlorenzo also launched the 14th model of the SD126 line, a semi-displacement superyacht in fiberglass of 38 meters in length, named Sim Sim. Its Turkish owner came with his family to celebrate the debut of Sim Sim – his second Sanlorenzo superyacht – at the Sanlorenzo Shipyard in Viareggio. SD126 is a 4-deck vessel of 126 feet in length that combines the timless Sanlorenzo lines to the evocative shape of the 1930s transatlantic liners, guaranteeing incomparable comfort and stability in its spacious inside and outside areas.
Its luxurious interior reflects the owner's choices and taste, in accordance with the made to measure tradition of Sanlorenzo since 1958: Sim Sim's interior design is modern and essential thanks to oak wood selected for floorings and custom-made furniture. An unmistakable style and a sophisticated design place the Sanlorenzo motoryachts to the highest level of the international production, where the Italian Shipyard, in more than 50 years of history, has become the synonymous of excellence in terms of refinements and care of details which led it to be one of the leading shipyard in the world, according to the annual Global Order Book.