Spadolini's pocket superyachts Montecristo 30 and 43
Italian designer Tommaso Spadolini has revealed details of a dynamic series of pocket superyachts, all-aluminium Montecristo 30 and Montecristo 43. "The name was inspired by a beautiful island in the Tyrrhenian Sea that I can see from my summer home by the seaside," says the Italian designer. "The island of Montecristo forms part of the Tuscan Archipelago National Park, but it's best known as the setting for the novel 'The Count of Montecristo' by Alexandre Dumas". The two motor cruisers draw on Spadolini's 40 years as a yacht designer, as well as feedback from his international clients. Created as a creative and fun exercise, the Montecristo series is the distillation of this experience and the designer's reputation for creating timeless yachts with clean, sober and essential lines that are both classic and contemporary. Despite the difference in size and volume (under 200GT versus about 340GT), the designer has managed to maintain the same gracefully balanced proportions.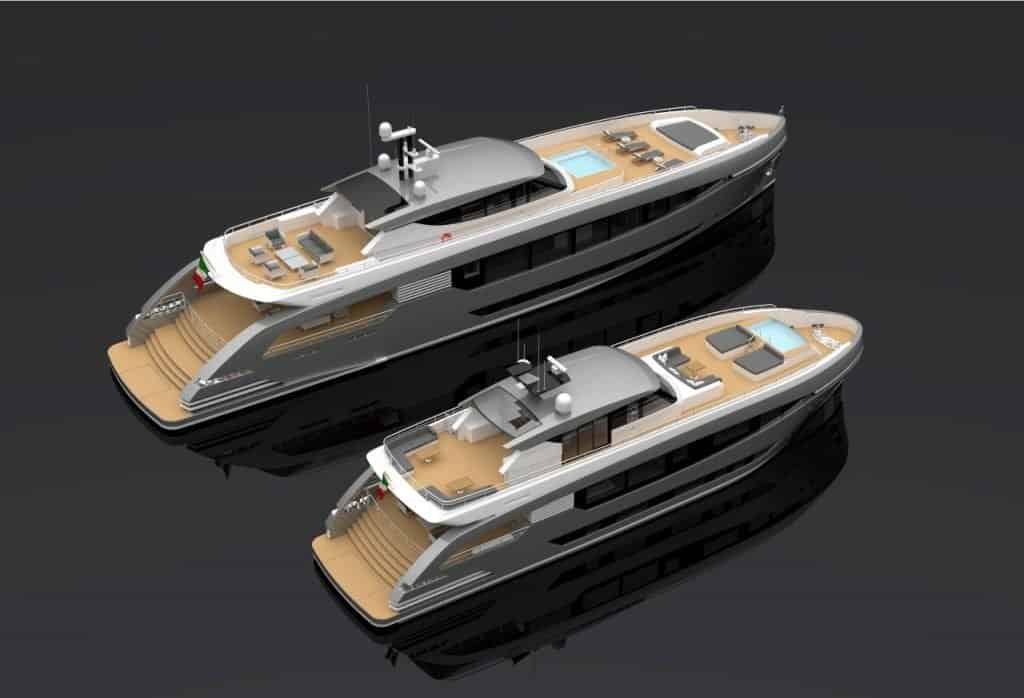 The purposeful exterior design is pure Spadolini. Certain features like the air-intake grilles, dark strip glazing and vertical bow, bear a strong family resemblance to other of his designs, such as 48-metre Aslec 4 built by Rossinavi. The elegant arches that connect the main and upper decks aft, on the other hand, are reminiscent of 27-metre Freedom built by CNN. But these styling motifs have been combined with new solutions to create something that is eye-catchingly different. The larger yacht has five comfortable guest cabins (3 VIPs and 2 singles) on the lower deck, with access from the main salon aft. The smaller 30m has two VIP suites amidships plus a single cabin accessed by a central staircase from the main salon.