The luxurious boutique hotel Gredič is a place inspired by nature where indigenous cuisine meets wine-making and good living
The area around Modena is often called Terra dei Motori, or Motor Valley, due to the fact that Ferrari, Lamborghini, Pagani, Maserati and other important octane names in automotive history have been established in that very region. Likewise, the picturesque region of Goriška Brda, or simply Brda, could easily be called the Wine Hills due to its many winemakers, including the pioneer among them Zvonimir Simčič who dedicated his whole life to the cultivation of grape variety called Rebula, making all sorts of wonders from it such as the Golden Rebula.
In his final years, Zvonimir Simčič made classic sparkling Medot wine out of Rebula. His grandson Simon continued its magnificent development and made it to the top of Slovenian sparkling wine industry. Here you can also find world champions of still wine production such as Marjan Simčič, Kristančič, Ščurek and many others, thanks to whom Brda have become one of world's famous wine destinations.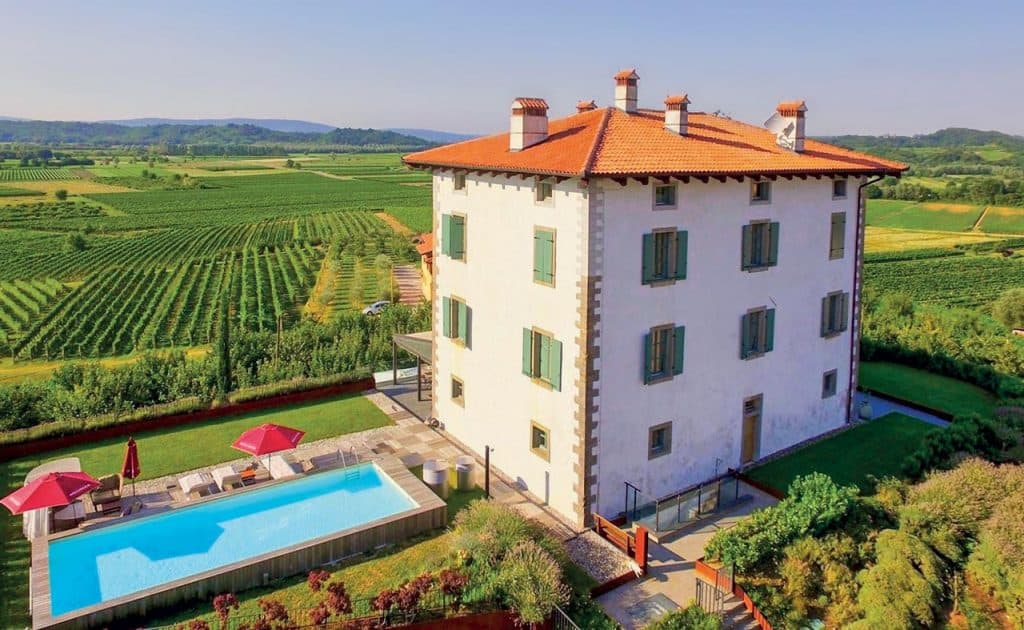 Located right next to the border with Italy, where the view of the Alps is breathtaking and the winds from the Adriatic Sea gently caress the vineyards, this region has become synonymous with true hedonism, wine-making and good food. A few years ago, the region welcomed the opening of the luxurious boutique hotel Gredič, which is managed by Simon Simčič. The impressive villa was built around four centuries ago and completely renovated several years ago preserving the historical charm and intertwining the traditional with the modern style in a sophisticated way.
An idyllic vacation spot offers intimate stay in seven rooms and suites with an abundance of privacy and comfort in a phenomenal atmosphere. The offer is complemented by a first-class restaurant where you can enjoy seasonal specialties by the chef David Bucik and a spectacular and well-stocked vinoteque. Gredič is a place inspired by nature where indigenous cuisine meets wine-making and good living. To reference the famous musical 'The Sound of Music': The Hills are Alive. Brda (the Hills) are, indeed, alive and full of life.