Two units of the Benetti 125′ line
M/Y Skyler and M/Y Constance Joy
The second and the third unit of the Benetti Fast 125' line, Benetti Fast 125' Skyler and Benetti Fast 125' Constance Joy, have been successfully delivered to their respective owners this month.
Both yachts, as well as the first iconic unit Iron Man, are equipped with the new generation propulsion system designed by Rolls Royce specifically for the Fast 125' family: the Azipull Carbon 65 (AZP C65), a high performance, lightweight, steerable thruster that uses carbon fibre throughout, even for load carrying parts. Thanks to the reduced weight, the system offers a quiet ride: the engine room can be placed farther aft, leaving the guest cabins quiet and vibration-free. Another advantage offered by this innovative propulsion system is the excellent manoeuvring capability both in navigation and while docking.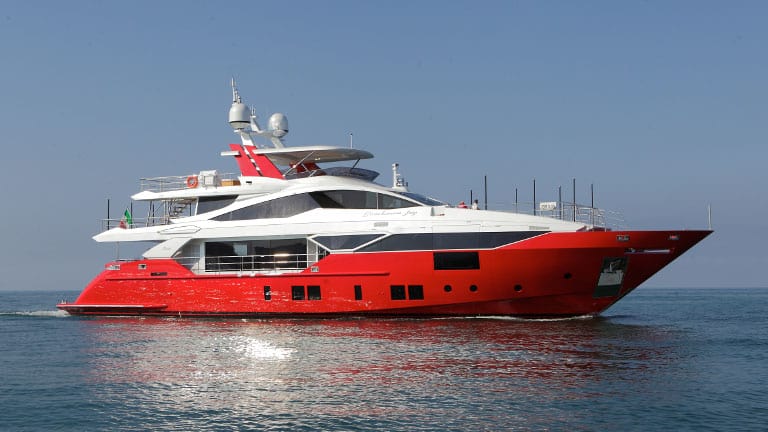 They share also a revolutionary D2P_Displacement to Planing ® hull form with wave piercer bow that allows the owner to use the yacht in displacement mode with low fuel consumption at low speeds and in planning mode at higher speeds. The Fast 125' Constance Joy was the second Fast 125' to be sold since the line has been launched and she distinguishes herself for her characteristic red hull. The Fast 125' Skyler is a four deck semi-wide body yacht with a total of 5 cabins. Both were built in Benetti's Viareggio shipyard with a superstructure made of carbon and epoxy resins that is 40% lighter.