Maximilian Büsser
In 2005 an abiding fascination with space and time led one highflying Swiss horology executive to set up brand. A decade later the hyper-creative collective boasts some of the most creative and sophisticated timepieces in their brand portfolio…
Despite already flying at a stratospheric level in the horological world Maximilian Büsser harbored a desire to go further, exploring a dimension where there are no frontiers: Space. A self confessed sci-fi enthusiast, Büsser established Maximilian Busser & Friends in 2005 and has quickly earned an international reputation for imagining and producing some of the world's most futuristic, radical and sophisticated mechanical timepieces. 'MB&F is not a watch brand', the founder explains. 'It is an artistic and micro-engineering concept laboratory. It's where hyper-creative collectives of independent horological professionals are assembled each year to design and craft radical horological machines. MB&F acts as a catalyst in fusing traditional, high-quality watchmaking with cutting-edge technology and avantgarde threedimensional sculpture.'
Legacy machine NO.1 'What would have happened if I had been born in 1867 instead of 1967?' asks Busser. 'In the early 1900s the first wristwatches appear and I would want to create three-dimensional machines for the wrist, but there are no Grendizers, Star Wars or fighter jets for my inspiration. But I do have pocket watches, the Eiffel Tower and Jules Verne, so what might my more traditional machine look like? It has to be round and it has to be three-dimensional: Legacy Machine N°1 was my answer.' Features include exceptional central balance, independent dual time zones and a fascinating vertical power reserve indicator in an annular case.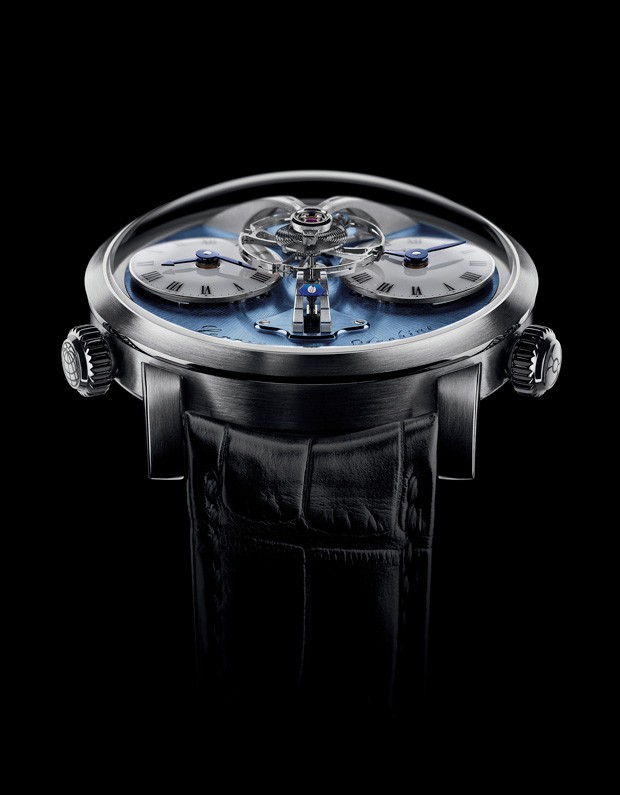 HM4 Thunderbolt Though the timepiece is entirely unique in form, it is radically straight forward in function: this watch tells the time. Available in a number of materials including editions in titanium/sapphire; a limited edition of 8 pieces each in titanium/sapphire with hand painted nose art; HM4 RT is a limited edition of 18 pieces in 5N red gold, titanium and sapphire and the HM4 Final Edition closes with a limited edition of 8 pieces in blackened titanium and sapphire. The bullet-like forms that house the movement contains dual mainspring barrels that drive two vertical gear trains, transferring power to the twin pods indicating hours/minutes and power reserve.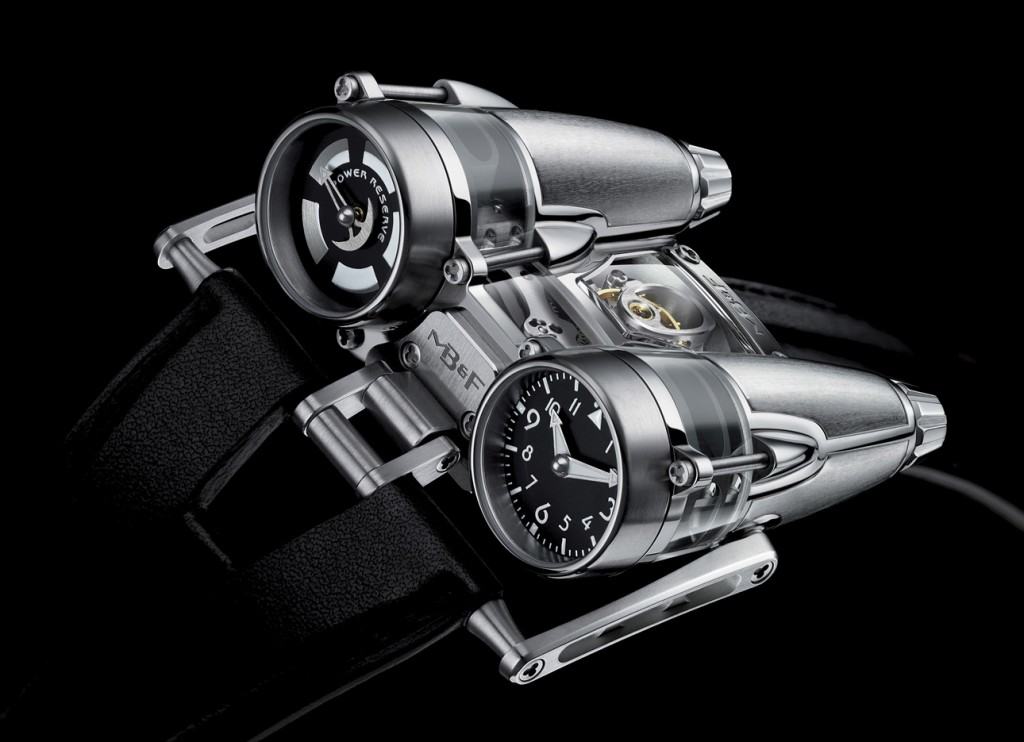 L'Épee 1839 L'ÉPÉE 1839's Starfleet Machine is a sculptural timepiece, meant to function as much as a piece of art as a clock, that appears ready to blast off from its perch. Hours and minutes are indicated on the central black dome by hand-polished hands that follow the dome's curved contours. Behind that, a smaller rotating dome, accompanied by a revolving radar dish, provides an intuitive view of remaining energy: five bars indicates the movement is fully wound (40 days of power); one bar means it is running low on power (eight days of remaining power).
JWLRY Machine The watch, designed in the shape of a three-dimensional jeweled owl, presented either in 18k white gold, with amethyst, diamonds and blue and violet sapphires, or in 18k red gold, with pink tourmaline, rose quartz, diamonds and pink sapphires, is a whimsical jeweled work of artistry that harkens to a time when royal courts commissioned the great jewelry houses of Europe to craft remarkable pieces. Carved from a single block of either rose quartz or amethyst, the owl's heart appears to 'beat' due to the faintly perceptible swings of MB&F's solid-gold battleaxe-shaped rotor beneath the translucent stone.