The new Princess Adriatic XO center in marina Agana will introduce the interesting Scandinavian brand to Croatian yachtsmen
The Croatian yachting scene as off recently has another interesting brand to explore: the Finnish aluminum motorboats XO. When the third and largest boat – XO 360 – arrives this summer to marina Agana, buyers in the region will be able to take all the models for a test ride and make their decision on how boats handle themselves in real life. Almost radical in almost every way, and aren't easy to introduce without a first-hand experience: words and specs just don't do them justice. Aesthetics is not XO's main concern: these boats are designed to be fast and safe, and therefore have narrow hulls with deep V-profiles, are made in military-grade aluminum and carbon fiber. A real breath of fresh air on the crowded market, these motorboats deserve a category of their own, if for nothing else, then for their uncompromising speed and maneuvering abilities. Built to last, sturdy and functional, they remind us of stealth airplanes, so their aesthetic may not be for everyone, but it is certainly unique. All buyers should take their potential future XO for a ride – and even if you can't afford or do not need one, take them for a ride, anyway.
Our team, experienced sailor Mario Jelavić and Darko Šupuk, equally skilled and experienced, tested both currently available models, the Defender and the Cruiser. The day was windy, with wind up to 25 knots, and medium-sized waves. Both of them have had previous experience with axe-shaped hulls and were not shy, so they cranked the engine to 32 knots of cruising speed for just a while, before pushing them to maximum speed. At respectable 42 knots the Cruiser – powered by two Mercury 350-HP engines – had no problem slicing through waves, after several trim adjustments. The smaller Defender was somewhat less stable at highest speed, but that was to be expected due to its rather small length. Still, all things considered, this fast little boat is a real fighter as it is designed to be – this work vessel will serve its crews very well. Cruiser, on the other hand, is ideal for leisure cruisers looking to go fast in almost any weather conditions. It has a small cabin, a shower and a head, a well equipped cockpit with a table and large benches are perfect for summer cruising, as is the ability of the Cruiser to stay calm in stronger summer winds. If what you have read peaked your interest, do find XO in marina Agana and find out more.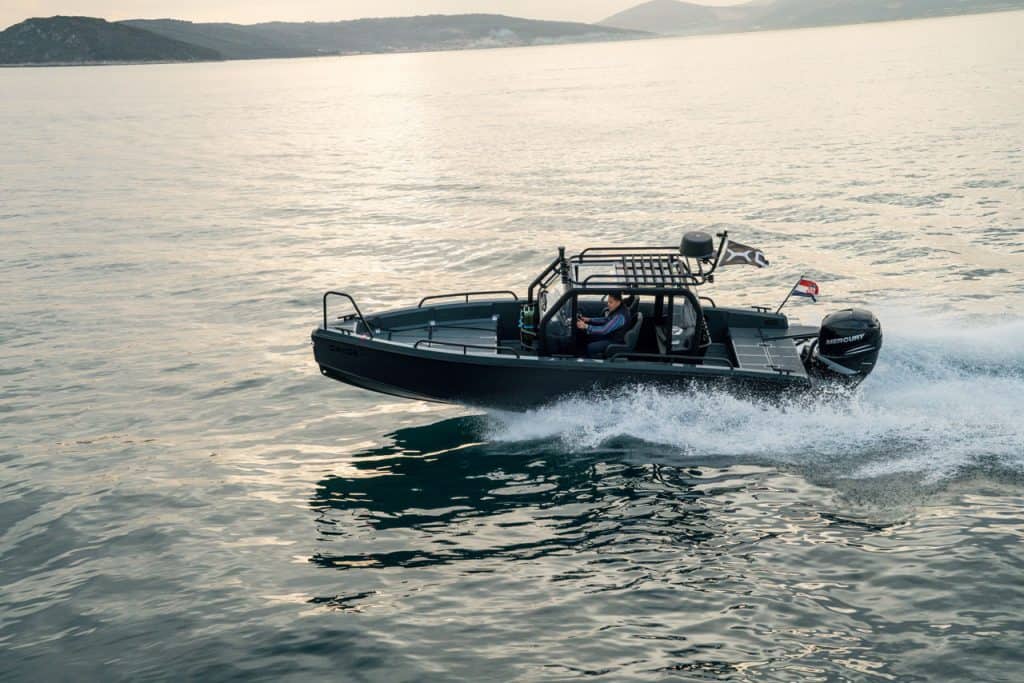 Dan Colliander
What is your expectation from this market?
I have been sailing here many times, so the sea conditions and the type of weather that you have is very suitable for our boats, because you have short choppy waves which is normally very difficult for more flat bottom boats. That's why we build the deep V hull for handling the seas properly – we normally say that the XO boats are out on the water when other ones stay in port.
Do you have expetations from some specific model?
I don't have an idea about what will be 'hit' model here, but I see from the people who live here that cabin models are popular and if I have to bet, I would bet that our 270 model would be best selling ones. You can go from Split to Hvar in any weather.
How do you see your brand?
XO is a driver's boat. Normally our owners are people buying their second or third or fourth boat and they know the difference how the good boat feels in the water. Performance is for me normal, I expect performance from everything, I want to have good performance for myself and I consider it normal. We are perhaps a little bit strange in that way. When you are on the water you want to feel as a part of nature, you don't have a lot of shaking and creaking from the boat, we try to put the package that is quiet and fast and enjoyable, built in good military grade aluminum.
Photos by Mario Jelavić